How Did Photography Change My Life?
Life in a Flash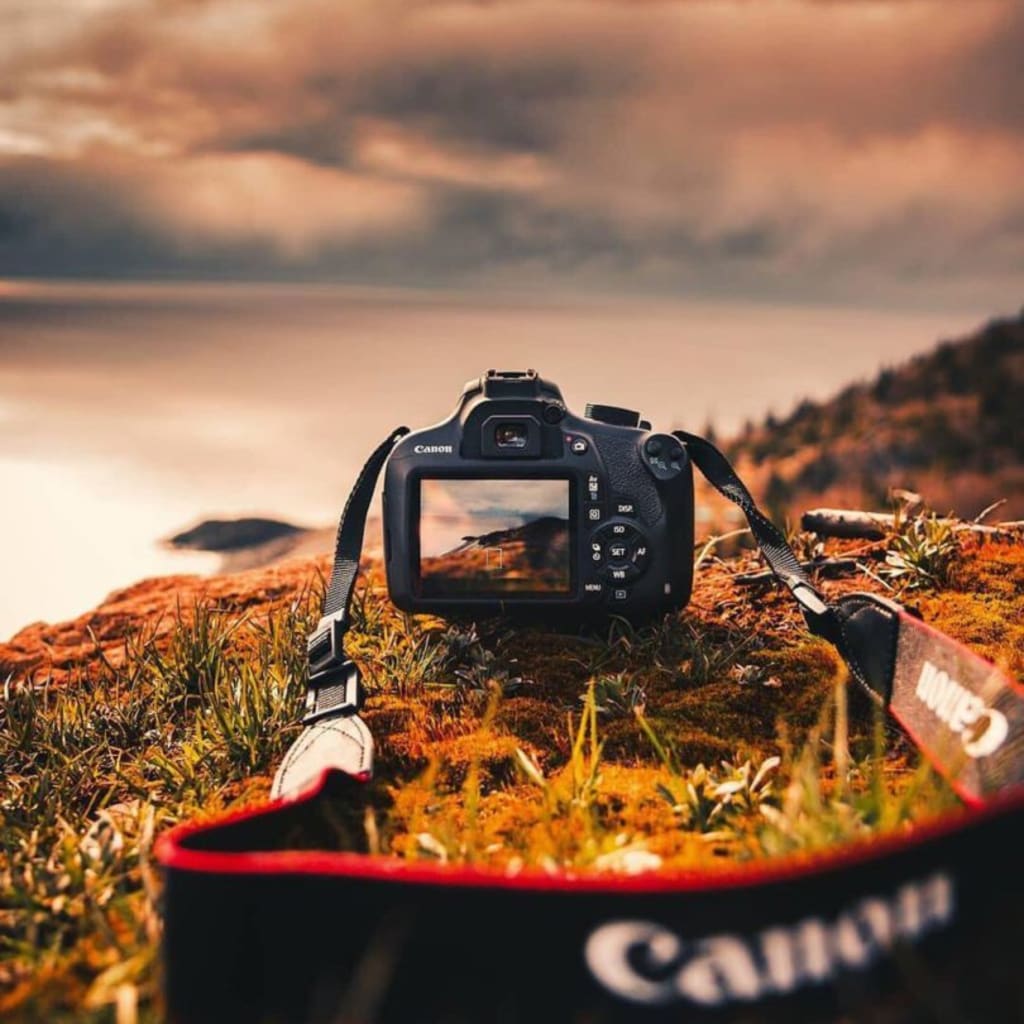 My Inspiration...
"Life is like a camera. Focus on what's important. Capture good times. And if things don't work out, just take another shot." Those are the words my grandfather told me as he took a portrait of me. I was only ten years old at that time, still in middle school. It was my birthday. I always admired my grandfather for everything he did. He loved taking photos of other people, and seeing them smile.
He had those types of instant cameras that had you click a button before a film paper comes out, and then you had to wait a few seconds for the photo to appear on the paper. Yeah, That! We will just call them "instant cameras." Not only did he like photography; he was also a mechanic. Everyone in my neighborhood knew him, because he was such a renaissance man, and was growing into his community. Let's just say that, in my eyes, he was a legend.
Leaving Home...
One night, I was woken up by shouting coming from the kitchen downstairs. I believe it was about 11 at night. I was still a little drowsy, because of the fact that I had just woken up. Heading downstairs, dragging my feet against the floor, I arrived at the kitchen. I was suddenly hit with a bright light, squinting my eyes to get a better view of what was going on.
All I saw was a blur. I heard more shouting, I rubbed my eyes; and it was my grandparents yelling at each other. All I saw was my grandmother's tears running down her wrinkled cheeks. All I could do was just stand there. I felt paralyzed. My grandmother shoved him against the wall, then fell knees-first to the floor. As for my grandfather, he simply left the house in the rain.
I ran to my grandmother, gave her a hug, and tried to cheer her up. As I wiped the tears off her face I said, "Everything is going to be okay." Although I wasn't aware of a single thing that was going on, I tried my best to keep her calm. Ever since that night, I haven't seen him.
The Return...
A year had gone by. I had not heard from him. I was really starting to feel a little sad that he left with no explanation. A lot of questions were roaming around in my head. Why did he leave? Will he ever come back? What happened the night he left? Where did he go?
It was the end of the day, sitting behind my desk, I was ready to leave and head home. Just like any other ordinary day, I sat patiently. I looked at the clock, counting down the seconds, and there goes the bell. I rushed out to the exit, to the sweet smell of flowers and fresh air.
As I was walking, I noticed a very familiar car. It was a red 1995 Nissan Sentra. It was one of those cars that my grandfather used to drive. I couldn't tell who was in the car, because of the glare covering the driver's face. But I put no mind to it, it could have been someone else just picking up some other kid. I walked away until a very squeaky sound interrupted my walk. The red Nissan began to roll down the window, "Come here, Erick." A face emerged from the darkness inside the car; a man with a peachy shave, wrinkled face, tanned skin-tone, with a golden tooth, and glasses. It was my grandfather! "Come in, I would like to take you somewhere." I got in his car and we drove off.
During the car ride, he glanced at me a few times. He asked, "How you been son?" And I replied, "Great, just school... you know. How about you?" He replied with "Everything is good son." There was a moment of silence. During that moment, there were questions that I had in mind that begun to hit me. I had to ask him.
"Why did you leave that night? Why did you leave grandma there...just–"
"Things were not working out Erick. Your grandmother and I just didn't have the connection we did before. I even met someone myself. I hope you understand."
"But now that you're gone, it's not the same anymore. I don't get to see you outside working on trucks and cars, I don't get to see you in your room watching CNN, I really miss you. You even left me without any reasoning as to why you left. I was left unanswered."
"Look, Erick, I know I didn't do the right thing. I want to say I'm sorry that you have to go through that feeling of abandonment."
"But you left me. You don't care about me anymore."
He drives to the shoulder side of the street and stops. He looks down at the steering wheel, as if he were sad or disappointed, and said, "If I did not care about you anymore Erick, I would not use this time to take it upon myself to pick you up from school and clear things up with you. I love you to death, Erick. You're like another son to me. Just because I am no longer at home, does not mean I don't love you. Even though we don't see each other as much like before, I still care about you. I loved you when you started walking on your own two feet, till' this very day, and it goes on till' who knows when. Let me show you something…"
He started the engine, and he got back to driving on the streets again.
After a 15 minute drive from where we came from, we arrived at the back of someone's yard. In that yard, there was a garage. We got out and he leads me inside. In the garage was the old Chrysler van. The Chrysler was so old that the logo wasn't the logo we know today. The logo was actually the Pentastar logo. "I want to show you something," he said. He opened up the van and reached into the glove compartment. He grabbed the instant camera and a photo. "You ever wonder how I never forgot you?" He asked. He gave me the items. I examined them and noticed the photo contained my grandfather and me.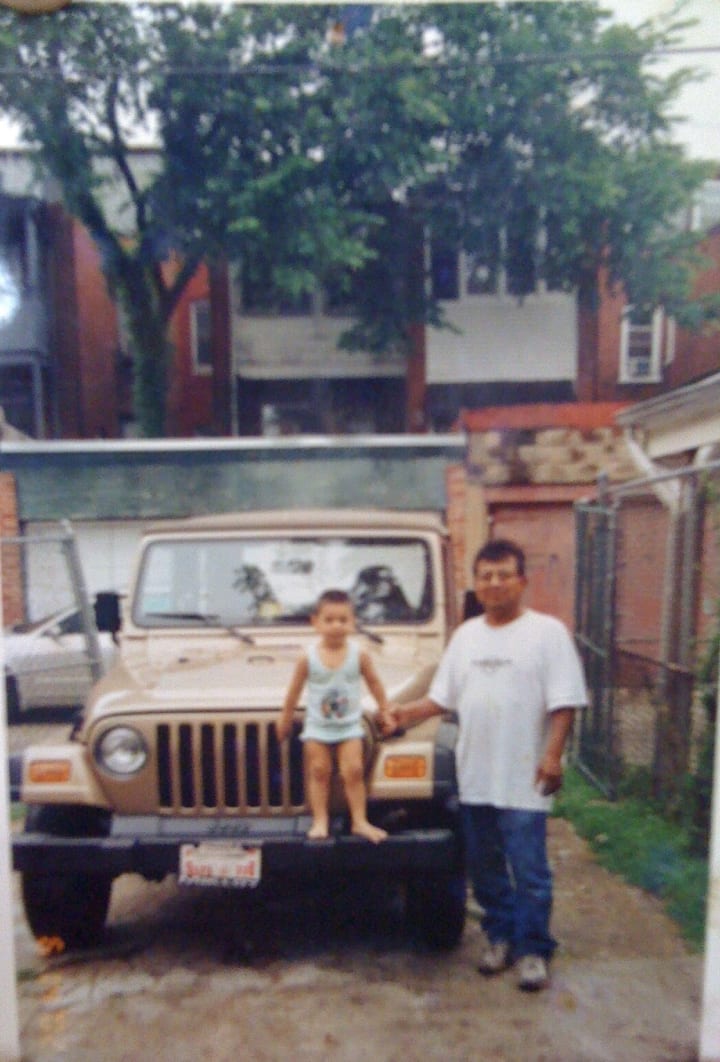 I begin to tear up. "... Because of this photo I never forgot about you. You know what is so great about this... When you capture a moment in time with just a simple click of a button, it never goes away. It stays with you forever and ever... Now let's go grab a bite." We went to a pizza place, ate, and he drove me back home.
"Will I ever see you again?" I asked.
"Yes you will, but for now, no. I promise next time we can go take photos, or fix up a car together."
We both laughed. He messed around with my hair, as he said "I love you. I will see you soon." I got out of the car, and watched him drive off. It was sad that he had to leave so soon. I found out later that he was flying back to my home country, Nicaragua, a few weeks later. But after that day, little did I know, my life was about to change.
Leaving a Mark...
Four years went by; no calls, no messages, no visits, nothing. I guessed he was too busy, or doing big things, maybe. I was woken up by the yelling of my aunt repeating the words "father" in Spanish. I was excited by the idea that he may have returned to visit me again. I got out from under the covers, and as I was reaching towards the doorknob, I heard more yelling coming from downstairs. "Padre, Padre, Padre!" My aunt cried.
That's when I knew, things were not the same. As I was heading downstairs towards the cries, I noticed my father, my uncle, my grandmother, and even my aunt crying. As soon as everyone saw me, it's like everything stopped. They began to go their separate ways. The first thing that came into my head was, "What the heck is going on?" My father grabbed my shoulder and said, "You know grandpa is no longer with us. He passed away earlier today in the hospital."
I was in shock. My heart sunk. I cried, but I cried in a way like there was no tomorrow. I ran upstairs to what used to be my grandfather's room. I grabbed the photo that he gave me. It was like it was only yesterday that he gave me the photo, and the instant camera. I soon found out that he had died from complications with diabetes, which caused his heart to fail. I felt lost, I felt vulnerable, and I felt worthless since he wasn't in this world any longer.
The Process of Reincarnation...
Seconds turned into minutes, minutes turned into hours, and hours turned into days. Over time, I fell into a deep depression. Have you ever had that feeling in which you felt super guilty? Have you felt like you could have taken action, and things could have changed leading to a better outcome? Now that he is gone, I can't get him back. We never got to go out and take pictures, I never got to learn more about the parts of a car, I never even got to say my last goodbye.
I was so down into the dumps that I even believed that ending my life was going to end my misery. Believing that if I were to remove myself from this world I would make everything so much better. Of course, that can't be an option; I was raised too well. My parents noticed the change in my actions, my enthusiasm, my drive. My parents suggested that I should be put into therapy. I didn't really consider therapy when things started going downhill, because I always thought it was stupid. During therapy, I always thought that I was crazy, or what people would say, "mental."
I wasn't mental, it was just the thought that the person I would always look up to was no longer beside me to help and guide me. A few months into therapy, the whole concept here was... What makes me happy? What can I do to distract myself from negative thoughts? What was my best memory I had with the person? I wasn't sure if this was benefitting me in a way or it was just to make me feel sad that I had to remember everything we had done together. But I did put a lot of thought into it.
My favorite memory was the fact that he lent me his instant camera to take pictures of him with his cars. My grandfather loved cars, he was a big motor-head. He told me he loved the pictures I took. I remember the big grin he had on his face. He would light up the room with his smile. Everywhere we went, even to the motor parts store, he knew how to make anyone smile.
It was like his smile was very contagious; it spread to whoever came across our way. I guess it was the fact that I was always with him, and whenever I got my tiny little hands on that instant camera, it would always make me feel like a professional photographer. Well, he made me feel that way. Looking back, I noticed that I loved expressing my feelings when it comes to beliefs or what I have done. I knew just what I wanted, and what to do to help me recover.
Reincarnation: Self Image...
During the time I went through the process of therapy, I asked my parents to buy me a camera. I felt that, if I were to own a camera, I would be able to express myself using photos. I could probably find a community who could relate to what I was going through, and I could hear other stories. My 15th birthday and Christmas were right around the corner.
I sat down with my parents and opened up about my emotions, and told them what was going on with my life. And on Christmas day, I received my camera. It was a beautiful Canon Rebel T3 50–150 lens length. I loved it so much that it was the thing that kept me happy, and was the only tool I used to express my feelings, or talk about what I was doing.
Flash into Present Day...
Now today, I take pictures everywhere I go. Scenery, how I feel, what I like, different places I have gone, etc. And now today, I feel that this story of mine can spread across the world, and I feel the need to share it with everyone. Here is a little something for all of those who are still reading: Find what drives you, because even the simplest and littlest things can turn your life around, such as a piece of machinery that captures still photos and creates memories. Keep moving forward. We aren't getting any younger. Live life to your highest potential.
- Erick Jose Vasquez