Getting a great Lion Shot
After 20 years of trying, I got the money shot!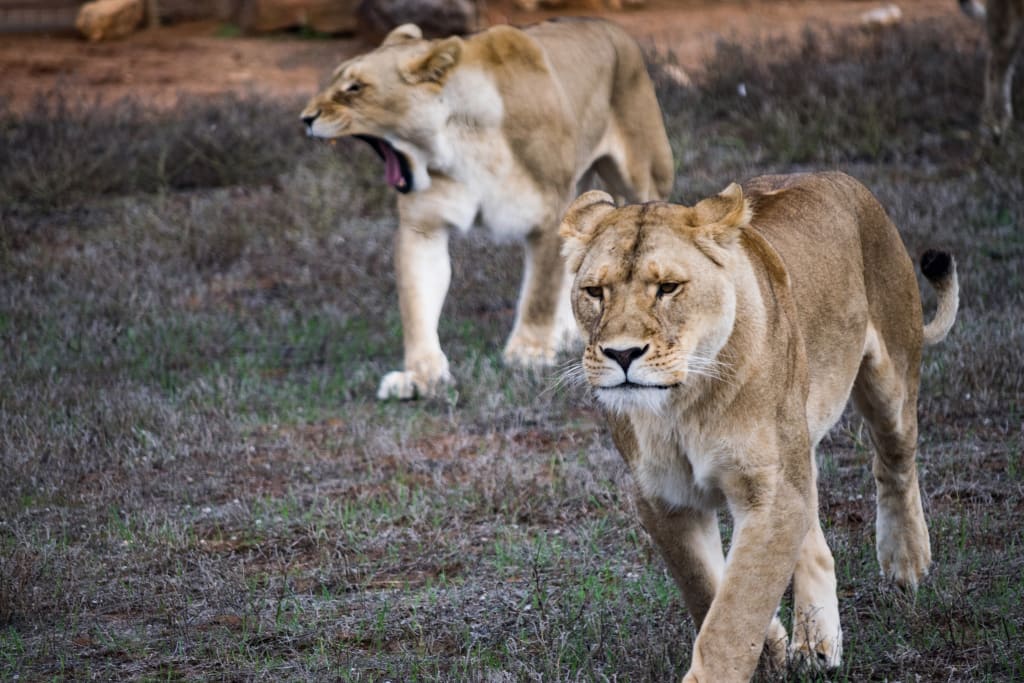 Lions sleep 10-15 hours per day, so the best time to get your shot is when they wake up.
Have you ever tried to capture an award winning image of a lion at a zoo? Let's face it. When your animal of choice sleeps for ten to fifteen hours every day, most of your photos will show lions sleeping on a rock. When they are active, they often hide behind structures or worse, they are right up against a fence. Who would want to get a photo with fences in the background? When the lions are really active, then people of all shapes and sizes rush to the enclosure, so you need to jockey for position to get your shot.
I've tried photographing lions in Houston, San Antonio, San Diego, Los Angeles, Santa Barbara, and Adelaide Zoos. These shots ultimately ended in my computer's recycle bin, and left me longing for a trip to the African Savannah. While I'll plan to take that trip once our borders open to international travel, I've found the largest safari park outside of Africa in my own backyard.
Monarto Safari Park is only 45 minutes from Adelaide but when you arrive, you feel like you've been transported Jurassic Park. It boasts 3,700 acres – easily enough space to fit a small city, but the inhabitants are animals rather than people. As an open range zoo, each area has predator-proof enclosures. In order to see the animals, you board a bus with large windows and take a 45-minute tour of the park.
As you can imagine from my above comments, my favorite part of zoos everywhere is the lion exhibit. Imagine my delight when the gates opened for our bus and we arrived in perfect time to see the zookeepers opening the lion's overnight accommodations so that they could feed and frolic freely in the open air! It would have been easy to forget that these are man eating giant cats when watching them pounce on each other, stretch and play like housecats.
I took at least 30 photos within the 4 minutes that we were in the enclosure. It was hard to choose my favorite entry, because the feisty felines were really active and playful that day. If you go to Monarto Safari Park, I recommend that you get an early start. Get there twenty or thirty minutes before they open if it is during the school holidays so you can be one of the first people to board the buses. The light is much better in the morning and the animals are more active too.
The photos that I took were from the 'wrong side' of the bus because my daughter was sitting on the side nearest to the action. To take the photo, I had to trick my Nikon D3300 camera into focusing on the lions rather than the window. To do this, I pressed the shutter halfway down a few times until it found the lion as the focal point. The aperture was set at f/8 with a 1/250 shutter speed. The focal length was 550/10.
First, I imported it into Adobe Photoshop, where I cropped the image. Then, I moved it over to Adobe Lightroom to correct the white balance and auto tone. Finally, I removed the haze from the window through a Lightroom preset normally used for underwater photos. After a few minutes I got the shot that I've been working towards for over 20 years. I hope you like it.
After a three month closure due to COVID-19, the Safari Park is opening again on 29 June, with strictly limited entries, so you need to make a reservation to ensure your spot. As a photographer, this is music to my ears because fewer people always mean better wildlife shots. Now, make sure your battery is charged and you have plenty of memory on your camera, because the adventure is about to begin.
how to
About the author
Monique Littlejohn is an artist, photographer, and writer living on a hobby farm in South Australia. She shifted between Southern California and Australia for a few years before making Stirling her permanent home 4 years ago.
Reader insights
Be the first to share your insights about this piece.
Add your insights