Finding My Artistic Me
My quest to be different as an artist and photographer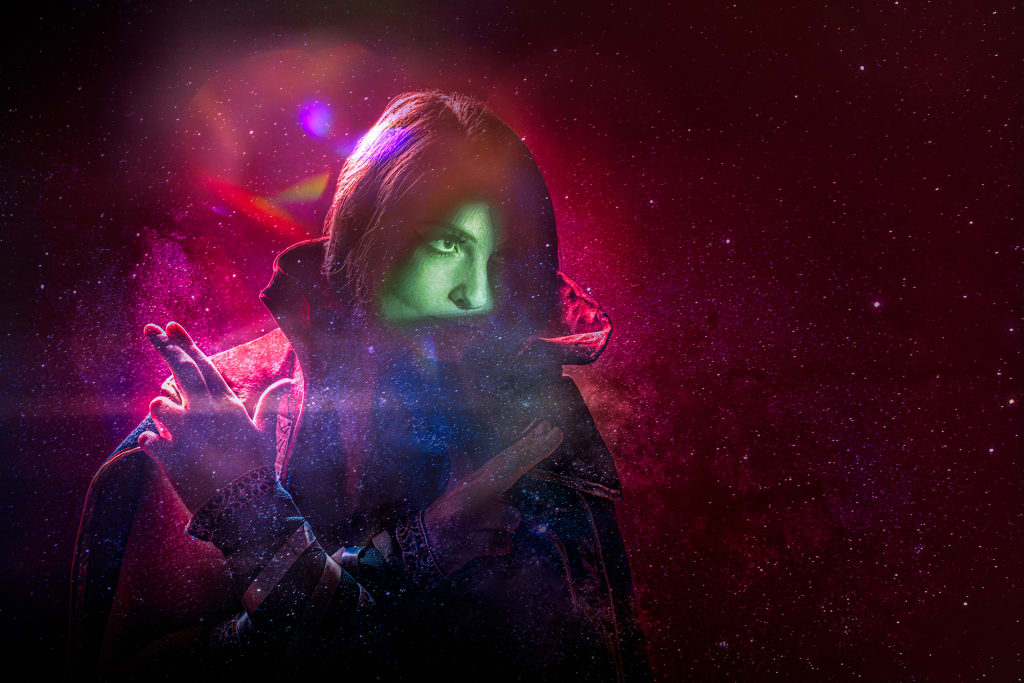 Creative lighting inspired by Lindsey Adler.
I recently attended a conference for professional photographers put on by the Professional Photographers of America. A message kept resonating through the hours of video conferences that I watched that weekend--be different. In a marketplace full of the same, different makes you stand out, and makes you be able to live the life of a successful artist. In other words, create, create, and be YOU!
So what does this have to do with a conversation on photography editing and photo before and afters, you ask? Everything. Go look up fashion photography on Instagram or Facebook. What you'll likely find is a series of bland images that all pretty much look the same. Now do the same thing on Pinterest, and you'll find a class of photograph that stands 10,000 feet above what you looked at on other platforms.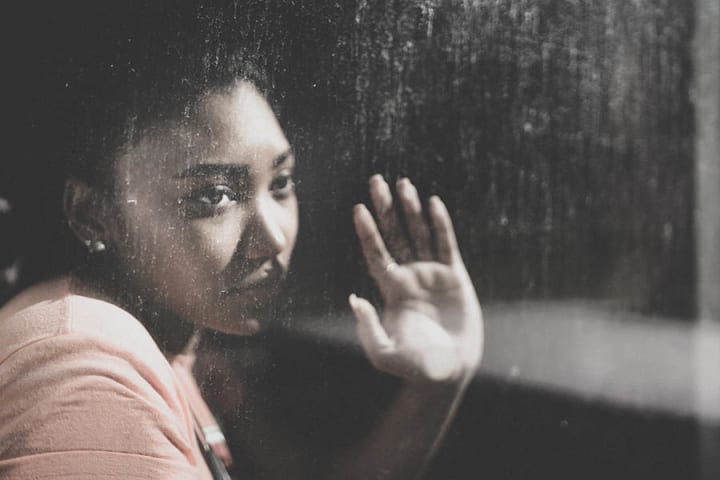 It's not just the lighting or brand of camera that makes photographers stand out, it's what makes their work unique. Personally I look at some of the best of photographers in the industry and draw tons of inspiration. I want so badly to jump in skill level and just land in their league of excellence. It doesn't work like that. Photographers like Lindsey Adler, Annie Leibovitz, and Josh Rossi all stand out as artists I want to resemble. It takes work, education, dedication, and then, if I level up enough, I will arrive to a product that both matches my expectations and creates something that is unique and distinct from my inspiration. Welcome to the life of an artist.
In my quest to find myself as an artist, I have explored a little bit. I started my photography business as a guy that needed to find some money. So I started photographing real estate for agents selling houses, certainly a good option for someone that just wrapped up a career as a real estate agent. It's something I continue to photograph today, but I can safely and honestly say that I don't want to build a business that is exclusively real estate photos.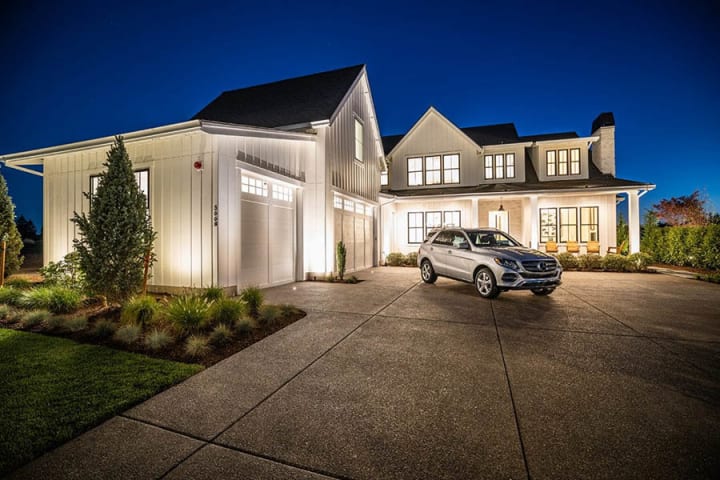 Yet even in simple, architectural photographs, there is art. Have you ever heard of the term 'HDR' photography? You probably think High Definition, right? It's not. HDR is an industry term that means High Dynamic Range. In other words, you make it a goal to capture the brightest highlights, the deepest shadows, and everything in between to create a finished product entirely unlike anything you could create with a cell phone camera. To do this, I follow a process known as bracketing, where I use my camera settings to capture three separate photographs on site and blend them into one finished photograph in post production. Check out what I'm talking about in the image below.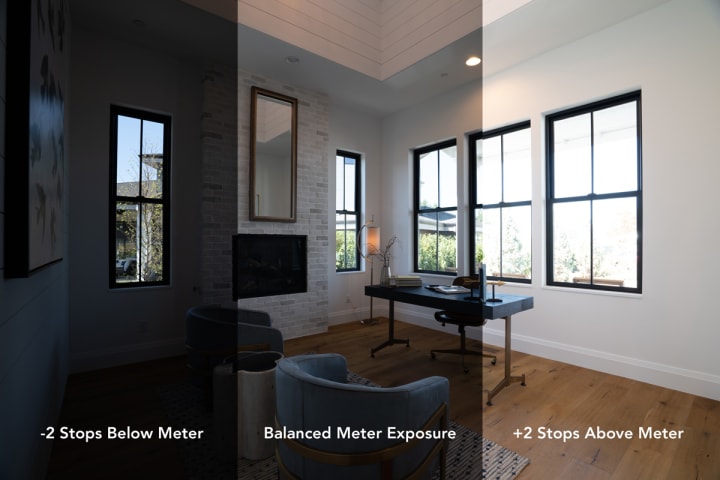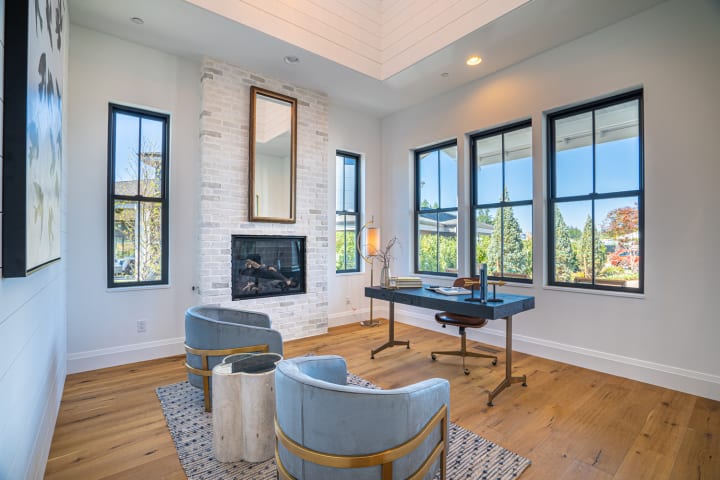 HDR Photography is one thing, but professional portraits are another. Wardrobe, hair, makeup and lighting are all critical elements that play a role in producing a good finished product. I was hired to do a team portrait for a mortgage lending company here in Salem, Oregon. The goal, create something different and unique that would make them stand out in the marketplace, and different is what I brought them.
We started with a studio session, bringing them into my small space to photograph their team. As you can see from the photograph, even my lighting equipment makes it into my original photos! Since the style of photographic editing I opted to use for this project is Compositing, where I replace backgrounds and add other effects, I needed to think about all the members of the team and how the light would fall on them. This is, of course, a critical element to every portrait photograph, and it is more so with composites.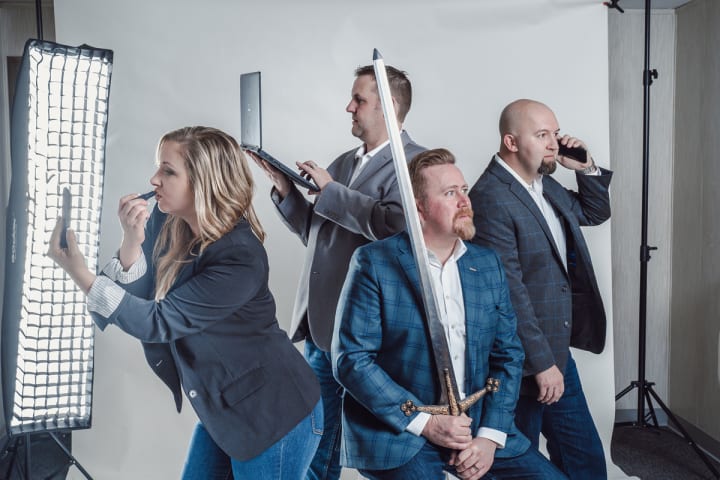 The photo below is essentially the lighting setup that I used for this particular photograph. As you can see, I used two lights. One, a 45 inch softbox on a strobe, with the second light coming from a tall strip box in the back corner. Finally, I used a white soft reflector to fill in the light opposite the big 45 inch softbox. Using such big diffusers let me fill the area with enough light to avoid adding an additional light, which would have likely been too harsh on my female subject in the front.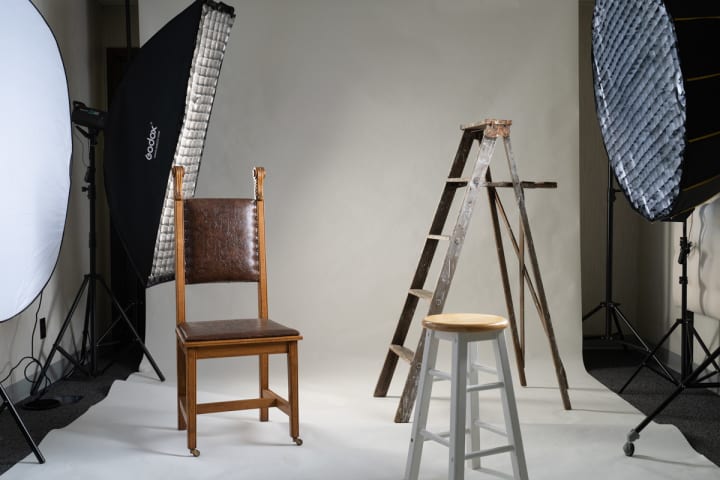 All of the lighting work supported a thought process preparing for digital composite work in post production. Fortunately, doing everything correctly in the studio lead to a background replacement task that made sense and ended in a piece of artwork that was highly successful. My client ended up making money because of this image. Check out the end result, it was awesome!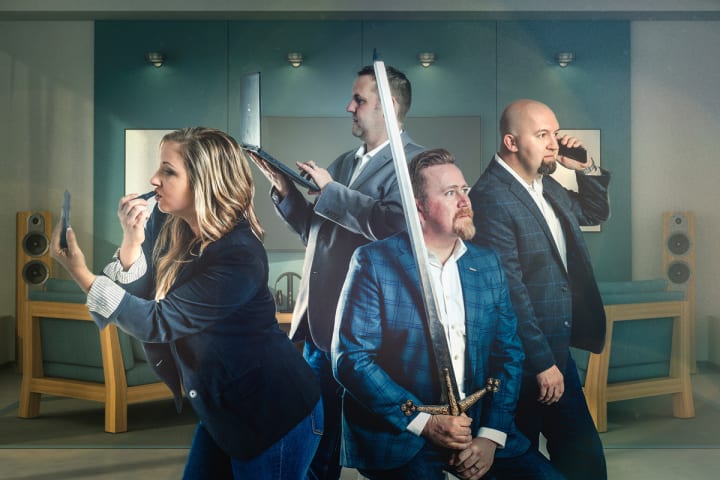 Finally, I'll share one more style that will be of interest, and it is more fun than anything. A friend and I are working on a project about cosplay and cosplayers, a physically printed book that will feature original photographs by me. I had the pleasure of photographing the PDX Sanderson Sisters, a group that cosplays the title characters from the Disney Film 'Hocus Pocus'. These three ladies are a hoot, by the way. You should go follow them on Instagram!
This job was more than just a simple background replacement. First, I didn't do this session with a composite photograph in mind. We were in a wooded, shaded area on a hot summer day. My lighting equipment was only somewhat equipped to handle the situation, and the background was basically terrible for creating enough contrast for an easy replacement.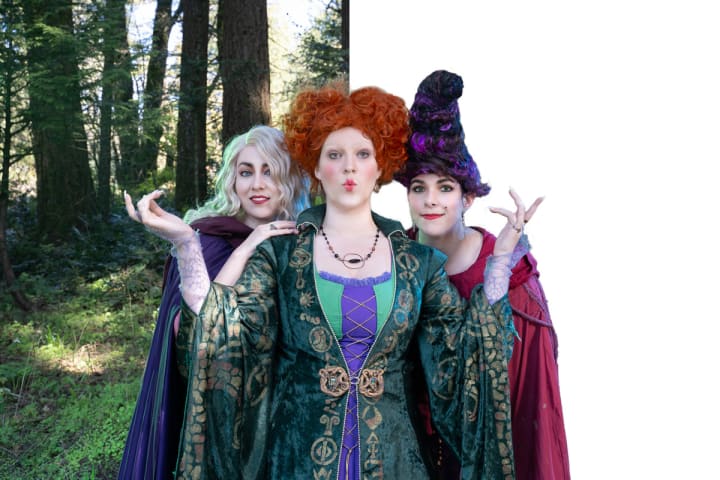 Next, the group wanted to do something heavily inspired by the original film artwork. I was certain I didn't want to copy it, but I also knew I wanted to add my own flare. So I ended up combining elements from the different 'Hocus Pocus' promotional artwork pieces that helped me create something new and unique. For example, in one piece, the original artwork has the witches positioned at the top and shooting lightning into the moon, where another one positions them from a wider angle, flying on broomsticks in front of the moon with the town below. From positioning to composition, mine is entirely unique, different from the original while still inspired by it.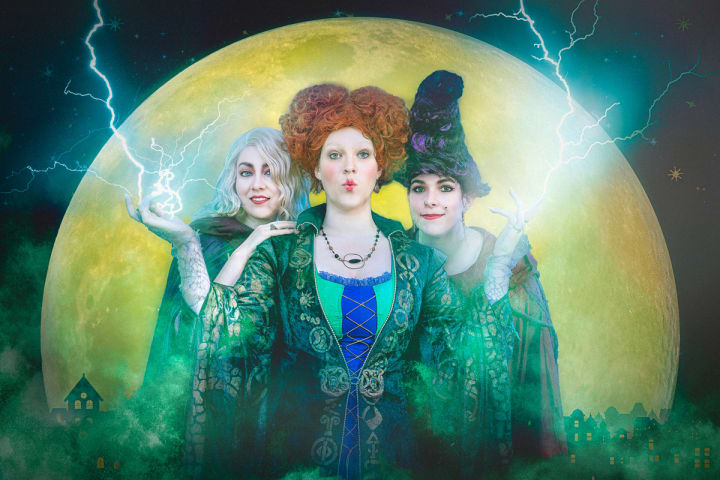 Where do the town, moon, lighting, stars, and smoke come from, you ask? Great question. Unsplash is one of the best resources on the internet for finding simple assets, and that is my number one spot for finding pieces when I go to make a composited photograph. The moon, and lightning came from Unsplash, and I added the smoke from my library and changed it to green. I ended up purchasing a vector stock illustration that I could alter and use as a simple town, and did the same for the stars. Add some adjustment layers in Photoshop and balance the color to end with an image that is just plain fun.
What I have shared in this article are three different styles of photo editing, every one of them starting with how I shot the original photograph. Don't let me fool you, there are so many ways to create and edit photographs that I could not possibly explain them all. Are you a photographer or artist? Are you looking for a way to be different, unique, and still display excellence in your work? If you are just getting started, the path is not an easy one, but it is fun and exciting. You will learn things about yourself, and your skills will expand. If you are on the fence, wondering if you should create something incredible and stretch your imagination, stop wondering. Get off the fence and see where your imagination takes you. The result may be something you never predicted or thought possible.