Enjoy Your Life
Yosemite, CA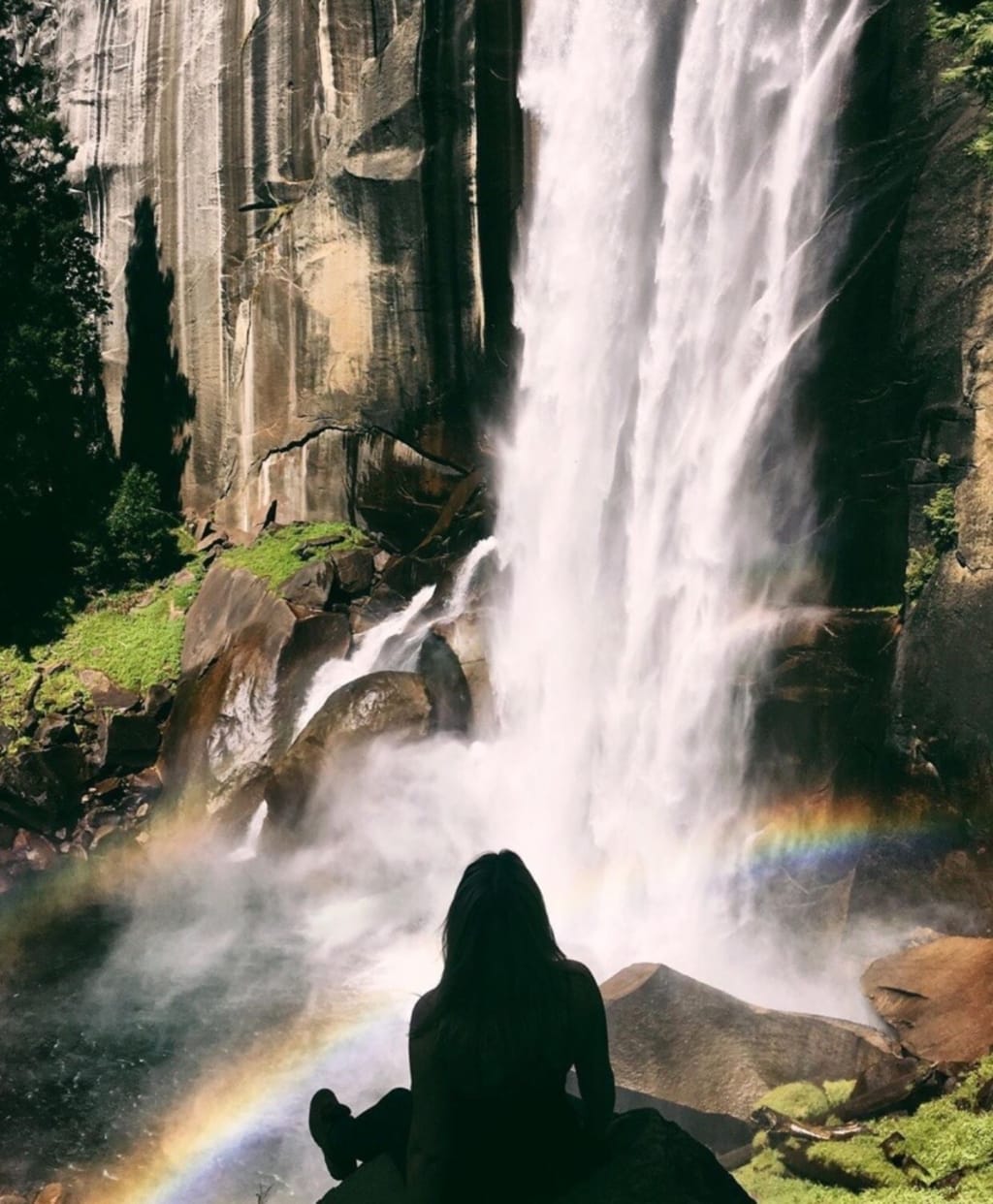 The story of how I got to this waterfall is a long one. So here it goes.
I grew up in a small town outside of Rochester, New York. Like any young person in their teens, I hated my small town and dreamt of escaping to a land far far away. California has always been my favorite state, and I dreamt of running away one day. On a cold December day, I was in the parking lot of my part time job making subs, filled with thoughts of my toxic boyfriend of the time, and how I just wasn't satisfied with my life. I wasn't happy and I wanted more. In that very moment, I decided it was time for a change. I set a date 6 months out and started telling everyone I was moving to California. People that I didn't even know. Suddenly there was purpose, I was excited again.
I moved to San Diego and worked in a hotel full time, cashiered at a store part time and walked dogs when I was available to make extra cash. I was for sure making the money but I was only living for the weekends. Exploring Southern California was amazing but for some reason I still felt like I wanted more. I was unsure of my future and it made me depressed. I took a step back and realized what made me happy. Seeing new places. Experiencing new things. I wanted to be on the move, that's what I was most happy doing. After 10 months of living in San Diego, and I packed everything up and moved to Yosemite National Park.
Living in a National Park has been a surreal experience. I wake up under thousand foot granite walls, to the blissful sound of the Merced River, and gaze up at Half Dome and Yosemite Falls in all of their glory.
Because I do everything alone, getting a nice photo of me on a hike or adventure can be tough, and because I live in a National Park, there is never a shortage of cool things to do. One morning I woke up and decided I was going to hike to the top of Vernal Fall. I grabbed my hiking pack, some snacks, and most importantly, my camera and tripod. Once I got mostly up the gorge, I found my perfect photo location. I pull out my Canon and tripod, and quickly realize I forgot the little piece that screws on the bottom of the camera so you can attach it to the tripod. Sweaty, annoyed, and frustrated, I couldn't let this perfect photo opportunity pass. I didn't want to balance my camera on a tripod, knowing with my luck a gust of wind would come by and sweep my camera down the Merced River. I took my hair tie off my wrist, wrapped it around my phone, and strapped my phone to my tripod and set my phone camera to a 10 second timer. I ran back and forth from my phone to the spot I wanted to be photographed, over and over trying to get the best shot. I was going for a beautifully exposed and vibrant photo of me on the ledge, which I ended up getting many of them... but there was something about the one where I am just a silhouette. It looks like a painting. It makes the scenery come alive and I enjoy how it draws the attention to me, yet subtly. It provides depth.
It's the pictures like this that make me stop and look at the beautiful life I have created for myself. The special moments I get to live because I decided to do life differently.
Flash forward, to today, I have now lived in California for a year and a half now and it has truly been the best year and a half of my entire life. California opened my eyes to a new kind of life style, one that does not involve material items, fame, wealth, status. But a life that embodies what it means to be free. Free of all things holding you back from seeing the world. Staying in one place long term is my worst nightmare. I am drawn to new places like a magnet, I feel compelled to travel and I feel pulled to the unknown.
I live in Yosemite National Park and my plans for 2020 are to live in the Hawaiian islands, Alaskan Mountains, and solo backpack Europe. I will never stop exploring.
And that's the story, of how a small town girl with big dreams, turned her life into a work of art.