Amazing Images In The Sky
What Do You See When You Look At The Sky?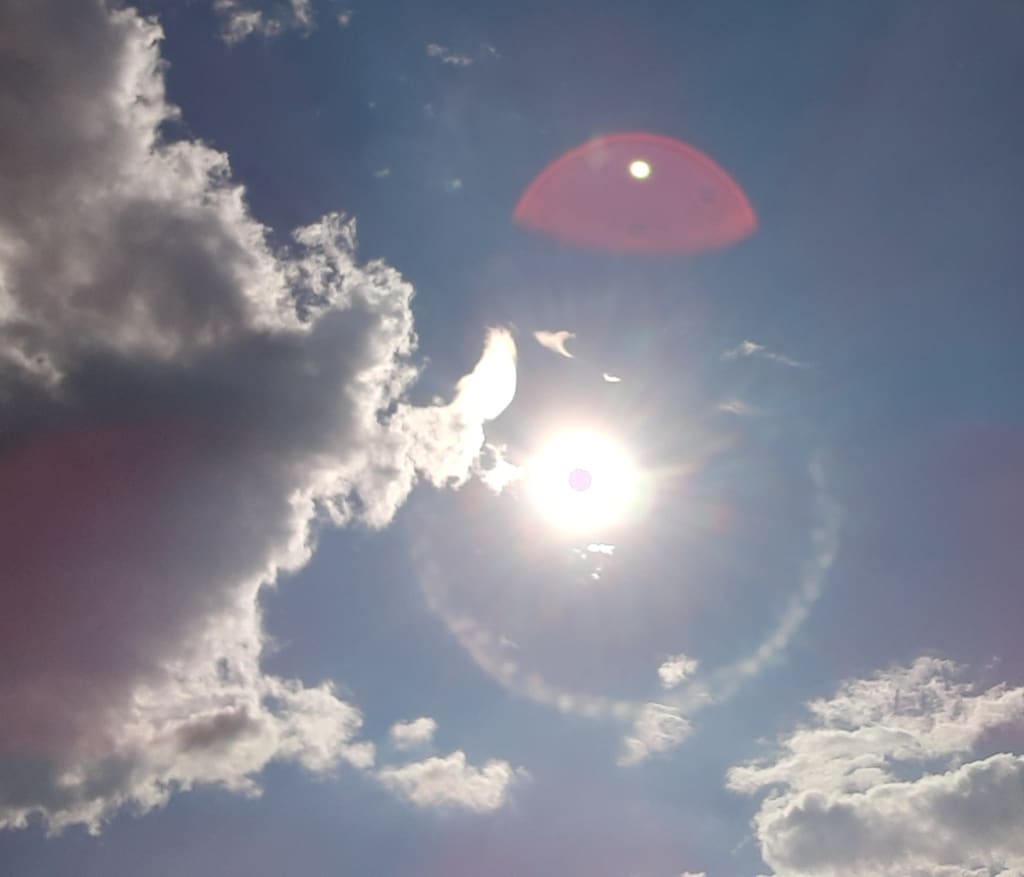 Photograph By: Shelly Bartley
When you look at the sky what do you look to find? Do you look at it for the beautiful blanket of blue surrounded by cotton cloud pillows? Does the sky cover your canvas creating a snapshot to last throughout time without a camera? Have you ever tried taking that perfect picture of the sky? The picture that really pops out above all the rest is the picture that really keeps your eyes locked in on what you are looking at. A picture that can really make a person's eyes shine is so hard to find these days. When you take a picture did you miss something in the picture that you caught? Go back over your picture that you have taken over the years. Take a very good long look to see if there is anything hidden inside the picture that you missed before. Recreate the story of the day that you took that picture. What did you find that was hidden that you did not see before?
Sometimes when we take a picture we catch a very rare moment that may never be seen again. This could be a moment that belonged to a person who was lost. Seeing the moment that was lost to your eyes before creates a whole new picture. This one moment is a moment to last throughout eternity. A painting created from one little picture taken with a tiny camera that rested in a person's hands. If you take that picture and stretch it out on cloth sheet what would your eyes see? A planet could be passing at a certain moment that just happens to have been in the picture. Have you ever wondered if we all stood up and took a picture of the sky what would be in each of those pictures? Maybe if you look hard enough you will see a shield around the sun. It is possible that you may see a double sun.
Try a challenge for every day for a month take different pictures of the sky to see what you capture. If you prefer to paint it from memory then this could be a different kind of challenge to see what it is that your mind and eyes captured. Ask your friends to join you to see what you each received in the pictures that you took or painted. After you have done this discuss it with each other to see what secrets the sky shared with you that you never saw before. This is something that could become a family event for everyone to take part in. If your near a body of water then try to get a picture of the water and sky. See if you can tell where one begins and the other ends. After you have done this try to look deeper into the picture to see if the sky revealed something new in the ocean.
Take the time to stop and share your experiences with others to see what newly painted figures you have each discovered. Challenge yourself to discover what the world is showing you through all of your photos. There are other challenges that could be created but let the first challenge begin with the sky. Start with baby steps to reach the bigger steps of discovering all the is hidden that you have never seen before. The picture in this article is a perfect example of something seen. I hope to see pictures of your own surrounding the world to show people the things that they are missing. Let the dream that is reaching out from the pictures become the reality that it actually is.