5 BEST VIDEO EDITING APPS FOR IPHONE
Using an iPhone video editing software is a wonderful way to produce and share videos quickly. However, with so many editing programs available, it may be challenging to determine which ones are worth your time and money.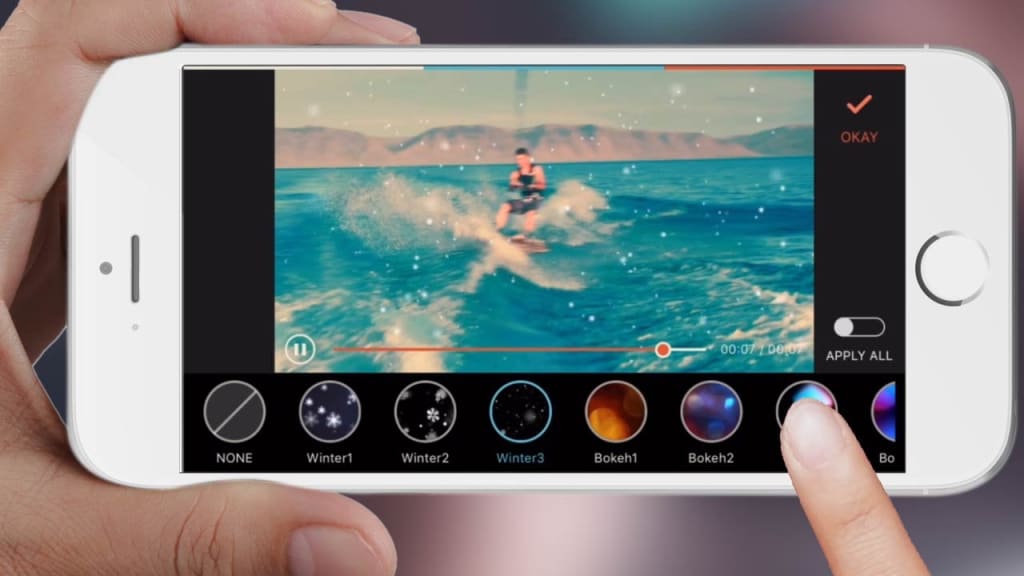 As iPhone camera lenses have improved over time, filming videos on the iPhone has become more common. Many iPhone videographers wish the ability to edit and share their videos directly from their phones.
Using an iPhone video editing software is a wonderful way to produce and share videos quickly. However, with so many editing programs available, it may be challenging to determine which ones are worth your time and money. To make things easier, we've put together a list of the top 5 video editing applications for the iphone.
1. QUIK FOR MOBILE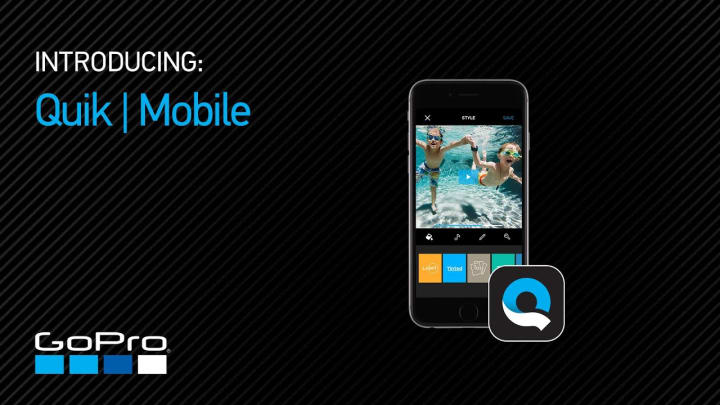 Quik is a video editing app created by GoPro. This software is a versatile solution for videographers because it works with iPhone, Android, and GoPro cameras.
This app was created specifically for action photography. Advanced editing tools like slo-mo and automated audio recognition are included in Quik. The GPS Sticker function displays your speed, altitude, and distance traveled. This and other small details make it ideal for action-packed editing videos.
You can cut, rearrange, zoom, rotate and reverse your videos on iphone using Quik. You can also utilize their Smart Cut feature, which automatically cuts your videos. There are 26 themes in the app, each featuring transitions and visuals. It's also simple to pick the ideal background music with over 100 free tracks.
2. FINAL CUT PRO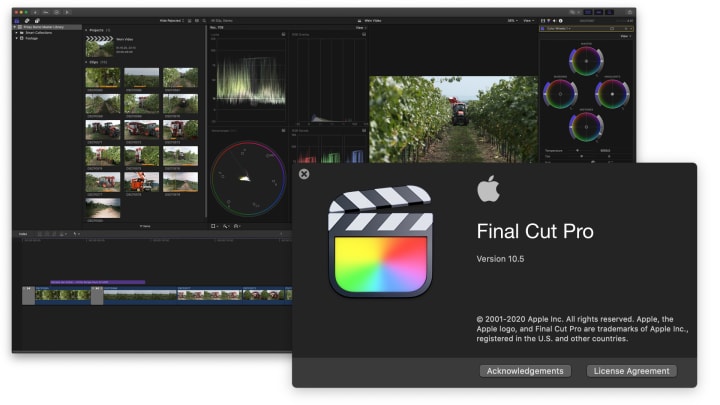 Final Cut Pro is a professional video editing application for Mac users. This feature-rich software is ideal for iPhone filmmakers who wish to build complicated videos with special effects.
Magnetic Timeline is one of the many valuable elements of their user-friendly design. This tool allows you to smoothly cut and rearrange segments without interfering with the remainder of the video. Clips may be color-coded for added convenience, making staying organized a breeze.
Several iPhone developers use an anamorphic lens attachment to generate ultra-wide aspect ratios. The anamorphic lens became popular among iPhone videographers because it stretches the x-axis and provides a wide horizontal frame. Final Cut Pro has software that can de-squeeze your ultra-wide video into a letterbox frame, and it will help you tocompress your videos.
Final Cut Pro includes several features that elevate it to the level of a professional video editing tool. Advanced audio editing, 360° VR editing, Motion Graphics, and Advanced Color Editing are just a few of the notable capabilities.
3. LUMAFUSION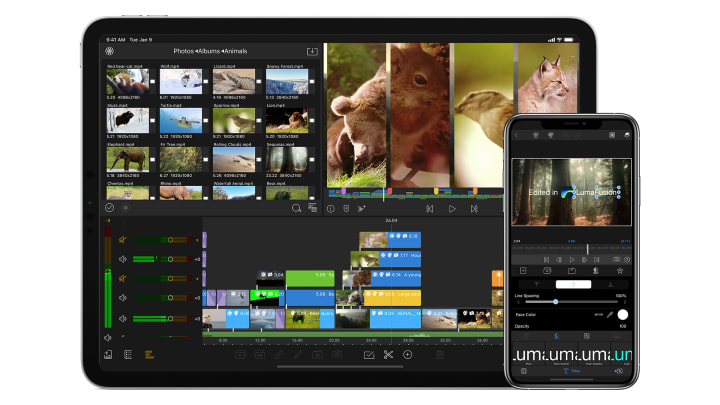 LumaFusion Pro has been a popular pick in the App Store for a long time, now ranking #21 in the Photo & Video category. This software has a lot of advanced capabilities that make it simple to create high-quality content with your iPhone at a low cost.
LumaFusion Pro includes a magnetic timeline that makes rearranging your video content easier. You can also drop markers to leave comments and multi-select clips to remove, relocate, or copy with this software. When working on complex tasks, the straightforward UI makes it stress-free.
You can use this Application to add styles and effects to your videos. You can add multi-layer titles in various forms, words, and images with the Title effect. LumaFusion can also properly color correct your film to eliminate distortions like overexposure. You can see all of the changes to your video in real-time with the real-time preview.
This all-in-one video editing program includes all of the necessary tools for video editing and some intriguing additional capabilities. The LumaFusion app for iOS is available for download. The app is $29.99 to download, but it does not include other features that can be purchased in the app.
4. iMovie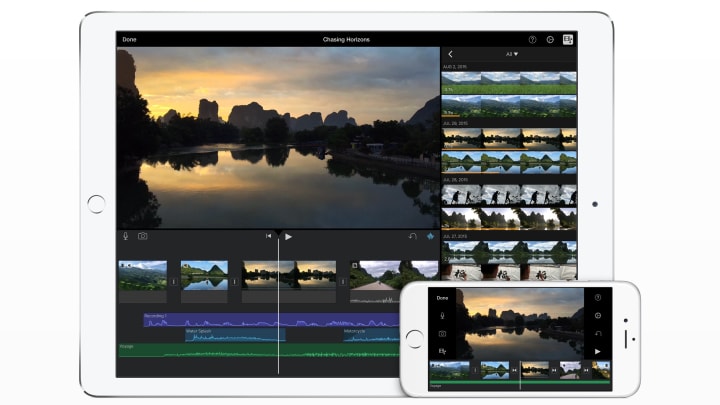 iMovie is Apple's first video editing application for IOS and MacOS users. iMovie offers the most basic video editing features. Only Apple understands how to develop a user interface as simple as iMovie's.
By picking a style template that best matches your film in iMovie, you can add unique logos, cast names, and credit roles. You can choose from 10 filters and eight themes if you're using the Application. iMovie also includes a limited library of sound effects and music.
Again, if you're searching for professional video editing tools, Final Cut Pro or LumaFusion are better options. iMovie offers a basic approach to video editing and is excellent for those new to the scene.
5. FILMMAKER PRO VIDEO EDITOR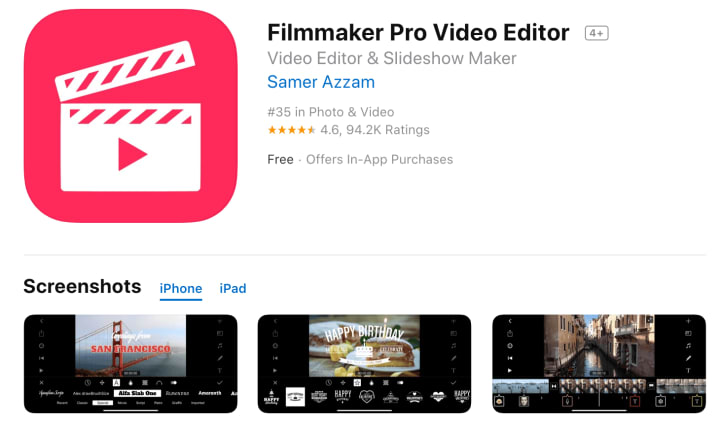 Filmmaker Pro is similar to iMovie but more advanced. This Application also has basic video editing capabilities, giving you greater direct control over recording your video.
The most exciting feature of Filmmaker Pro is the ability to instantly change any green screen background with only a few touches. You may also change the color gradient, white balance, and saturation with this video editing tool. With 30 filters and transitions to choose from, this program has plenty of features to keep you interested for a long time.
Intermediate video makers who have surpassed iMovie might consider Filmmaker Pro. This software is available for free in the Apple Store, but additional features need in-app purchases.
film
About the author
I am a blogger. Love to write Content on new technology, the latest tech news, gaming, gadgets review, and android. I also love to write about pets, health, business, finance, and the latest tips and tricks.
Reader insights
Be the first to share your insights about this piece.
Add your insights