4 Fun Self Portrait Ideas to Try in Lockdown
Level up your photography and get to grips with your camera with these #advancedselfie ideas...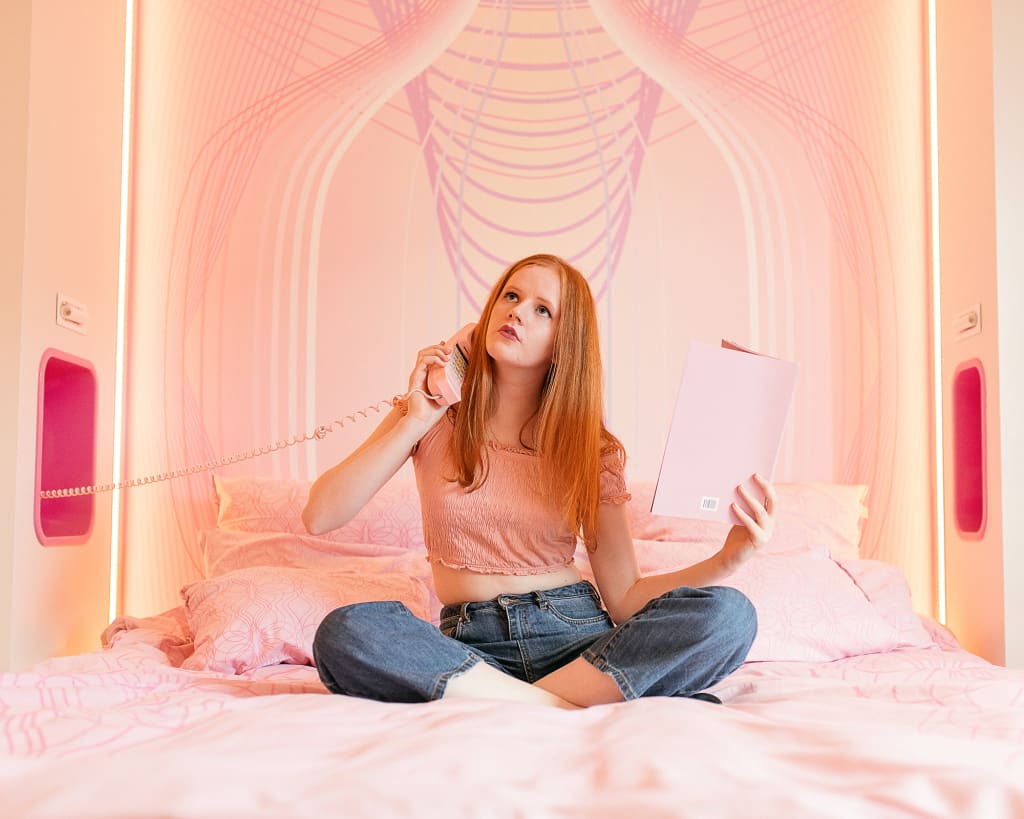 Self portrait, @byclairep
With much of the world in lockdown right now, budding photographers out there might wonder... how can I improve my portrait photography skills when I can't leave the house? Well, I'm here to tell you that you don't need to work with a model to up your photography game: you can be your own subject! Let's take some #advancedselfies!
Today I'm sharing four ways to experiment with self portrait photography; give these a go to improve your creative eye while having fun in the process! It doesn't matter if you have a DSLR or just a camera on your phone: jump into it!
1. Place something over the lens
For this one, set up your camera on a tripod. Make sure you are focused on yourself and that the self timer is on. Once you release the shutter, you're going to hold up something close to the lens of the camera, while you pose.
To blur the object that is close to the lens, like the flowers above, you'll need to have a wide aperture, around 2.8. Not too wide though, as it can make it super difficult to focus on the eyes.
This works best with a DSLR, but don't let that stop you from trying it out with a mobile phone camera too!
Which props should you try? I find flowers and petals create a pretty effect with this technique. Or get abstract and hold a piece of perspex, glass, or even a drinking glass close to the lens. This can create a trippy effect like in the above image, where I held the lid of a Ferrero Rocher tin in front of my face! I've even held up my own glasses up to the lens for shots! Try anything you can find—especially if it is somewhat translucent—and see what happens!
2. Create a faceless portrait
Next up is a faceless portrait, which works equally well with both a DSLR and phone camera. And, big bonus, this works great if you want to take some photos but you can't be bothered putting on makeup! It's also great if you want to remain anonymous, or if you simply want to try something a little different!
Of course, this one doesn't need much explaining, you literally just need to place something in front of your face! Or turn your back to the camera.
You don't need to show your face to tell a story! Props can be a great way to build a world and introduce a narrative into your photo. Scour your house for fun items like books, handbags, mugs. Place them in front of your face, and get snapping some pics!
3. Get moving
Another idea is to capture movement in the shot. You can use any kind of camera for this photo, but you will have a little more flexibility with a DSLR.
Again, set up your camera on a tripod and take some photos, but this time, instead of posing and staying still for a shot, move about!
If you have a camera that allows you to adjust your shutter speed, you can experiment with fast shutter speeds, like 1/800th of a second. This will freeze the moment in time, capturing a crisp clear shot of a split second.
With a slow shutter speed, you'll see a blurred image of movement, which can lead to some interesting results too. It's all about experimenting!
4. Don't be shy, collaborate!
If you're lucky enough to be in lockdown with roommates or family, why not get them involved and collaborate on a self portrait! Find a friend who's happy to pose in front of a camera, and work together on all aspects of the project. Decide on the vibe you want to portray with the photos, and choose your outfits and props. Set your camera up, and get shooting!
_____
For more tips on creating amazing self portraits, check out my class How to Take Beautiful Self Portraits (there's a free trial for new users).
If you liked the photography shared in this article, follow me on @byclairep and @shotbyclairep.