10 Stunning Website Templates for Photographers
Take your photography ideas to a new level with any of these photography website templates. Create a digital portfolio that will project your creations to stellar levels.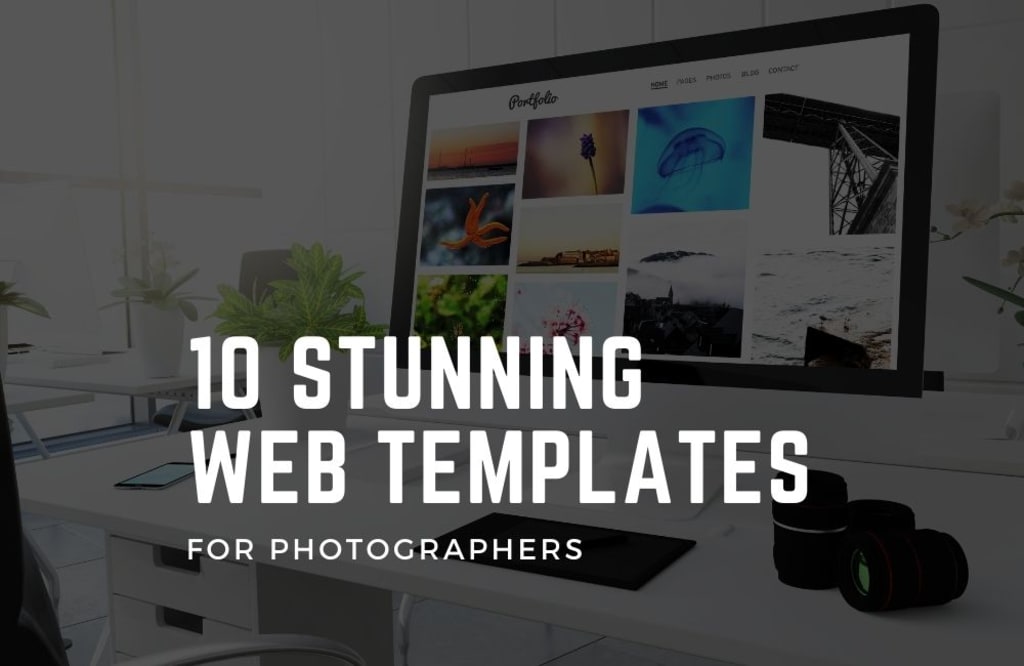 Photography is a style and a form of art that includes taking images using light and then having to project them, and later on, fixing them to form images on a precise medium, both digital and physical). Image is everything, and no, it's not just a photography pun. When you upload your photos to the Internet, you want them to really connect with your audience. One of the best ways to do this is by designing an amazing photography website.
For 95% of professional photographers, having a website is a must. Your website will allow you to correctly showcase your talent to the rest of the world, and make it easier to meet and contact you.
Nowadays, it is so easy to create a website for photographers and fast to reap its benefits. Whether you are an amateur photographer or a professional photographer, creating a website is beneficial to both. Given the wide array of various solutions, one could easily discover the one you would wish to utilize. However, you should not feel any hindrance. For example, if you want to put your creative flair in the default layout, you can too.
What features should a website for photographers have?
Today there are a number of affordable and simple ways to design a professional-looking photographer website and make it visible on the Internet. The best thing about it is that it requires no special web design skills.
A photographer's website should not only serve as a business card but also as a corporate brochure and sales platform. Your website should have your story and come with it as a gallery of your photography works. Client testimonies and stories work the best too as it builds more trust to your website visitors. How you effectively put these elements and features altogether will determine the success of your website.
With a photography website you can achieve the following:
Attract the public to your photos, so that potential clients will get an exact picture of your services and your offer.
By maintaining your presence on the Internet, customers can easily find you. Today, web pages are an essential point of contact for inquiries.
The website of a photographer also serves as a sales platform. Clients can get the photos directly from your archive, saving the commission required by commercial photography platforms.
Unlike social networks and photography platforms in general, you have full control over the website. You can use it as an independent base and center of your online and social activity.
For those who practice photography as a hobby, these points also interest them. Above all, if they intend to obtain an economic benefit with their images because it must be taken into account that the Internet is today the main source of information to search for products or services. Those who give up creating a photographer's website are also giving up potential jobs.
10 Stunning Website Templates for Photographers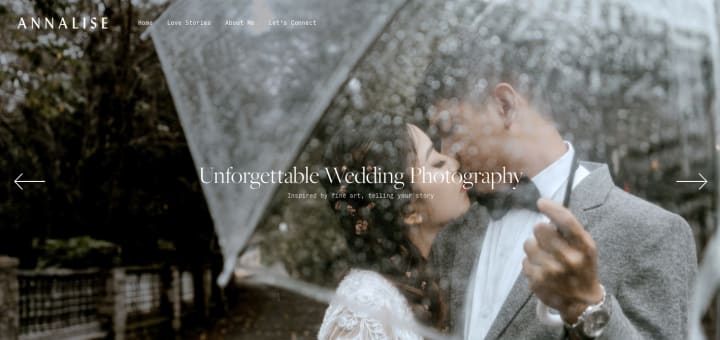 This template is perfect for wedding photographers with its warm features and wonderful control of the lighting. As the name suggests, Ambience is a beautiful, impressive, and impressive photography website template with a great collection of features and designs. What's great about Ambience is the fact that you no longer have to start from scratch. I really haven't done a lot of homework if you want to shine right out of the box. In that case, just add your content and details and you are good to go.
It uses feature-rich images that allow you to display your photos beautifully. It also comes with a built-in slider and gallery templates with tons of shortcodes to add different elements to your posts and pages. Ambience is a fullscreen website template and will fill a screen with one gallery image at a time, and also depends on the size of the screen.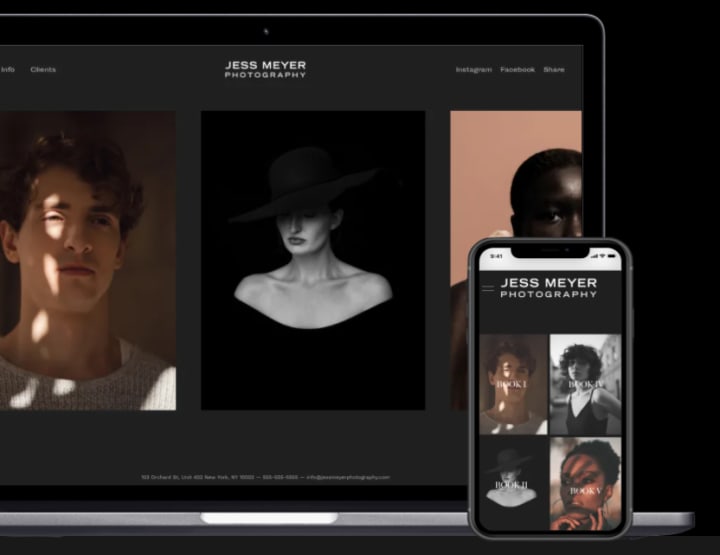 Reel is beautiful and dark, creating a pleasant atmosphere that everyone will appreciate. The gallery design presented by Reel is not the traditional design either. Images alternate between black and white and colored, and the details of the page and other content of the menu will be displayed on the first image on the left when you hover your mouse cursor over the top buttons. It comes with stylish effects and horizontal screen sliders, much like looking at an old strip of film against the light.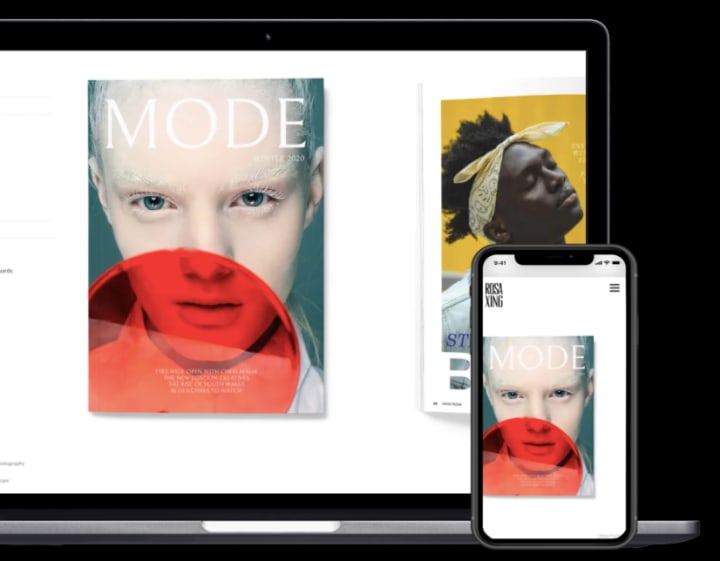 Photographers who are just starting their careers may want to start with a free photography website template. Do not miss out on the moment that an alluring website could give you. Start by creating a portfolio full of your extraordinary photos and pique everyone's interest. One such fantastic tool that does this in a distinctive way is Gloss. A template with a transparent carousel slider and more benefits further down the layout. There is a great chance that you will become an instant fan once you see the Gloss preview page.
In addition to a variety of additional features and pages, Sonar is also compatible with mobile and is fully customizable, and is compatible with all modern web browsers.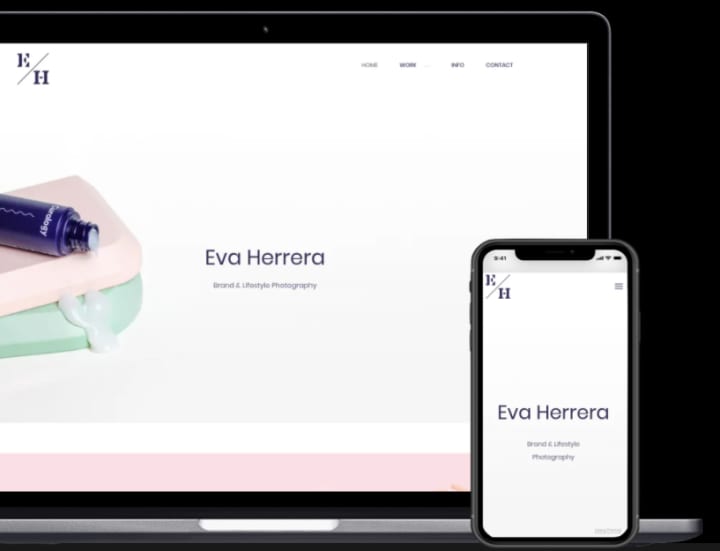 First of all, whichever photography site template you utilize on this list, you will win big. All are responsive and optimized for great performance and ease of use. Especially if you are a beginner, this is exactly what you need to make everything work. Exposure is a minimal and simple tool that makes your designs look even more professional than they already are.
The first thing a guest sees when your site loads is a minimalist display of images. Your visitors can check each project instantly, or you can use the right navigation to navigate to the portfolio, blog, or read their story. Exposure is definitely the type of template that you will be hooked on in an instant. Now is the time to take matters into your own hands and push your photography project forward.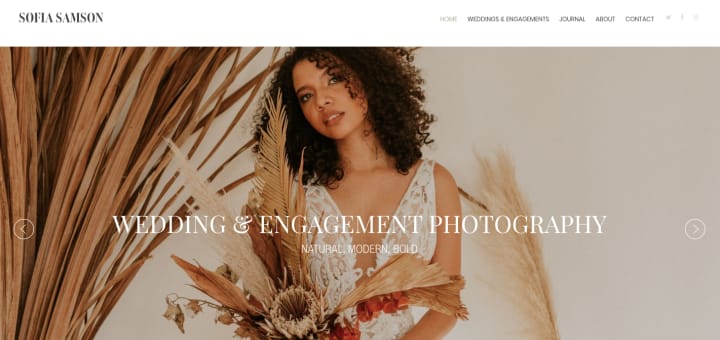 If you have a clean and minimal approach to your business, Daylight is the free photography website template that will best suit your needs. With a light, creative, and interesting web design, Daylight will take your work to the next level. It has a light, boxed outline with smooth scrolling and a distillable portfolio. Everybody will have a fantastic experience studying more of your photographic work without being interrupted by anything. Sun truly delivers the essentials, avoiding unnecessary clutter.
Daylight is also flexible as well as responsive, able to adapt to most, if not all, devices and web browsers seamlessly. It uses a Slideshow web template and is optimized for search engines and performance. This is because Daylight follows the latest trends and regulations that will keep your website current for many years. What you will also find very rewarding are the various home designs that Daylight brings to the table.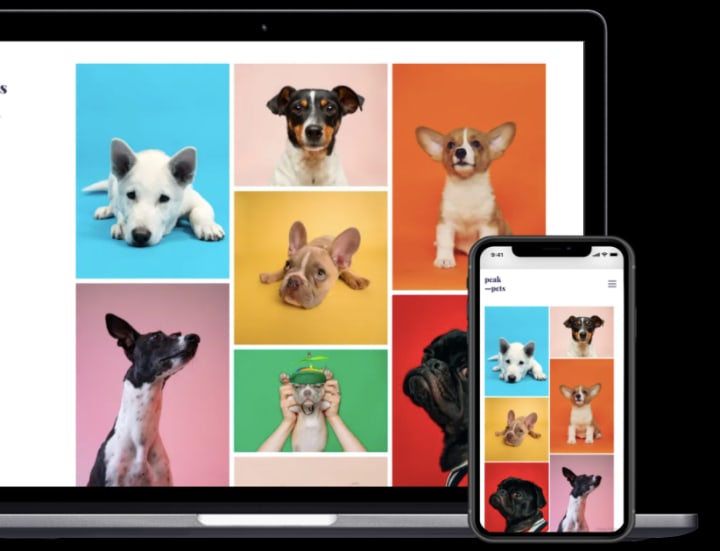 This free photography page template is an adorable template, packed with wonderful features and assets out of the box. Peak gives you a fully receptive, ready-for-mobile use, and cross-browser design that seamlessly works on all devices. This is due to it being ready to access, following the latest web and technology regulations.
Some of Peak's many features are tile effect, filterable wallet, smooth navigation, newsletter subscription widget, as well as social media icons. Besides, you can connect your Instagram profile with your new website and start blogging. Don't pause to think, take a step forward now by downloading Peak and get things done. Without a doubt, you will be able to enjoy the incredible payoff later after Peak does the magic and starts attracting new potential customers.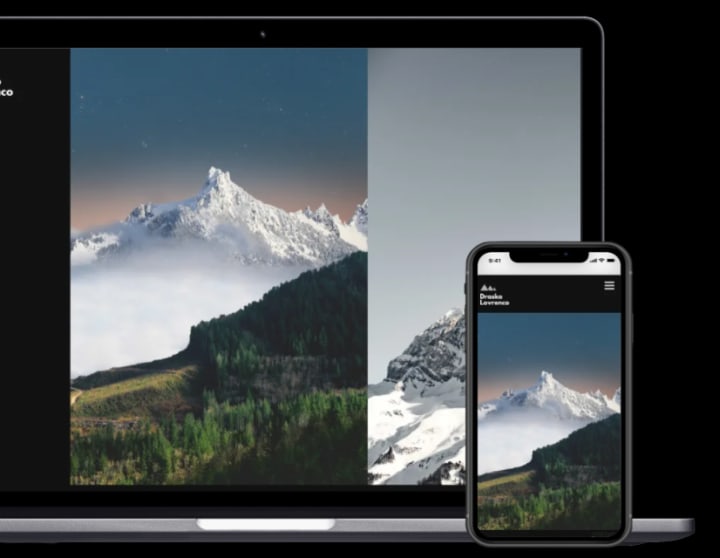 When looking for a way to advertise your images online, the tool you use for the website will focus on your content. This is something Skyline has thought carefully about and provides a place for your great work. Although a horizontal template, Skyline still has all the elements to tell your story in a vivid way. Capture their attention with the single-row screen slider and let them engage in your captivating photo story.
When potential clients are ready to contact you, Skyline has a functional contact form included in the layout. You can also use the blog button and start writing your own online journal. There are many things you can do with photography and take your small project to new heights.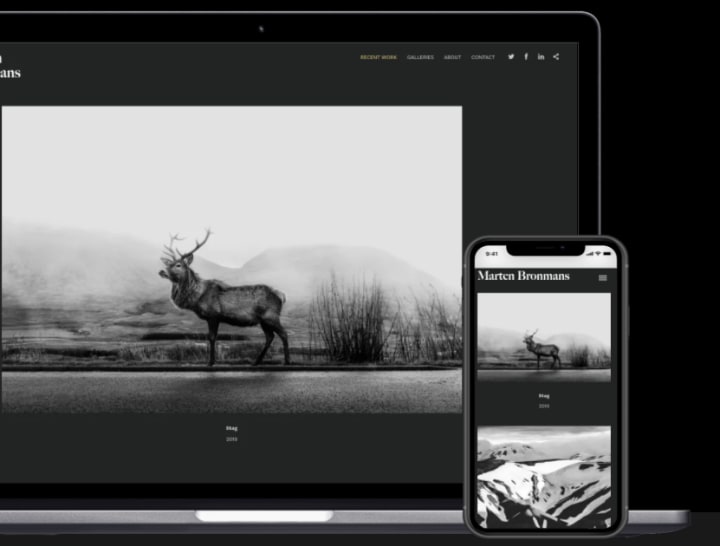 With Lightbox, you will quickly rise to the top thanks to his elegant and remarkable dark design. If this is the type of style you like best, Lightbox easily becomes your free photography website template. It is a versatile solution for all your design questions. In addition, Lightbox is also customizable and easy to use. However, it is very likely that a lot of you wish to use the tool as it comes and not alter the smallest element. Given the situation, simply apply your stuff and details and you are good to go.
Lightbox hits everyone with the simpler welcome that is sure to intrigue anyone who visits his online space. It has a hamburger menu overlay, slideshow scrolling, smooth transitions, animated statistics, and a handy contact page.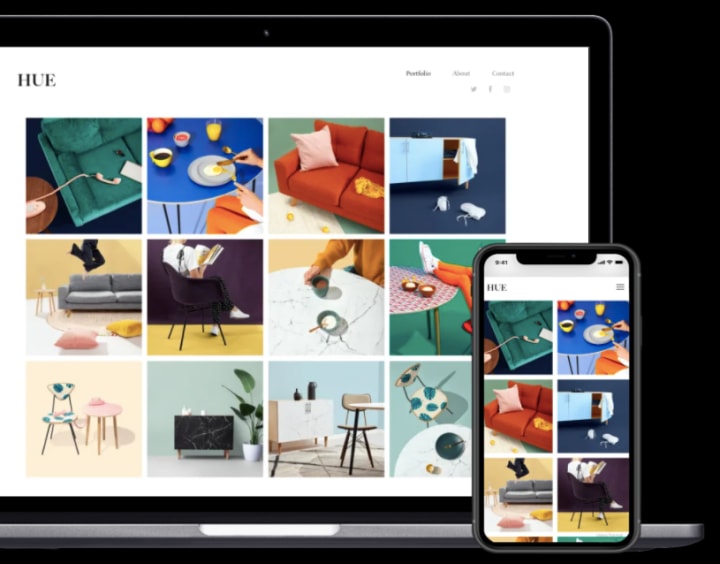 For creative minds dealing with photography on a professional or amateur level, Hue is the model for their web presence. Create a unique portfolio of your amazing works and display them in such a way that should captivate everyone that goes to your page. You do not need to do hard work to stand out and grab more people's attention. Hue is here to do the job for you with its originality and creativity.
Besides the tile display, which is already impressive, Hue also has other internal sections for services, blogs, and about. Apply filters to your projects and allow visitors to find exactly what they are looking for quickly. Of course, Hue even allows you to link your page to your social media accounts.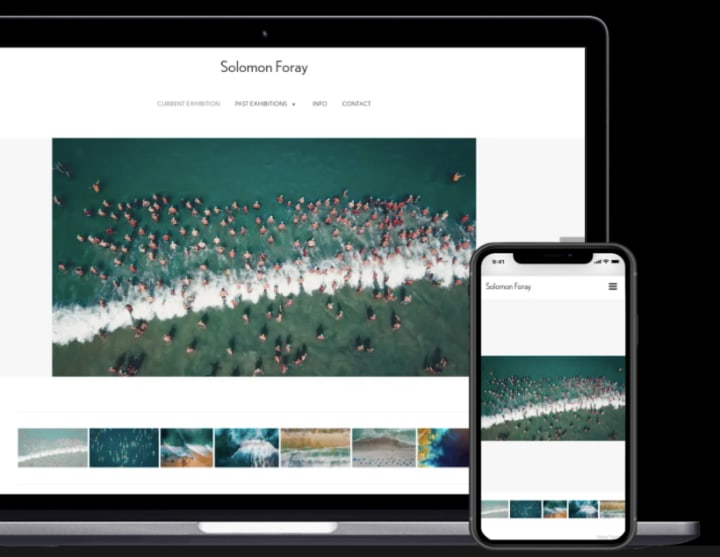 Foray is an ideal website template for creating an online resume or portfolio website. Sure, it's great for photographers, but other creative people can take advantage of Foray too. Foray is a Slideshow website template with a fluid design that works well on mobile devices and is optimizable so it's easy to search for in search engines. As a result, you will run a high-performance photography website that will allow you to score new gigs with enthusiasm.
Hamburger button, newsletter subscription option, split-screen slider, social media links, beautiful gallery, and many other internal sections await each Foray User. To understand the gist, feel free to visit Foray's live preview page and see the powerful web design he brings to the table.
Why Choose Format for Building Photography Websites?
Images are all essential elements when it comes to web content, especially if you're a photographer. They are important for telling stories, conveying messages, and creating a sentimental connection with your visitors. It is common for them to be used in any web project since human beings are able to assimilate images better than text.
By now you can realize that each Format theme is worth 10 times than that which others provide. Each template is designed with the needs and trends of the photography industry in mind. With a few simple clicks, you can turn for example your website from minimalist, or feminine, into a masterpiece with darker tones, creating a great visual melody, changing the theme style kits depending on the style you have. It's beautiful, it's completely customizable, it will help you create a lasting impression, and it will attract the kind of clients you really want to work with.
If you want to build a photography blog, you can check out WordPress blog themes from EasyBlogThemes.Com. It offers 40+ options or WordPress templates that will perfectly suit your needs as a photographer.