Beasts of the Wild
Why You Should — and Shouldn't — Volunteer With Wildlife
Volunteering with wildlife abroad can be an amazing experience — but is it right for you?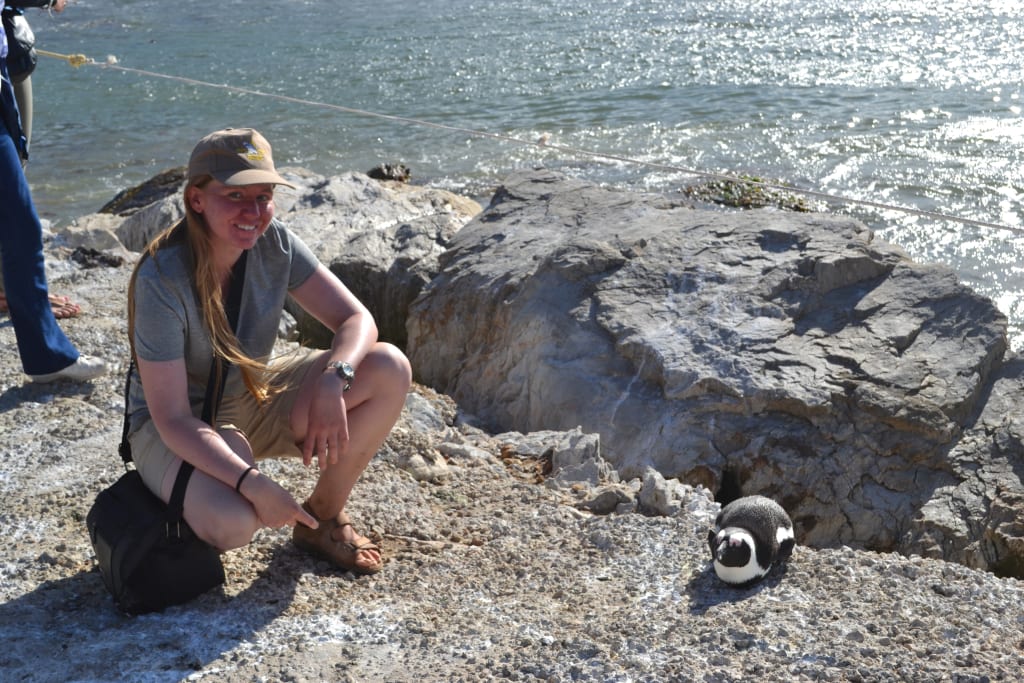 Meeting One of South Africa's Marine Big Five
I started volunteering with animals nearly a decade ago, when I became a member of "zoo team" at the San Antonio Zoo. Since then, I've volunteered with sharks, baboons, bears, pumas, and more in South Africa and Bolivia. When people hear about my amazing experiences volunteering with wildlife, they often say that they're jealous and wish they could do that too. I'm always careful with how I respond to those comments because, while volunteering with wildlife has made for some of the best experiences of my life, I don't think it's for everybody. Some people definitely go into it with the wrong intentions or misconceptions about what the experience will be like. That being said, here are some reasons, off the top of my head, why you SHOULDN'T volunteer with wildlife:
1. You want pictures of you cuddling cute animals to make friends back home jealous.
One thing I like to ask people that are considering volunteering with wildlife is this: If you couldn't bring a camera with you, would you still want to do it? If you couldn't bring back pictures of you cuddling little baboons or swimming with great white sharks, would the experience still be worth it? This is probably the main reason I'm careful about what pictures I post of my experiences. I don't want to give people the idea that my entire days are spent playing with adorable animals. There is so much more to it than that. Not only that, but I can't stress enough the statement that THESE ANIMALS ARE NOT PETS. They are wild animals, and a lot of wildlife projects are focused around rehabilitation and eventually returning the animals to the wild. What may seem like simply taking a cute picture can actually be hugely damaging to this process. If you just want pictures of you playing with these animals to make people back home jealous, then volunteering with wildlife isn't for you.
2. You just want a chill, relaxing vacation.
If you want your vacation to consist of sleeping in, lounging on a beach, and being pampered, that's totally fine — but that's not what these projects are about! When working with White Shark Projects, I was regularly up before 5 am, packing up the boat with everything we needed, and being out on the water before the sun came up. While working at CARE Baboon Sanctuary, a good portion of the day consisted of being out under the hot African sun hosing down the enclosures, scrubbing out the nursery, collecting brush for enrichment, and more. By the end of the day, we were often dirty, sweaty, and tired. Again, there's nothing wrong with wanting a chill, relaxing vacation, but if you do, volunteering with wildlife isn't your thing.
3. You want the focus to be on you, not the animals.
This is another one that really annoys me. These projects involve being part of a team, and in order for the team to reach the goal of helping the animals, everyone needs to do their part. At CARE, pretty much everyone's favorite part of the day was spending time in the nursery or down by the river with the baby baboons, but if all the volunteers spent all day just doing that, no work would actually get done. At White Shark Projects, I always wanted to be one of the volunteers that got to go out on the boat, but space on the boat was limited and there were other volunteers that also deserved to go out, so sometimes I stayed behind and did other jobs that, while maybe not as fun, were still a necessary part of making the project successful.
With all of that being said, there are plenty of reasons why I absolutely love volunteering with wildlife, and this isn't meant to be a negative blog post. There are many reasons why you SHOULD volunteer with wildlife, and here are a few:
1. You're willing to put in the work.
These projects aren't your typical vacation. They aren't easy by any means. They certainly don't involve sitting around relaxing all day. They often involve getting up early, spending the day working, usually outside in the sun, and being dirty and sweaty by the end of the day. Know what you're getting into when you sign up for these projects, because if you're willing to put in the work that comes with them, I guarantee it will be the most rewarding work you ever do. If you're not afraid of early wake up calls, working up a sweat, and getting your hands dirty, then volunteering with wildlife may very well be for you.
2. You want to make a difference for the wildlife.
To get anything out of these projects, your heart needs to be in the right place. You may have a lifelong dream of working with apes, or have a great love for elephants. Regardless of your specific focus, you need to have that passion for wildlife and conservation in order to help these projects. If you love animals and know that you want to help them, then you should volunteer with wildlife.
3. You have an open mind.
I think this is important with travel in general, but especially so when it comes to volunteering with wildlife. People come from all over the world to work with these projects. If you're only going to interact with people that look and sound like you, you won't get anything out of the experience. On the same note, these projects often include a variety of jobs and activities that most people aren't used to doing. If you're open and willing to try new things that are unfamiliar to you, you'll not only enjoy the experience so much more, you'll be a much more valued and appreciated member of the project's team. If you're willing to open your mind and say yes to new experiences and people, then you should volunteer with wildlife.
While volunteering with wildlife, I've had some of the most rewarding experiences of my life — experiences that I'll never forget and always cherish. I've traveled thousands of miles, made friends across six continents, learned things I couldn't have learned any other way, created a million wonderful memories. As I mentioned earlier, I don't think it's for everybody, but if you're the right kind of person for it, volunteering with a wildlife project is something you won't regret.