Why I Can Rarely Use Logic With My Dog, Libby
She's a little bit stubborn, sometimes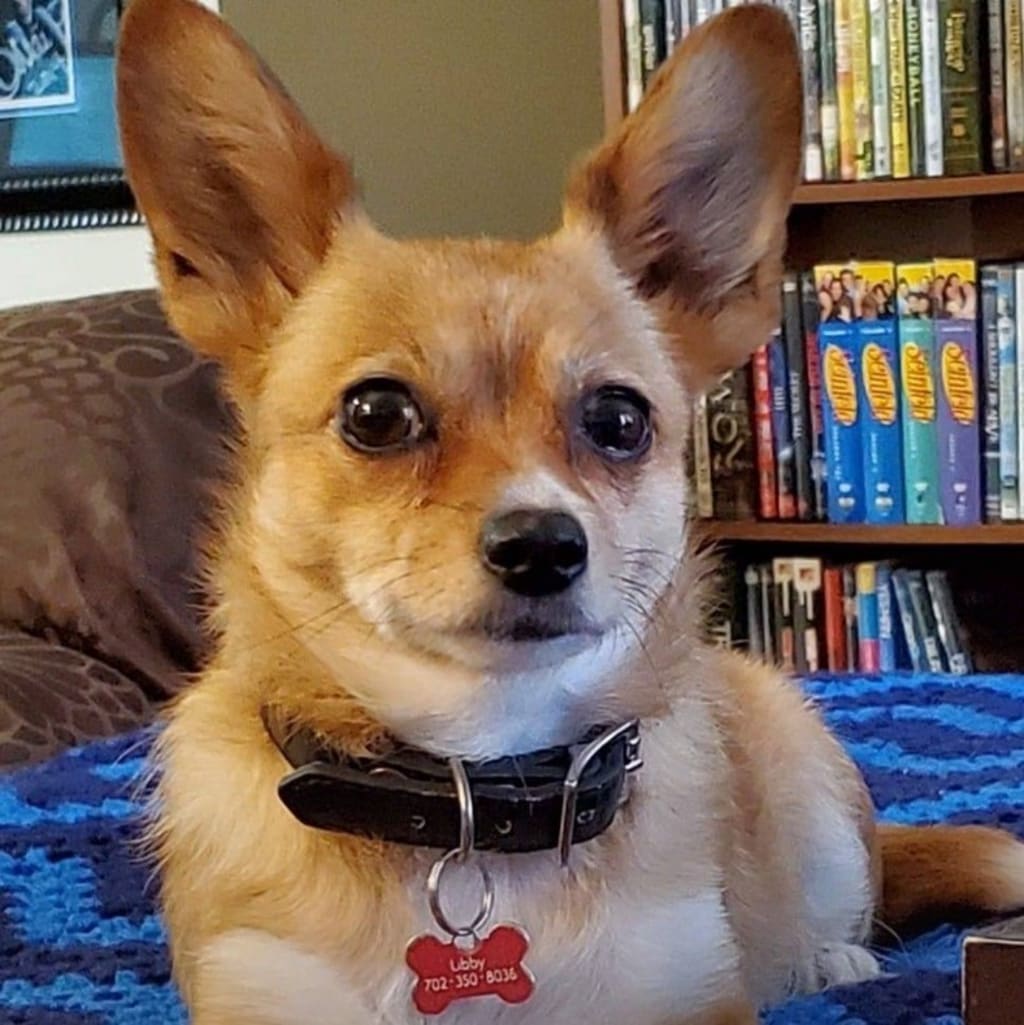 Libby Pro. AKA, Mooch. Smart dog, but hard to logic with. Photo courtesy of author.
Libby Pro. Short for Libby Provencio. Also known as "Mooch". Our unofficial fourth child in our family. She's been a part of our family for over five years now, and a huge part.
She's almost ten years old now, so I've only been a part of about half her life. Super smart little girl, but you CAN NOT logic with her. Trust me on this, I've tried so many times.
To understand Libby, we have to go back to the beginning. Libby came into the world in Spring, 2012. She was a replacement dog for my stepdaughter Kiera, who was almost eight years old at the time that her dad found Libby for her.
She was a Craigslist find. Their prior two dogs hadn't worked out: Tootsie got sick and unexpectedly passed away, and Chocolate was too aggressive for a small child to have. She had a tendency to bite. The dog, not my young daughter.
They picked her up in a park in Nampa, Idaho. Same place my youngest daughter was born, coincidentally. Kiera always tells everyone how they found a small bag of weed in the park when they met the person who brought Libby into their lives. I always joke that her dad confiscated it and likely disposed of it in a series of small fires. I know I would have. But not the point.
Libby lived with them over at their dad's home for the first couple of years. We'd hear a little bit about her here and there. Both my Bride and I had lost our last dogs around the same time, a few years prior to meeting each other. There was no desire on either side to have another pet, at least at that point in time.
Kiera would tell us a little bit about her or show us a cute pic of her once in a while. I was happy that she had a cute little pal over at her dad's house. She needed that emotional support while over there. Her dad didn't nurture her feelings and emotional well-being much back then, so Libby was somewhat of her support dog.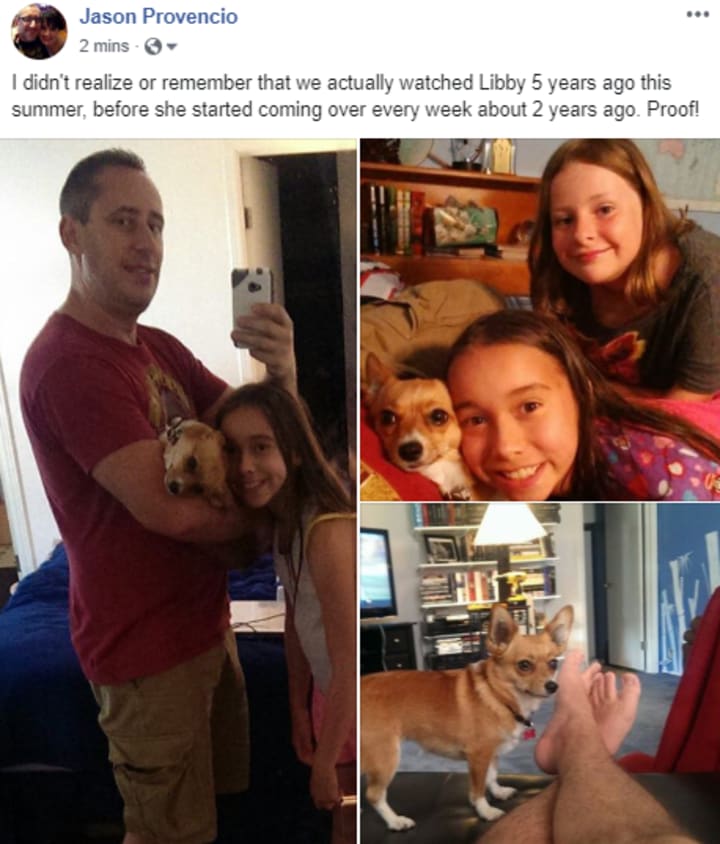 Things changed at one point, around 2014. Libby came to stay with us for a week while Kiera's dad and step-mom were on vacation for a week. Funny thing, I hardly remember her there with us during that time.
I'm sure I was nice to her and enjoyed having a pet around again. But it's not a clear memory at all. Probably more like half obligation, half a reminder of what it was like to have a dog again.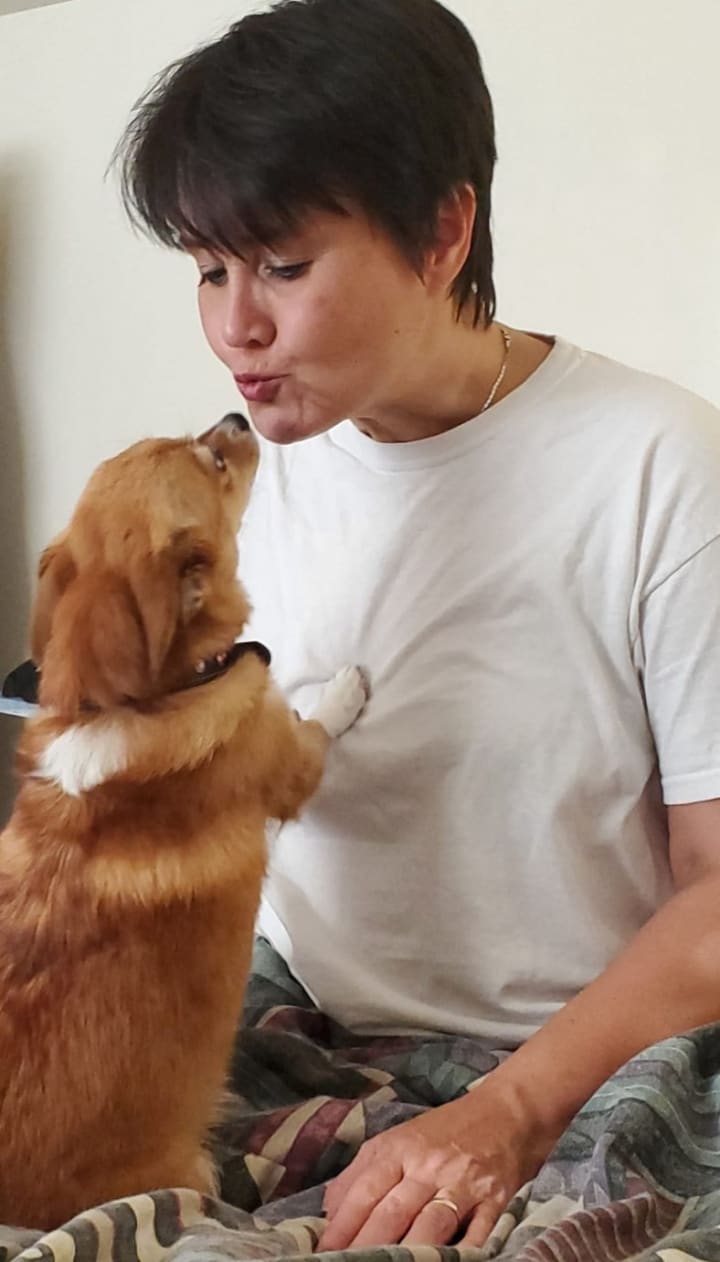 Things changed again, in 2017, when Kiera asked us if we'd be ok with Libby coming over when she did. We had the usual "One week on, one week off" custody of my Bride's kids, as many families of divorce do. Of course, we supported what our daughter wanted and needed to do, and Libby because part of our household, fifty percent of the time.
Quickly, my Bride because Libby's favorite. They had a bond that could not be matched. Mai would be in the office working, and Libby would sit at the door and put her little baby paws under the door. She would bark at the kids or even me when we'd enter our room if she and Mai were cuddled up. She STILL does that, five years later.
This brings me to the logic part of this blog. Libby is not a dog that can be logic-ed with. Not often, at least. We've tried to explain many times that the kids are not the enemy. If someone comes rushing into our room with a ski mask on and a weapon in hand, THAT'S when to attack. But she can't be reasoned with, generally speaking.
I realized this a few months ago, when I took her for a walk within our townhouse/apartment complex, and everything was covered with snow. I quickly realized that she was NOT going to go Number Two in the snow. I cleared off about an 8x10 patch of snow with my shoes, exposing some nice green grass.
I encouraged Libby to explore this area, and she had zero interest. Which irritated me to no end. But did give me the idea for this blog. I thought in my head, "My dog can rarely be logic-ed with". And here we are.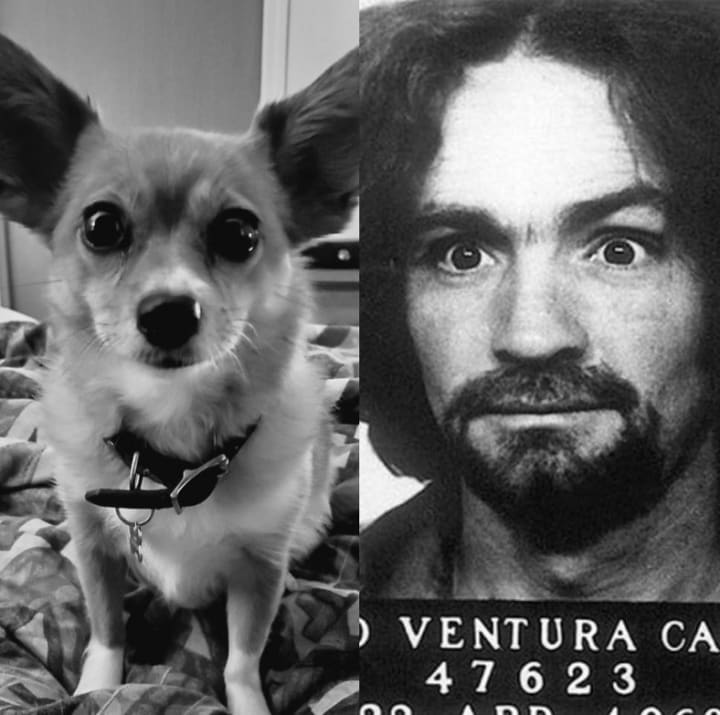 Libby especially cannot be logically dealt with when food is involved. I don't think Libby considers herself of the canine species, especially as it relates to food. Hence her nickname, "Mooch".
She was given this name by a close family friend of ours named Tom. Tom realized quickly that when I posted pictures of Libby on Facebook, many involved her begging for our food. Tom is one of those old-school Italians like myself, who have no issue with calling things as they see them.
He coined the nickname "Mooch" for Libby and it stuck. She's had many a nickname in the five years we've had her in our home part and full time. But her best and most accurate one came from Tom.
Mooch thinks that every morning when I heat up my coffee, it's a call for a dog treat. It's likely my own fault for giving her a small dog treat every time I'd run the microwave in the morning.
She comes halfway down the stairs and sticks her little head between the railings of our stairs. As if she's in the Mickey D's drive-thru, ready to be served. I take partial ownership of her mooch tendencies.
Like most dogs, Libby has a particular hatred for doorbells. That would include the many that we hear on the TV shows we watch. I never realized how many doorbells they feature on television until we had a mooch sitting with us during our TV time. She will instantly snap out of whatever nap she's in the middle of to snarl and bark at any doorbell she hears.
I try to reassure her that it's just a fake TV doorbell, but she doesn't seem to buy my explanation. I often tell her that she's not like Bolt and that she doesn't have to be on duty 24/7, but she just dismisses me in a very twelve-inch tall dog condescending way. Libby thinks she's the junkyard dog mentioned in Jim Croce's Bad Bad Leroy Brown song. I wish she'd take a day off, once in a while.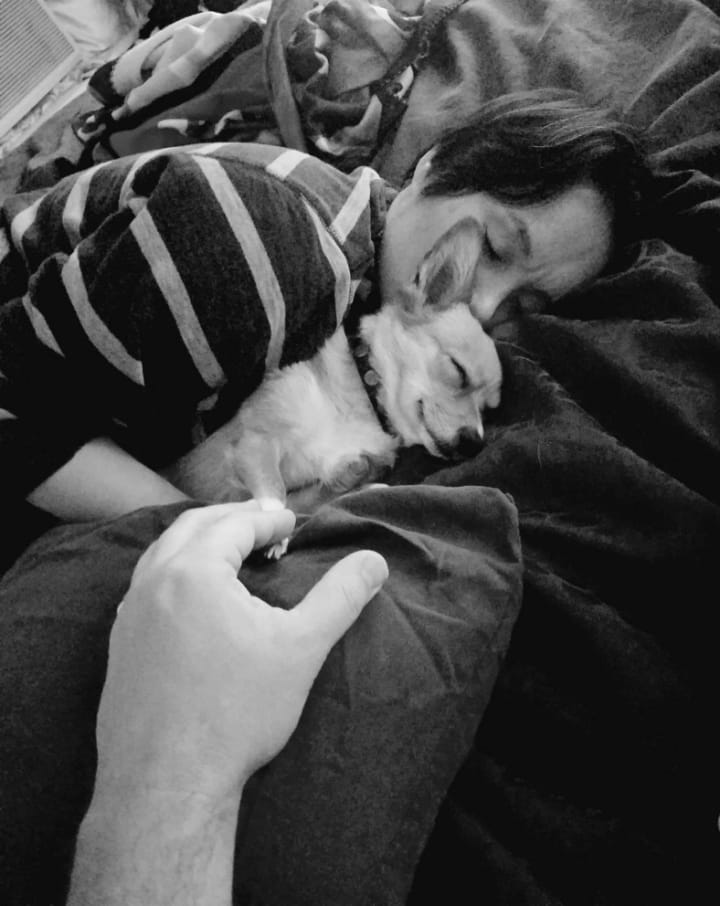 Ultimately, I realize that I've never owned a dog that you could logic with. They all tend to stick to their basic wants and needs: Food, being numero uno. Protecting their people against doorbells, door knocks, car alarms, or family members entering the domicile or bedroom.
She might get angry when we pick her up during her 7th nap of the day, and may even snarl and try to bite us. But we love her, regardless of her lack of intelligence and logic.
dog
About the author
Husband, father, writer, and poet. I love blogging about family, politics, relationships, humor, and writing. Buy me a coffee? https://ko-fi.com/jasonpro9
Reader insights
Nice work
Very well written. Keep up the good work!
Top insights
Easy to read and follow

Well-structured & engaging content

Heartfelt and relatable

The story invoked strong personal emotions
Add your insights