Weimaraners: High Energy Dogs for Families With Teenagers
Pets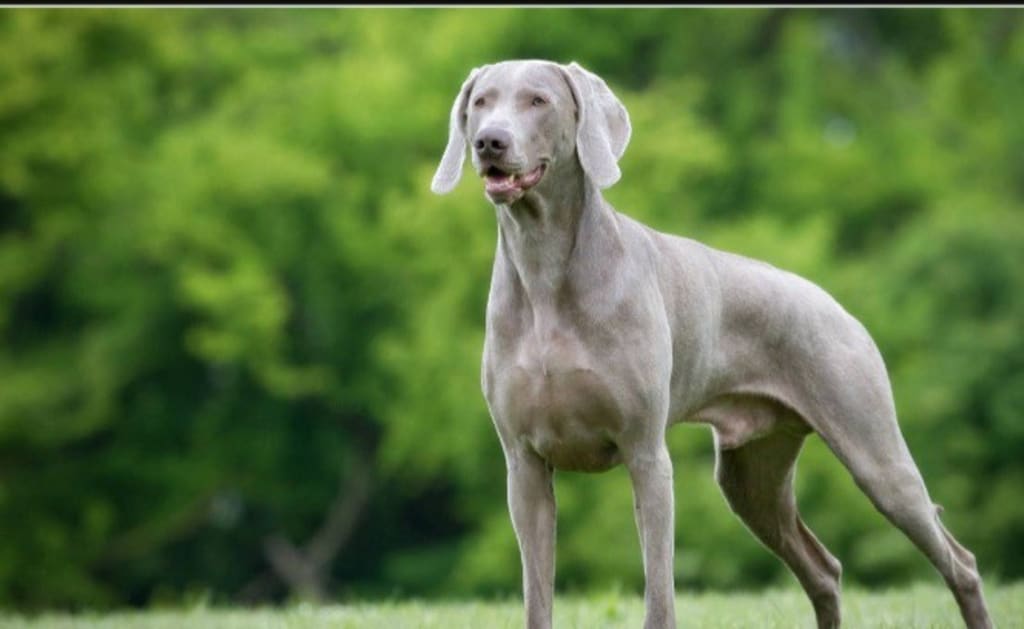 Managing Weimaraner Energy!
Weimaraners may be loving and faithful family pets for families with active adult children. This energetic, quick-to-learn breed will fare well in households with a range of prior experiences rearing other dogs. Single-family houses provide the ideal atmosphere for families with this breed. Weimaraners struggle to live in flats because of their tight quarters. When innovation is included into each walk and play session, these medium-sized canines enjoy a variety of outdoor activities.
Change up the walks with brief sprints, longer jogs, training activities, bicycling, or rollerblading. Convert the urban playground into an agility course. Weimaraners find predictability boring quite readily. To give your dog the joy of the hunt, always look for new locations to explore in your neighborhood! These canines also make great security dogs because they feel secure in environments with strong leadership. Otherwise, he can show improperly timed aggressiveness.
A Dog That Loves Water But Hates Baths: Weimaraner Grooming
Dogs like Weimaraners are hypoallergenic. They have light-colored fur and pale skin. Once a month washing is fantastic. Weimaraners are large dogs, so I often simply had Titan stand outside while I used the hose. You won't have the luxury of washing them in the bathtub in the privacy and comfort of your own home, unlike with smaller dogs.
Do not overwash them! You should give them enough time between baths so that their natural oils can soothe and preserve their skin and coat since they might be sensitive to numerous products. I like using Titan's Natural Oatmeal Bio Groom shampoo the most. Bio Groom is simple to apply, has a smooth, silky consistency, and smells really fresh. Additionally, Bio Groom easily rinses off without leaving any film. Weimaraner dogs have shorter, somewhat fuzzy hairs that are closer to the skin for warmth during the winter months, so you may sometimes wish to bathe them twice.
Weimaraners adore the water, but they may not like taking baths. Titan had trouble taking baths till he was an adult. Weimars are enormous, hefty dogs who would hold the edges of walls with their paws and wedge their front legs to door frames in order to avoid being bathed, even as teenagers!
However, Titan cherished the clean after-bath sensation! To dry off his coat, he would pull his bottom up into the carpet while holding it high in the air. Then he would roll onto his back and squirm to get a good back scratch!
Post-Bath Care
Drying your Weimaraner is unnecessary! An easy towel pat-down will do. Short haired Weimaraners naturally dry rapidly. I would continue my grooming procedure with a leisurely few minutes of brushing when I was dry. I advise using this Kong rubberized dog brush. The bristles of this brush are also strong and rubberized, which makes it easy to grip and does not irritate the delicate skin of Weimaraner dogs. Just enough pull is provided by the rubber's friction to remove all the errant hairs, which are visible to the naked eye. preventing any potential hair shedding so that your floors and furnishings are hair-free. This brush also traps the hair it does remove inside its bristles, making it simple to clean and wash off after use.
Issues with Weimaraner Families
It's not all games and fun...
The Weimaraner is not a good family dog for a household with small children, in my opinion. There are several explanations for this. Let's begin with the breed of the dog. Depending on where you look, weimaraners are categorized as belonging to the Hunting or Sporting Group. They are often categorized as hunting dogs, which already tells a lot.
Weimaraners' basic inclination is to hunt, thus some of them will naturally have a greater hunting instinct than others, which is not ideal if you live in a city. A Weimaraner often does best in rural regions because of their high energy needs and preference for big tracts of space where they may wander freely and securely. If the dog isn't given at least 1-2 hours of daily free play, it will "destroy the dog's character" and exhibit destructive and melancholy behaviors.
Because their owners were unprepared and unable to manage them, many Weimaraners wind up in pound or with horse trainers.
The dog also displays other qualities, such as "herding," that would naturally aid his hunting abilities but would not make him a good dog for small children. Weimaraners have been seen biting or "placing their mouth" around the ankles of "prey" to change the course of the victim's movements. With small toddlers stumbling about and cooing loudly, you can see how this would be an issue.
This dog is very bright and picks things up fast. Whether these habits are good or not, he even imitates his human owners' and other dogs' acts. Unless you are really smart and experienced with dogs, he is also one step ahead of you. Teenage Weimaraner pups are particularly difficult to train because of their intelligence, rapid learning, and arrogance. Regardless of your previous experience with dogs, I strongly advise receiving expert training for any Weimaraner from the minute you bring him home. Additionally, I strongly advise against getting a Weimaraner as a first dog since previous dog ownership is essential for effectively raising one.
Weimaraner Personality Qualities
The Weimaraner may be difficult to train since they are high-strung, obstinate, and bright. Weimaraners have a protective side as well. Due to their size, they have a somewhat intimidating appearance, and they only bark when required. They take great pride in their region. In general, this breed is fairly calm. However, they will bark to warn you of danger and will do everything it takes to protect you and your family.
Weimaraners like the great outdoors. When we let Titan to go free, he would suddenly get very animated. He would do his own laps while running quickly around the yard.
This breed has a strong bond with its human family unit. Every day after school and during work, they are extremely eager to see you! They often yell or roar in delight when they rest into your lap as you read, watch TV, or perform other activities.
This breed cannot be left alone for long periods of time since it requires frequent human interaction. In this breed, prolonged loneliness causes separation anxiety. They gain from scheduled time apart as well. Take your loved one for a run before work or a leisurely stroll before you go so they can unwind. Your furnishings will be destroyed and a stressed-out Weimaraner will be highly agitated. Weimaraners need regular exercise to reduce stress.
A family with teenage children is ideal since everyone can take turns taking the dog for walks and exercise. Weimaraners like all activities, therefore you should consider bringing your dog along while you play soccer, jog a long distance, or ride a bike. There are probably less hours when the Weimaraner would be alone at any one moment in a home with older children since they leave earlier in the morning and return later in the afternoon and evening.
Weimaraners are Happy Dogs
All families that are willing to have them find happiness with their Weimaraners. They are a versatile breed that can be used for a variety of activities, including camping, hunting, agility, tracking, and creating your own obstacle courses in the neighborhood. They demand a lot of mental as well as physical activity! This breed is eager to please but will also put you to the test since they pick things up quickly and may be spoiled! They continue to be devoted to and guardians of their home and loved ones.
They are hypoallergenic and need little maintenance. Because of their light coat, their shedding is little and less noticeable.
Although they may have a few health problems more often than other breeds, they may nevertheless lead healthy lives despite having chronic conditions.
Reader insights
Be the first to share your insights about this piece.
Add your insights