Visit the Zoo: A Guide to Pay Tribute to Betty White Through Zoo and Aquarium Patronage and Environmental Stewardship.
The Queen of Pop Culture may no longer be of this Earth, but as her former employers, we can honor her love for animals and wildlife in several ways.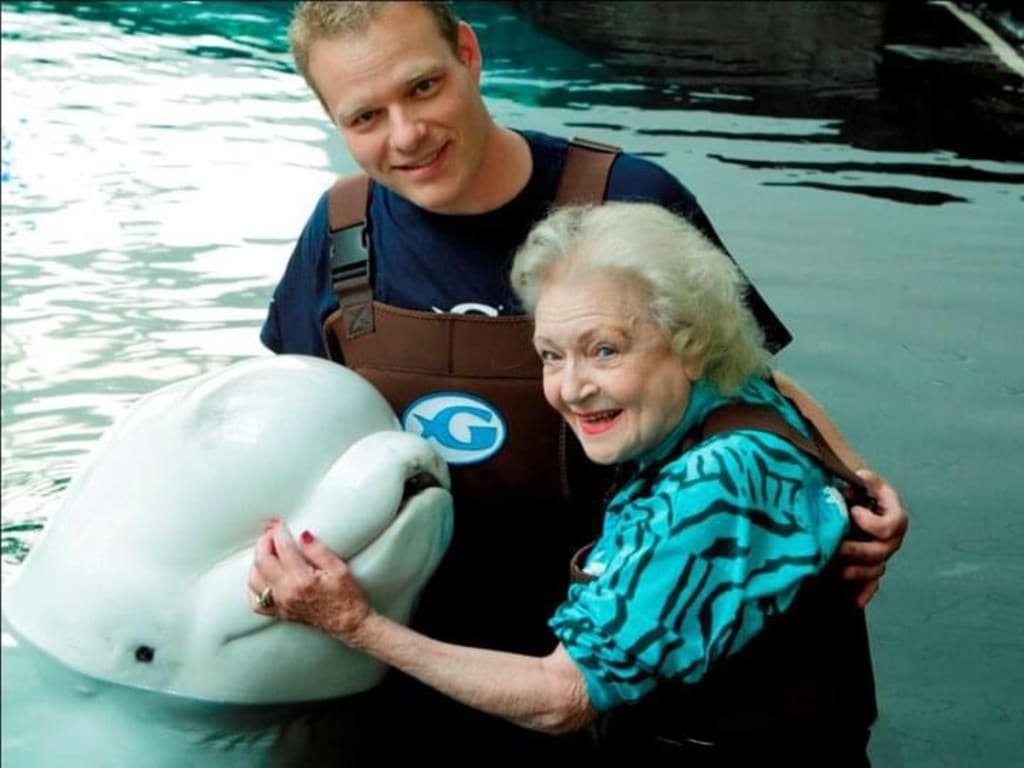 Betty White (1922-2021) hangs out with Beethoven the beluga whale at Georgia Aquarium in 2010. Photo by IMATA(International Marine Animal Trainers Association)
"People forget the good zoos do. If it weren't for zoos, we would have so many species that would be extinct today." -Betty White
When we discuss the legacy of Hollywood actor and TV personality Betty White, who passed away on New Year's Eve 2021, the media focuses on her eight-decade-long work on many movies like The Proposal and shows like The Golden Girls.
Some have discussed how she nearly got blacklisted from Hollywood in the '50s when she featured a black actor on her show. However, one legacy that was nearly left unnoticed outside the zoo and aquarium community is the Queen of pop culture's lifelong love for animals.
In her 2011 book, Betty wrote about how her parents were both big-time animal lovers who passed on that love to their kids, including Betty herself. She grew up helping her parents care for animals they took in after their former owners could no longer care for them during the Great Depression. As a result, Betty developed a great love for learning about animals, their habitats, and the need to preserve them through her years of visiting zoos and aquariums.
Have Betty not gone into the entertainment industry, she would've become a zookeeper. After all, she once rejected a film role for its depiction of animal cruelty and became a long-time board member and generous donor to the Los Angeles Zoo.
While she's resting in power, there are ways to honor her love of animals and support of zoos and aquariums.
Visit your local zoo or aquarium
Donate to your local zoo or aquarium (Your money helps them provide long-term care for the resident animals and fund outreach programs.)
Take part in a behind-the-scenes tour (Learn about how zoos and aquariums care for their animals and how your support funds conservation efforts).
Take part in an animal encounter program (COVID restrictions may affect some interactions.)
Buy a membership package for your local zoo or aquarium.
Visit a wildlife rehabilitation facility.
Volunteer or intern at your local zoo, aquarium, or wildlife rehabilitation facility(avoid anti-zoo groups).
Share stories of zoo and aquarium professionals who work to care for animals and raise awareness for both their species and their ever-shrinking habitats. Especially that of BIPOC zoo professionals.
Other ways to honor her legacy through environmental stewardship include:
Adopt an animal through Whale Museum, BC Killer Whale Adoption, Save the Manatee Club, Wild Dolphin Project, and Clearwater Marine Aquarium.
Plant a tree or a coral on her 100th birthday.
Take part in a beach clean-up.
Raise awareness about various wildlife and environmental issues through social media.
Visit a state forest or a national park and document your visit.
Go on a whale watch.
Go on a bird watch during a regular nature walk. Don't forget to photograph and document the bird species sighted with a date and time of the sighting. This can be helpful for naturalists and biologists who specialize in bird conservation efforts.
Read-up on various animal species.
Create a backyard habitat for local wildlife.
If you see a sick, injured, or orphaned animal, please report it to wildlife officials and let them take it from here. You should never handle nor approach a wild animal that's in distress if you do not have any training in rescue and rehabilitation procedures.
Even if you were never a fan of Ms. White's work on film and television, her love of animals and patronage of zoos and aquariums is just as legendary as her work as an actress. Every act of environmental stewardship, whether if it involves a regular visit to a zoo or an aquarium, or preserving local wildlife, is another effort to help our planet and the plants and animals that call it home.
Once again, in the words of The Golden Girls, thank you for being a friend.
wild animals
About the author
Zoo and Aquarium Professional, Educator, Cosplayer, Writer and B.A. in Psychology whose got a lot to share when it comes to animals, zoos, aquariums, conservation, and more.
Instagram: @jennacostadeedy
Reader insights
Be the first to share your insights about this piece.
Add your insights