Too Cold For Cats
Meeting Cats In Fenham In November 2022
#CatsInNam On Instagram
Introduction
As you know I do a lot of walking and, to be honest, that has probably saved my life a few times although on some other times it has probably nearly killed me, and if that happened you wouldn't have to put up with these ramblings for me (I know there are many that complain that I write too much), but that is neither here nor there. I ignore a hell of a lot of writing and expect a lot of people to ignore my creations.
I've included "Cool For Cats" by Squeeze which has nothing to do with cats but refers to hipsters, but it is a great song that almost coincides with the title of my story.
Anyway to the point, a side hustle from my walks is to take pictures of cats and share them on Instagram, Twitter and Facebook and a lot of people look forward to me doing that. This post is about the current situation and an excuse to share more pictures of cats that I have taken.
Here Is a Haiku To remember them by:
😸😺😻😽😾🐾😸😺😻

We Got #CatsInNam

You'll Find Them On Instagram

Felines of Fenham

😸😺😻😽😾🐾😸😺😻
Cats In 'Nam In November 2022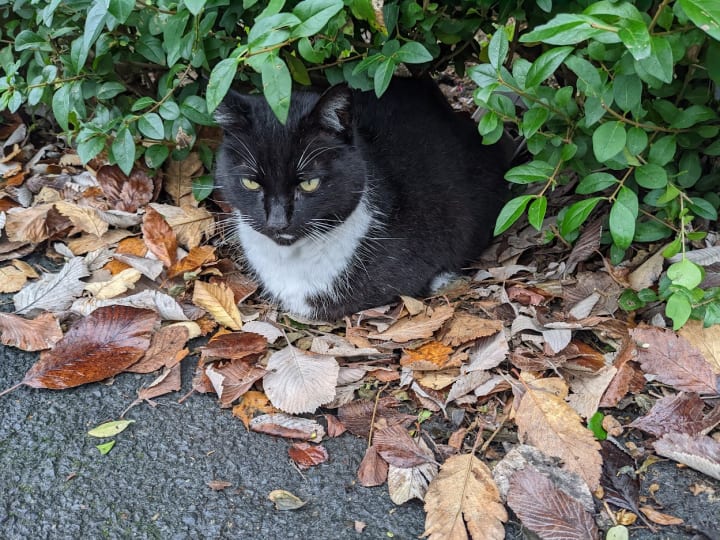 As we move into late Autumn towards winter the weather becomes colder and wetter and while cats like their freedom to roam they also like the comfort of a warm home and shelter from the elements.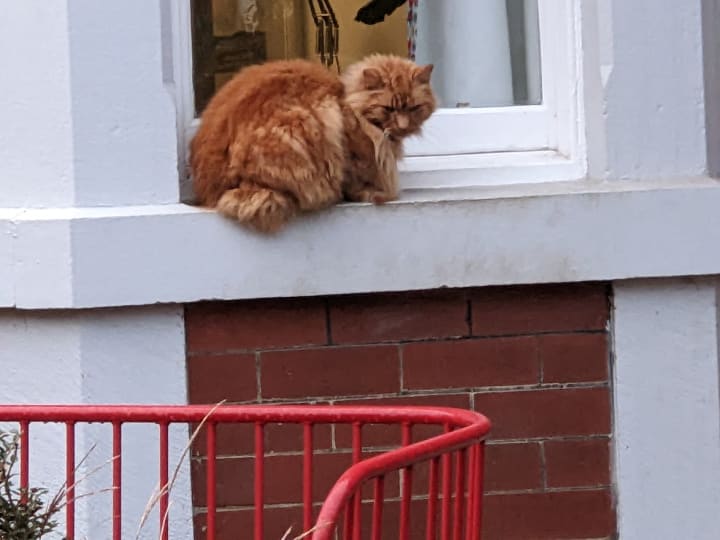 This means I don't see as many when I am out on my walks, although when I do see them my phone is not flooded with a plague of cats. On Thursday the weather was so bad and my step count was the lowest it has ever been when I am not confined to a hospital bed, 1,600 steps and I never left the house.
Friday and Saturday were almost catless but I saw a ginger cat walking along my neighbour's back fence and my local friend Dirk The Cat With White Socks (check the story at the end of this) was still out sheltering under his hedge, Another one that does not seem deterred by the weather is Jackson the Golden Lion cat, so if I include their roads on my walks I am almost certain to get a picture and with Dirk a video and a stroke.
Today however I met two new cats, though one allowed a stroke then ran away, and another decided to visit me, sitting on my window sill then allowing me to stroke him on my garden wall. This is the great and therapeutic thing with cats, they do lift your spirits when they are friendly towards you although they always maintain their own independence,
I love seeing the cats, they are a lot more independent than dogs, but dogs do show great love for you, but you cannot let them go their own way as cats can, so most dogs I see are on leads or behind gates, although I have seen two cats on leads on one occasion.
So this is just an explanation of why my cat posts will go down over the next few months, but there will be days like today where cats turn up out of the blue, because, let's face it they are cats and can do what they want.
Depending on the weather I will try to share the feline friends that I meet on my walks, and this keeps me fit and lifts my spirits even when I am in a great mood. I am too selfish to be a pet owner but I am so glad that other people are not.
Reader insights
Be the first to share your insights about this piece.
Add your insights