The View from the Dog House (Pt. 10)
Rejection is not always negative!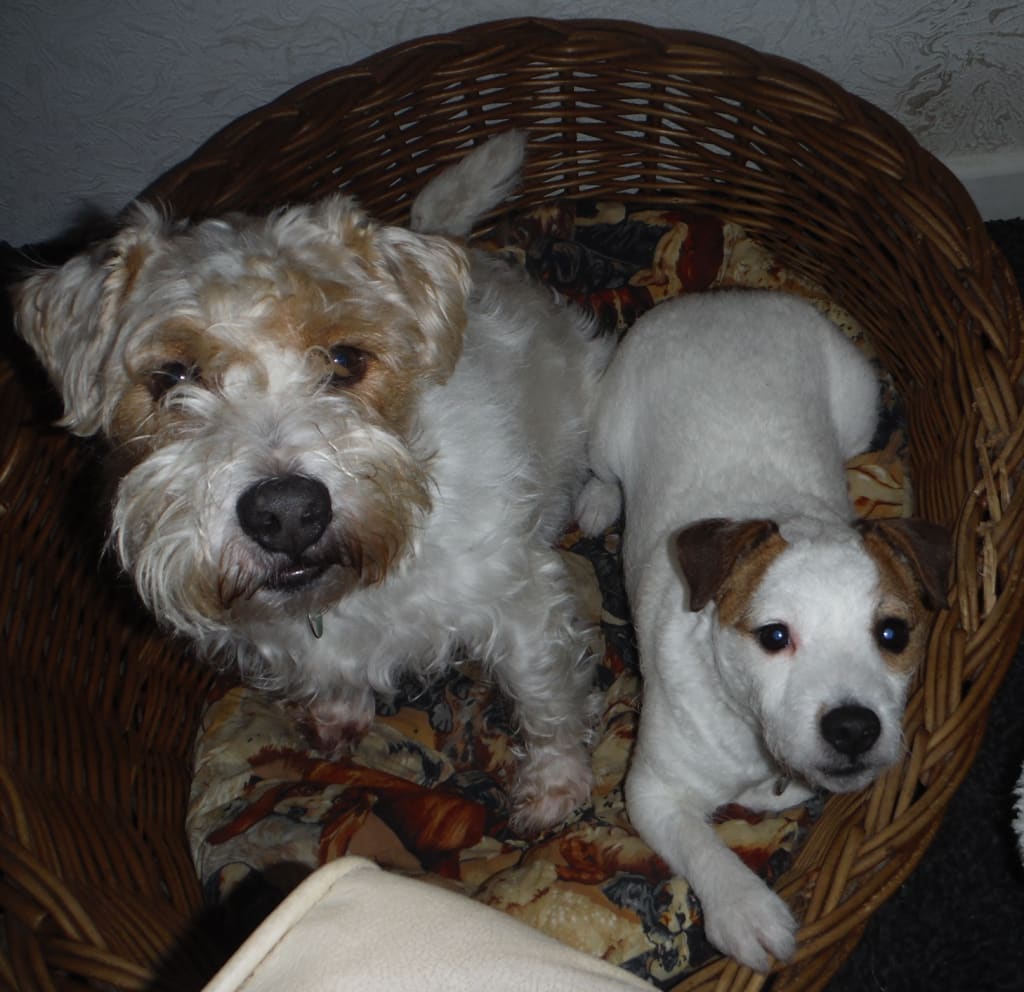 Another agent rejected her novel this morning, which is obviously disappointing. However, it was a very encouraging message telling her not to give up as it is, after all, a very subjective industry. So she is determined to crack on. But first she has to get organised. Cleaning isn't easy because we don't like it—any of it —but some serious tidying up is called for. Apparently she has never been particularly tidy and was constantly nagged by her mother who told her as a child that a tidy room showed a tidy mind so she says she is on a mission to get organised. But obviously we need to get this blog together and she finds a glass of wine conducive to creativity...
For all the mess she is actually quite organised in the sense that she does try to plan ahead and is a great one for lists. Lists for anything and everything! She'll be making some when we have finished this as she tries to sort through the papers and files that have been cluttering up two desks in the office and the dining room table. She puts stuff on top of our cages but she wouldn't dare put anything in them other than our pillows, throws and treats. A chap's space is sacrosanct and we are perfectly capable of messing up our stuff ourselves to our own satisfaction thank you.
She was supposed to be going out to lunch today, but that has been put off, which is a shame as she needs a bit of cheering up. On the other hand we went for a walk we wouldn't have had otherwise and had a ride in Bubbles as she needed some wine.
On the writing front she says she wants to ramp up the marketing and get to grips with Amazon, whatever that means. We, on the other hand, still don't have our twitter account so something needs to be done on that front. She is also going to have to research the next agents she is going to approach and that in itself is a very time consuming process. What is actually needed for her is a stroke of good luck so that the current tide turns. Pardon the pun, but she has been dogged with more than her fair share of bad luck and we wish we could do more to help.
The other day she got really cross with us and told us what she expected of us that apparently we are not currently doing. We didn't enter into a debate but suffice to say it is never going to happen. We are seven and a half years old. We are set in our ways and because of the situation with Daddy's illness when we came on board, we didn't get any of the sort of stuff most puppies apparently get by way of training. There is a flip side to this coin. We are characters and we are very loving. We are very protective—all in all we are a unit. Pickle, (who has a Phd in Pickwickledom) calls us a triumvirate. I, Scamp, the weanie bean, think of us as the three mooseketeales as opposed to the three muskateers, but the same motto applies... all for one and one for all.
We hope you appreciate how exhausting all this blogging malarkey is! We are flat out in our cages for several reasons. For one thing, this blog is a team effort and we are working away at this post. We are also tired after our walk—we didn't go far but we haven't been out for a while; if it wasn't the heat it was the rain and our delicate paws don't cope with either. However, more to the point Herself has been eyeing up our bedding saying it needs to go in the washing machine. Luckily the washing machine is full as she hasn't been able to get down the garden to hang it out but what she fails to understand is that our smells are important to us. A chap likes his bed to smell familiar.
Oh oh! She is getting ready to get back into organising mode. She says there is so much to do and there is not enough time but all she really wants to do is get on with the process of writing, editing, and publishing. She already has two complete novellas ready for self publishing, aside from the novel but other things get in the way.
It's a busy old life in the Dog House at Teale Towers! Love, licks and waggy tails until the next time!
literature
About the author
I write character driven fiction which I started to publish five years ago in memory of my late husband. I have always written and had the publishing dream - still do! I live in Devon with Pickle and Scamp my blogging dogs.
Reader insights
Be the first to share your insights about this piece.
Add your insights