The View from the Dog House (Pt. 8)
Holiday season—or not as the case may be
Apparently we are not having a holiday this year. That said, there are holidays and holidays. We used to go away for weekends on a regular basis and had some full weeks away as well. We used to go to what we called our Bolthole and we loved it. It was a three bedroom static caravan in Cornwall. It had decking so we used to have somewhere where we could run free or flop out and enjoy the sunshine. Unfortunately, she sold it after a nasty experience letting others enjoy, it but oh! We do miss it—we loved going there.
She used to work on her books down there sometimes and she did try recording some audio there, but even though it was a peaceful place to be, the seagulls had a nasty habit of landing on the roof and stamping. We did not like this one bit, so any recording came to an abrupt end, which generally sent herself screaming for the gin. Now that is all well and good, but a chap has to be able to put a seagull in its place.
Those were holidays we loved and we miss them. Originally, apparently, she bought the Bolthole so we could all have a retreat to escape to, but Daddy only stayed there a couple of nights and died soon after. He was more ill than we realised. She has said on occasion that if she had known this she wouldn't have bought it, as apparently, it cost a lot of money one way or another, but she did, and we had many happy times there.
There was, however, another type of holiday which we were not so keen on, but apparently is also not likely to happen again. This occurred when she had the day job which required her to go to meetings and stay in hotels—plans that did not include us. We therefore had to have dinner, bed and breakfast in kennels, which we did not like for several reasons.
For one thing, jabs had to be up to date and we had to be subjected to a thing called kennel cough. Don't get us started on the subject of vets. Suffice to say we don't like having stuff shot up our snouts.
Then there is the matter of accommodation and the fact that we were slumming it with dogs.We kept ourselves to ourselves and didn't mix, but even so, you have to understand that at home we have the run of the place. We sit on the sofas watching TV in the lounge, we sleep with her, a favourite place for Pickle is sitting on the window seat in the bedroom watching the world go by and seeing off marauders, and we are currently stretched out in the office.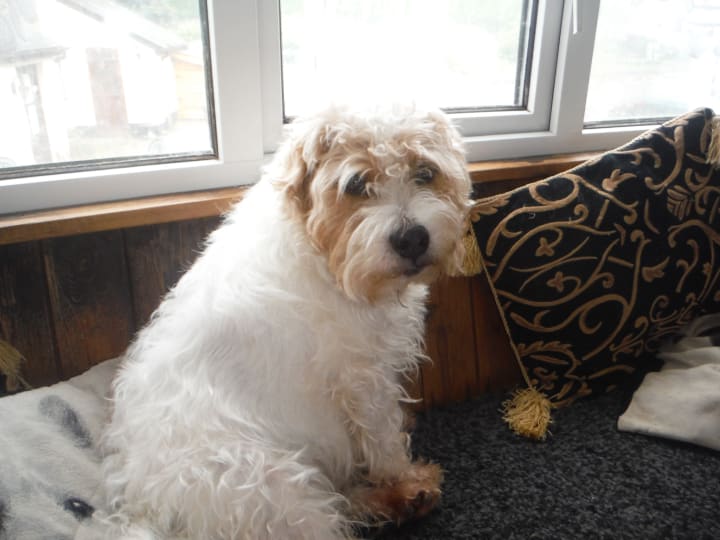 Kennels basically consist of runs side by side with space for a bed at the end. And that's it! We do take one of our cages with us so we have our own space and sniffs. The other dogs get given beds by the kennels. We also stand apart because we take supplies of our own food. In those days, we were getting breakfast or brunch as well as supper, and we used to get our supper after the other dogs had been fed. This caused quite a stir! They would get their bowls of packet food or kibble and then we would be served our meal. On a platter! We have already told you that we have our evening meal cooked for us; lamb, pork or ox offal cooked with chicken and rice and occasionally some vegetables. Whilst this is cooked in batches and frozen, we like it warmed up when we eat it, and this creates an aroma. There were some very jealous dogs in those kennels when our food came out!
Apparently it is highly unlikely that we will be going again, and that can only be a good thing, but we do have happy memories of the Bolthole.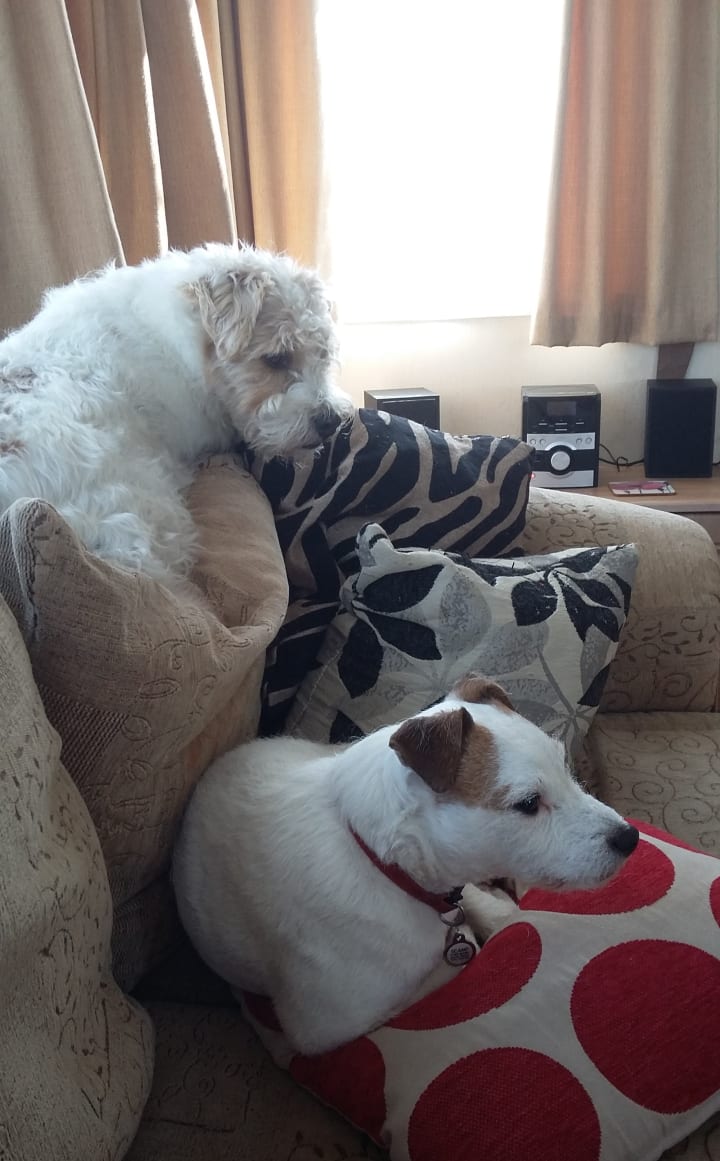 Until next time, love, licks and waggy tails from the Dog House at Teale Towers.
literature
About the author
I write character driven fiction which I started to publish five years ago in memory of my late husband. I have always written and had the publishing dream - still do! I live in Devon with Pickle and Scamp my blogging dogs.
Reader insights
Be the first to share your insights about this piece.
Add your insights