The Last Gift From My Grandpa
Meet Scout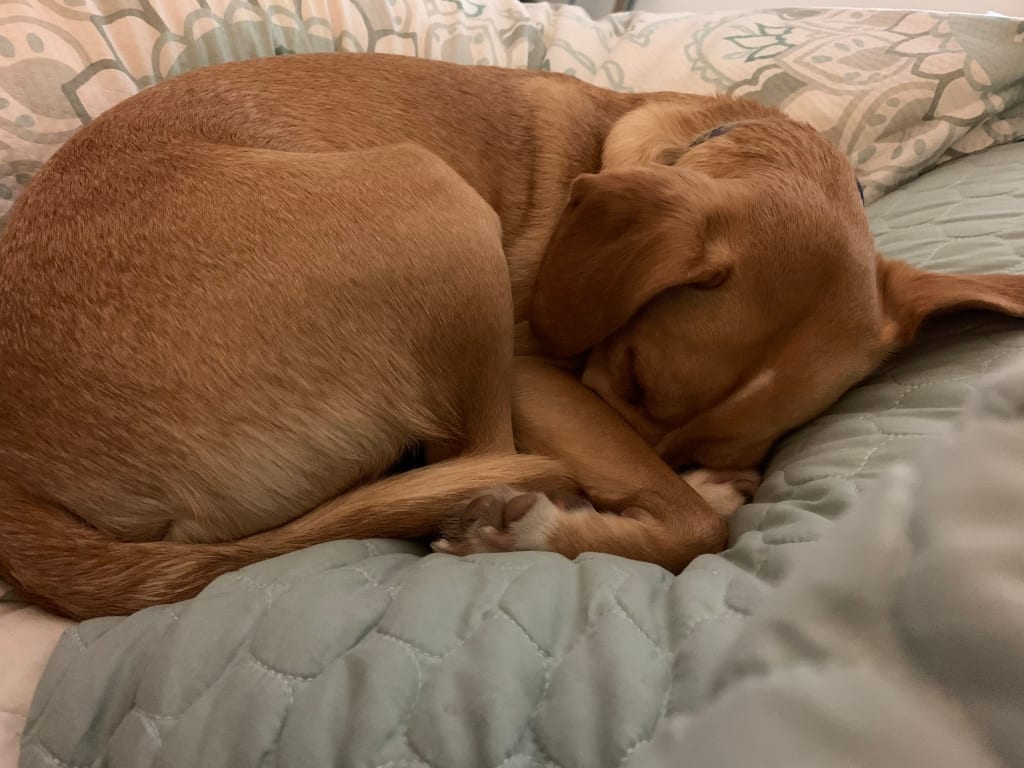 This is Scout (A.K.A Skittle, Bug, Love, Monkey . . . mine)
7 A.M. — the usual morning lineup.
The alarm sings and I snooze it. Several times. With my eyes wide shut, I fumble around in the dark for the only solid thing on my bed. Finally, my fingers curl around fine, rough hair, and my arm tugs it close. I can hear the air leaving his body as he settles in as my little spoon. While my alarm sounds again for the fifth time — it's now 7:45 — he slings his head over my arm and uses it as his pillow. Not an upgrade from the plush throw he was laying on before I interrupted his beauty sleep, but a pillow nonetheless.
He stirs at the alarm. I feel him rise, shake and hear the thump before he turns and slumps back into a ball on my bed. As for me, I begin my morning routine. Wash face, fix hair, grab a book, and go.
Leaning over my bed, I drop my face to kiss his head.
"Good morning, Bug." My hand finds his belly and he rolls over obligingly. "What a good boy. Yeah? You good boy?" I place various kisses along his belly and face, scratch behind his ears, and squat level with his eyes.
"Go downstairs? Yeah, go potty?" I pat twice on his bum softly and instruct, "Let's do it."
He hops from the bed and I watch him flow through downward dog and up-dog before shaking again and turning back to look at me. I open the door and follow the hollow thudding down the stairs and to the backdoor.
He waits, sniffs then jumps from the porch to do his deeds. I put on a pot of coffee and wait for his return.
Together, we snuggle. He curls himself tightly between my legs as I meditate. After namaste, I leave to grab coffee only to turn around and see he has stolen my spot along the arm of the couch.
Typical. Rolling my eyes, I scoot in until he wraps himself around me and we read.
Not soon after, he comes in from gardening. A semi-hot cup of coffee in his hand and his sunglasses over his face. Grandpa slinks down into his chair and Scout (also known as Bug, Monkey, Skittles, Twerp, Bro, Love, and so much more) perks up, abandoning his stolen seat for a spot more entertaining. The one in Grandpa's lap.
I watch them honestly and smile.
I'm very fond of this memory and every replica of it since the day Scout became my family. For nearly two years, this was our daily routine. It hasn't been the same since Grandpa passed away. But we make do with the familiarity of our morning rituals. Alarm, snooze, wake, potty-coffee, meditate, snuggle, and read. Only we don't have Grandpa anymore and I live with my friend who has replaced Grandpa Greetings with Chihuahua Wiggles.
This memory is both heart swelling and heart-wrenching when I look back at these days not too long ago. If it hadn't been for Grandpa — who, I will always attest to being the one who said we should meet this dog, our dog — Scout would not be in my life.
If it wasn't for Grandpa, I never would have gone to that shelter. If he hadn't requested to see this one last dog, I would have left without ever having met him. Scout never would have plastered himself to my side as if he had found his safe haven. I never would have seen him happy dance whenever I came home from work. His name might still be Murphy Brown.
Scout isn't just my best friend, he is the last gift from my Grandpa.
About the Creator
From crafting second-world fantasies to scheming crime novels to novice poetry; magic, mystery, music. I've dreamed of it all.
Now all I want to do is write it.
My IG: https://www.instagram.com/iamtiffanieharvey/
Reader insights
Be the first to share your insights about this piece.
Add your insights