The Hebrew Congregation of Somers Hold Bark Mitzvah to Bless the Companionship of Dogs
Rabbi holds the attention of canine audience.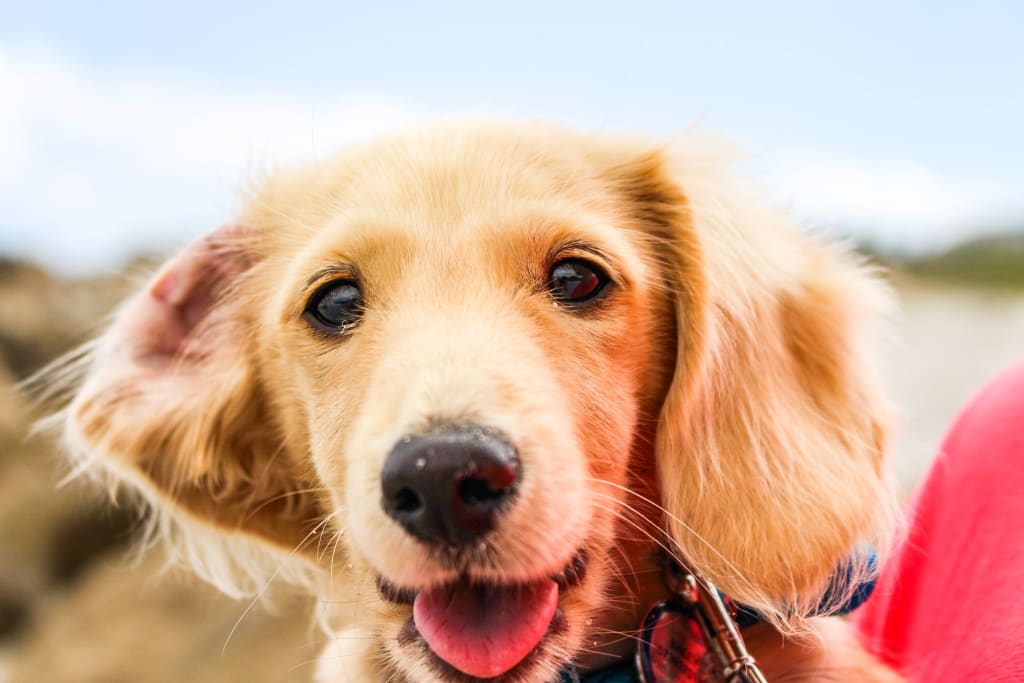 On Sunday, the Hebrew Congregation of Somers held its third annual Bark Mitzvah to bless and honor the animals its members hold so dear. Attended by about 30 pets and their owners, the serene setting next to Shenorock Lake mirrored the relaxed demeanor of the bipeds. But the dogs were another matter at the outset of this day. A lot of barking and sniping at each other, having a leg over Mother's Day may have been a little unsettling. But a calm definitely emerged at a distinct moment of the proceedings.
"It's his presence," said Mary Wolchan of Rabbi Fred Schwalb's arrival.
Dogs wait in anticipation.
Either way, Emily Siegel attributed the anxiety to anticipation. "They know they are going to be blessed," she said succinctly.
As such, Olli's rambunctious attitude toward other dogs was on display. But while he may need more guidance from a higher paw, it was quite understandable to Lauren's son Zach. "He got bit above the eye by a German Sheppard, and now he doesn't trust other dogs," he said. But around people, Olli is very gentle, Zach added.
Lauren Dahling's Roxie, on the other hand, may be dialed in direct to a higher authority in the way she goes about her family business. "Roxie turns on the faucet by herself and drinks from the sink," said Dahling.
The Dahling's were amenable to a blessing just the same.
Mindy Kahn of Golden's Bridge seemed a little more in need when it came to Hilda. In the last few days, she said, "Hilda ate the remote and my husband's glasses."
That said, she hopes the blessing turns out to be a "good influence." At the same time she doesn't discount her belief that dogs create the community feeling God had in mind when he gave them to us. "They bring people together," Kahn asserted.
Alan Most felt the same and didn't diminish the elevation Rabbi Schwalb bestowed upon them. "It's an acknowledgement of the importance of dogs in our lives," said Most.
In accordance, Most elevated Mattingly to his namesake. "He's able to catch a tennis ball at a pretty good distance," beamed the Shenorock resident.
Bringing it back is another matter, but Mattingly's complacency couldn't hold back yet another mass disruption among his peers. Rabbi Schwalb stepping to the center of the lawn, yelps of anticipation preempted the Rabbi's dissertation.
The Rabbi speaks and his audience listens.
Speaking up, the commotion among the dogs died down as quickly as they rose. "People and pets, family and friends, we are grateful to God for these perfect companions you have created for us. We pray that all dogs find a safe place to live with plenty to eat. We bless those that rescue animals and care for them in animal shelters," he said. "This is a true Mitzvah."
The Rabbi went on to acknowledge the love and laughter they bring, while the love we return hopefully reminds us of the unconditional love that God has for us.
Still, this celebration does not have a specific biblical reference like the St. Francis of Assisi blessing. But the Rabbi felt there's plenty of room for interpretation. Rabbi Schwalb explained that during Exodus—as God unleashed the Angel of Death—dogs did not bark to warn the Egyptians of their impending doom. "This allowed the Jews to escape so God loves dogs," said the Rabbi.
The dogs seemed quite as ease with the extrapolation, but the Rabbi was at a loss as to the welcoming response from the four leggers. "No idea," he said.
Doug Chuney of Yorktown, however, didn't think there was such a mystery to it. "Rabbi Schwalb just has a way about him. He starts to speak and everyone is ready to listen," said Chuney, and including dogs, wasn't really a leap.
The dogs obviously agreed and returned the blessing as they quietly exited with their families.
If you'd like a sports profile, game coverage at any level and/or photos, please contact me on Facebook at 914 318-0997 or [email protected]
Please like Somers Sports.