That Week We Slept In A Bathtub
Our best, and hardest, week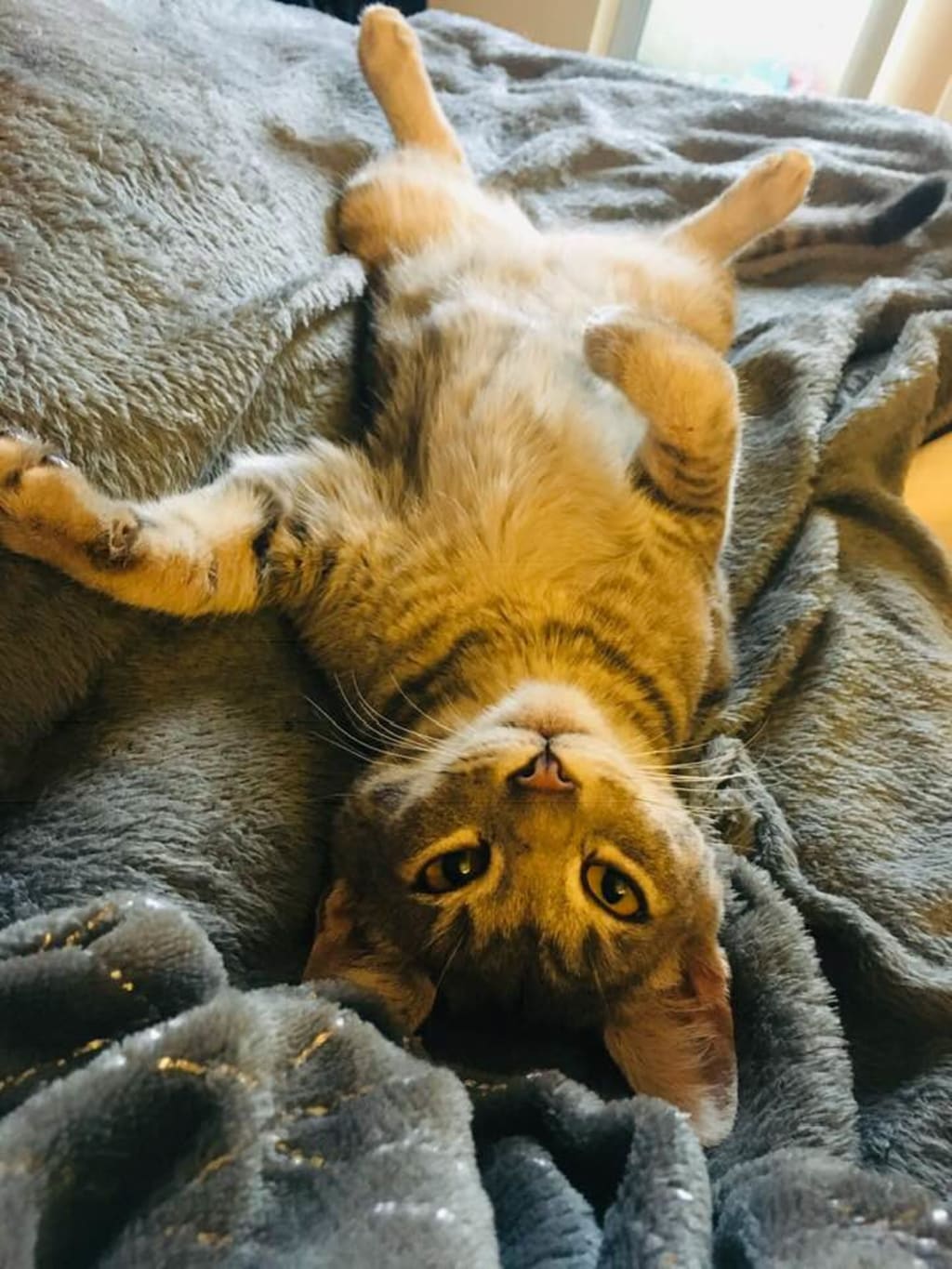 Baby Squirrel, November 2018. Photo by author
It's hard to come up with a single poignant memory of your pets when you have five rescue cats. I have some of the fondest memories of my life with each one of them. I'm one of those cat moms that could never foster. I'd have nine of them if we had the space.
But there is one memory that stands out above all of the others, and that is how my baby girl, Squirrel, almost didn't survive her spay. It's one of the best, most profound memories I have simply because it was perhaps one of the hardest things we've ever been through. Even my girl Leigha's kidney trouble and on-going anxiety and stomach problems paled in comparison. I was terrified when Leigha was sick and her recovery is on-going and likely to be life-long. With Squirrel's spay, we didn't just get through a hard time; we came out the closest two creatures could ever be.
A Rough Start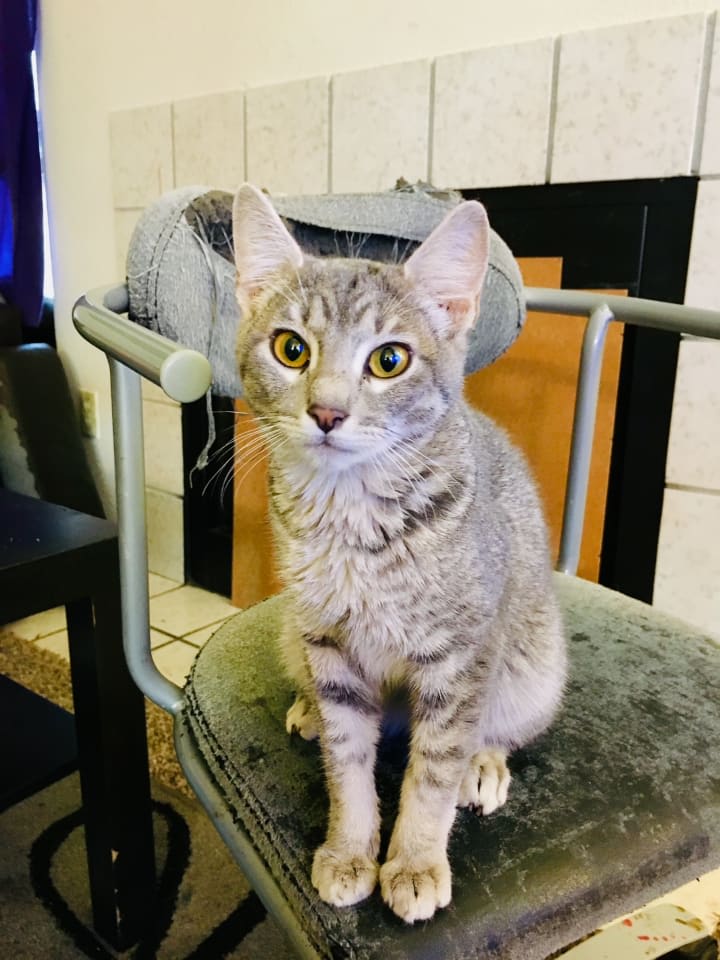 Baby Squirrel--her legal name--came to us in October of 2018. It was a cold night, and I was coming home from work--I think. It's a little hazy. I had been fired in April and finally landed a gig at my current workplace that August, but only part time. I had not thought she would be coming to us. I had originally offered to take her off of our neighbor's hands when I helped them catch her littlermate, Hope, whom they later abandoned. They said they would bring the sister to my apartment. I never heard from them again. I actually had forgotten about it.
My husband called me that rainy night in October and told me to get my rear end home, that he had a silver tabby sequestered in the kitchen, eating tuna out of a bowl on the counter while our other two girls, Ash and Leigha, were losing their minds. I rushed home, corralled the danger twins, and went to explain myself. I was lucky my husband is as compassionate as he is. He knew he couldn't leave her outside, and braved the wrath of our two orange tabbies to give her a safe place.
When everyone had calmed down, and we were seated in the living room, my husband was sure he had found himself a personal best friend. She was in his lap and purring. I invited her to sit with me.
She never sat with him again. She became mommy's little girl.
It didn't take long for us to realize she was incredibly sick. She began what I called the "running sh*&#s". She was in so much pain that she couldn't use the litter box. She was trying to escape her own poop. It took a lot of compassion from friends in Tennessee and Austin to get the money together to get stool and blood work. A full dose of anti-biotics cleared her right up, but she began getting urinary tract infections (common in unspayed females because of their hormones and stress).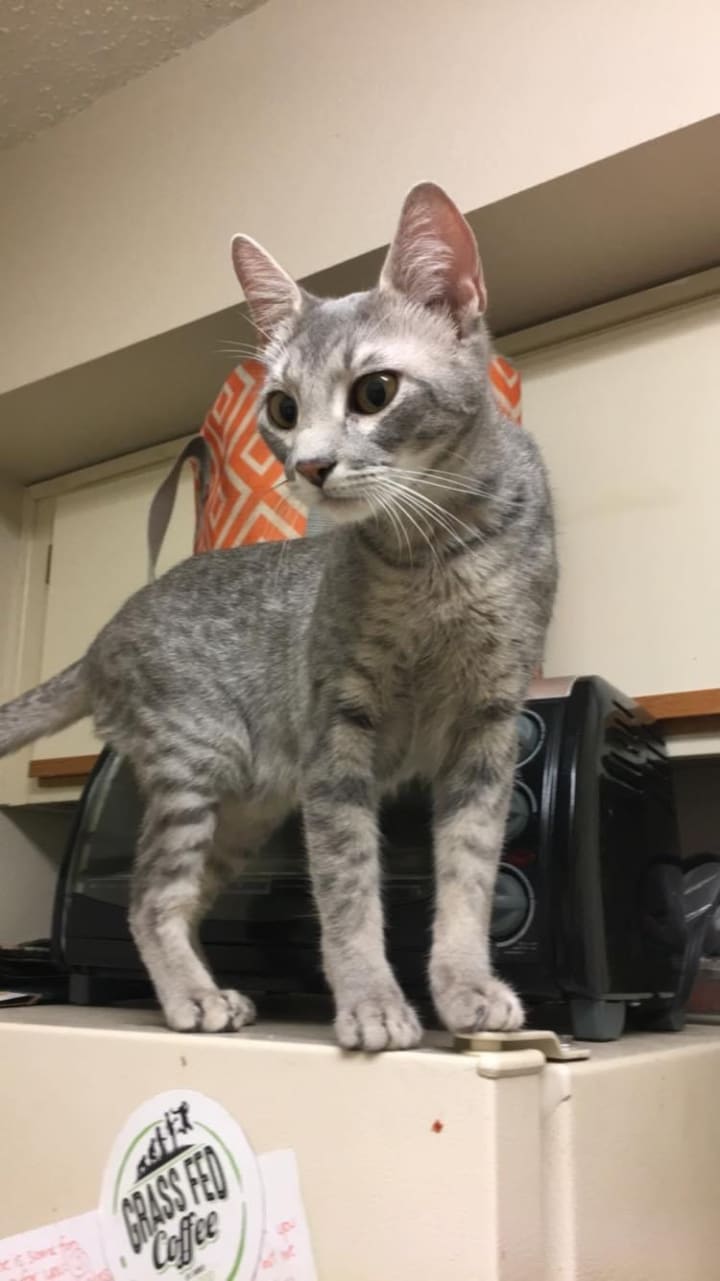 I was terrified for her. UTIs trigger me like nothing else. I consulted a vet tech friend of mine in San Antonio who suggested Emancipet, who had spayed our other two girls. The best thing to do to hopefully stop the UTIs was start with her spay. I scheduled her appointment with Emancipet.
Our Week In A Bathtub
Now Emancipet isn't a boutique clinic. They are county-funded to ensure that low-income folks can get the basics for their pet done: spay/neuter, shots, and chips. So it's not really a surprise that she wasn't in the greatest shape when she came out. She reacted very badly to the anesthesia. She thrashed and kicked and clawed and began chewing and worrying her incision almost immediately. I was mortified. The paperwork they gave me stated clearly to keep her calm, confined, and inactive for two weeks. Here she was thrasing like a maniac in her cage and pulling at the glue on her tummy. By the time I stopped to check her on the way home, she had half of the surface incision open. By the time we got home, I could see her muscle tissue and the internal stitches. I didn't sleep.
She, on the other hand, was fine overnight. She stayed still and slept, likely because she was in terrible pain. The next morning, I called out of work and class and took her back to Emancipet. This time, they stapled her. That went over about as well as the glue. Like a crazy person on PCP, she had two staples out by the time we got home. They lengthened her inactivity and recovery to three weeks and gave me a mild sedative so she would sleep if I had to leave her alone. And I was gone a lot. By then I was in a full time certificate class and working part time (I was moving scooters during the day and going to class at night by then).
We had to keep her confined to keep her from running around. She was an active girl, and enjoyed playing tag with her "sisters". There was no way we could guarantee that she wouldn't remain calm and not play too much while we weren't home.
I would like to disclaim this incident. I didn't know anything about how to handle this. This was my first nightmare spay. I didn't know I could get a recovery suit off Amazon with an anti-worry patch to keep her from chewing through the fabric to get to her tummy. I didn't know we could put her in a large dog kennel and keep her in the living room. My danger twins didn't have this problem. They didn't worry their incisions or get crazy.
I needed this awful experience to know what to do for the next two cats we got. I needed to learn this lesson, and learn it we did.
I bought her a baby onsie and duct taped it over the tummy to keep her from worrying the wound. I pulled it tight and pinned it at the back to keep her from backing out of it. It was awful. To try to make light of her discomfort, I called it the Suit Of Loving Correction. I argued that if she didn't thrash so much, she wouldn't need it.
We put a Cone of Shame on her to keep her off her tummy when she chewed through the tape (she's still a chewing kind of cat). It was a miserable sight. She couldn't move, could hardly poop, and the meds made her loopy.
But she was finally going to start recovery. The first day I went to leave her alone, I put her in the bathroom with her comfy cage and bed and a piddle pad. She cried so much and so loud (she'll keep you awake for real) I worried the neighbors would report her, and we weren't supposed to have a pet in the apartment. I gave her the sleepy time meds, put her in her bed, and when I came back home, I put a pallet in the bathtub and slept with the light on.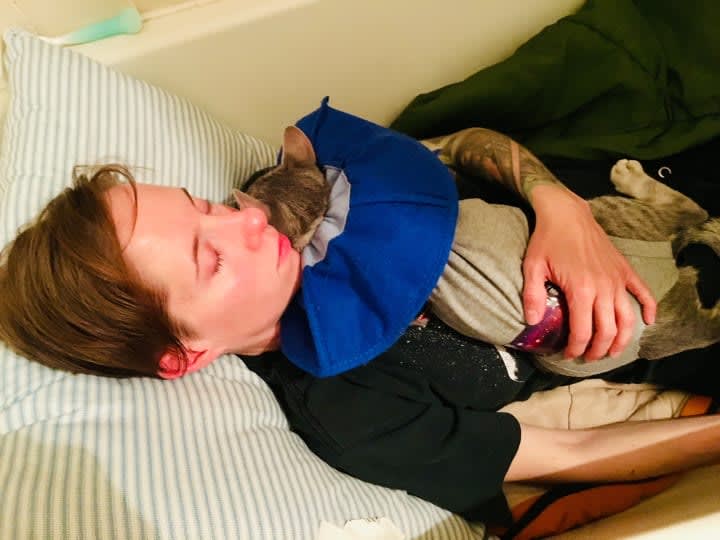 For the next week, we didn't leave the bathroom except for a couple occasions. I did classwork in the bathroom. I sat on the floor and we ate out of my plate in the bathroom (after I cleaned up, of course). I took the sleeping bag and pillows out of the shower and we showered in the same bathroom we were sleeping in. I held her suit up so she could poop and the constipation from the meds scared me because I was terrified she had herniated during the ordeal.
One night, after four shifts, three days of classwork--and it was only the middle of the first week--I laid in the tub and sobbed. I was not just exhausted from lack of sleep. I had a grueling job and was turning in assignments almost against my will, so blind tired that I wasn't even sure they were correct or finished. I had terrible anxiety. At a time when I needed sleep most, I couldn't turn the light out because I needed to be able to see where she was. I couldn't sleep in my bed, or she would cry and alert the neighbors, who I was certain would report us to the property manager. I couldn't afford their $500 pet deposit and increase in rent by $100 a month.
As I laid there sobbing, my husband standing over us half in anger and half in concern, she crawled into the tub with me, laid on my chest, and began licking my face. In all of her pain--which I knew she must have been in--and in all of her misery in the Suit of Loving Correction and Cone of Shame, her only thought was to comfort me. To this day, when I am upset or scared, she comes and sits near me and licks my hand, or lays on my chest.
I couldn't leave her alone in the bathroom to suffer, hardly able to move and with all of us making noise in a different part of the apartment. In the mornings, I put her in her cage and let her sit on the table with me while I made breakfast. If she was sleepy, we laid on the couch. I wish I had pictures of us. It was a sorry sight.
On the Sunday night of the first week, my husband made up my mind for me. He threw open the bathroom door, pulled everything out of the tub, put her cage away, and took her out of the Suit of Loving Correction. She did laps around the apartment--still wearing her cone--while I flipped out on him. I was certain that he was killing her by letting her run about.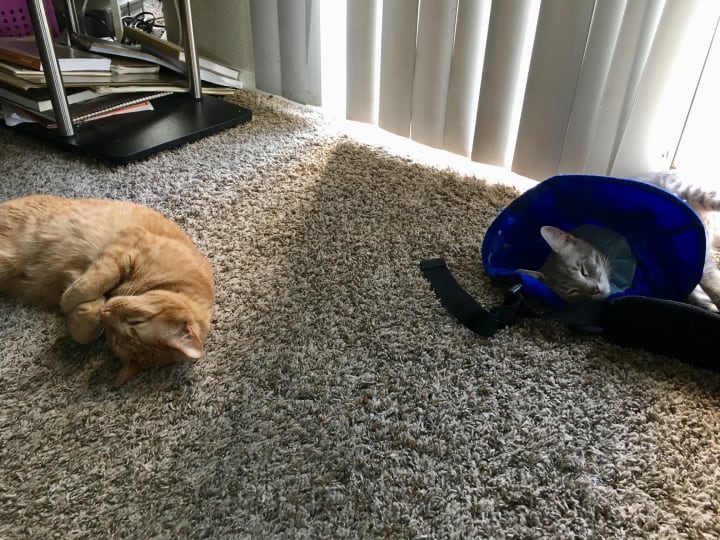 He put his arms around me, and held me still so I could watch her. She was happy to be free at last and able to move and be a juvenile cat again. Yeah, she lost two more staples that week, but as her healing went on, she never developed any of the warning signs of further injury or infection, and her incision closed up like nothing had ever been wrong. She had her final staple out at Emancipet, and we have never looked back, and she has never had any further trouble with her health. Except she's fat now.
Wait, This Is Supposed To Be A Fond Memory
And it is! That Sunday night, we laid in the bed together, curled up on soft pillows. She has slept with me ever since, either next to me or on my feet. She's never far from me. She didn't quite understand why she couldn't lay with me after my own surgeries, but she was so determined to be near me, to try to take care of me. But she wanted to lay on me, and we couldn't allow it. She stayed nervous about laying on me after that.
Of all of my precious babies, she and I are bonded the closest. As much as I love all my cats, that horrible experience brought us closer together than a human and a cat probably should be. Both of us came out happy and healthy, both of us ready to get back to some semblance of normal and to make sure she never had to go through the Hell that was the first 10 months of her life ever again. She's my desk buddy, my snuggle buddy, and she's the only cat that comes when I call her name.
Maybe our fondest memory wasn't in that tub, but every memory since has been more fond than the last.
About the Creator
Austin, TX | GrimDark, Fantasy, Horror, Western, and nonfiction | Amazon affiliate and Vocal Ambassador | Tips and hearts appreciated! | Want to see more from me? Consider dropping me a pledge! | RIP Jason David Frank!
Reader insights
Outstanding
Excellent work. Looking forward to reading more!
Top insights
Excellent storytelling

Original narrative & well developed characters

Easy to read and follow

Well-structured & engaging content

Heartfelt and relatable

The story invoked strong personal emotions
Add your insights