Sweet Pups: An Interview
A Texas-based non-profit shares its story of how it helps local dogs find homes across the country, saving lives.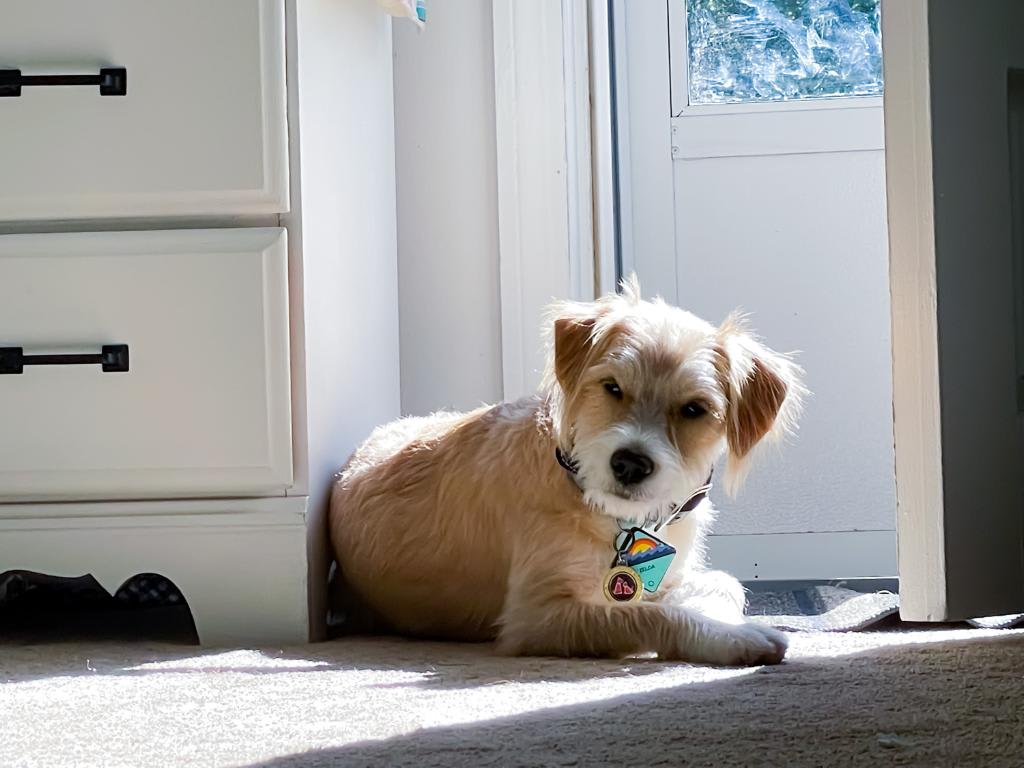 Zelda, formerly known as "Angie" sunbathing at home.
A few months ago, my sister, Janis, decided that she was going to adopt a dog of her own. It was a long process because her apartment's landlord usually has restrictions that prohibit residents from keeping pets. However, thanks to approval from a doctor, they made an exception for her to adopt a pet. By this point, she decided on who she was going to adopt: a foxy rat terrier puppy named "Angie" who was renamed "Zelda" after a character from the "Legend of Zelda" series of games. Then came the day of adoption and I joined Janis to cross state lines into Massachusetts to take Zelda home.
The organization that first rescued Zelda was a non-profit group called "Sweet Pups", a non-profit that helps troubled puppies and dogs in Texas find forever families across the country. While meeting my adorable new fur-niece, I decided I wanted to get to know more about the people who rescued her.
This interview is with Glenna, head of the Sweet Pups Organization.
1. What started the effort to rescue and find forever homes for Texan dogs?
We began Sweet Pups over 15 years ago when I made a trip to the local pound looking for a cat for one of my apartment-dwelling daughters. I didn't find a cat, but I found a full-blood Rat Terrier that was being euthanized. I needed no dogs at the moment, but this little guy was adorable and did not deserve to be on death row. I asked the manager on duty who quickly answered in a thick southern drawl, "We are fixing to kill 'em". I took this crazy rat terrier home that day and things were never the same. The little rat terrier had been "roughed up" to serve as a bait dog and had some PTSD issues. We referred to him as a "psycho" but knew he was "our psycho'' and we loved him until he passed away. After seeing the many dogs that were awaiting their fate in that one pound, I resolved to help. Within a week after adopting Jaxon, we had 17 fosters from that pound.
We started simply "brokering" the dogs, moving them directly from the pound into homes. Then one litter of cute little chihuahua babies went into homes and then broke with parvo. They were all returned to the pound and euthanized. It was at that point I knew we had to vaccinate every single dog before it was moved from the pound into a home. Sometime later, it occurred to me that the new owners might not spay or neuter and if so, by saving the dog, we had only increased the overpopulation of dogs in our area, so we started spaying and neutering for the pound.
As you might guess, the vaccination and sterilization process put a strain on our family budget. With every dog, there seemed to be something additional needed. We might have had a litter of dachshunds, but they were covered in mange, or a beautiful shepherd came in with a broken leg, etc.
It was at the point when the "rescue" we were engaging in from the local pound became bigger than we could handle that we formally organized Sweet Pups and became a recognized charity that operated on our own, separate from the local pound.
2. On average, how many dogs do you guys rescue yearly?
We are now saving approximately 1,000 dogs per year and that number increases with regularity. From a little psycho rat terrier to over 1,000 per year.
3. Has the recent natural disasters in the state affected rescue efforts? If so, how?
Natural disasters pose many issues for us. We are in a targeted area for hurricanes ourselves so many times we are underwater. During Hurricane Harvey, we sheltered in place and stacked kennels on top of tables, and secured them to the walls. We ran out of food and the Petco in a neighboring town actually boated food for us across the flooded Neches River to feed the dogs. Besides those we already had at the rescue, we rescued an additional 120 that came by boat to us from flooded locations where pets were stranded. We shelter in place at Sweet Pups with generators now.
4. What's the process of rescuing these dogs and finding forever homes for them across the continent?
Our dogs come from many areas of Texas and people reach out to us for help daily. Some pounds now call us when they are overcrowded and ask for help, along with strays we are called to help with from abandonment. We take some owner surrenders but those are few as we try to use the space available for those needed immediate care.
5. How many people do you get to foster Texan strays?
Our foster base is low, with about 25 families. We have a shelter ourselves and most of the dogs remain with us so we can better assess their medical needs. We have kennel helpers and vet techs available as well as a veterinarian who supervises our dogs.
6. How many people do you get to volunteer to make the long journey to bringing the animals to their forever homes?
The transports are manned by myself and Joey. I drive and he tends the dogs as we roll. We were at one time hiring transports to move our dogs but were unsatisfied with the treatment they received while moving from us to their new locations. All I seemed to do was worry about them while on transport so we purchased a van and have been running our own transports for several years now.
7. Can you recall a rescue effort your organization has been proud of?
EVERY successful rescue effort has a story of its own. We are so thankful each time we can make it happen and I could talk all day long about the adventures of rescue. We have done it all, trapping, darting, to simply picking up from the woods or on the sandbars at the river. I'm sitting here now trying to decide on one I should tell you about but honestly, I can't decide. There are so many! My honest advice to folks is to follow our page on Facebook closely and then you won't miss their stories! I was just looking through some stories on Facebook and each one brought back special memories. From the first time we had to dart a dog, to the first embolectomy we had done, to the ones with crushed limbs we could see mended, the many we have rescued from hoarding situations, oh mercy there are so many.
Once upon a time, a woman who was angry with us because I would not make her a board member remarked we couldn't just pick up a stray dog — that every dog had some story that went with it. We had to shake our head at that comment as every dog DOES have a story and it deserves to be told! There is not one dog that has come through the doors that doesn't have a unique set of circumstances that brought it to us, whether we know the entire story!
From Hagen, a little pit puppy that showed up at our door after some teenagers had put an entire SLEEVE of Copenhagen tobacco into her, forcing it down her throat one container at a time because they thought she had worms and were trying to deworm her to the most recent story of Dekka who was used as alligator bait. Her foot was slashed unmercifully so she would bleed and she was placed in a wire kennel and tossed into the canal to bring alligators. A fisher jumped into the water to save her and we could save her foot and leg. She is now in a home in Maine.
8. Any advice for those looking to adopt a new pet?
My advice to would-be adopters:
1) Choose wisely. Do not get a dog that will not fit your lifestyle. If you want a purse dog, don't get a hound. If you want a hiking buddy, a teacup breed might not be your best choice but something with stamina and longer legs. If you are an apartment dweller, consider who is a loud barker, and who needs more space, etc.
2) Know who you are rescuing from, especially if you are adopting long distance. All rescues are NOT equal in services to their adopters and health needs that should be addressed before adoption. Look for a group that is transparent with open lines of communication. Check out their rescue site, their website, and speak with the owners. Never send money first. Ask for vetting references if you are uncomfortable.
Thank you Glenna for sharing your work to help Texas strays and finding loving families for them. I hope the readers will take away the message of considering adoption over acquiring a new pet from a puppy mill.
As for Zelda, she continues to do well with having my sister as her new mom and enjoys cuddles, snuggles, nuzzles, cooler weather, and playtime with our rescue husky Sasha.
If you are considering adopting a new pup, please visit Sweet Pups Rescue and Sanctuary's website on how to get started.
About the Creator
Zoo and Aquarium Professional, Educator, Cosplayer, Writer and B.A. in Psychology whose got a lot to share when it comes to animals, zoos, aquariums, conservation, and more.
Instagram: @jennacostadeedy
Reader insights
Nice work
Very well written. Keep up the good work!
Top insight
Heartfelt and relatable

The story invoked strong personal emotions
Add your insights