Super Tsuki
Our Super, Heroic, Loving, Tiny Kitten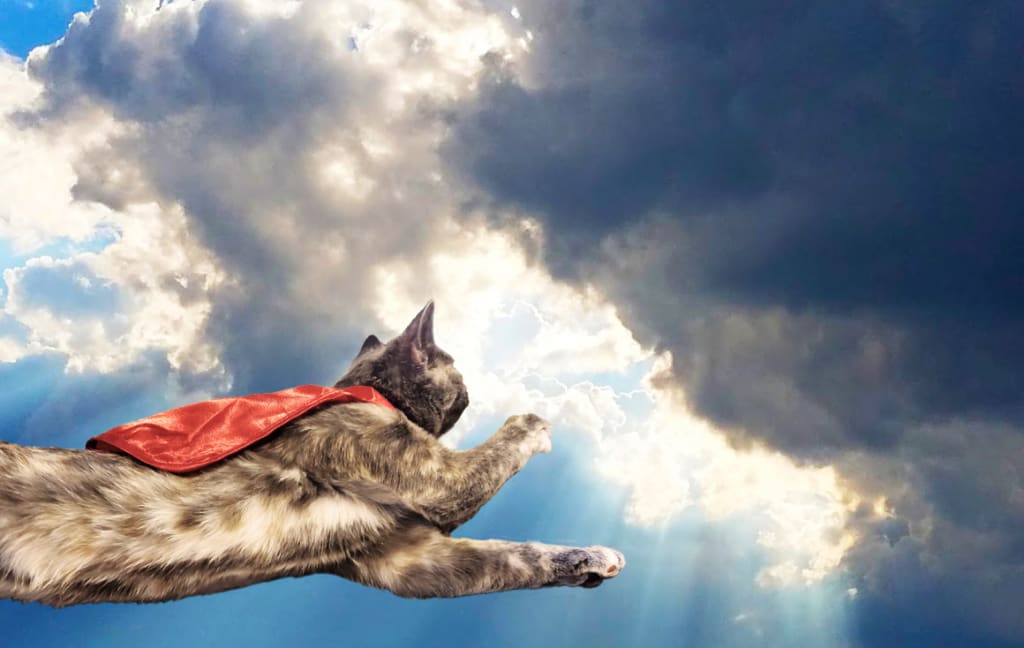 While taking photos, Tsuki decided to sprawl out on the floor, which made it look as if she were trying to fly, so I photoshopped her into the sky
Tsuki is quite the superhero. She arrived on the scene when we needed her the most this summer. Our fluffy kitty companion of thirteen years suddenly got ill and passed away at the beginning of the summer. It left a massive hole in our lives and hearts. Our home felt empty and despite knowing that she was no longer with us physically, we would often search for her. It was a difficult transition. The end of July came around and in waltzed Tsukihime, the nutty, tiny kitten with a massive personality.
Tsuki is a complete goof, getting into all sorts of antics. She's a complete Sour Patch Kid, going back and forth between sour and sweet phases. She loves cuddling and playing with anyone and everyone. She has serious FOMO (fear of missing out) and will insert herself into any and all situations. She has the tendency to launch herself at our backs, climbing up to our shoulders, so she can see what we're doing at the sink and counters. She refuses to be left out. She tries to climb walls, windows, and doors. Tsuki always makes us laugh. For such a tiny kitten, she has a huge presence; there's no ignoring her or mistaking her for our previous kitty. She is completely her own individual and differs from our last cat drastically.
Our previous kitty taught me that loose costumes are tolerable. My sister often dressed her up in various costumes, and she hated them all. She always looked so annoyed (or royally ticked off) whenever my sister placed her into the costumes. They usually included various hats and restrictive clothing (I'll never forget the time my sister put her in a rain outfit, hat, boots, jacket, and all). One year I strolled into the dollar store after Halloween; I stumbled across this pet "vampire" costume that consisted merely of a cape. It gave me an idea; it was quite different from the usual outfits fluffy cat despised. It was half off, which was a bonus. I decided to try it and see how she felt about it. Fluffy cat accepted the cape; the loose-fitting aspect of the cape seemed to make it almost as if she wasn't wearing it. I had her wear the cape for several Halloweens, and she never minded one bit, content to go about her kitty business and check out the pumpkins. She made a cute vampire.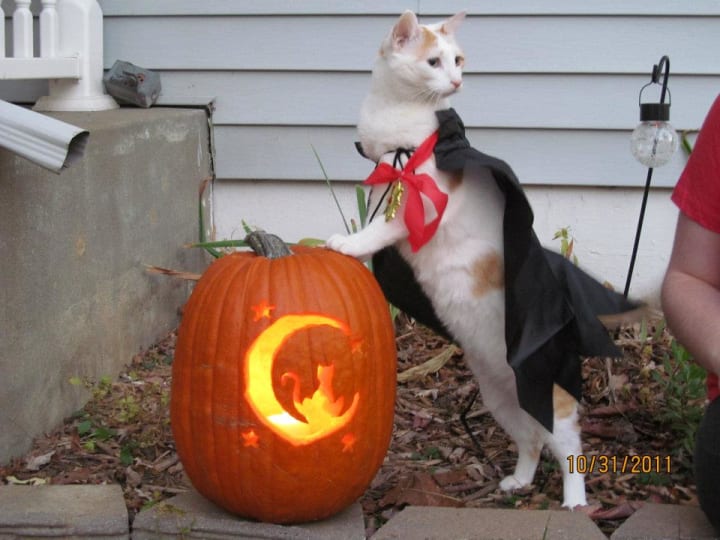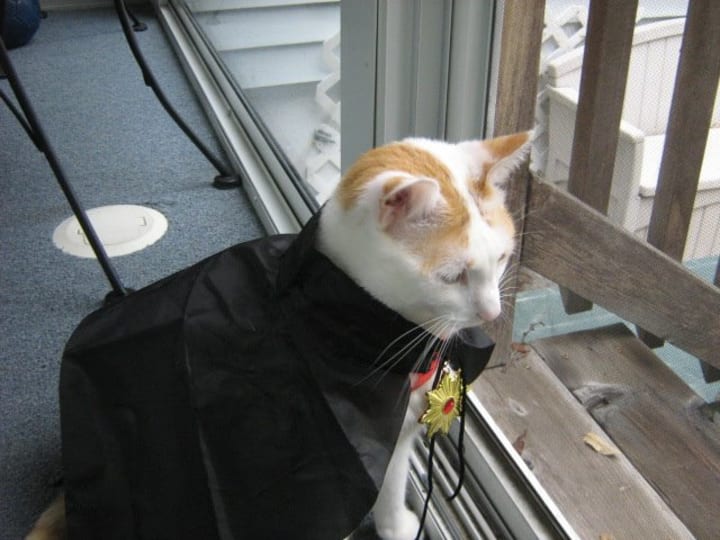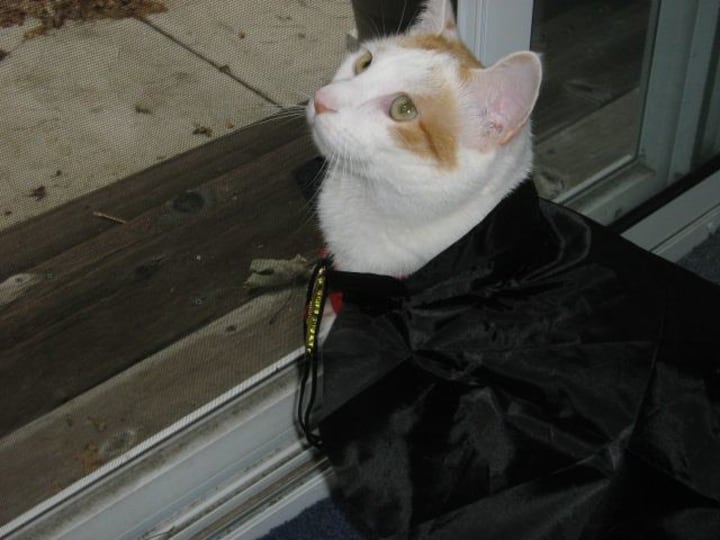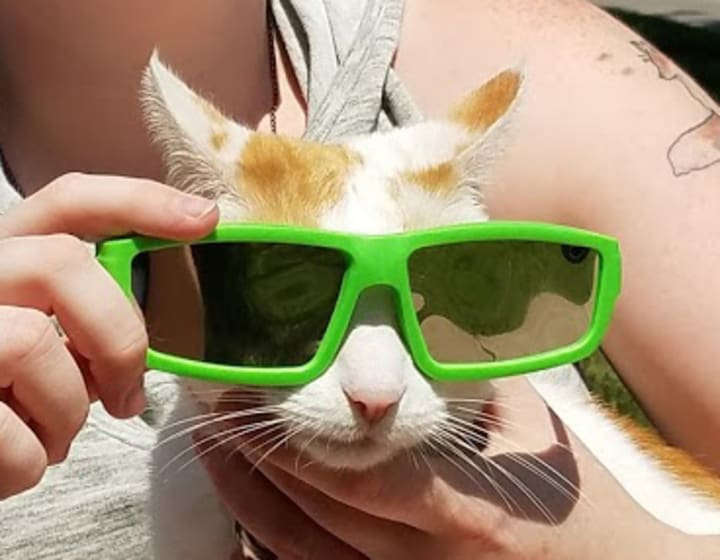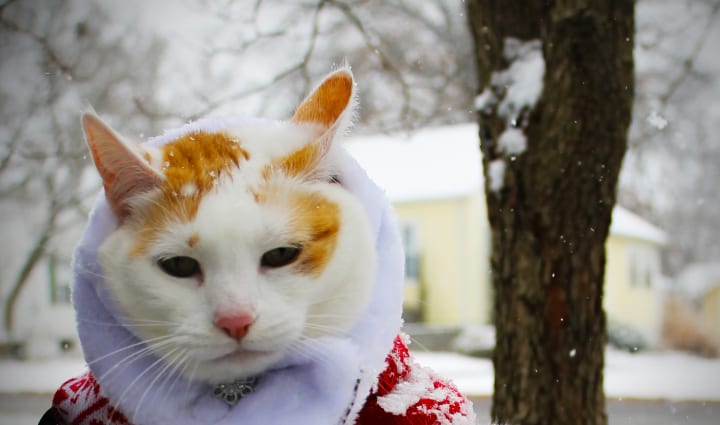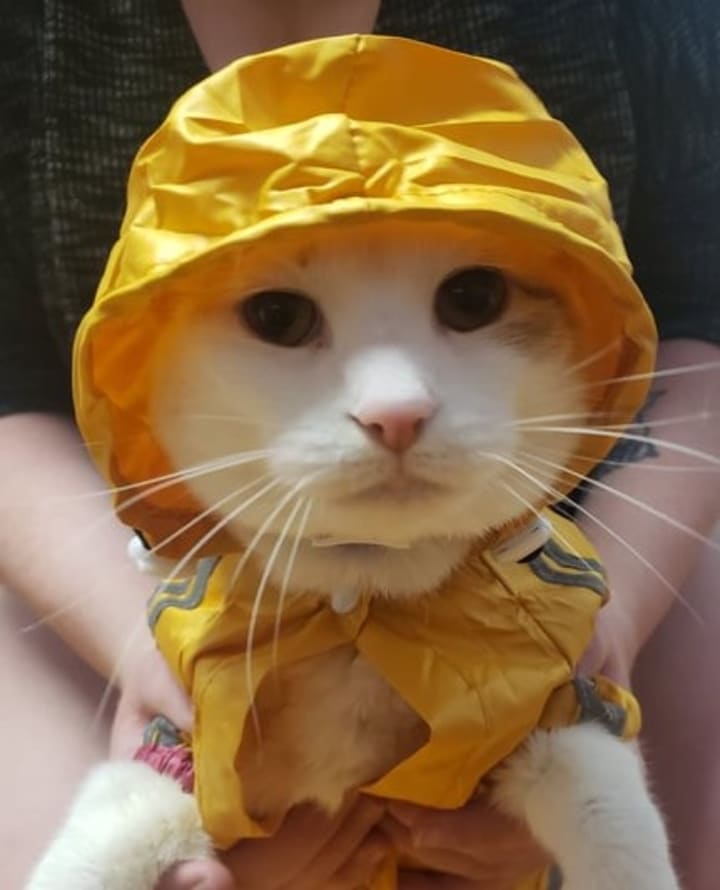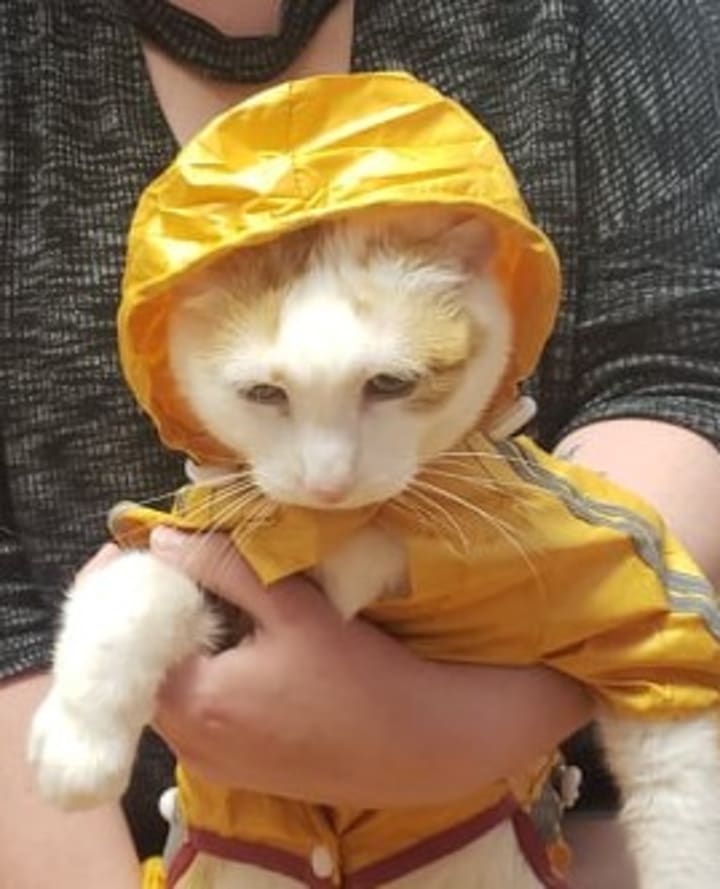 Tsuki has undergone similar experiences—my sister loves pet costumes. Three days after getting little Tsukihime, my sister decided to have her wear a frog hat. While the hat is adorable on her, Tsuki immediately started crying. She did not care for wearing hats. The only reason my sister hasn't put Tsuki in more outfits would be due to her tiny size—all the costumes she had gotten for our previous kitty are all too big. My sister has also tried getting Tsuki to wear a harness so we can take her outside (Tsuki is an escape artist and often tries to bolt out the door, so we don't trust her outside on her own—unlike our previous cat, who was super chill and wary of anything outside of our yard, Tsuki would want to explore everything and everywhere). As soon as she is placed in the harness, Tsuki will drop to the ground, sliding along the floor in attempts to get it off. She hates wearing things, but, like our previous kitty, she finds loose capes to be acceptable.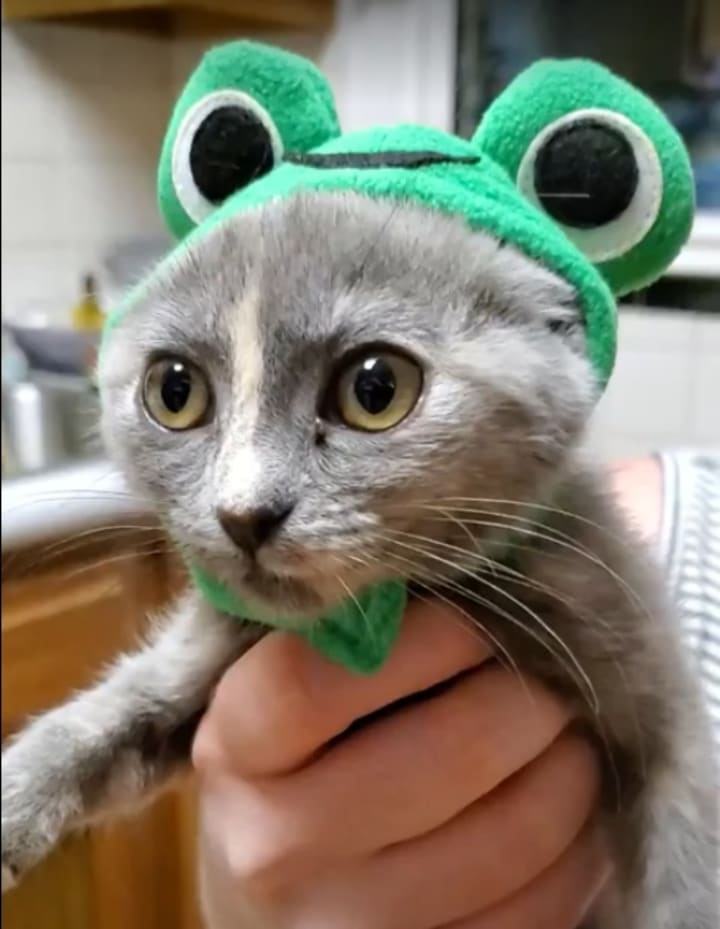 For the first Halloween with Tsuki I want to do something special, but I also don't want for Tsuki to feel like she is being tortured with a costume. The superhero cape is quite fitting; it fits the need of not being too restrictive and annoying for Tsuki but is still cute. There's also symbolic meaning behind it, as she's the superhero of our home, healing our broken hearts after the loss of fluffy cat. She's our hero, ensuring each and every day is full of love, laughter, joy, and cuddles. Tsuki is precious, and our home wouldn't be the same without her. She saves the day, providing ample reasons to be grateful and happy. Thanks for being our superhero, Tsukihime!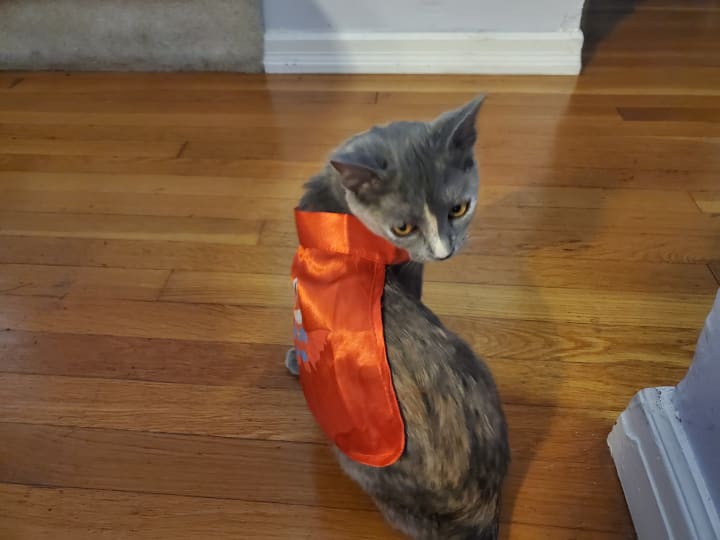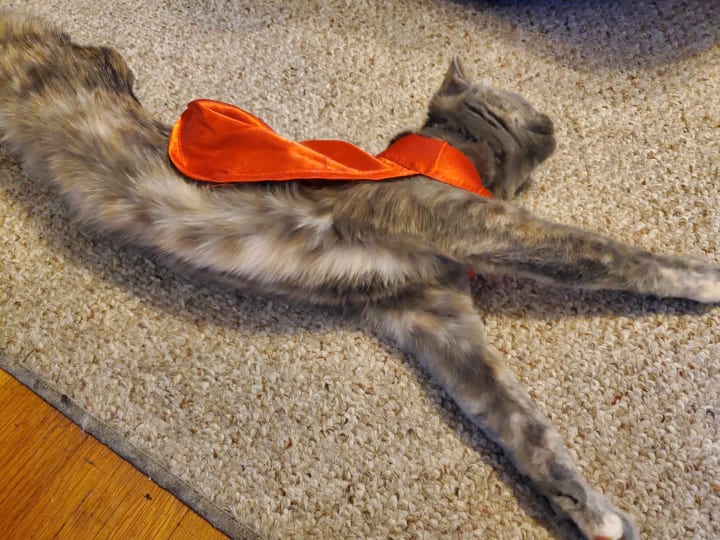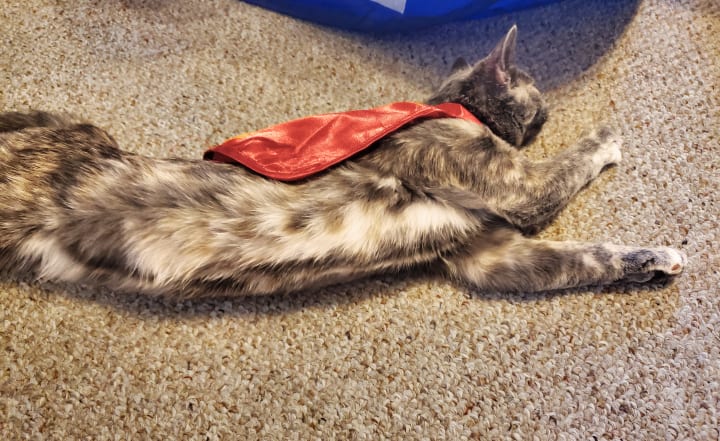 cat
I have always enjoyed creating, whether it be art or stories. I have enjoyed creating art from a young age and have worked in a variety of schools. I adore anime & cats. We just adopted baby Tsuki/Tsukihime, my moon princess kitten.