She Saved Us
The stories of my fur babies.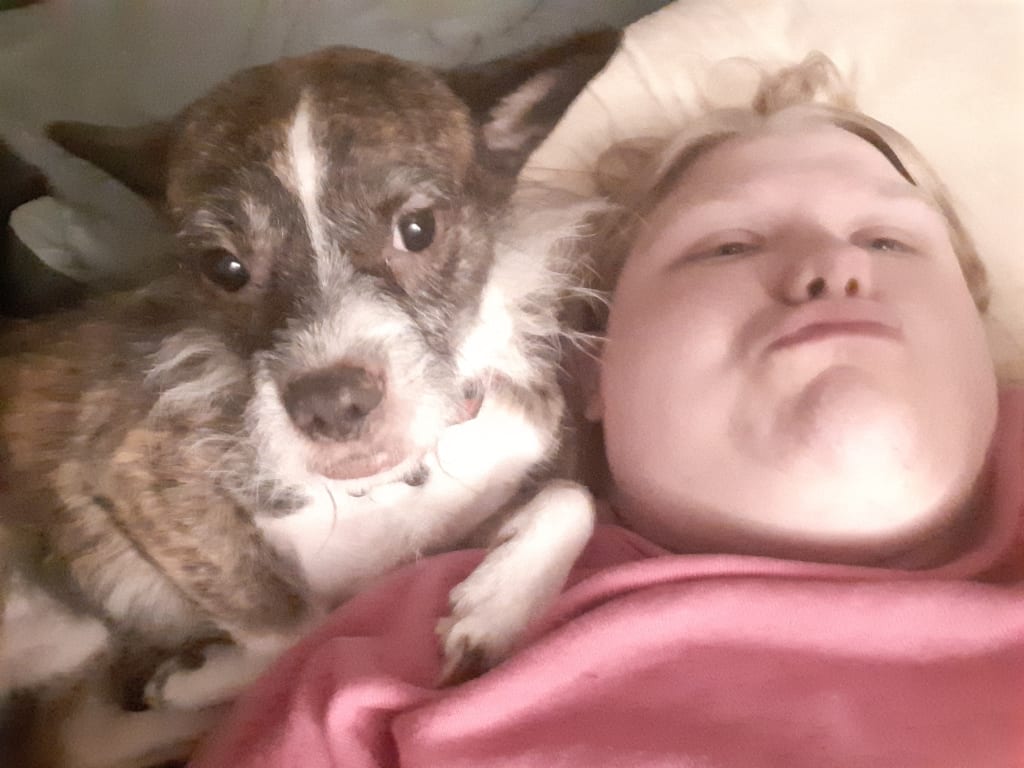 My good boy!
This might be weird, but hello. This is the many stories from all the animals that were saved by Angela, our human mommy. She has a big heart, patience like a saint, and always looked out for those of us who were different, sick, or thrown away by uncaring people. She means the world to us, we mean the world to her. It's a good relationship that is never boring! We begin with the good boy, Cow.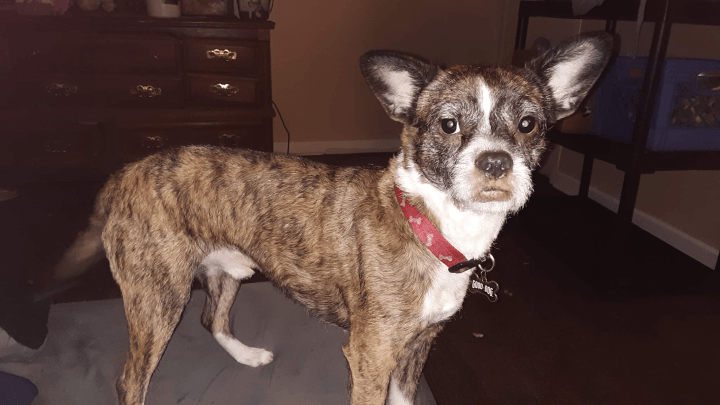 He was born in 2017-2018, is 27 lbs, and loves scraps! He came from an old lady who gave him lots of love and food, but she had two bigger doggies. Those two were a bit mean and much stronger than Cow. They beat him up bad! His Grammy gave him to Angela to help him heal. After a long time, he didn't want to leave her side, So she adopted him. This doggie has anxiety and misses Mommy a lot when she goes away. Cats aren't mean to him; he's not mean to cats. It's a good relationship. He has best friend named Tiny. She a Pitbull.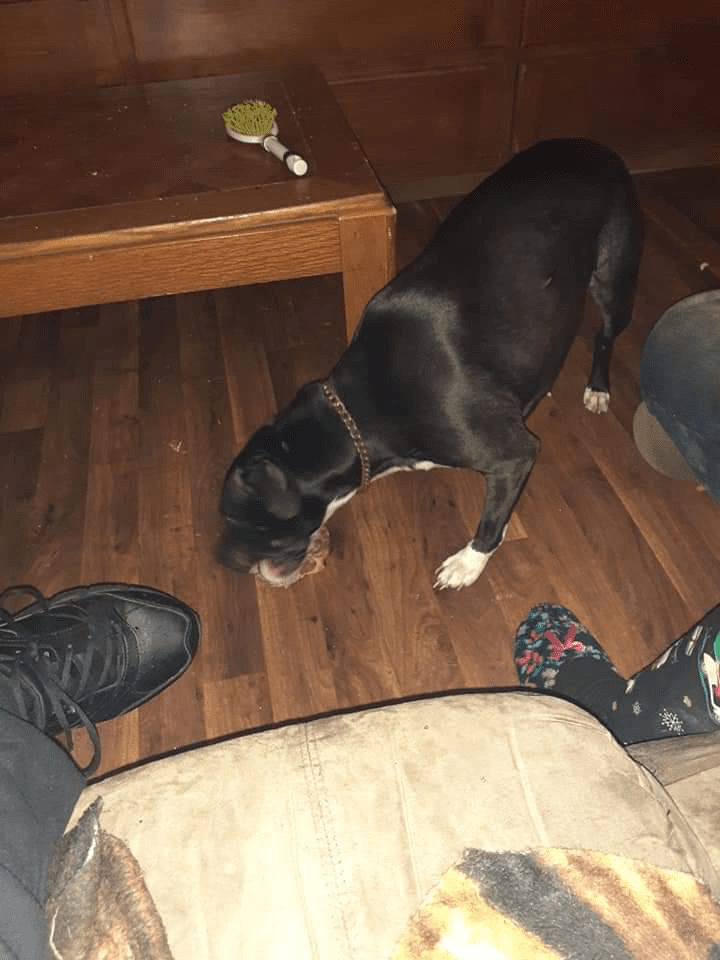 She like sister to him. They play, eat, and sleep together all the time. Tiny was adopted first from good friend. She not a rescue, but she very sweet. Cow and her get jealous easy; even about each other. They push Mommy and Daddy apart to have all the love to them self. Tiny spoiled girl, Cow spoiled boy. It's a good relationship! Now onto the kitties.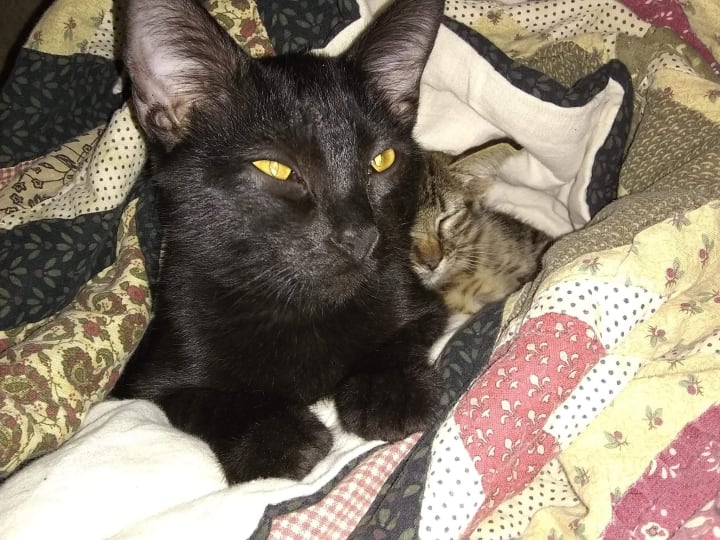 Deimos was stray kitty found by Grammy's house. He was little, hungry, and scared. She knew Mommy would love him, so brought him over. At first Mommy didn't know she could help, but did it anyway. And she raised him with no problem for two years. He loves outdoors and moves around a lot outside, but comes by for food and love. In picture is Aeon, another poor kitty. She wasn't stray, but very sick kitten. Mommy got her from good friend. Her sickness was too bad for her to treat it, so Aeon went to Heaven. She is cute angel now! Mommy did her best and loved the kitty very much. Now onto more kitties.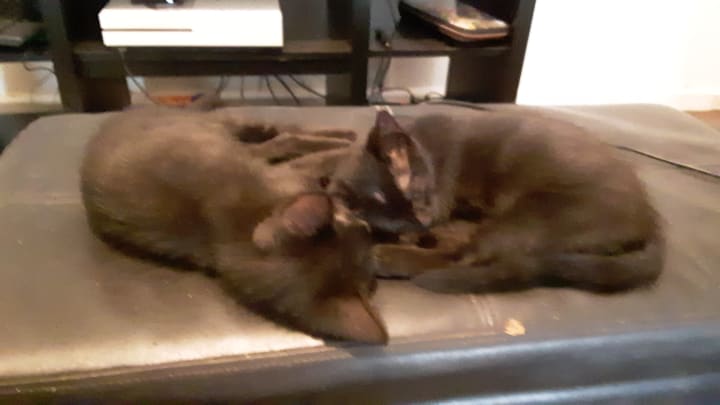 Mommy found these kitties under her home. The mama kitty was nowhere to be found, so she wanted to help. They were sleeping under a trash bag to keep warm and they were hungry and scared of her. Mommy was afraid to move them because they were also sick. But she did it anyway to help them out. The brother and sister had no teeth and needed vitamins, so Mommy nursed them with goat milk and kitten food gruel. They also had to be cleaned up when they pooped, so Mommy did that too! After getting fat and healthy, they fell in love with her. Now they are super spoiled babies that sleep with the doggies in Mommy and Daddy's bed every night.
Mommy loves all animals, so she also had rabbits too.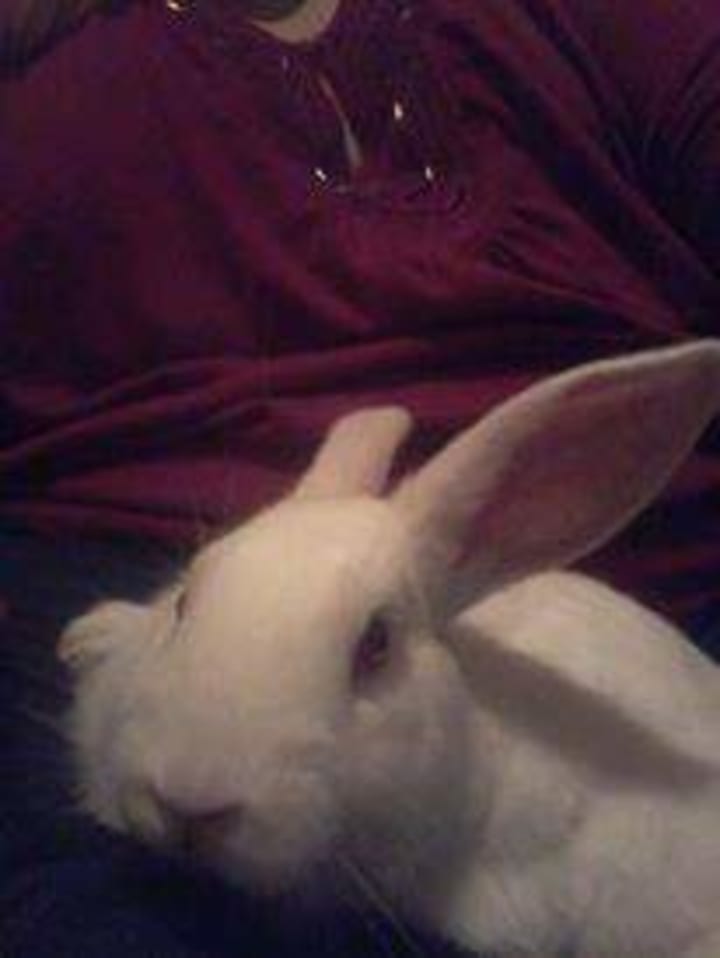 Babs was one of Mommy's bunny rabbits. She had three before moving to Georgia, but after moving around a lot and them going to Heaven, she only had one left. She was raised indoors for years until Mommy moved again. The new place made her put Babs outside in the heat during the summer. Babs got I'll from the heat and Mommy got really sad. One day, she let Babs go free into the wild. It let her get cooler air and freedom, so it made Mommy happy. She put out food for Babs every day near where she let her go and she would come and eat. She lived under the house, where it was cooler, for a long time. One day, Babs hopped away and didn't comeback. This made Mommy upset. Unlucky for her, Mommy was forced to move for work, but during this she found Babs again! She was living on a small horse farm, happy and fat. The owners took care of her, so Mommy left Babs to them and moved.
It wasn't easy for Mommy to love and lose so many animals, but she did it anyway! She saved us all from bad lives and starvation. Each day that goes by we love her more and more. Some day, we will go to Heaven and wait for Mommy to come. We will greet her when she gets there by the Rainbow Bridge. We wrote this story so people will know how much she means to us and how much we mean to her. Thank you!

Angela Derscha
Twitter @angied7592. Long time lover of literature. Obsessed with adorable animals and coffee I spend my days playing video games with my brother and fiancee. My favorite genres are horror/ psychological thrillers and romance.
See all posts by Angela Derscha →