Rainbow
The veteran pony is still making memories.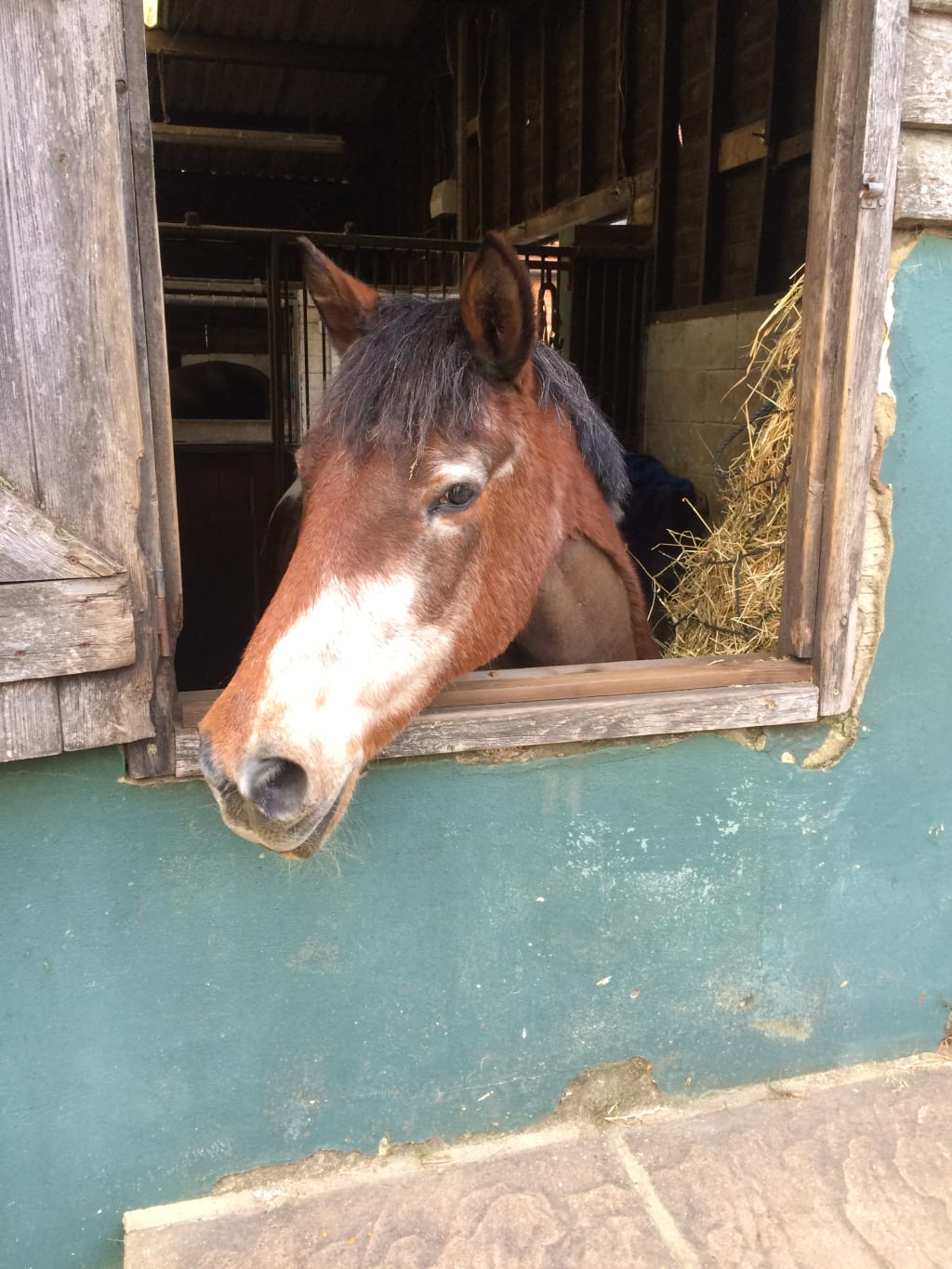 Rainbow is a true veteran.
We have had her in our family of ponies and horses for at least 29 of her 31 years. By age alone, she really does qualify as a veteran. She has hunted, shown at a high level, competed at dressage, hacked out, and survived a near fatal attack of the dreaded laminitis. Full marks to her for her stoicism while in great pain and having an enduring will to survive.
Rainbow came to us as an untrained and unschooled two-year-old. Once we had her locking stifle dealt with, we sent her away to be trained.
This training of Rainbow took nearly four months in the highly experienced hands of David Praetor from Tring in Hertfordshire. He would update us regularly with her progress. After five or six weeks we detected a tone of exasperation in his voice. Then in subsequent calls we heard words such as "untrainable," "stubborn," and "giving up." To put this in some perspective we had previously sent a Welsh Section D mare with a strong personality to David for training. After six weeks she was ready to come home to start being hacked out and going to a few shows.
Training Rainbow nearly broke David.
Since then she has given us a lot of fun. Her peak showing days were in Windsor Great Park when in conjunction with the horse trials there in the shadow of the Copper Horse she came up against one of the Queen's coloured horses and beat him. A friend of ours rode her intensively for dressage and she can still throw a pointed foot in the riding school. As for hunting she broke the cardinal rule of the field. She overtook the hunt master. Once when a young friend took her on her first hunt. And then with me and as I shot past the master, I heard him say, "Oh God, it's that little coloured pony again." I apologised and he just laughed as I struggled to calm her down before we did the next line.
The low point was back in 2000 when Rainbow contracted laminitis and had to be taken to the Royal Veterinary facility near Potters Bar. She was so bad her feet were bleeding and she was in a great deal of pain. The vet looking after her pulled me out of the clinic and told me it really was touch and go as to whether it would be fair to keep Rainbow alive. If we were willing to give her a chance then he and his team would do their best. They dosed her up with painkillers and got her into a stable with a bed of fresh new shavings at least a foot deep. That night would be make or break for her future.
The next morning, we spoke to the vet. Rainbow had survived the night and was looking more comfortable. All the stables were fitted with CCTV and the vet told us that despite the immense pain Rainbow must have been in she did not lie down once during the night to take the weight off of her front feet.
All the feedback we hear from where Rainbow is liveried with Benney is that she is full of life and will trot out to her paddock every morning and trot back to her stable each afternoon. Not in a naughty way but with impatience as she knows there is always a hay net ready for her and a meal to follow soon afterwards.
Constantly in the back of our minds is the recurring thought that she cannot go on forever. That became uppermost in our thoughts about two weeks ago when Amelia, the yard manager, rang us to say that Rainbow didn't seem her self when she came in. Didn't trot in. Didn't go to her hay net. And didn't dive into her evening feed.
The drive from home to the yard is about ten minutes and during that time we ran through the dark scenarios that might play out over the course of the evening. When we arrived, Rainbow was standing listlessly in her stable. Not even interested in a carrot. We waited for the vet. They arrived and did all the necessary checks. Their diagnosis was that Rainbow was suffering from a mild colic. She was dosed up with painkillers which made her dopey. The vet carried out a rectal examination which stimulated a bowel movement. Whatever was in there came out in a scatological gusher. A look of relief went across Rainbow's face. We removed her hay net and bowl of feed in case she ate from either while the drugs were taking maximum effect causing her to choke. We returned at eleven later that night as instructed by the vet wondering how Rainbow would be.
No need to worry.
There was Rainbow poking her head out of her stable window catching the late night air and whickering as soon as we got out of the car. We popped her feed back into the stable and she dived into this while we sorted out her hay net. Her eyes were bright and her ears were forward. She looked so much better than three hours earlier. And a bonus on top of everything else, she had done a couple piles of droppings which were firm and round. A sure sign that her insides were working properly.
The next morning, I went to the stables to see how she was. As soon as she saw me she started kicking at her door. All was well and has been since.
Rainbow has made lots of memories for both of us. Mostly happy ones, a few scary ones but all of them enduring as she too is an enduring part of our lives.