Potbellied pigs are loose in the streets!
The crisis unethical breeders have caused and how you can help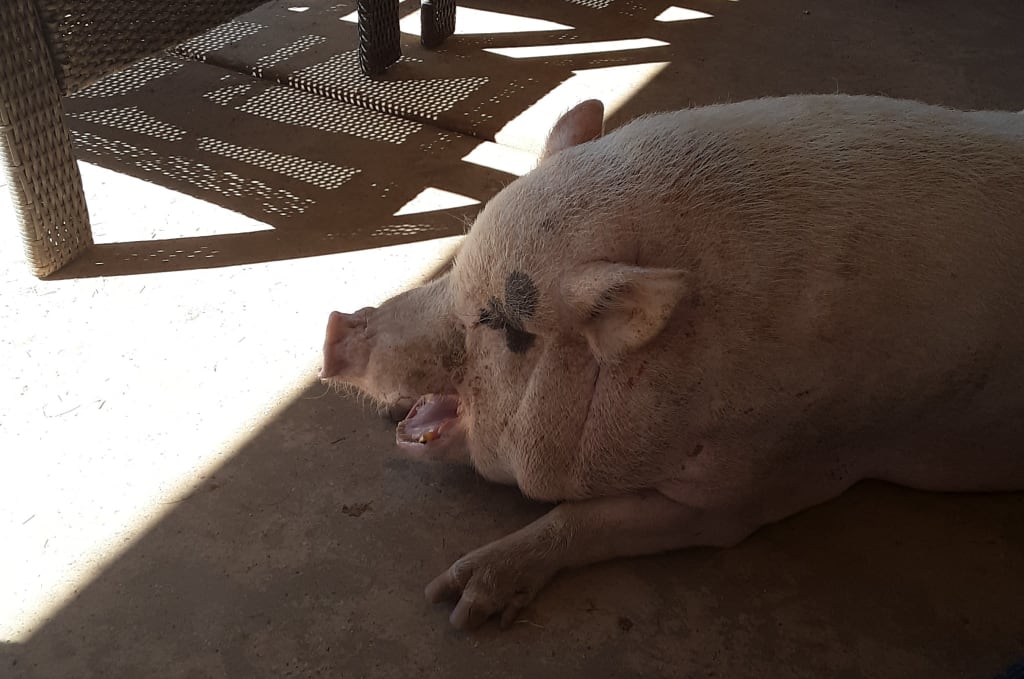 You've seen all the posts online of celebs with teacup pigs. You've seen how girls go crazy over how adorable they are. After asking around, you discover they are pretty low maintenance and cheap to own, after the 1200-5600 dollar price tag, depending on your area. Excited, you do a search for a local breeder in your area, you connect and you buy yourself your very own "max 25 pound" babe magnet. The breeder informs you the pig only requires 1/4 cup of food a day and isn't anymore messy than a dog or cat and you think, "This is great!"
Fast forward 8 weeks. Your phone is nothing but photos of you and the little guy and your social media is going crazy. You can't seem to keep up with the likes and requests to get together so your acquaintances can fawn over him. You even take him with you when you head down to get your mail, just in case! Your condo is the new hangout spot on the weekends and you are loving it! Toward the end of the 3 weeks you start thinking, "Perhaps all this attention is bad for him". You read that pigs love attention as much as dogs though, so can't be!
Fast forward 12 more weeks. Now the nostalgia has worn off. The traffic into your condo has slowed and you are leaving him alone more often. Then you start to notice seems grumpy and distressed all the time. At first it seemed he was depressed, but then he really changed. When you come home from work he has rooted through your trash, knocked over houseplants and the note on your door from your neighbor suggests he is making a lot of noise in your absence. You try to comfort him, but he has become aggressive toward you and you don't understand why. Perplexed, you research the pigs current behavior and are shocked to discover he is showing all the behavioral signs of starvation and/or neglect. While the constant visitors have slowed down you still spend a lot of time cuddling him, and you are feeding him the way the breeder instructed you to. Confused, you fill his food bowl with his level 1/4 cup of food, snatching your hand away as he charges the bowl and downs it before you can even blink. "Maybe he is hungry" you think to yourself, so you give him another 1/4 cup and again he scarfs it down before you have even put the lid back on the container. You call the breeder but get no response. The next morning he still seems restless, so you do the sensible thing; you start feeding him more.
8 weeks go by and his behavior has vastly improved! His energy is no longer destructive, the neighbors have not complained and your condo is in relatively the same state when you get home from work as when you left with your coffee and bagel. Unfortunately, he has also doubled in size and weight. You call the breeder again, and again can get no answer. Concerned, you take him to a vet you know; perhaps something is wrong with him?
The visit to the vet is eye-opening as she explains to you that you do not, in fact, have a 5000 dollar teacup pig. What you have is an 800 dollar, massively malnourished, 'mini' potbelly pig. Mini-pigs are only mini in comparison to farm pigs. Potbelly live 3 times longer than the advertised life of teacup pigs; they are also about 10 times the size and 20 times the weight of the pig you thought you owned. Naturally, you leave the vet angry, confused and a little lost; now you know how the pig feels.
Slightly freaked out, now you have to decide what to do? You can't keep a 400-pound potbelly pig in your condo, you don't know anyone who owns a farm and you don't have the stomach to kill it. You know you won't be able to sell him since no one in the city would want him. Briefly, you think about reaching out to your friends on social media, but that means admitting you were duped into buying the wrong kind of pig. This leads you to do the only thing you can think of to solve this situation; you "lose him" at the park on your way home.
Does this sound far-fetched? Cruel? Highly unlikely? The sad truth is: it happens more often than you would think, in more cities than you would expect. This snowballs into a bigger issue. When pigs are hungry, not getting any kind of care/touch and are frightened, they become aggressive. I mean let's be honest, you would too! These pigs are not lost causes, but the average person does not know how to approach or handle these animals. In the great city of Phoenix, enter Better Piggie Rescue!!
Better Piggie Rescue, located in North Phoenix, houses over 90 pot-belly pig rescues, and 2 bovine rescues. Better Piggie Rescue is a non-profit and relies on donations and volunteers to aid with the day to day care as well as spending time/cuddling the herd of pigs that roam around the property.
Their MISSION, taken from www.betterpiggiesrescue.org:
Better Piggies Rescue is dedicated to rescue, rehabilitation, adoption, and education of pigs in AZ. BPR started when owner, Danielle, noticed the need to rescue and provide forever homes for pigs while working with other sanctuaries. Her first pigs, Beezer and Beyonce, inspired her to foster and rescue to provide safe homes for pigs in need. After moving from Gilbert to a larger property in Phoenix in 2018, she was able to rescue more. BPR has over 100 pigs on the property including pot belly and Kunekune breeds, along with farm hogs. Additionally two rescue cows call the sanctuary home and love spending their time with the pigs.
I have had the pleasure of volunteering here and meeting Danielle and Dwight. They are lovely people with giant hearts! They shoulder the vet costs and each animal has a specific nutrition plan to get them to healthy happy status.Their little slice of piggie heaven has helped me keep a positive vibe in this crazy time and I cannot thank them enough. They are dedicated to ending this crisis and educating pig owners and getting these adorable animals into a great home. They shoulder the vet costs and each animal has a specific nutrition plan to get them to a healthy happy status. To do this, we must spread awareness. The quality of life for these wonderful pets depends on it. Please share this article and help end the crisis! While Better Piggie Rescue is in Phoenix, we are far from the only city affected.