Poppy's Post Pandemic Inclusion Anxiety
and the dog said, "you can have too much of a good thing"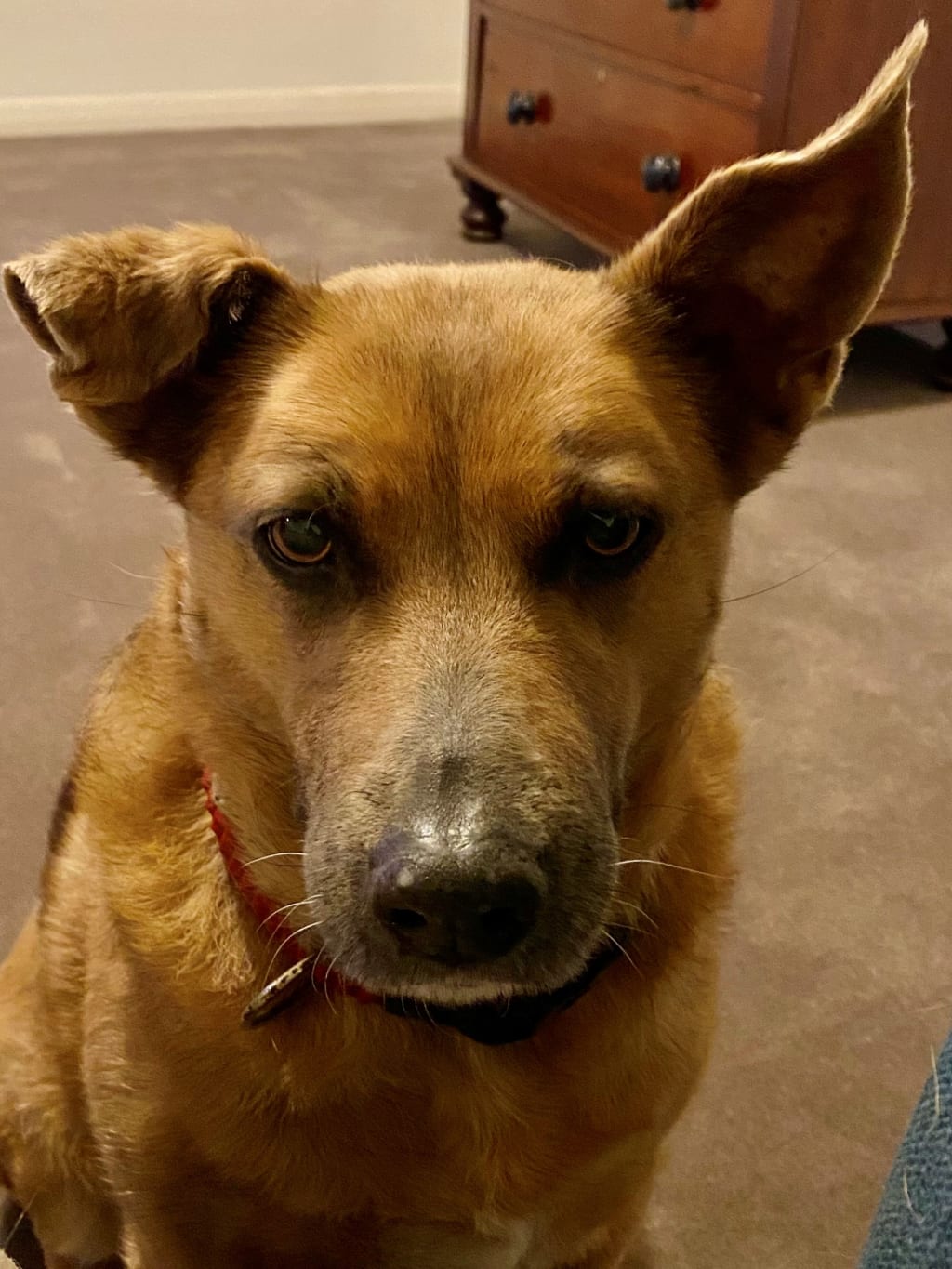 Poppy - ever attentive
It's 4.30 am…again. I don't know what it is about the now, but I seem not to be able to sleep for longer than a few hours at a time.
Researchers are confirming that lockdowns, working from home, and general pandemic stress are probably causing sleep disturbances worldwide.
I have no real excuse. I am not noticeably stressed. And while the pandemic is a brooding gloom, in my neck of the woods, we have been very lucky so far to have escaped the worst of it – I knock on wood as I type.
I am working from home but only every now and then because last year I left full time work after almost 40 years.
But more than my personal sleeping problems, I am a little more worried about Poppy.
Ten years ago, I bought Poppy from a pet shop. I know, I should have got a rescue dog – but she was the most beautiful puppy with incredible golden eyes, and she came trundling up to me straight away. Who could resist?
The pet shop owner said she was half Labrador and half Belgian Shepherd, but with her black and tan markings I figured she was mostly Shepherd. I never expected her to become the honey-coloured, food-motivated dog she is today. There is definitely lots of Labrador in her breeding.
But once such a self-reliant little Miss, right now I think she is suffering from Post Pandemic Inclusion Anxiety.
I am just here way too often. I feel I have robbed her of her space to simply be.
You know how dogs like it. Its all that eager "let's have breakfast" face when you wake up. A stroll out for morning ablutions and then the "please take me for a walk before work" look.
Those goals achieved, once the front door was closed and the car was out of the driveway, her day was her own.
She could loll about, sleep when she felt like it, roll out of bed for a drink of water, and perk up just in time for me to arrive home, suitably eager for another walk before dinner and some television.
But now, my activity interrupts Poppy's every daytime dream. Loyal to a T, she follows me everywhere. We take longer walks to be sure. We get to the beach and the dog park most days.
But there is all that up and down going on.
"She is making coffee; I will make sure it doesn't perk over. She opened the fridge, does that mean I get some snacks? She is in the garden, great, I will stand guard and bark at the neighbours passing by. She is going to the hardware store; I'm happy just to go for the drive even if I must wait in the car. Mmmm…what's she doing now?"
When I think about it from her perspective, its all a bit frenetic.
And in the past six months Poppy has become markedly more jealous of my attentions. Now when visitors come, she sits by their side across the kitchen table and barks while we have a chat, presumably because she wants to be included in the conversation. She has also taken to head butting me when I am on the mobile looking up Facebook or websites.
Don't get me wrong, it's flattering to receive her care, concern, and companionship. But I just feel a little guilty, like a new burden in her previously untroubled life.
I might be reading the signs all wrong, but it seems to me, as much as I love spending more time with Poppy, my truly best, best friend, I feel I should get out more and just let her chill.