Omar's Diary to 5th October, 2019
More visiting servants, recovering health, letters and the Prix de l'Arc de Triomphe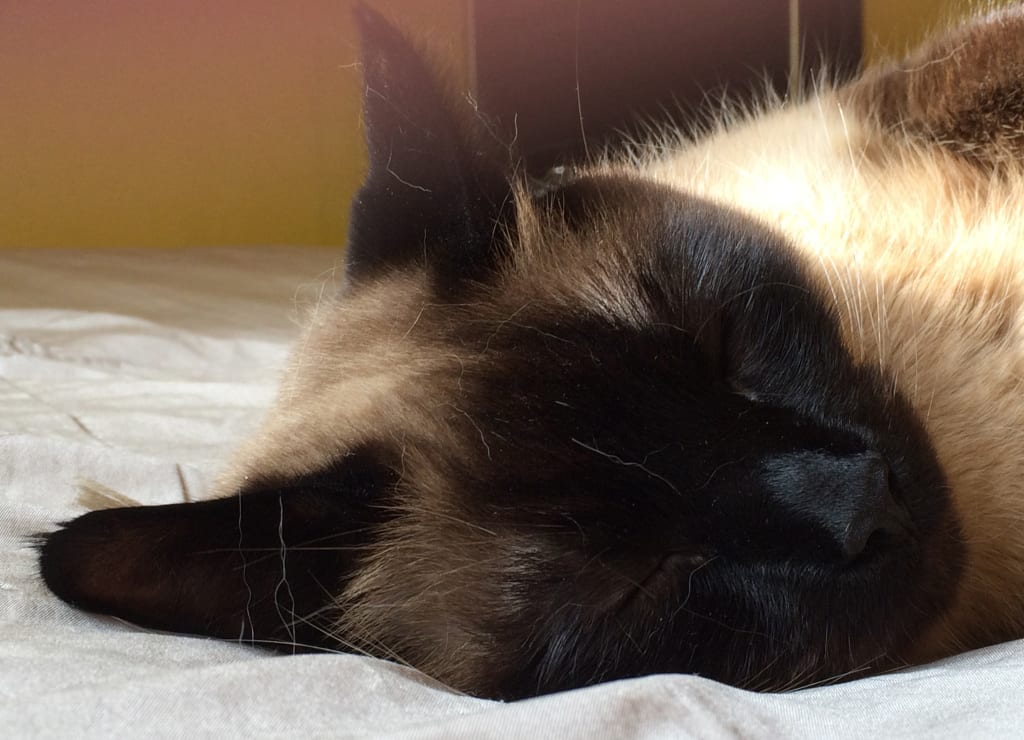 This last week has gone by quicker than a three-year-old racehorse leaving the stalls at the start of a five-furlong sprint.
After we had a servant at Omar Towers measuring the front door, my own Servants went out shopping for some fabric. I understand there was a great debate in the shop about what pattern should be selected. The choices were with bees and stags. Please note there was no mention of fabric emblazoned with Tonkinese. The final choice was a stag pattern but only after much debate at the till. I approved of the choice when I saw it as it is most fitting for our baronial hall. Also, it will match the silvered antler style coat hooks that have been stored in an upstairs cupboard waiting for Man Servant to mount them on the wall. Perhaps the new curtain will lead to this small task eventually being completed?
Lady Servant, most fortunately, is making an excellent recovery from the virus that afflicted her. Whatever it was seemed to go without the use of any special medicines. Just lots of rest and liquids seemed to be the best medicine. Man Servant has been most dutiful and despite being a tad tired himself.
I told him the diary could wait but he insisted that we prepare one in time for Sunday morning. He wanted to do this because in the diary to 28th September, we made a commitment to print some selections for the big race in Paris tomorrow and it is most important to honor that commitment as there are far too many false promises happening in life these days.
I do worry about him as he is being kept rather busy with the equines over the last week. Thursday was his hardest day as when he came home in the late afternoon he informed Lady Servant that according to his phone, he had travelled the equivalent of over eighteen kilometres on foot and on horseback. No wonder he fell asleep during the six o'clock news.
There has been a plethora of post arriving including a rather tasteful envelope with matching paper from one of my regular correspondents, my only correspondent, who lives in Aberdeen. As always his letters are very welcome as they are full of news about his studies, social life and life in general.
Man Servant received an envelope, rather plain if I may say so, from a servant based in Belgium named Guy Verhofstadt, who is an MEP, whatever that is? The letter was on rather plain paper, although not as plain as the paper a recent letter from Downing Street was written on. Man Servant was very pleased with the letter although he has not relayed its contents to me. I do hope it mentioned something about the security of the supply chain for Dreamies post 31st October.
Lady Servant received a package as well. What was inside was rather interesting. A black 'T' shirt emblazoned with a silver spider. This design was inspired by a brooch that a servant in the Supreme Court wore recently when pronouncing judgement on some troublesome issue the Government caused. What is nice about this 'T' shirt is that for every one sold, £3 is donated to a charity for homeless servants.
Another letter that arrived for Man Servant was from a servant referred to as an MP. Man Servant has been corresponding with this MP regularly and frequently about various subjects including of course BREXIT. Normally the replies are neatly typewritten but this one was written in longhand. All Man Servant said was:
"I can hardly read the writing……..I think whatever I said in my letter has made him a bit scratchy…..I'll keep writing to him anyway."
I have feeling that the question Man Servant asked that rather riles the MP was about how he could continue to support someone who had broken the law as decided by the Supreme Court and who had said he would not obey another law passed less than a month ago. Obviously a very sensitive subject.
If I had a 'representative' in a public body, I would become an activist and write to them continually about issues I am concerned with.
"Anyone can make a difference, everyone should try." —Robert Kennedy
Sunday 6th, October 2019, at 1505 is when the Prix d l'Arc de Triomphe is run at Longchamp in Paris. Twelve horses will run one and a half miles in pursuit of a first prize of €5,000,000. This race is the curtain closer for the flat season in Europe and I could not let it be run without providing some selections. So, here they are:
2 Dreamies to win ENABLE quoted at 4-6 .
2 Dreamies to win JAPAN quoted at 6-1.
And using the litter tray method Mitzi has chosen :
2 Dreamies to win SOTSASS .
Good luck everyone.