Omar's Diary for July 2020
Tree surgery, Cat Hotel, new itinerant servant, Oreo and last envelope from Paddington Bear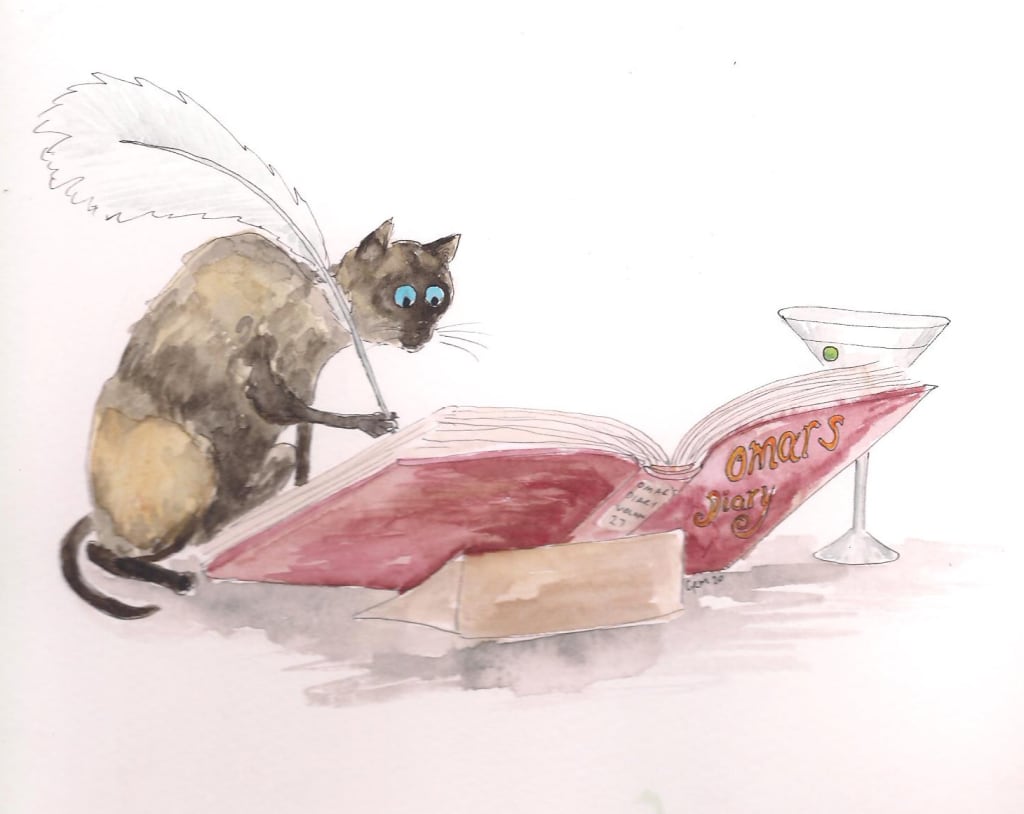 A most difficult and stressful month
Thursday 9th July 2020
Man Servant made himself very busy in the garage this morning. There was much bumping, thumping and grunting as he moved things around trying to create some space and order. I was rather hoping he was arranging it so that the "red thing" could be put away at night rather than being left on the driveway.
I did hear mention of "tree surgeon" and that they would be arriving tomorrow. An interesting concept? Servants in medical scrubs tending to an ill tree. I wonder which one it is that is poorly and what is wrong with it?
Friday 10th July 2020
0700 and a most abrupt awakening before breakfast.
A large truck with a trailer attached backed on to our driveway.
"The tree surgeons are here" Man Servant informed the household.
How strange? Neither of the servants who came out of the truck were wearing scrubs.
What ever surgery was going to take place began with a quiet pruning of the tree in the front garden. If this was all "tree surgery" involved then I may as well retire to the dining room at the back of the house, which I did. Just as I was falling into that first stage of sleep (NREM Step 1) a servant, not mine who is the least practical member of the species, appeared unannounced. He revved up a chainsaw and promptly felled the leylandii outside the dining room. My only safe place was one of the upstairs rooms where I spent the rest of the day recovering.
I felt one of my headaches coming on.
Wednesday 15th July 2020
As if last Friday had not been traumatic enough today's events took "trauma" to another level.
Mitzi and I, for want of a better adjective, were bundled into our respective carriers and transported to the "Cat Hotel". Not so much as a by your leave or any warning so both of us could have prepared for the trip.
Not happy.
Thursday 16th July 2020
Still at Cat Hotel. Still not happy.
Friday 17th July 2020
At last!
Mitzi and I heard the "red thing" pull into the driveway of Cat Hotel. Roof up or down I really didn't care just so long as we could be returned to our familiar surroundings back at Omar Towers.
Wednesday 22nd July 2020
Mitzi and I became aware that the Servants were going away again today when we saw their valises being packed. Once again, they had not exercised the courtesy to mention this which was very distressing. We both thought that at any moment we would be once again bundled off to Cat Hotel. We weren't. We were abandoned. Perhaps they were only going away for a long day.
Later in the day we met our new itinerant lady servant who looked after us very well. Although I was not involved in her selection process Mitzi and I rather like her and hope she is kept on. The new itinerant servant told me she has a "Norwegian Forest" feline named "Oreo". He lives nearby and I hope to meet him one day.
Saturday 25th July 2020
Another envelope from Paddington Bear arrived this morning all the way from Venezuela. Sadly, a country with valuable natural endowments but beset with serious problems. And, as always, it is the children of adult servants that suffer the most with lack of healthcare, interrupted education, hunger and homelessness.
"I hold it indisputable, that the first role of a State is to see that every child born therein shall be well housed, clothed, fed and educated till it attain the years of discretion" – John Ruskin (1819 – 1900).
Very sadly these sentiments remain largely unfulfilled even in some of the richest countries of the world over a hundred years after they were first expressed.
This will be the last postcard from Paddington Bear as Venezuela was the last country, he visited on his world tour as Honorary Ambassador of UNICEF. It has been an absolute pleasure receiving correspondence from him over the last year.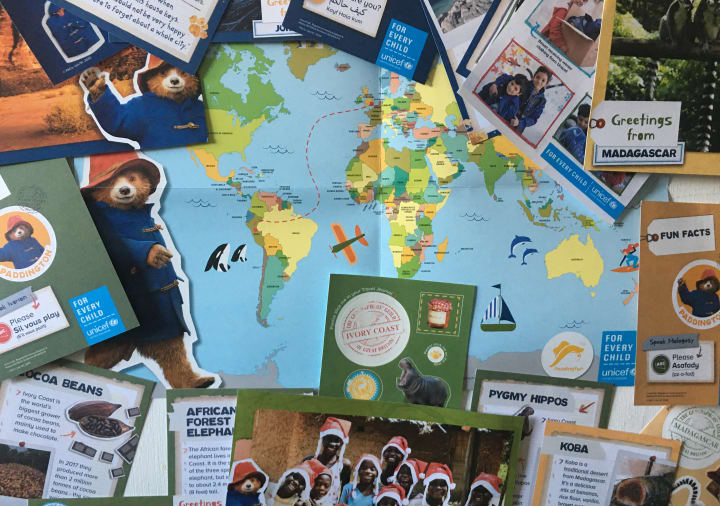 Friday 31st July 2020
The temperature today in and around Omar Towers has been a soporific 30 degrees centigrade. Mine and Mitzi's coping strategy is to sleep somewhere within the cooling reach of an electric fan. Not very nice for "Oreo" who comes from much colder northern climes. I wonder how he is coping?