Of Whales and Man: A Reflection
I met John Hargrove at SeaWorld San Antonio as a camper back in 2010. The next year, I wrote about his life for an internship blog I created to document some of my internship experiences at various aquariums. Today, I reflect on it.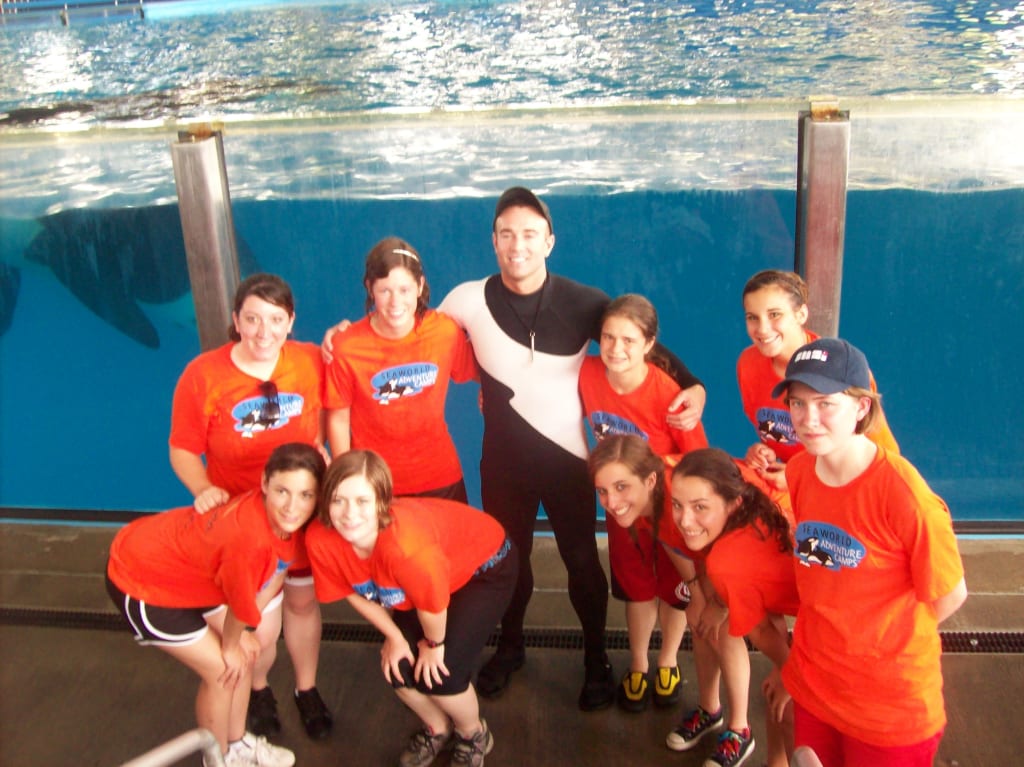 Me and my camp mates meeting John Hargrove for the first time at SeaWorld San Antonio in 2010.
It was just another hot, humid, and sunny day at SeaWorld San Antonio in August of 2010 when my counselor led our camp group to Shamu Stadium to watch an afternoon presentation of the show, Believe. Although the trainers were no longer doing any water works with the orcas at that point, they were still interacting with them during the show, and doing the regular behaviors they would often do during the show, regardless if there were waterworks, or not. After the show ended, and everyone left to see the other animals at the park, our group stayed behind at the stadium to watch baby orca Sakari interact with her mother Takara, and paternal half-sister, and "foster" aunt Unna, and talk to the trainers about their experience working with the orcas. This is where John Hargrove arrived on the scene.
John entered the scene to talk about his experience working with the SeaWorld orcas at SeaWorld parks in both California and in Texas. He spoke about how much he loved working with both Corky and Takara in San Diego, and how happy he was about being reunited with her since she arrived at the Texas park from its sister facility in Florida a year earlier, leaving behind the son she had there. My first impression of John was that at first, I thought of him to be this wonderful SeaWorld trainer who loved working with the orcas, full of life, proud of being part of the marine mammal community, and had a love for all animals. To be honest, I did not think he had really anything to hide about himself, well, not that I, at age 19, would have been aware of. In fact, the next year, for a college essay that was actually part of my final exam at college, I decided to make him my subject for the essay in question. At that point, we were already in contact with one another on Facebook (you know, just a regular student-mentor relationship), and since the paper was focused on one's life story and I had so many questions to ask him, I sent him over ten different questions about his life, and work with the whales at SeaWorld, and his answers did not disappoint me. He basically shared with me about how when he was growing up in Orange, Texas, he and his family always had a huge love affair for animals, and how he decided to become a whale trainer after being captivated by an orca show at SeaWorld at the age of six, and so on. After I completed the essay, which I got a B+ on, I decided to submit the essay on my internship blog as part of my never-ending series of material that I had for a blog that was aimed at kids who were looking to do internships at zoos and aquariums.
I was in the middle of an animal care internship at Theater of the Sea when the buzz surrounding Hargrove's film Blackfish began to hit the mainstream media. I was looking through my phone's Facebook app after another day at work when I saw an article on the film, and whose face did I see that surprised me? John's of course. At first, I was a bit confused over why a trainer would be involved with a project that was targeting zoos and aquariums that housed marine mammals until I read the article to learn that he somehow, joined the bandwagon after he had been disciplined for safety violations, and was suffering from money issues. I was just mad that someone I knew, trusted, and admired for doing what they loved, and believed in, in a world that was completely against people like him, and many others for working with animals, would suddenly, without warning, turn cold. I was just both, furious and upset at the same time.
As time went on, I kept hearing more and more about a side of him that really astounded me on so many levels. He was exposed as a racist after someone leaked a video of him using the "N" word while completely intoxicated. However, that was not all that I found out about him. On Tumblr, someone shared a story about him coming into work completely drunk, and not to mention his never-ending list of safety violations at San Diego. Then there was a video that SeaWorld posted that featured some of John's old friends and colleagues opening up about his "claims" that he made in the movie and later, his book Beneath the Surface. According to Wendy Ramirez, a trainer who worked with Hargrove in San Diego, when addressing a scene where Hargrove had blood all over his face, the injury in question was not from an accident that involved one of the animals in his care, but from accidentally hitting his head against the pool, jumping into a shallow area of the orca habitat. When he claimed that the animals in his care were withheld food when his former colleagues have all stated that it was never the case. This is because, in reality, the animals are given the same amount of food throughout the day, regardless of what behaviors they show.
In fact, if I was more honest, Hargrove himself even tweeted that the animals were never withheld anything, and that anyone who did was using poor techniques. Speaking of lies, Hargrove once wrote in his book that shows were "used" to allow the whales to "temporarily escape" from life in captivity. However, In the questionnaire I made for him that I later used for the original essay-turned blog post, He told me that the trainers always varied their days with their animals to order to keep them from being bored by finding all sorts of ways to keep them stimulated throughout the day. Then, he wrote that he "left" SeaWorld over what he called "corporate greed" when he was always praising the company to improving the killer whale program by investing money in exhibit design, depth reviews, and other safety measures that could one day let the trainers resume waterworks with the orcas, and went a little further by saying how proud he was about being part of the SeaWorld family. These days though, he goes on around media outlets to make claims about cult-like mentalities and brain-washing when I find that to be complete garbage, because anyone who has worked at a zoo or aquarium knows that when you work at a place that puts a lot of emphasis on wildlife conservation, animal care, and education, not only are you representing the group in question, but you are also, expected to do such work yourself. Just shows that Hargrove can't seem to keep his story straight.
One lie that I do remember him telling me at SeaWorld San Antonio, was when he stated that he wanted Lolita, an elderly orca living at Miami Seaquarium, to move to SeaWorld San Diego to be with another aging orca named Corky. According to Hargrove himself, Corky and Lolita were "sisters" when I have always known that really wasn't true at all. Corky was a Northern Resident orca who was a member of the A23 sub-pod in British Columbia, while Lolita was a Southern Resident orca who was a member of the L-25 sub-pod in Washington state. Research has shown that the Northern Resident orcas have not interbred with the Southern Resident orca population since the end of the last Ice Age.
For all of his contradictions, it can be difficult to even believe the guy in the first place. It is just hard for me to watch someone I once considered to be a friend and mentor, make all of these crazy claims. Its made me wonder why? After all, I was completely conflicted over writing this piece in the first place, because it was just hard to even remember the day I met him, how impressed I was with him interacting with those whales, and how I used to look up to him as both a mentor and as a friend.
As for me, well, after three internships at three different marine mammal facilities in Florida, I graduated with two college degrees, I write for Vocal, and now, volunteer for New England Aquarium as part of the Live Service Blue Corps. I did my first volunteer project for them on World Ocean Day, which just happens to be June ninth.