My Pussy Roomie
Confessions of a Non-Cat Person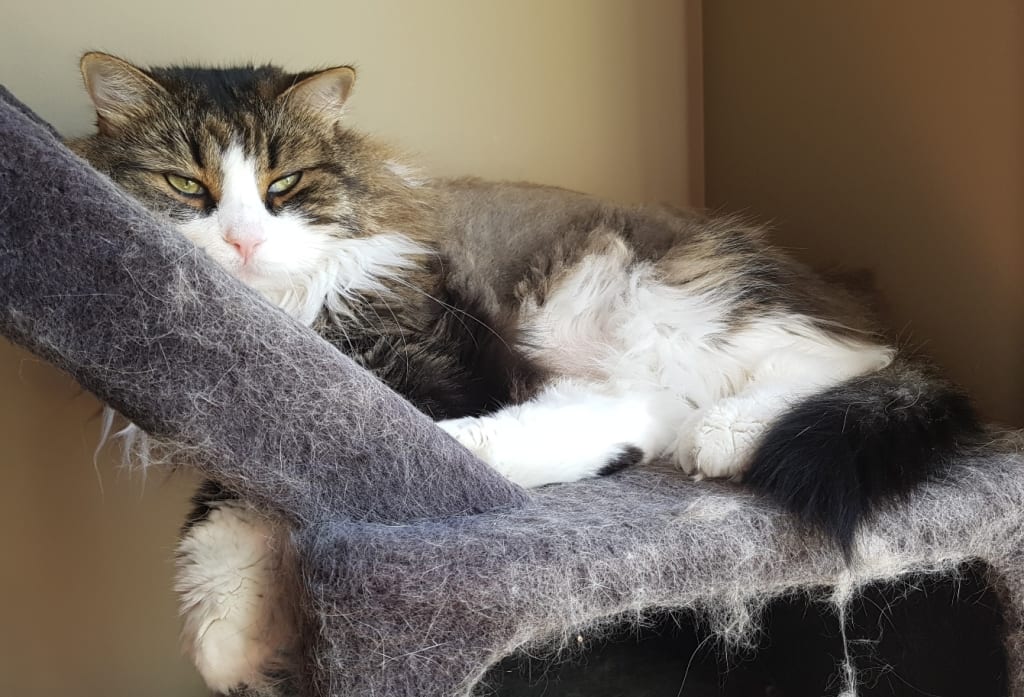 Himeji on a Hot Day
About a year ago, I became a boarder in a house with three cats. It isn't that I actively dislike cats; I am merely indifferent towards them, but I've had to live with the consequences of moving into what used to be Himeji's room— the young girl pictured above.
Two of the cats are boys: Keiichi and Panda. Keiichi, a moggy American shorthair, is by far the older, moving on past 10 years now. Panda is a tuxedo, about seven, and a definite bully. Himeji is just two and a half, is much bigger than both the boys and wholly inexperienced in the ways of tough guys. Prior to my arrival, her best tactic was to seek shelter in the room where I now live, which was used for storage.
Today, Himeji is my roomie. This was not negotiated. However, given Himeji's past, I can't help but accept the situation as it has developed. I'm not a monster.
The homeowners acquired Himeji about six months before I moved in. Prior to that, she had belonged to a friend of theirs, Mica, who in turn had found Himeji at an animal-rescue shelter at six months of age.
No one knows what happened to Himeji before that, but it was bad; the experience, whatever it was, left her a frightened, skittish, distrusting cat. She doesn't mew; instead, she makes a sound like the penguin squeaky-toy featured in Toy Story. It's sad to hear.
She is not, thankfully, prone to anger. But she needs a great deal of support and protection, which was lost when Himeji's first owner Mica lost her job and was forced by circumstances to find another home for her charge. Himeji found herself surrounded by strangers — a couple and their two cats — and it was a long struggle to gain Himeji's trust.
And then I came along. Again, another six months into her life. For a young cat, it has been a difficult ordeal.
I have seen the boys bully her. Keiichi is kinder about it, merely territorial and rich in experience. Panda is a brute. He wants a fight; he tries to start one by sitting outside my room when Himeji is inside, forcing her to confront him or be trapped. When I see this, I chase Panda away, but I'm not always here.
I've seen Himeji when she's pushed; she can knock Panda on his ass if she has to, she's nearly twice his weight. As shown in the picture, she's a tortoiseshell.
We're not sure of her breed, but it's clear what she'll grow to be. I've watched her gain in size over the last year; she's noticeably heavy to pick up now. When Panda is Keiichi's age, Himeji is going to be a giant. I'd like to see him try to bully her then.
Speaking for myself, I would rather not have a cat in the room. I would rather not feel a 15-pound weight on my feet at night. I could do without the steady squeaking for attention.
But there is something about her plight — my being here a year has been the most stable experience she's known. She needs her own space. She needs protection. She is still healing.
It is good that cats are most abominably cute. Even for a non-cat person like me, I am utterly disarmed by it. There must be something in a human's DNA that makes us vulnerable. And so I make allowances. I talk to her, I scratch her very gently under the chin, I speak in low, gentle tones I don't chase her out. When she sits on my office chair, where I need to write, I pick her up and set her down on the bed. When she sits under my desk and denies me the right to stretch out my feet, I deal with it.
I'm bigger than her. I'm in charge. But there's only so much I can do with her and still like myself. So it goes; as long as she feels safe, I'm willing to put up with her.
About the Creator
For more content, see The Tao of D&D: http://tao-dnd.blogspot.ca/ and my game wiki at http://tao-of-dnd.wikispaces.com/General+Index. Please support my Patreon: https://www.patreon.com/user?u=3015466
Reader insights
Be the first to share your insights about this piece.
Add your insights