My Best Teacher
Toby Wan Kenobi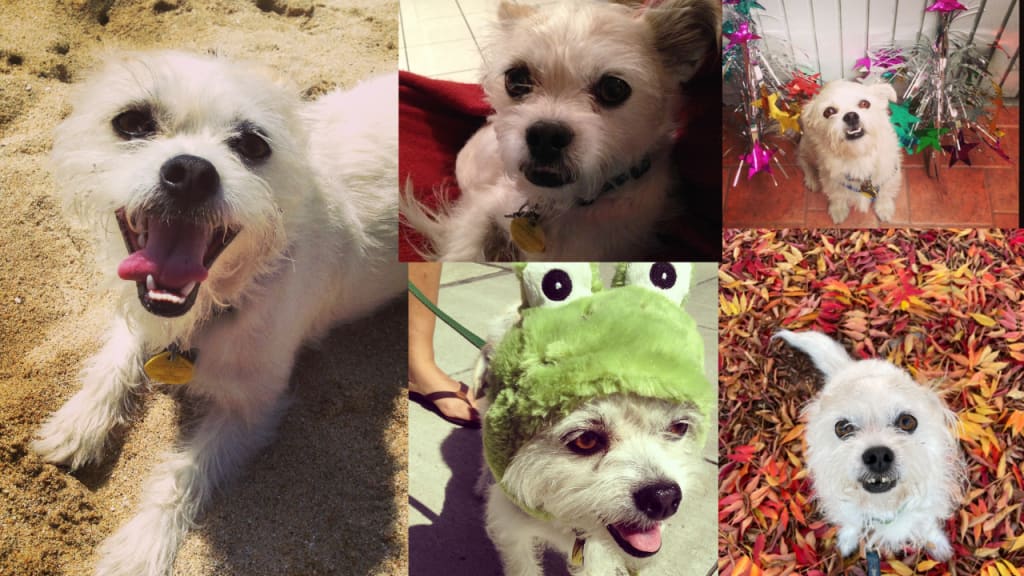 Sometimes what you are looking for comes when you are not looking at all.
It was my final quarter in a grueling two-year veterinary technology program. I was exhausted, excited and anxious to step out into the world, yet again.
I had come to accept being single might be in the cards for the rest of my adult life and I was feeling alone.
One of my teachers mentioned a local kill shelter was going to be putting down some dogs by the end of the day. My heart shattered.
To date, I was fortunate to have four rabbits, two birds and a fish as pets. A dog was out of question during my childhood due to my parents' allergies to dog dander.
Having a dog in my life never crossed my mind, until I heard over 10 dogs were going to be put down - by the end of the day!
I went immediately after school to the shelter and found out their lives were coming to an end in less than 3 hours!
My heart broke yet again.
Before I went to the shelter I told myself if I get a dog they will be 'medium sized with a specific temperament and a minimum of two years of age.'
As I was walking through the kennel I could feel the anguish course through my body. All of these innocent dogs had no clue their lives were coming to an end, in just a matter of hours! I could not shake the grief. Tears were running down my eyes.
As I continued walking by every kennel, I heard a piercing noise; it sounded like a howling. The volunteer escorting me said she had never heard Toby make that sound in the six months he had been there.
I turned around and walked back towards Toby. He was trembling while I slowly approached the front part of the long kennel. I could see him shaking, which is quite common for terrier mixes. I asked if I could meet him and the volunteer responded that he tends to just run to the back and cower. She told me to slowly approach him, not because he was aggressive or a biter but because he was very timid.
I went in and slowly sat on the ground. It took some time for Toby to stop cowering, but when he did he walked towards me and let me pet him. He had zero aggression and warmed up to me. The volunteer was shocked.
As I continued to pet him he nuzzled up on my side, layed down, and appeared more relaxed. As most rescue dog stories go, the shelter only knew Toby was around 1 years old and someone found him wandering the streets by himself with no collar or microchip. They knew he had some kind of domestic exposure since he was somewhat socialized and potty trained.
So, without much thinking, I decided Toby was coming home with me. Did I think through all the responsibilities that come with being a dog parent, kind of. But my heart knew he was meant to be in my life.
So off to the pet store we went - to pick up treats, food, a harness, and some other items. The shelter had him on a certain diet but they said he wouldn't eat much so I thought it could be because of the stress or that he didn't like it so I decided to transition him to a new kibble.
The first night felt like we were on a date, learning about each other and our comfort levels. When Toby laid down next to me he looked utterly confused. He ended up having a potty accident but I didn't think much about it since I knew he was in a new environment with a new person. I could only imagine the confusion and overwhelm he felt.
The first few nights was like having a newborn since he would move around restlessly throughout the night. I had finals approaching on top of running my business and interning. I was delirious but knew I had made the right decision. There was no way Toby was going back to the shelter!
I asked my teacher if Toby could come with me to class since he was experiencing separation anxiety and I didn't want my roommates to deal with the headaches that come with that. Thankfully, my program was very animal friendly so he ended up joining me during class.
Less than a month before I graduated I discovered Toby was not leash trained and would try eating everything imaginable. He must have a stomach of steel because he didn't have any tummy issues; being on the streets must've trained him well.
Within a week Toby became my wingman and joined me whenever possible - from going over to a friend's house, to hiking, to visiting my parents house. My mom tolerated the dog hair since my whole family fell in love with him.
Toby is not just a people dog, or a dogs dog, but he loves pretty much everyone. To date he has only growled at a handful of people, all of which he had good reason to.
He will play with dogs of all sizes. I like to say he's a big personality in a small dog's body.
Toby has taught me to trust my gut, to forgive unconditionally and to be vulnerable in ways I never thought I could. I had quite the marathon of being attracted to deadbeats in my life, until Toby showed me the parts of myself I ignored for so long; that's when I chose to take a hard look at myself.
Toby loves his people and everyone! He is inclusive and the kindest and gentlest soul I've ever met. He has taught me to not judge others, to love people for who they are, and to trust myself and take more risks in life.
There is a reason why dog spelled backwards is God - dogs are here to teach us about ourselves, to make the world a kinder and more loving place, and to not judge anyone else based on their outer shell.
Dogs mirror us - if you're unsure what's going on in your life, take a look at your dog, they'll tell you! I know this not only because of Toby but all of my clients dogs I have worked with over the years. Anytime a client had a challenge in their life or a health issue, their dog would reveal what was going on, if they chose to pay attention.
Just look back on your own experiences, our pets know when we are sick, when we are in emotional pain, when there is an underlying ailment.
I strongly believe Toby came into my life to show me I am deserving of giving and receiving love. If it wasn't for him I may not have opened myself up to true love and met my now husband.
Toby just turned 11 this fall - there is not a day that goes by where I don't express my gratitude that he chose me. Thank you Toby for blessing my life and everyone's you've touched. You are my Earth angel.
Luckiest dog mom in the world,
Liza
About the Creator
CA/OR. I have degrees in Psychology, Criminal Sociology, am an RVT and empathic numerologist; I write from the heart, and about the paranormal. When I'm not writing I'm exploring hidden gems and reading about past lives and anomalies.
Reader insights
Outstanding
Excellent work. Looking forward to reading more!
Top insights
Compelling and original writing

Creative use of language & vocab

Easy to read and follow

Well-structured & engaging content

Excellent storytelling

Original narrative & well developed characters
Heartfelt and relatable

The story invoked strong personal emotions
Add your insights