Morgan, a Rescued Killer Whale Gives Birth at Loro Parque
The first day of fall begins with the birth of Morgan's first calf eight years after her rescue off the coast of Holland.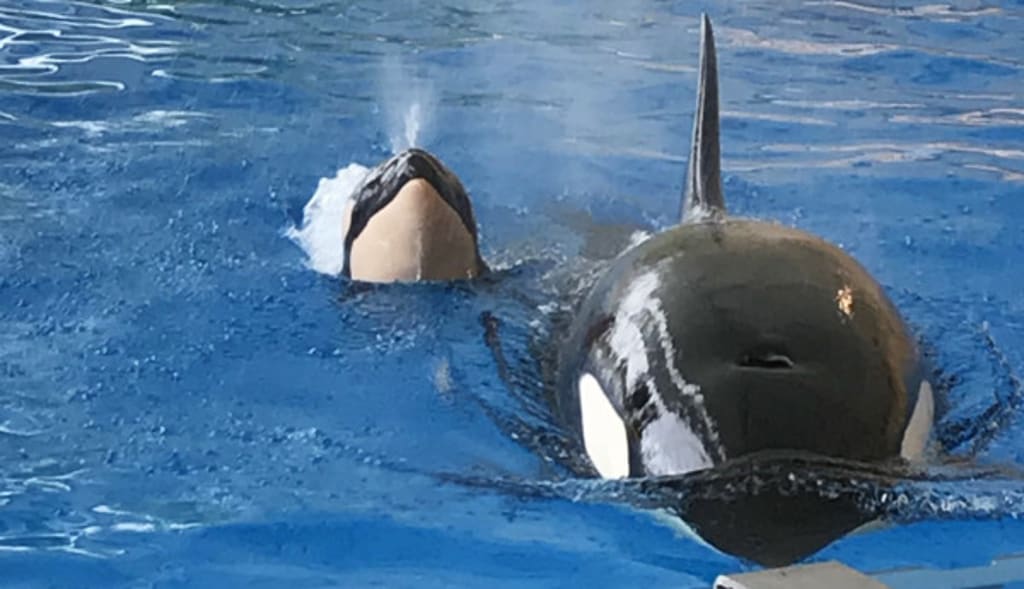 Morgan with Her New Calf, Photo by Loro Parque
Morgan, an 11-year-old killer whale who resides at Loro Parque has kicked off the first day of fall by giving birth to her first calf yesterday morning (Spain's local time). According to her trainers and veterinarians, the newborn calf healthy, but are having trouble determining its gender, due to Morgan being very protective of it. This is because the second the calf came into the world, Morgan proved herself to be an excellent mother by attending to her newborn. However, the animal care staff at Loro Parque will continue to monitor the pair in case they need to intervene if things are to go wrong between mother and calf.
Morgan's story is very unique for killer whales who reside in human care. This is because she was rescued off the coast of Holland in 2010 after it was determined that she was in need of being rescued. So, officials from the Harderwijk Dolphinarium assisted the Dutch government with her rescue and determined that she was malnourished and needed to be rehabilitated. From there, she was taken to Harderwijk where the then, 430 kg orca spent several months receiving treatment and care. At first, the animal care staff was not sure if Morgan would survive her ordeal, but as time went one, she would prove to them otherwise as she gained weight and got stronger thanks to Harderwijk's dedicated team of animal care experts. Around the same time, since none of Harderwijk's marine mammal facilities were made to house killer whales, Dutch authorities commissioned a group of experts to determine her future.
While most toothed whale species are known to be social in nature, the way the pods are structured varies by species. For example, bottlenose dolphins are known to integrate with any pod that might be nearby, while harbor porpoises venture off on their own. In the case of killer whales, however, are known to live in matriarchal pods that consist of a dominant female, her siblings, offspring, and all of their own offspring. These pods are associate with whomever their mothers, grandmothers, siblings, and cousins have introduced them to and won't accept foreigners into their pods. When it came to determine whether or not Morgan should be released, orca experts from Canada, England, Holland and Norway performed a series of ID and genetic testing on marine mammal to determine her origin and concluded that Morgan originally came from a population of orcas that were known to feed on herring off the coast of Norway, but did come from any of the pods that were known to researchers in the area. So, it was determined that with Morgan's wild pod not being known and the fact that wild orca pods are not known to foreign individuals, and would not be able to hunt on her own, Morgan was deemed "non-releasable" and that she should remain in human care.
After months of rehabilitation and a legal court battle with radical animal rights extremists who wanted to seek custody of Morgan for a "return-to-the-wild" program despite their lack of animal care experience, she was finally transferred to Loro Parque in November 2011 where she would, in time, successfully integrated with the facility's five resident killer whales: Keto, Tekoa, Kohana, Skyla, and Kohana's son, Adan, the first orca to be born at Loro Parque. A year later, it was later determined that one of the reasons why Morgan may have stranded in the first place was because she was suffering from a hearing deficit, which meant that, even if her wild pod was found, she probably would have never been able to survive on her own. This diagnosis did help the training staff at Loro Parque be able to find ways to better care for her as she continued to serve as an important ambassador to conservation, education, and research that was being continued on killer whales and other marine mammals at Loro Parque.
The birth, of Morgan's calf, although unplanned on Loro Parque's part, is a testimony to how far Morgan has come in terms of her health and well-being. As she continues to care for her calf, the team plans to update the public through social media on how they are doing with each passing day. If things are to go wrong, the staff will step into hand-rear the calf, just like they have done with Adan when he was born in 2010. In a meanwhile, Loro Parque will continue to do what it has always done since it first opened in the 1970s: to protect and conserve animals and their ever-shrinking natural habitats for years to come.