Mastiff Life...
So you think you want a mastiff?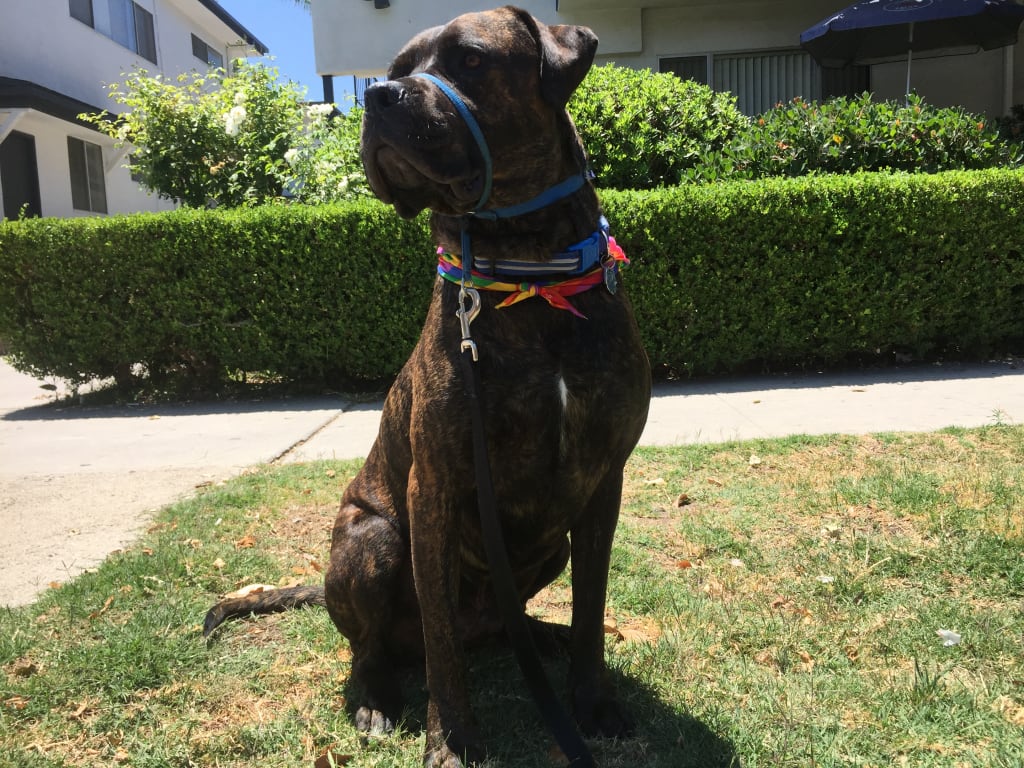 These gentle giants make amazing pups, people! Be prepared for big love, big slobber, big eats, big poops, & melting hearts! Mastiffs make great companions as they always want to be wherever their owners are. Hollywood literally follows me from room to room all over the apartment. Although they are huge indoors, they are super lazy and basically form a rug wherever they can carve out a spot underfoot. At the park, he has seemingly boundless energy! Running all over the place and sniffing all the butts! Mine is three and a half, and yet people still think he's a puppy when they see him galloping about.
I could not have gotten luckier with my rescue! He's such a lover and a great protector! His previous humans realized they couldn't keep a dog this large when at only seven moths old, he was already over 70 pounds... He's now grown to be the same size as his master. I'm 152 and he's 150! Mastiffs can be very stubborn, so good training is essential. One thing which changed our walking lives immediately (and transformed him from walking me to me walking him with just one finger) was a Gentle Leader face collar. Most folks we encounter think he's wearing a muzzle, but the face collar was literally the best $16 I have ever spent! I could not have asked for a better pup and I'm so lucky he came into my life!
Mastiffs can have finicky stomachs & grain allergies... Mine in particular is allergic to gluten which is found in so many wet and dry pet foods. They respond best to a grain free diet. We tried so many foods before discovering Taste of the Wild food for dogs. Hollywood used to get red itchy patches on his belly and hind legs before I switched his diet. Now he's got a super shiny coat, tiny poos for a dog of his size (since the food is so highly digest-able), and best of all, no more itchy red skin!
Stay tuned for more tips & Mastiff Life!
Emergency? Stuck at work? Afraid you won't make it home before your dog's bladder hits capacity? Leaving town on short notice and can't find a trusted sitter? Get piece of mind and give your pup some relief with Wag (services for your pup) and/or Rover (services for your pup)! I love and use both of these services regularly! Try either service for free just by clicking on the one you prefer. I trust their vetted walkers and best of all, they all carry pet insurance to cover all types of emergencies for your piece of mind, just in case the unthinkable happens... Get free walks just for signing up with their service and you can share free walks and get more free walks too, when you share the service with your other dog loving friends! Give one a try today!!