It's A Dog's Life!
This May be a "Dog Lover's" Area, but this is a "Cat Friendly" Region as Well!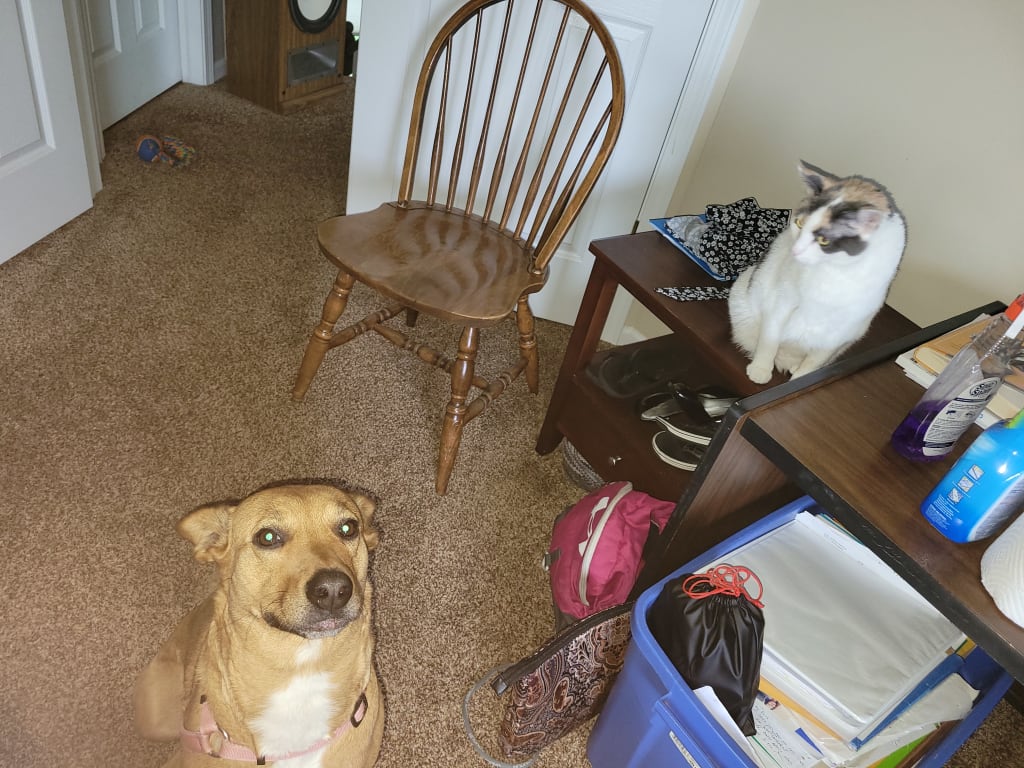 Nitty gives her younger sister, "The Cat Stare", after their first Indiana "Tornado Drill".
It was a hot, humid, drizzly day in Indiana, earlier this July. One of my friends I had attended school with for what seems like forever - who ended up being the lead guitarist and vocalist for a successful, up-and-coming South Suburban Chicagoland band called OUTDrejas [outdrejas.com]. - was getting married! My older sibling was invited. That meant I had to mind the pets of the household.
Storms were rolling through the area, from the southwest and up towards the northeastern territory of Indiana, where I'm staying at with Nitty. My older sibling texted me - "SECURE THE PREMISES! TORNADO HEADING THAT WAY!"
I immediately wrapped the cat in a blanket and put her in the safest room in the house with the dog. The downstairs bathroom. After ensuring the pets were safe. I lowered the blinds, in case this "tornado" actually hit. I then sat with the pets, and waited to hear back from my older sibling. "ALL CLEAR!" They said. I carefully wrapped Nitty in the blanket and brought her back to her upstairs domain. Roxy followed as well. There was no tornado. The time stamps didn't match up on the texts my older sibling was sending me - testing me in case of an emergency. I think I held my own. I HAD noticed outside that it was still hot, humid, and raining - heavier than before. The wind WAS blowing. Harder. But I didn't sense a tornado on the horizon... But they DO happen here.
If you're considering crossing the border from the South Suburban Chicagoland area into the Northeastern territory of Indiana, you should be aware that this is not only a "Dog Friendly" town, but also a "Cat Friendly" region as well! Whatever pets you may have, wherever you may be, it is your obligation to ensure their health and wellbeing are up to date! Your children come first, naturally, but if you have pets, it is your obligation to have their medical records on hand and they are current before crossing the border. Cats and dogs need collars with name tags and addresses, for safety reasons, where I'm staying. So make sure your pets are, "booted and suited," with a collar, name tag, and updated emergency information in case they get lost.
Both Roxy and Nitty were adopted. Strangely enough, both ended up being "companion" animals for their rescuers, who ended up being alone during the COVID-19 Pandemic. Nitty came from my local South Suburban Humane Society animal shelter. [https://www.southsuburbanhumane.org]. Roxy came much later, from the Caribbean.
When I adopted Nitty, I was about twenty-two or twenty-three years old. Being such a passionate animal lover, I immediately approached the first cage of kittens I saw as I waited to inquire about volunteering there. She was the first kitten of the bunch to meow at me! She must've been hungry, per her Modus Operandi – she's ALWAYS hungry. I instantly fell in love!
Her younger sister, Roxy, was adopted much later. She is young dog, a rare breed dog known as an "Arubian Cunucu". "A pariah dog that calls the Caribbean Island of Aruba, 'home', and while well-known in Aruba by the natives, not a breed not officially recognized by any association or kennel club." [wagwalking.com/breed/arubian-cunucu]. Nonetheless, I've grown to love that dog. She's part of the "pack" here now.
As I took Roxy on a brisk walk, on THIS early morning, as the crescent moon waned, after tending to Nitty, who threw up her cat food reserves, and rests now in the other room, while Roxy loyally rests by my side as I write this, I reflected on our walk yesterday. I watched Roxy interact with the environment. We heard the "Counting Crows" caw. We saw Cardinals. We saw the trash cans some of our neighbors put out. Some were out, some were not, some were by the owner's garage, and some were on the ground! The Canadian Geese waddled on in their flock, on their way "home", to our "Neighbors to the North". We have noticed the local neighbors, here, together. Both younger sisters, eager to please, on another early morning walk. Some neighbor's cars were parked differently, some weren't. It was nothing unusual.
I decided it was time to run wild - just like Roxy would with her pack in Aruba. It IS summer, after all, and the Canadian Geese she regularly kept out of our backyard had returned. We ran through the open fields together, chasing after the geese, who flew in all sorts of different directions. I yelled at them, "No! Wrong way!" They flew south, north, west, east... all over the place! Just to get away from Roxy, the best guard dog I've ever met, who drank her water eagerly after the brisk, sudden sprint.
Nitty has been getting out more, too. Thanks to our local pet store, I was able to get her a harness and some calming treats. I was able to put a name tag on her, too - just in case that old, indoor cat get's outside and away from me. She still loves to eat, even if the harness and name tag annoy her a bit. But I wanted her to get to experience the outdoor world. She never really has, and has always been curious. That's why I'm grateful for our local PetSupplies Plus store, nearby, where I got the harness and leash. She watched me cry that morning. I'm tired of the cat seeing me cry just because I'm such a "Goof Ball". But we've been taking small walks outside, I was able to take care of some of the yard work, the local neighborhood children played, the elderly one's - my guardians and best friends - checked in on me, the young "newbie" to the town, and nobody got hurt.
I've been taking online classes, from the North American Institute of Learning [nalearning.org]. I discovered that my favorite class was the Animal Abuse and Cruelty Prevention Class. I've been looking into becoming a Veterinarian Assistant, or Pet-Sitter, or Dog Groomer, to find work while I'm here.
That's another thing you should know before moving out here. Though the pace is much slower, people are kinder, and more forgiving, they expect you to have something to offer. Job opportunities are everywhere. I have A LOT to offer, but time is running out. Will I ever make it? Only the clock will tell...
Or my cat Nitty, who wakes me up early to feed her every morning!
adoption
Hello readers! While my biggest passion is for music, I've been writing, drawing, and creating since I could crawl. I hope my stories inspire hope, courage, strength, tenacity, humility and laughter in my readers. Join me on this journey!
Receive stories by Unlisted&Twisted! in

your feed