How Dogs Have Boosted Mental Health During the Pandemic, Meet 3 Dogs Changing Lives
Dog adoption has reached an all time popularity due to the therapeutic benefits during the Covid-19 Pandemic.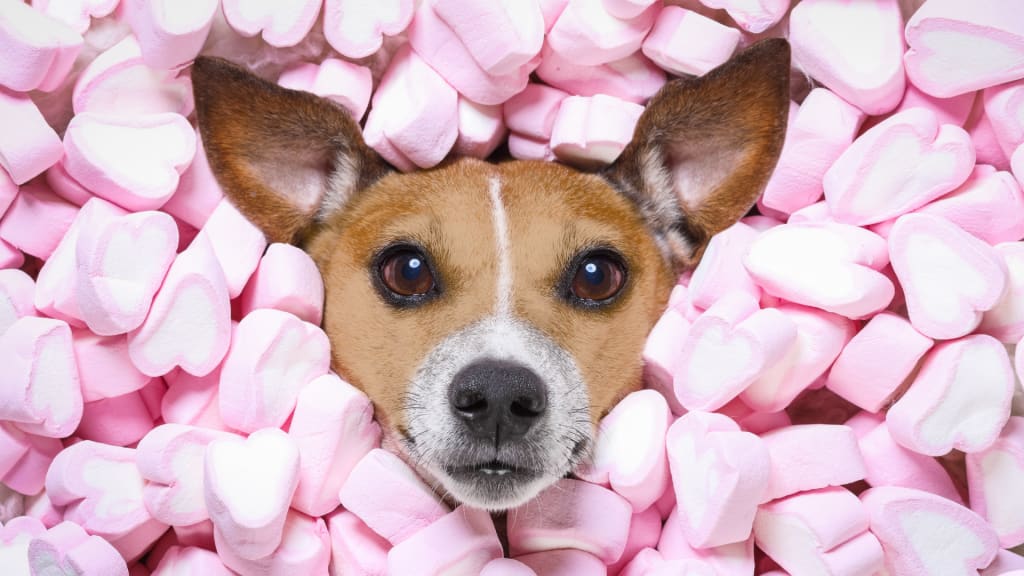 Canva Photo by Damedeeso
Since March 2020, most of us have been leading lives of isolation, often struggling with loneliness and despair, but these three at-home-heroes have been making life a little easier for their new found families. Humans have a long-time relationship with the canine species. Affectionately coined as (wo)man's best friend, dogs have been a large part of our lives for thousands of years. Recent studies published in October 2020's issue of the Science Journal (Vol. 370, Issue 6516), say that number is over 10,000 years to be exact. It's clear that we have always valued and understood the many benefits of the human-dog relationship, but now, thanks to this new pandemic lifestyle, we are even more keenly aware of the value of a dog.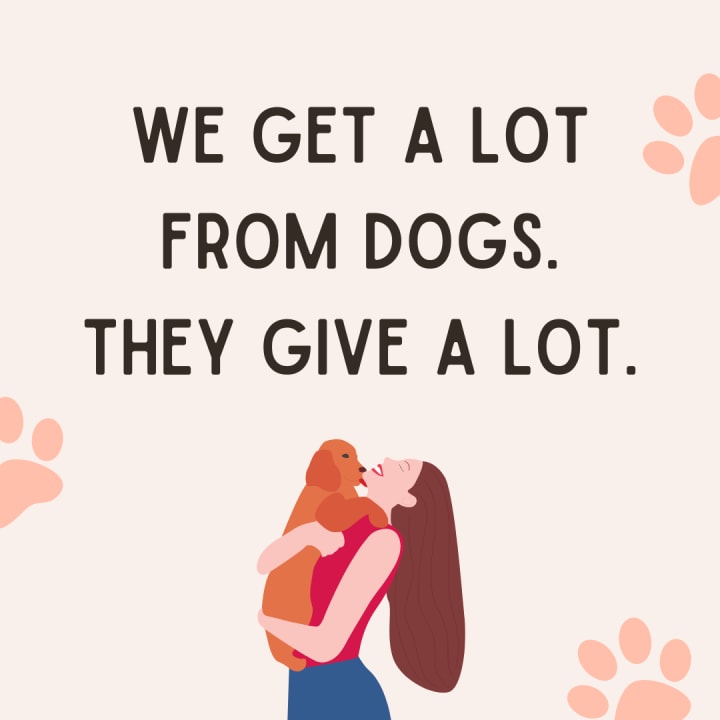 The limitations on our social lives, imposed by the lockdown, have caused many of us to turn to our canine friends for comfort and companionship. The percentage of people looking to adopt dogs has skyrocketed since the pandemic began. A survey hosted by Rover.com in October 2020, found that out of 1,000 Americans surveyed, 1/3rd had welcomed a cat or dog into their home since March 2020. A second survey completed in January 2021, saw that number rising to 49% of respondents who had adopted a dog during the Covid-19 pandemic.
Rescue centres in Canada have been having a difficult time keeping up with the number of applicants who are searching for a dog to adopt. When interviewed by CBC Canada, Lorie Chortyk of the British Columbia SPCA stated, "We've definitely seen an increase in adoptions throughout the whole COVID crisis." Chortyk shared that they have previously received over 200 applications for a single puppy.
Over in Toronto, Ontario, the rescue world has seen a similar spike in adoption demand. I spoke with Hannah Forneri, who welcomed a new furry family member into her home just a few weeks ago. Hannah, her husband, her two young children and their dog Mabel, had been looking to adopt a new dog to round out their family and offer companionship to both the humans and the pre-existing canine in the family. Hannah shared with me that it had been a long process to find Soos, the 5-month-old german sheperd-husky cross. They had started looking 6 months earlier and had previously applied for several other dogs in multiple rescue centres within a 2-hour radius before they got the call about, Soos. Hannah feels she "really lucked out on him" and sympathizes with her friends who are still waiting to find a match after applying for over 20 dogs.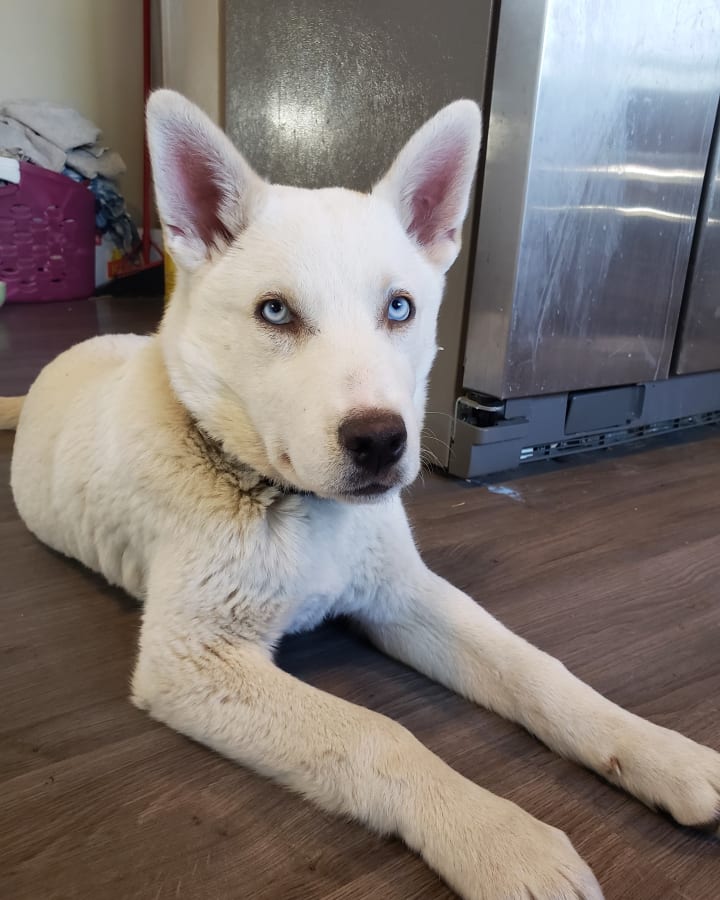 When it comes to the well-being of the family, Hannah told me that "during the pandemic, Mabel and Soos have been crucial to our mental health and well-being," it's meant the world to her little ones (4 years and 2 years) "who have been pretty isolated and being able to have that kind of love and companionship … has been a huge thing."
"It's always easier when you have a big human village and, in this case, our village includes furry people."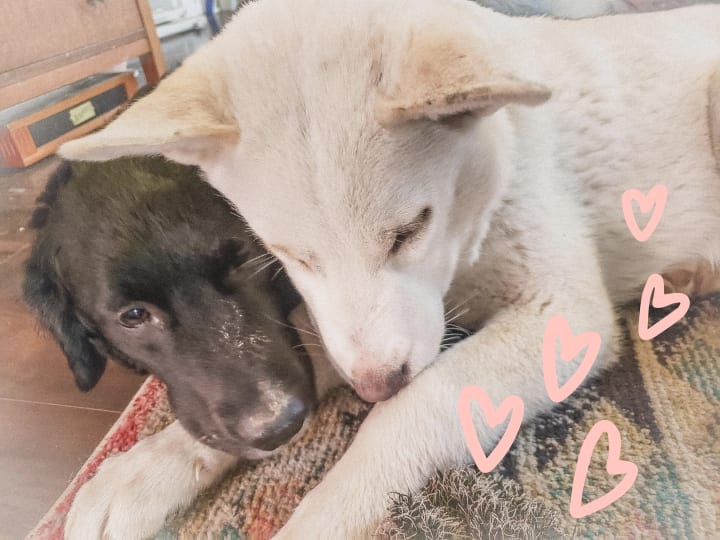 Fellow dog-lover Riaan Smit feels the same way about the friendship of his chihuahua-dachshund mix, Gucci. Riaan's story is a little different than your traditional adoption tale. Gucci was actually Riaan's family dog close to a decade ago, when he and his sister were living with their parents. Once both children had gone off to school and left the house, their parents had rehomed Gucci to a family friend. A few months ago, Riaan's family received the call that their friend was no longer able to care for the now senior Gucci and was considering putting her down. Very distraught at the thought, Riaan was quick to action. He hadn't planned on getting a dog, but it felt like a good time in his life and he and his sister made a pact to "make her comfortable for as many years as she's got left."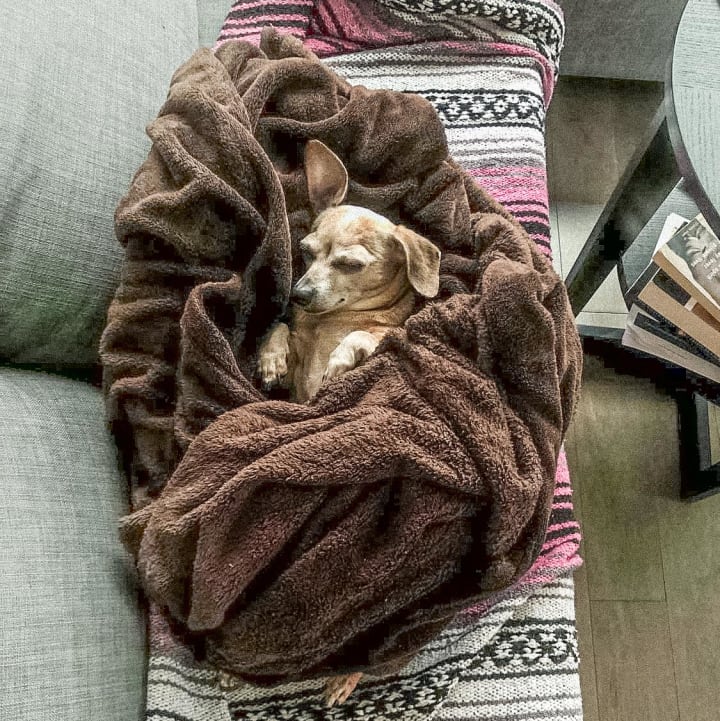 Riaan hadn't seen Gucci in close to 4 years, and upon meeting her again, found Gucci very distraught (to be parting with her current owner) and with a case of kennel cough. Riaan was momentarily worried that he was in over his head, but the cough ran its course and after Gucci settled down, she proved herself to be pretty spry for a 14-year-old dog.
"She's got energy and she's got spunk. She's got a few more years in her."
Riaan lives alone and shortly after receiving Gucci, was faced with some personal health issues and had to undergo a serious surgery. Having Gucci with him while he was confined to his bed, under isolation, made things a little bit easier.
"You're getting a certain level of your needs met. I have someone to talk to, to cuddle. There's this other creature that counts on me and I count on them. We give each other things that we both need and it's kind of lovely."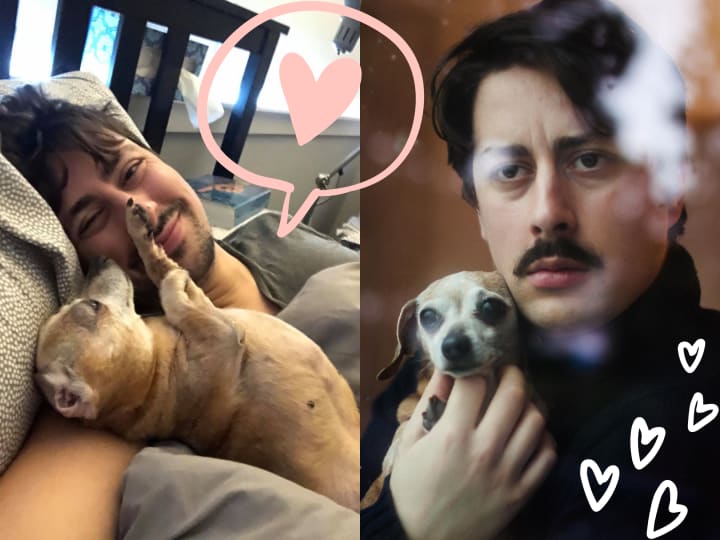 Our final at-home-hero is Bily, short for B****, I Love You. Bily, the 1.5 year old pug, came into their owner Lesley Sharp Sheppard's life at the beginning of the pandemic, April, 2020. Lesley had already been thinking about adopting a dog after losing her previous fur baby several years earlier. When the pandemic hit, she knew it was time to look. Like Hannah, Lesley also had a difficult time finding a dog to adopt. After looking for a while, she was able to find Bily on Kijiji, being rehomed by his previous owners.
Lesley replied to the ad stating she was interested in the dog, but got a reply that he had been rehomed earlier that day. The next day, she received a message from the previous owner stating: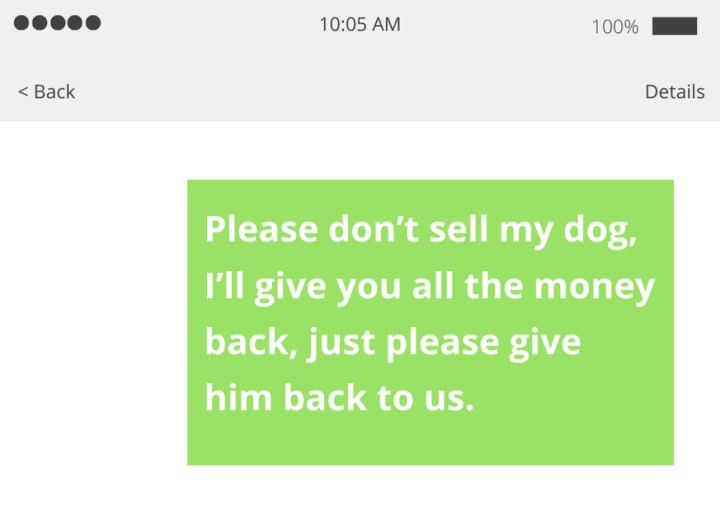 He had mistakenly texted Lesley instead of the woman he had rehomed the dog to. It turned out that the woman had put Bily back up on Kijiji, doubling the adoption fee that she had given for him. This is where Lesley sprang into action. She found the new post on Kijiji and messaged the woman, saying that she was interested in Bily and wanted to pick him up the next day. Afterwards, she texted the original owners saying that she was getting the dog back.
The following day, Lesley, along with her friend, met the scammer to pick up Bily. Lesley's friend asked to see how Bily walked on the leash. He took Bily on a walk, a-ways down the block, where the original owner was waiting in a car and handed Bily back to him, after which the owner drove off. Lesley confronted the scammer and after some time spent wearing her down, the woman admitted to what she had done. Lesley paid the woman the original adoption fee and was able to get Bily's papers from her.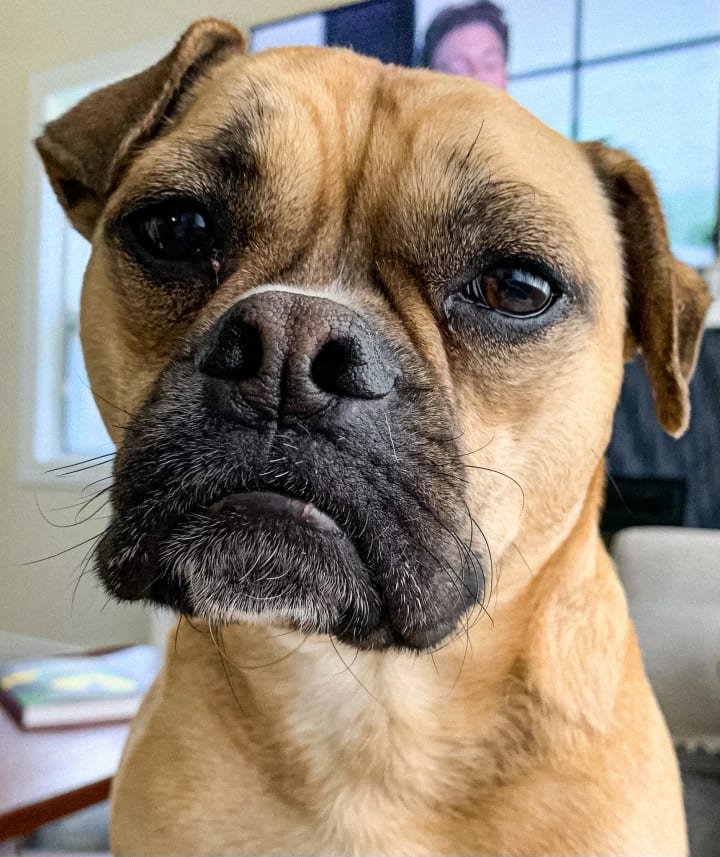 What began as a scene straight out of a whodunnit movie, turned into a loving relationship for Lesley and Bily. Lesley soon found out just how affectionate and friendly Bily the pug was. She mentioned how he brings everyone he meets joy. Walking through the park, people smile as he walks by and can't help themselves but to start giggling at his signature walk and infectious bark. Lesley is single, and shared that having Bily and her cats to give her companionship and physical closeness, "has been a blessing."
"Sometimes I'm not the best person to motivate myself. Bily motivates me. I definitely get my 10,000 steps in a day now that he's in my life. You know what's really great? He is super friendly, so he runs up and greets people in the park. He talks to them in his own special vocabulary. People love him. I have talked to so many people that I would've never talked to before … I don't know how I would've survived without him to tell you the truth."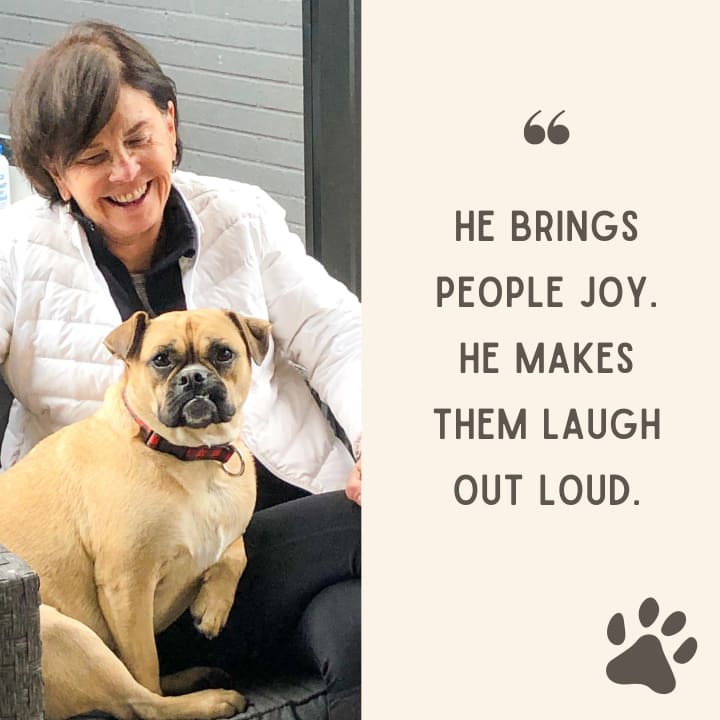 Going through a global pandemic, has brought challenges and hardships that many of us were unprepared for. However, even amidst a crisis, there are always points of brightness, points of joy and love. These 3 at-home-heroes, show us the special beauty of dog-human relationships and how they can have a positive effect on our mental health and well-being.
If you are considering adopting a dog, there are many agencies out there, as well as individuals who are looking to rehome or find a first home for dogs and other animals. In Canada, the Humane Society (SPCA) is a great place to start and in the USA, The American Society for the Prevention of Cruelty to Animals® (ASPCA®) is a reliable agency that is one of the world's largest humane societies.
Links
The American Society for the Prevention of Cruelty to Animals
If you liked this article, make it official and give it a heart, share it with the buttons below, or consider a tip if you would like to see more articles and stories like this. Thank you for your support! xx Samantha
About the Creator
Experienced Storyteller. Amateur Writer.
Here to tell stories and sharpen my craft.
Thank you for stopping by.
@Samanthacarlyk
Reader insights
Be the first to share your insights about this piece.
Add your insights