How Can Something so Cute Be Such a Terror?
Introducing Cisco, the newest member of our family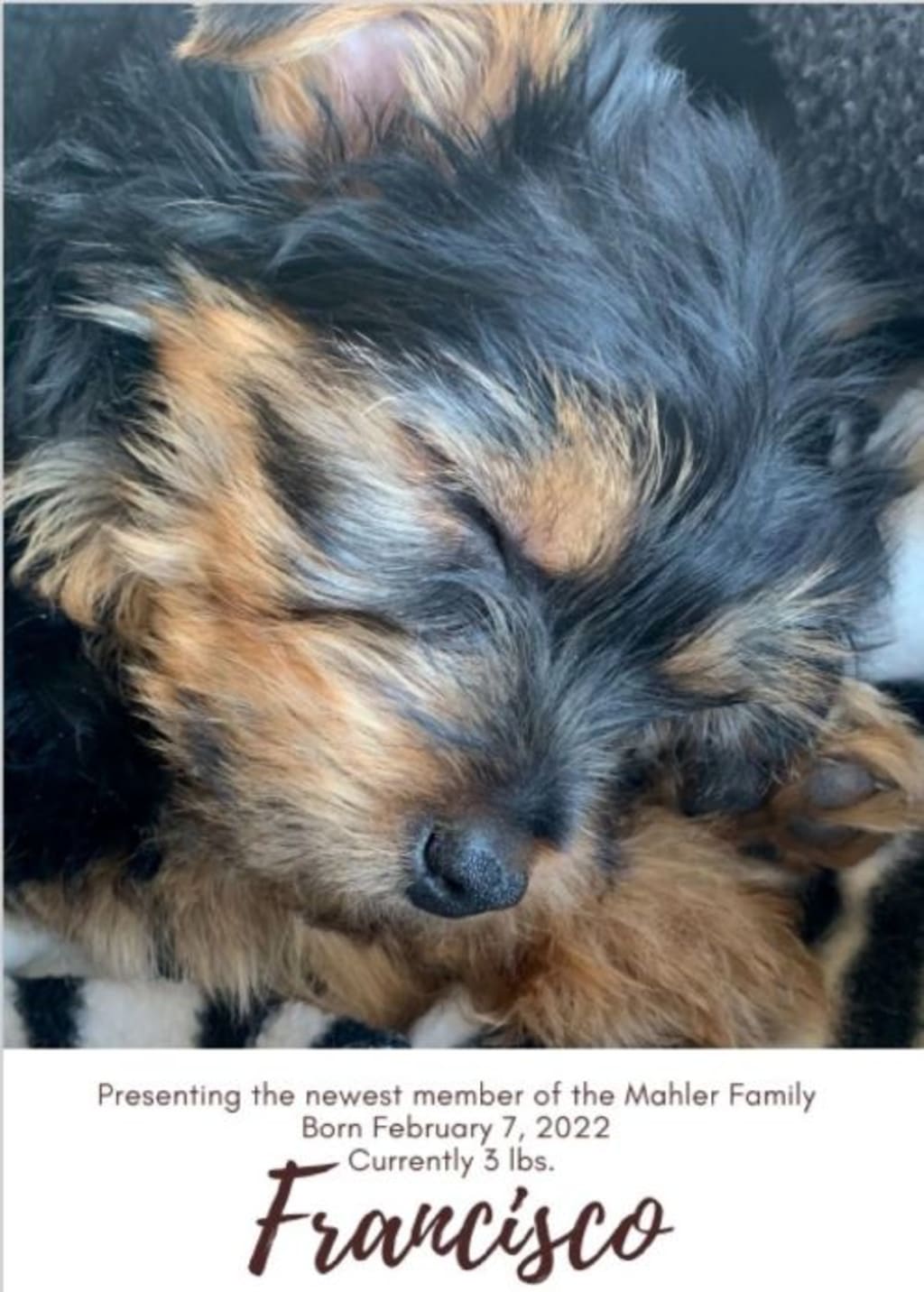 Image from author's photos. Created on Conva.
Once we decided Dagney needed a friend, our search began for the perfect little brother. Over the years, three male Yorkies had been members of our family and each one filled our home with adventure. Five years ago after living without the pitter-patter of paws, we adopted our little princess. We loved her but she came with the attitude of a teenage girl, teaching us why the word bitch had acquired a negative connotation. We knew this time around we would be adopting a boy.
The facts that Randy and I were retired, the kids had moved out of the house, and we had way too much time to spoil Dagney rotten may have contributed to her bossy personality. At the time it seemed logical that bringing a new baby into our home would teach her to share, improve her patience, and give her someone to play with. 
Using all the social network tools available, our search began. I don't want to say I am cheap, but we did limit our budget only to learn that since our last puppy purchase prices had increased - drastically. So, we emptied our change jar, a collection from 30 years, onto the floor and started sorting through the coins. We removed the silver dollars, Chuck-E-Cheese tokens, and foreign money so the bank's machine would not jam. With three paper sacks and two shoe boxes in hand, I started to realize why there is a change shortage in the US. Imagine my surprise when the receipt read $730.00! By combining my new found money with what I had allotted to spend, a new pup was definitely in our immediate future. 
Though there were many advertised, only a few fit my criteria. Then when I did find some possibilities, I started to see a pattern from the other end of the phone. 
"He sold last night." 
"Someone is coming to pick him up later this afternoon."
"I dropped my price yesterday and he went to a new home this morning."
I suppose every buyer was looking in a similar price range. But Saturday morning, a new add popped up on the computer screen. A phone call verified his availability, so we hit the road to retrieve our baby. Dagney curled on my lap for the hour trip. As I explained what was about to happen, she licked my face. She seemed disinterested until the actually introduction. 
The first hurdle was easy to jump when the puppy laid on my husband's lap. Randy's resistance dissolved.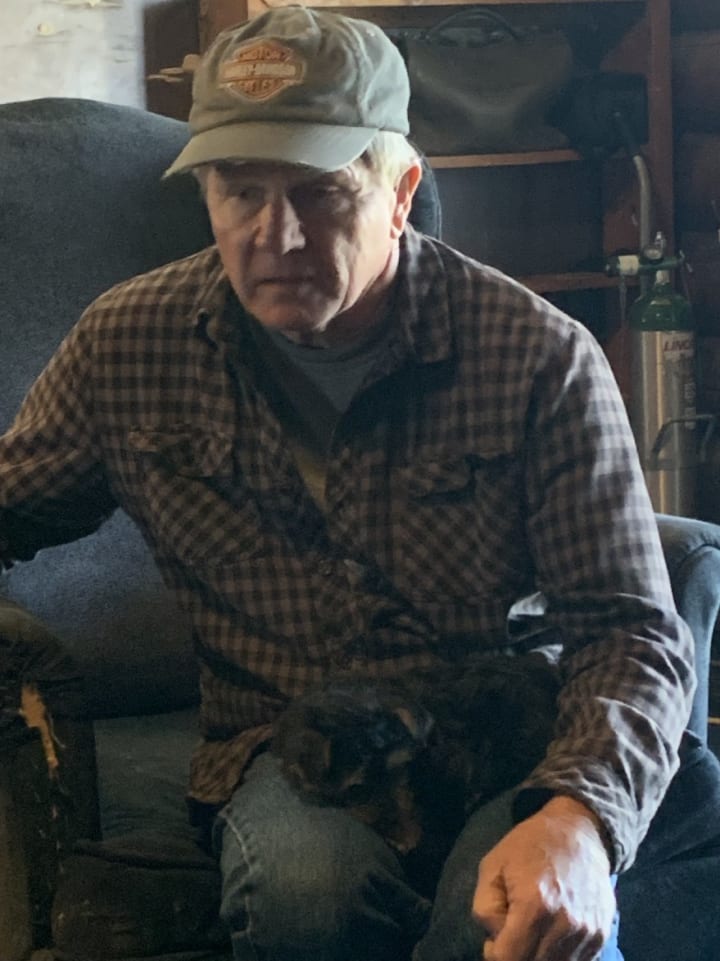 As we carried the baby to the car, Dagney watched excitedly out the window. Inquisitively, she jumped into the back and accepted the new thing. I stood guard apprehensively, worried she might snap at him, but I think his size camouflaged the fact he was a real dog and she simply stared.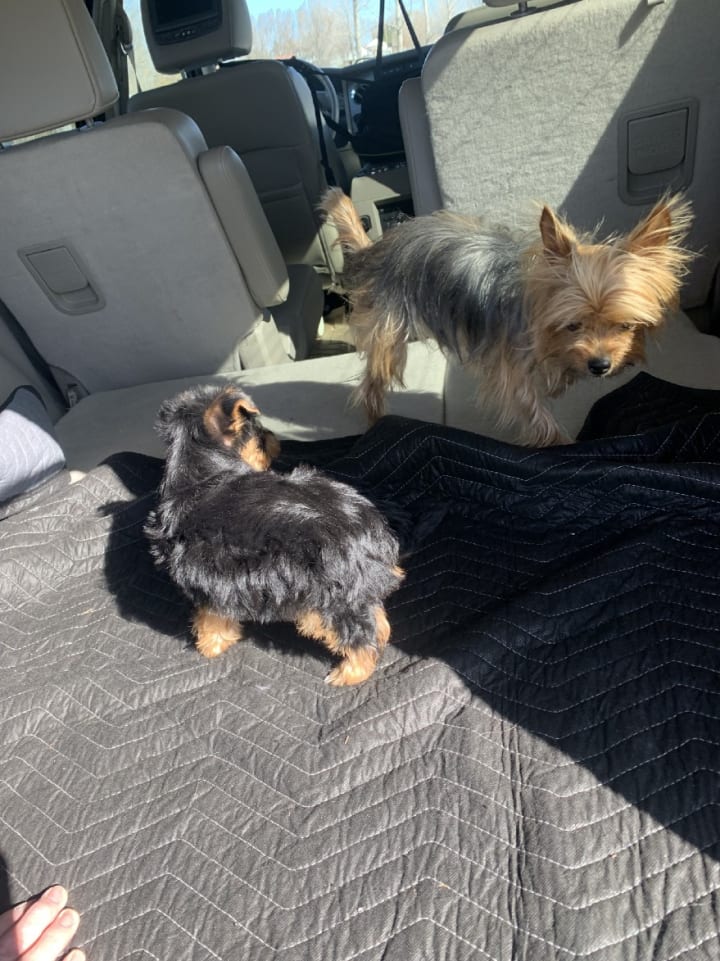 They circled around a couple of times sniffing until Dagney lost interest and jumped into the front seat. Wow! That was easier than I thought. Filled with excitement, I turned to the owner and said, "We will take him."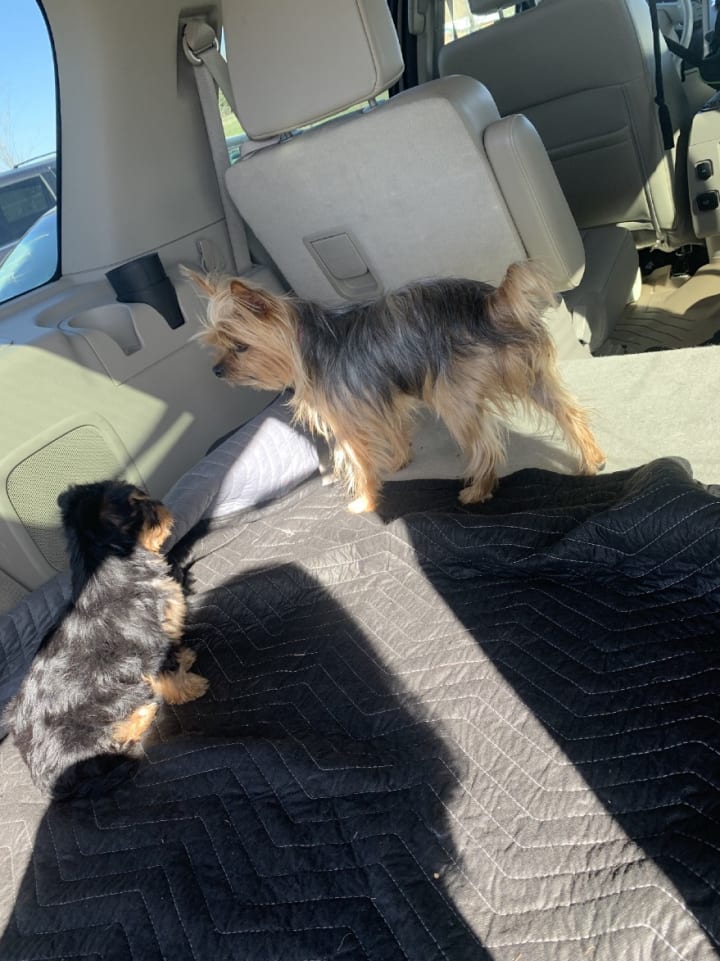 We named our little boy Francisco, Cisco for short. Both dogs are named after the main characters in our favorite book. Dagney took his presence in stride until we drove out of the driveway and Cisco climbed into her basket. Quickly, he turned from novelty to nuisance. I spent the trip home using my arm to create a physical barrier between them. 
Many people encouraged us to adopt. One friends said she had a female who readily accepted a pup and took care of it as if it was her baby, not Dagney's reaction. A post on Facebook explained how to introduce them and provided steps to help them acclimate. I probably should have read that before putting them in the car together. Dagney is still working on the acclimation part but she no longer pull him by the tail to remove him from my lap. Maybe some jealousy issues?
After 10 days together, they both sleep on my lap side-by-side - sometimes. They can eat beside each other without arguments. I can lay on the floor and play with them both as long as I hold a toy in each hand. The good news is that Cisco loves Dagney like a big sister. He follows her everywhere, barks at her to play, hides behind corners and pounces when Dagney appears. 
They bad news is that like a big sister, Dagney complains that he is a pest, wrestles him to the ground, and refuses to share her bones. When I think about it, they have a typical sibling relationship. We need to work the sharing issue but other than that they are figuring it out. 
---
Follow Dagney and Cisco's adventures by reading their stories at I AM My Best!
dog
About the author
Stories about life that inspire emotions - mostly humor.
Lessons about writing based on my textbook, Strategies for Teaching Writing.
Poetry and essays about the of art of being human.
I write therefore, I am.
Reader insights
Be the first to share your insights about this piece.
Add your insights