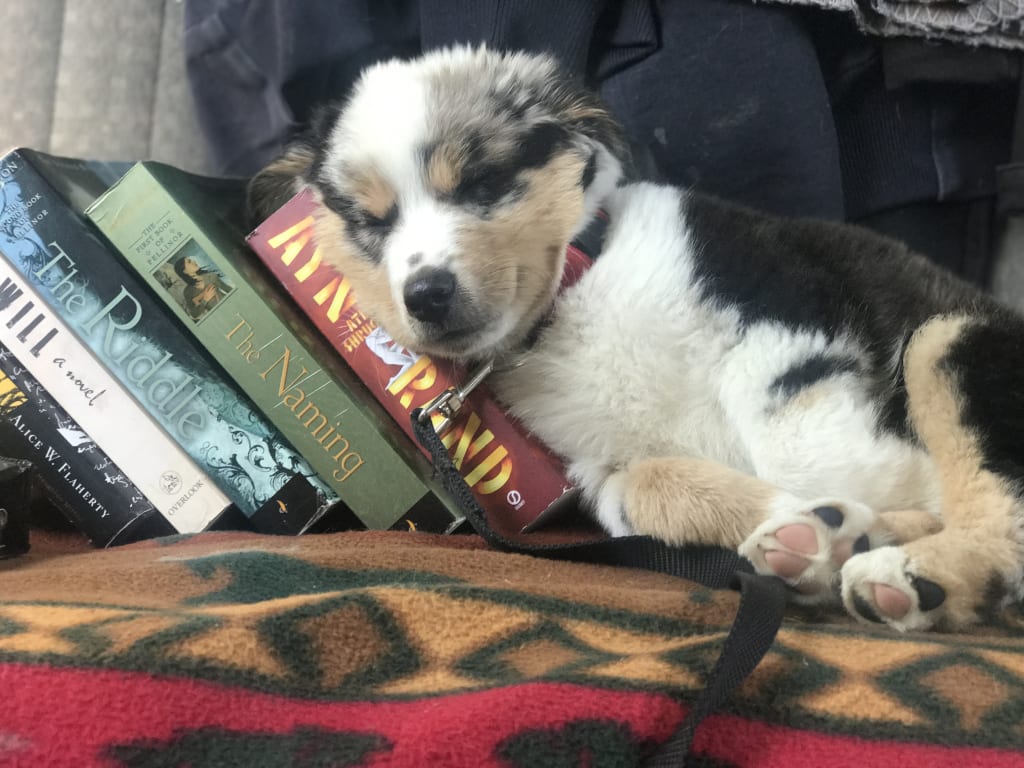 My first day with Hemi. He found somewhere comfortable to sleep in the back seat. 
I never know what to expect when I receive a text saying "We have a new family member." Growing up this could mean I could come home to anything. Kittens, puppies, horses, pygmy goats, a grumpy old donkey, rocks with faces painted on them, chickens, a step-sibling or two...I mean anything.
And, not that I didn't contribute to this (we have two cats and a dog to prove I definitely helped), but when my mom told me that one of the puppies born to her latest litter of mini-Australian Shepherds was completely deaf, I immediately responded with "I want him."
His name is Hemi. (Whether the long version is "Hemisphere" or "Hemingway" is still up to debate between my mom and me.)
That was when the research began. I've had puppies, but I've never had a puppy that might need extra attention. What could I use to train him? Would I have to buy a special collar? How could I go on trips with a deaf puppy? What if I lose him? Could he fit the lifestyle of an involved college student? Surprisingly, there are plenty of resources online for taking care of deaf dogs. I decided I would teach him using watered down American Sign Language. He would have a normal leash and collar, and we could work out the rest of the kinks along the way.
Within an hour of me picking him up, one thing became very clear. On top of him being beautiful, he is also intelligent. Within an hour, he knew to look at my hands and eyes for commands, and had already learned the command "sit."
In one week he had learned no, sit, lie down, stay, and how to ignore my hands when he chose to have selective hearing, like any other puppy. When riding in the car he sits across my shoulders so he can look out the window. He loves to hide. And he loves new people.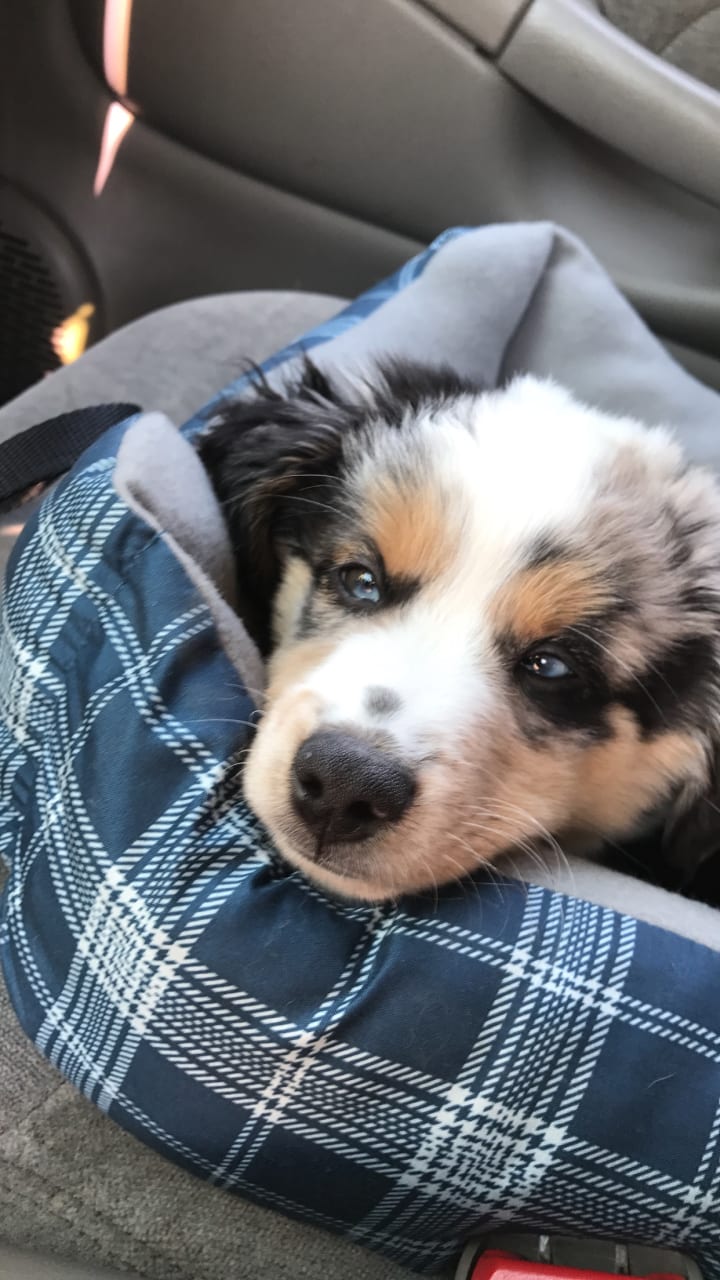 Every stranger is someone Hemi would love to meet. And with that face, who could say no? I can't count the number of times that people have gotten caught in petting him and playing with him, or even trying to get his attention from across the room by calling him only to cut themselves off with an "annnnd you can't hear me." No, my puppy can't hear you, but he can still give all the love in the world to you and he can read the love in your face.
My little deaf puppy is independent and adventurous, with very little fear (which is scary for me sometimes), but he always looks to me to make sure I haven't left him.
He yips for attention and out of excitement, he growls when he plays, and he grumbles whenever he wakes up too soon and stumbles out of his little dog bed. He communicates through eye contact and little tilts of his head. He has a bell on his collar so I can find him when he plays around the house.
The only difference between him and any other dog is that he always has his leash. Hemi has my heart. More people should give deaf dogs a try.
You can follow Hemi on social media to keep up with his training and growth! @Hemi_Way_