Halloween In The Queendom Of Fur And Scales
Kittens and bunnies and dinos, oh my!
Bone Doggy on my shelf, image by author
Halloween is a month-long affair in the queendom of fur and scales. On any given day I can be found with my head in a storage tub of fake spiders and bones or planted in my chair spinning webs of yarn. With this year's costume budget running a little non-existent we had to pull out our magic wands and call in the mice to fashion some glorious new costumes. Thankfully over the years, I have collected quite a pile of hoosits and whatnots to bippidy boppidy BOO up some Halloween treasures!
Something about stepping into a costume sets every cat on lowrider mode. They sneak around, bellies nearly touching the floor, as though they suddenly became spies on an urgent cosplay mission.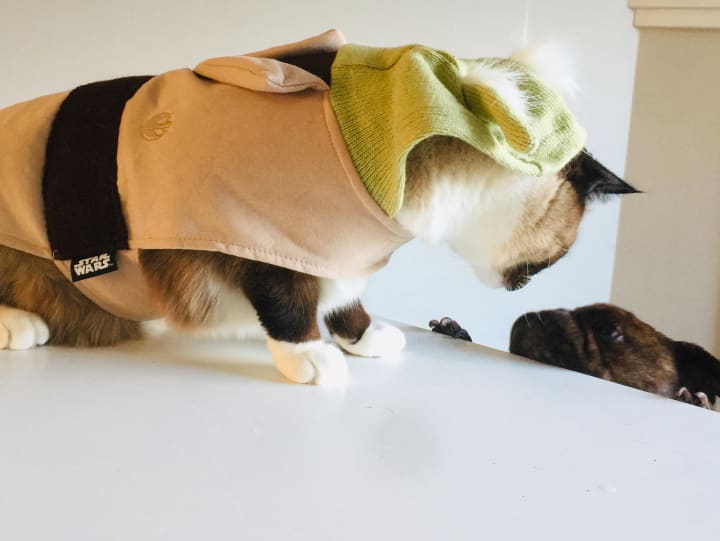 After raising five cats, and seeing two litters of kittens off to awesome new homes with our friends, I have encountered exactly 2 cats that enjoyed playing dress-up. One little man (who moved out) absolutely adored modelling and running around in the little tutus I made. The second glamour queen of our family is Patches O' Houlahan.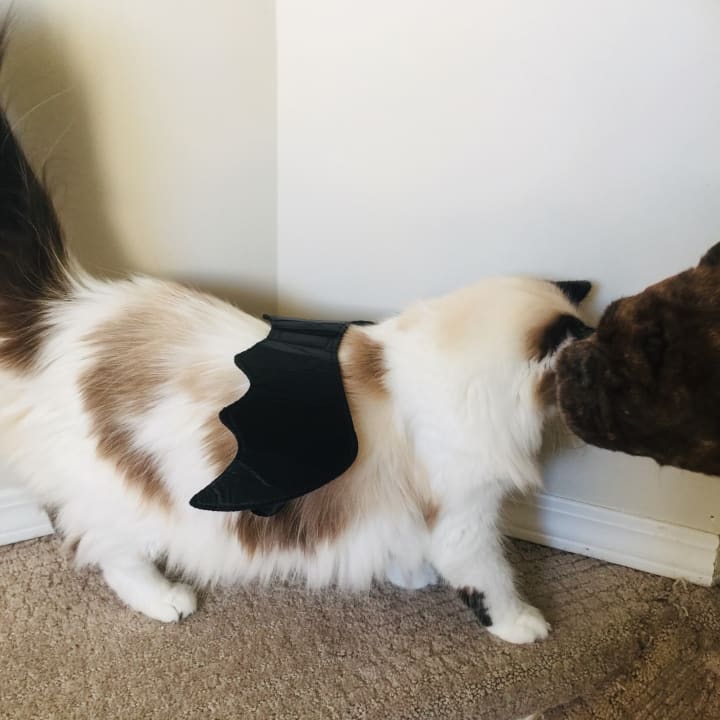 As the runt of her litter, she was slower to grow and develop than her siblings. For her first week of life, she often crawled around by her front paws instead of walking on all four legs, thus leading to her name. She crawled right into my heart and I couldn't let go when it came time for her siblings to move away. Nowadays she can dodge, duck, dip, dive and dodge with the best of 'em. Patches is constantly on the move between snuggling with her bunny best friend and taking a lap of her favourite sunning spots. When she's not preparing for fashion week or training Jedi of course.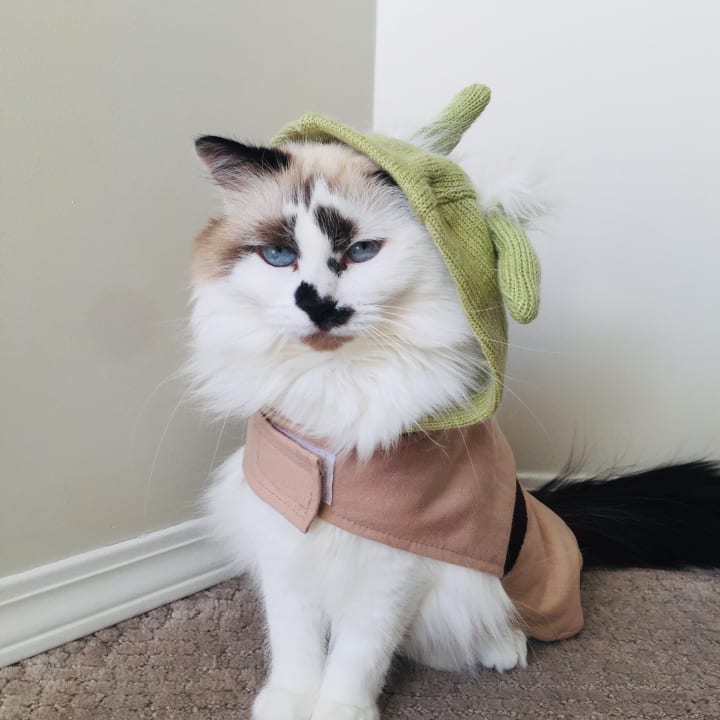 Brain is padawan and brother to Patches O' Houlahan. His training is scheduled around frequent snack breaks and naps.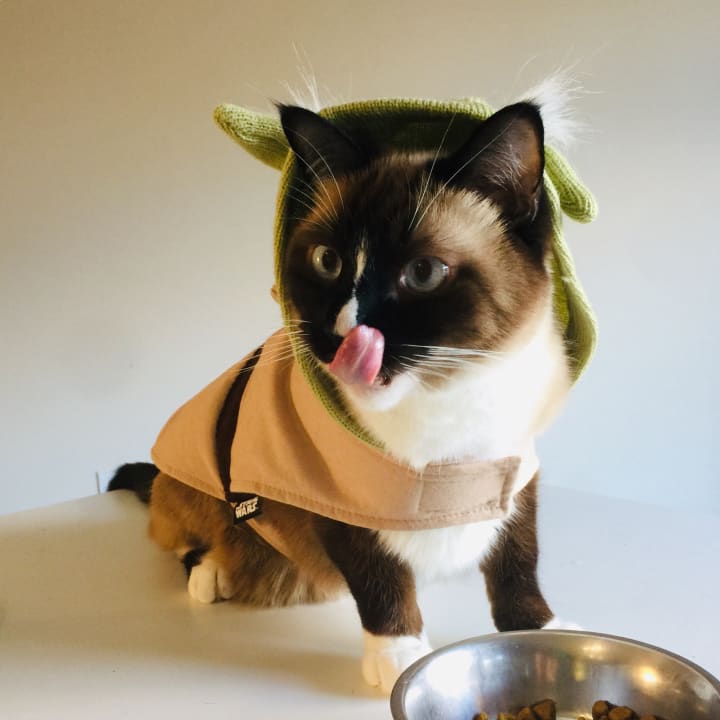 Freyja has been my beloved bun bun for five wonderful years. She was barely the size of an Easter egg when I brought her home and now she is a full-grown lady! I'm pretty sure she thinks that she's a cat as her homecoming coincided with a litter of new kittens. They grew up side by side and she became their long-eared sister. Freyja is not a fan of costumes or anything that invades her belly space so I decided to gently place these cute little wings on her back instead. She settled right in, posing pretty for her big bat-bun photoshoot like the star she is.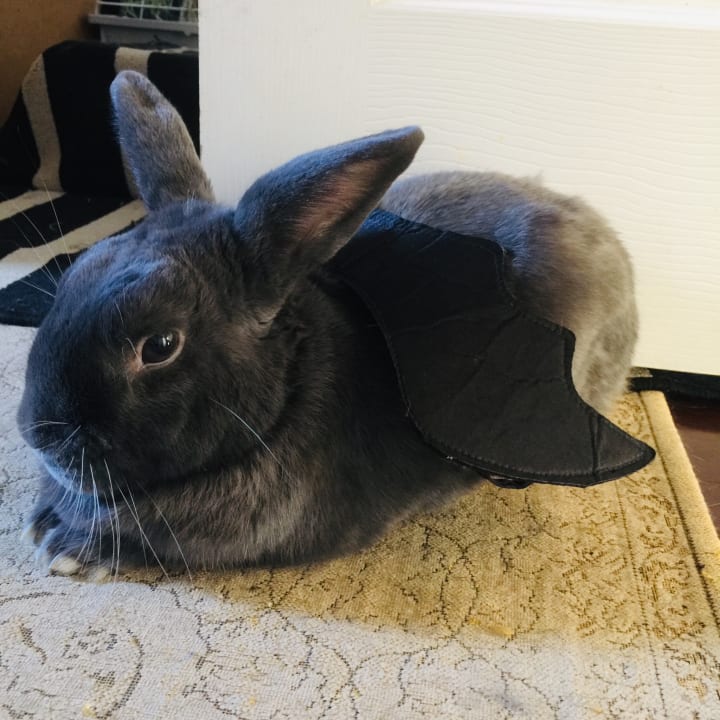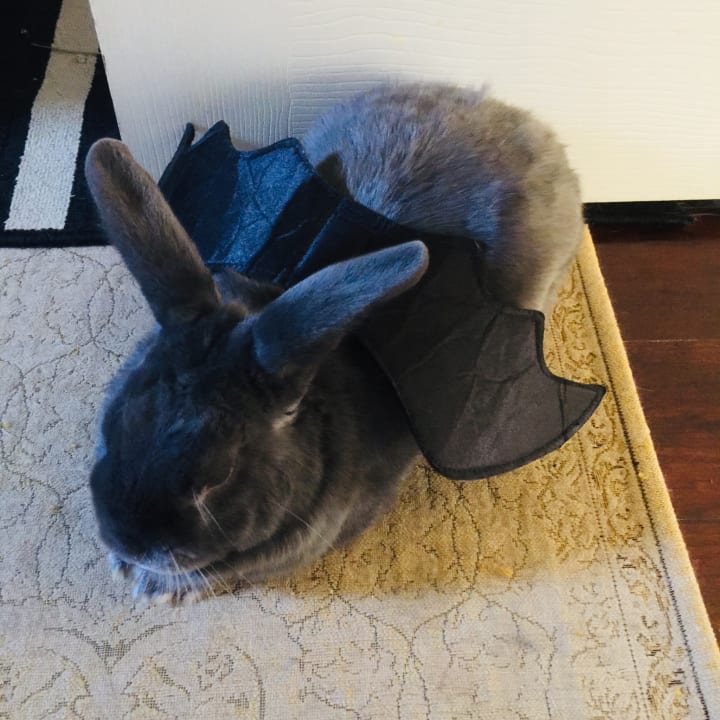 Binks has been my faithful companion since the day he jingled into my life. A call came in around 11 pm last August from a slightly panicked friend desperately seeking a loving home to relocate a two-year-old pug. He was scheduled to move into his new home with the friend's ex (the owner) that night but had been effectively abandoned by her instead. With my friend unable to care for his furry boy anymore the stakes were quickly raising.
I've never been one to deny a friend in need, especially if that friend is fuzzy! I quickly loaded into my car and raced off to pick up my newest companion. I was unsure how the little guy would take to me after being moved around so I steeled my heart for initial rejection. To my utter surprise, he took to me instantly, curling up in my lap and wrapping his little piggy tail right around my heart. His constant smile lights up our home, slobbering love everywhere he goes.
Binks adores a new outfit! He bounces with glee each time I present him with a new bandana or costume piece. He's getting used to posing for my photo sprees, though he would much rather run off to show his fuzzy buddies how handsome he is.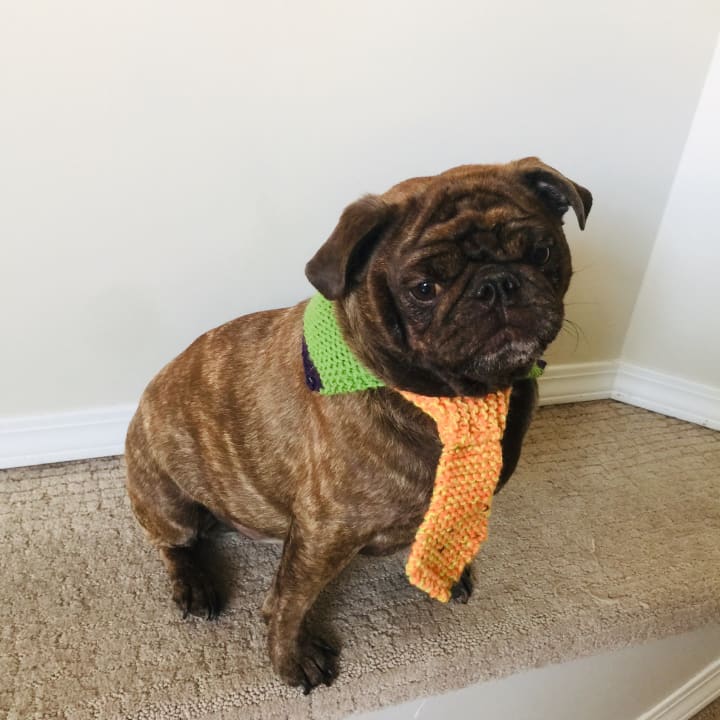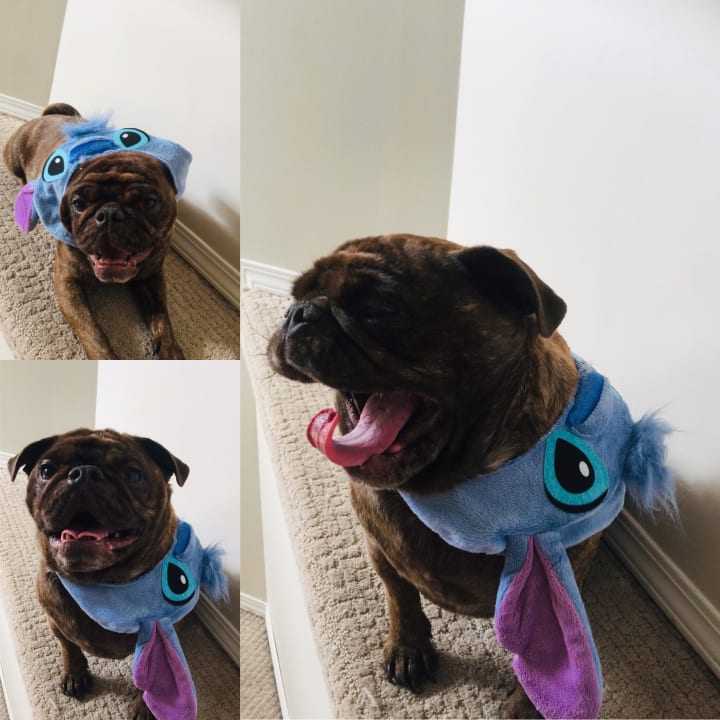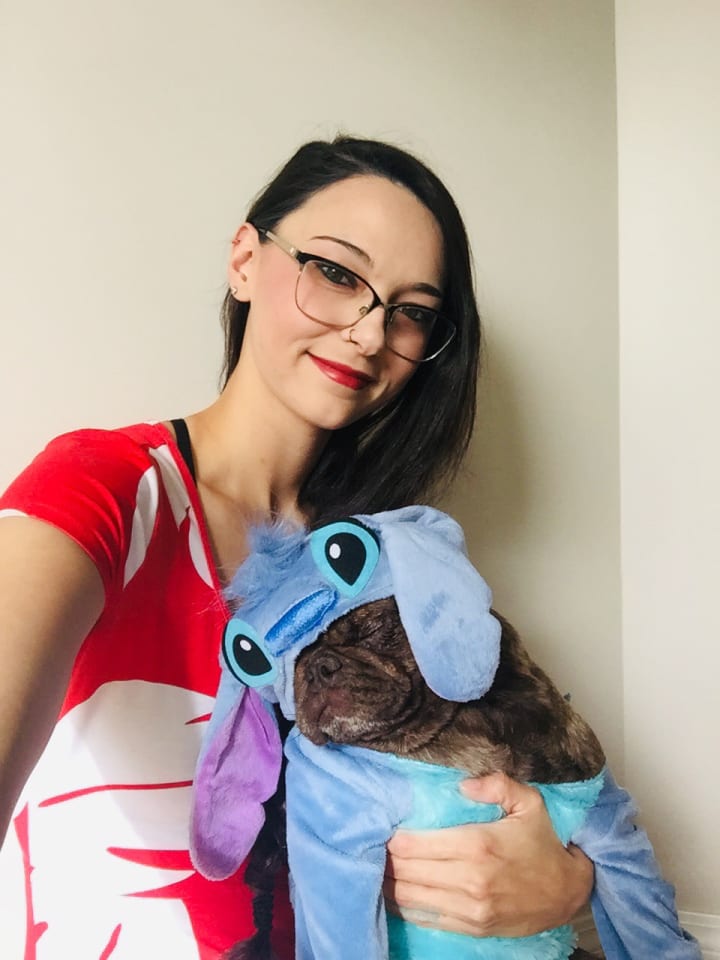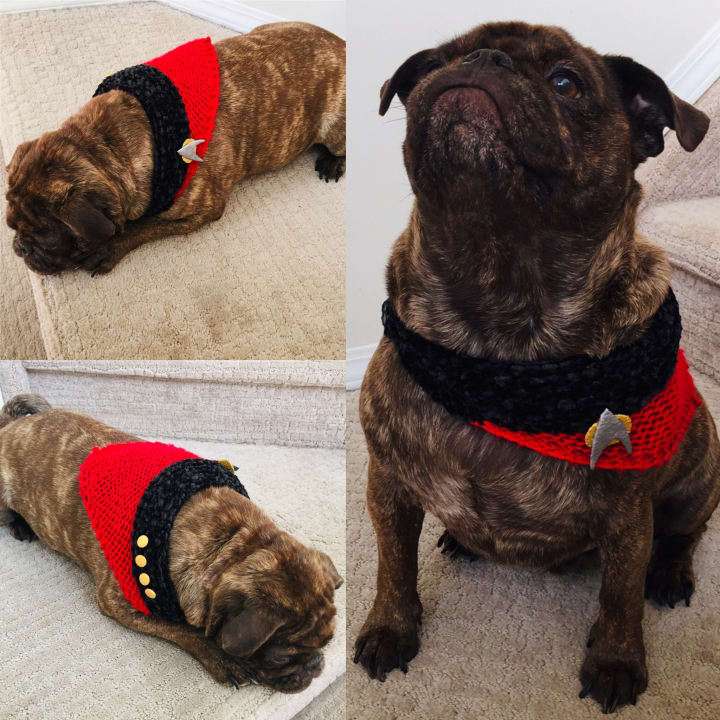 Harry is the most expressive pet rock I have ever had!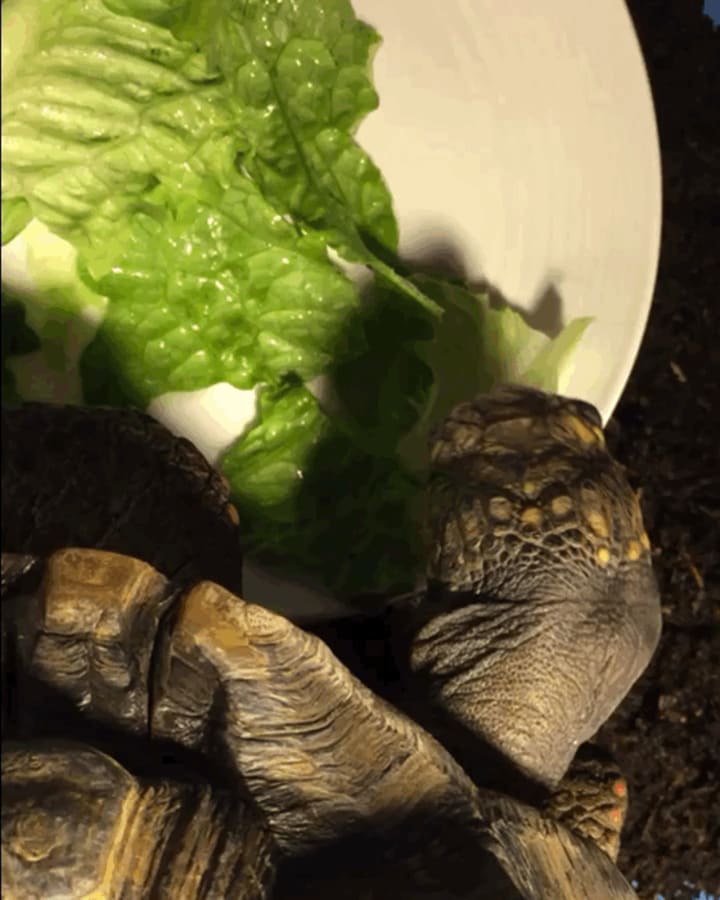 Okay, so he's actually a red-footed tortoise. I like to tell people he's my pet dinosaur. Harry is eighteen years old but has only been in my life for two of them. His previous home was no longer able to give him the time and support he needed to live his best life so Harry was adopted into our makeshift family. Working from home allows me to give him full-time supervision and the attention he craves.
If you've never had a tortoise you may not expect them to be very emotive pets. I certainly wasn't expecting the little ball of attitude and determination that is Harry the tort. His favourite way to grab my attention when he's free-roaming the house is to clomp on my foot. He will plop his foot down on mine and look up as though to say "excuse me but it's my attention time now".
My favourite fun fact about Harry is that tortoises feel through their shells. They love a good back rub and do the most adorable little butt-wiggle dance!
This year was my first time trying to dress up Harry. He didn't want to be too scary, he's already a dinosaur after all. We decided for his first Halloween Harry will be a treat instead! I whipped up this little pineapple costume and he was off to the races.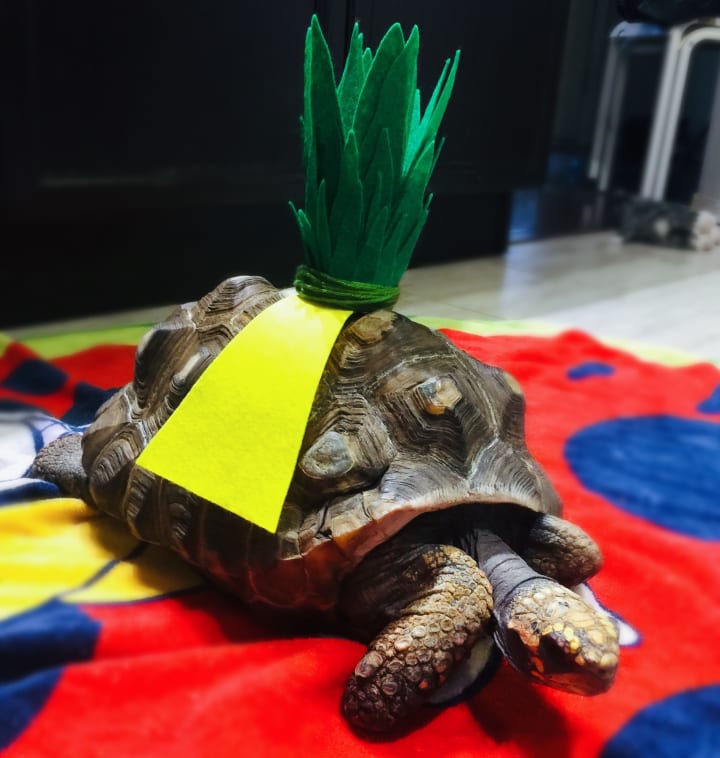 Baby is the Queen of the family. In theme with the season, she was named after Sheri Moon Zombie's character in the House Of A Thousand Corpses trilogy because of her seemingly sweet demeanour and wild attitude. She doesn't always get on board with my crazy plans, but we have our moments. She makes a pretty adorable toothless and has the menacing claws to match.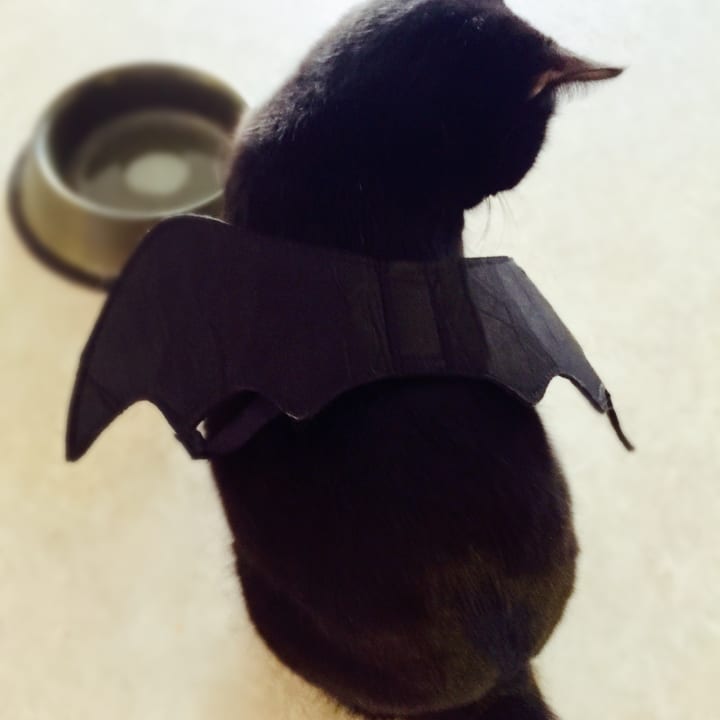 Before I was able to have a pup of my own I found this adorable little skeleton dog. I dubbed him Bone Doggy and dress him up each year as Yoda. Little kids get a kick out of him and watching my cats "introduce themselves" was a blast! He will always be a member of our spooky little family so I wanted to make sure he wasn't left out.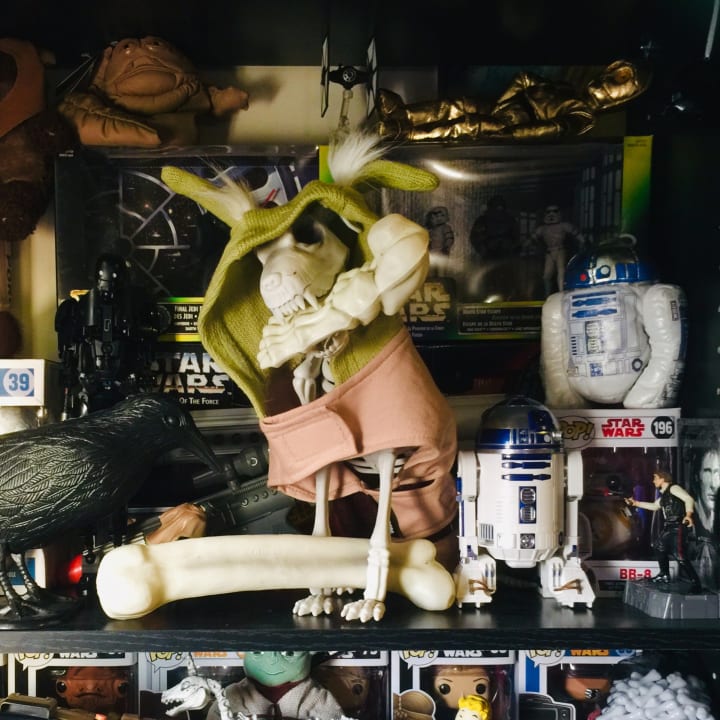 Gracie is the high-spirited cousin of the family. She lives far away but when she heard there was a fashion show she just had to present her amazing granny style!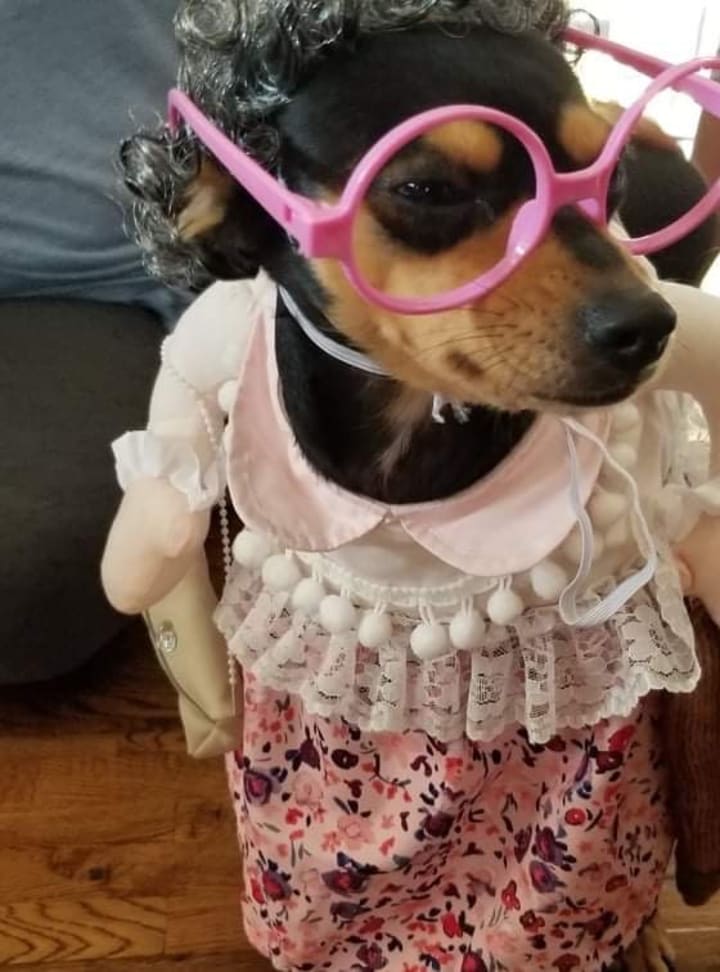 Thank you for reading! I hope you enjoyed the story and found some joy in the silly pet pictures. Be sure to check out the other entries for this awesome Critter Costume challenge. If you had some fun here today please consider clicking that little heart and sharing the story on your social media!
One more just for fun 👻 Happy Spooky Season Everyone!
exotic pets
Welcome! I'm an Artist, Twitch streamer, & eclectic writer. I do fiction and non fiction so check out my profile to see more of my topics! I joined vocal to spread some knowledge, share some of my works & find awesome writers to experience!
Receive stories by The Creative Chimera in

your feed