Free Feeding vs. Scheduled Feeding: A Comprehensive Guide on Meal Time
Is free feeding the best way to care for your pup? Or is it scheduled feeding? The debate is over, and the results may shock you

Supported byOllie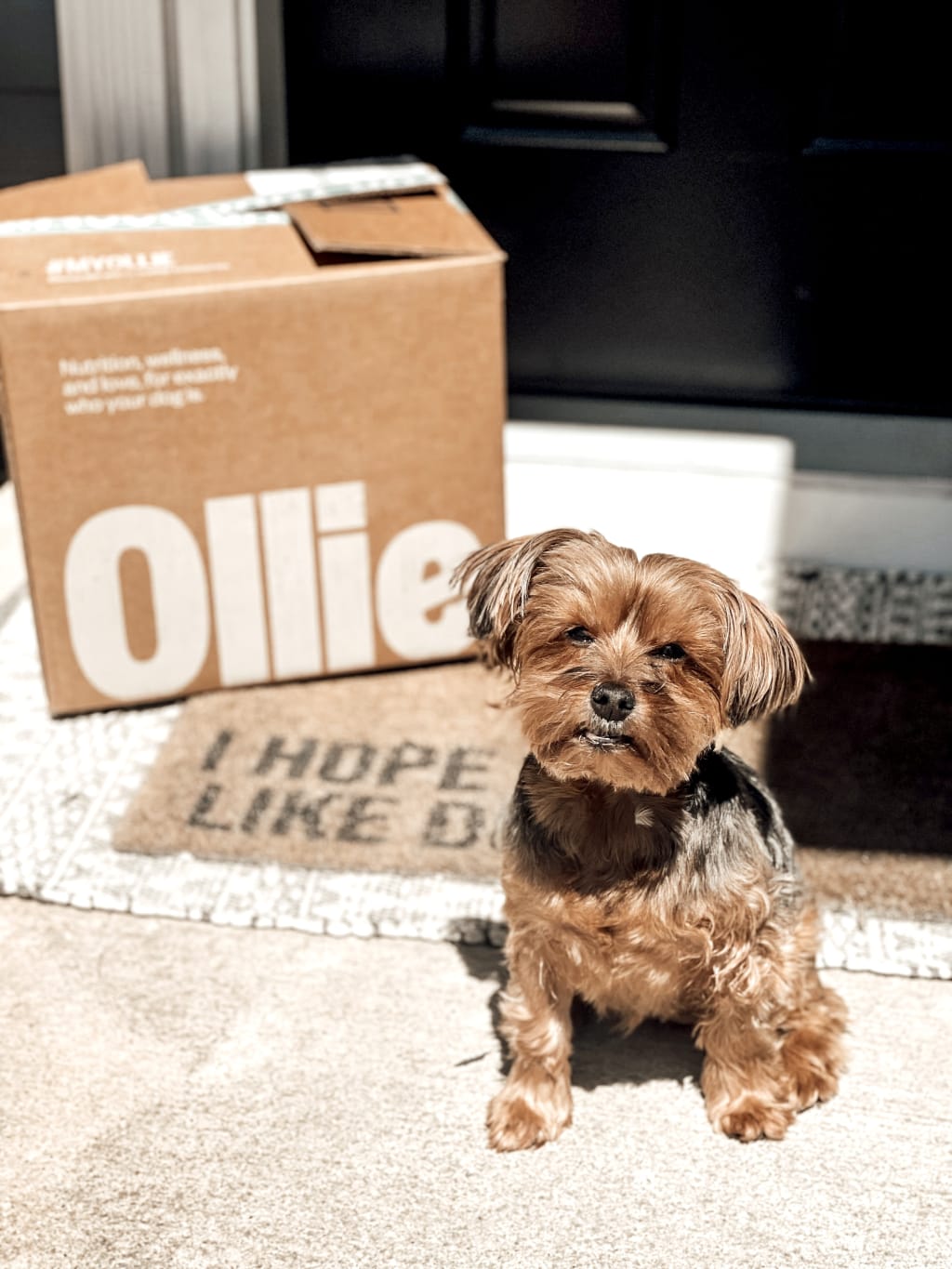 Just like people, dogs come in all shapes and sizes. Not to mention their energy levels! That means that all dogs have different needs when it comes to the food bowl, which can make it tough when it comes to figuring out a feeding schedule and the type of food that works best for your pet. There are lots of decisions we have to make as pet owners. One of the most important is what, and when, to feed our pups.
For the longest time, I made sure Paris had constant access to her giant bowl of food. This method is called "free feeding," and it's something that lots of pet owners do without any issues. But after a while with the free feeding method, I saw some questionable reviews online regarding that style. I considered how much exercise and dialed-in nutrition a small pup like Paris needed, and I decided to try out a new approach for my puppy's meal-time: scheduled feeding. Ultimately, I don't think either feeding method is better than the other. Most of it comes down to your and your pup's lifestyle. However, there are some other factors to consider.
I'm here with great news that could potentially end the debate once and for all. For myself and Paris, I've found that it's not about the feeding method at all, it's about the food she eats. Just like the keto diet works well for some people and the paleo diet works well for others, there's no one-size-fits-all solution when it comes to feeding your doggo. And when it comes to feeding Paris, I only trust Ollie to deliver the nutrients my girl needs to be her best.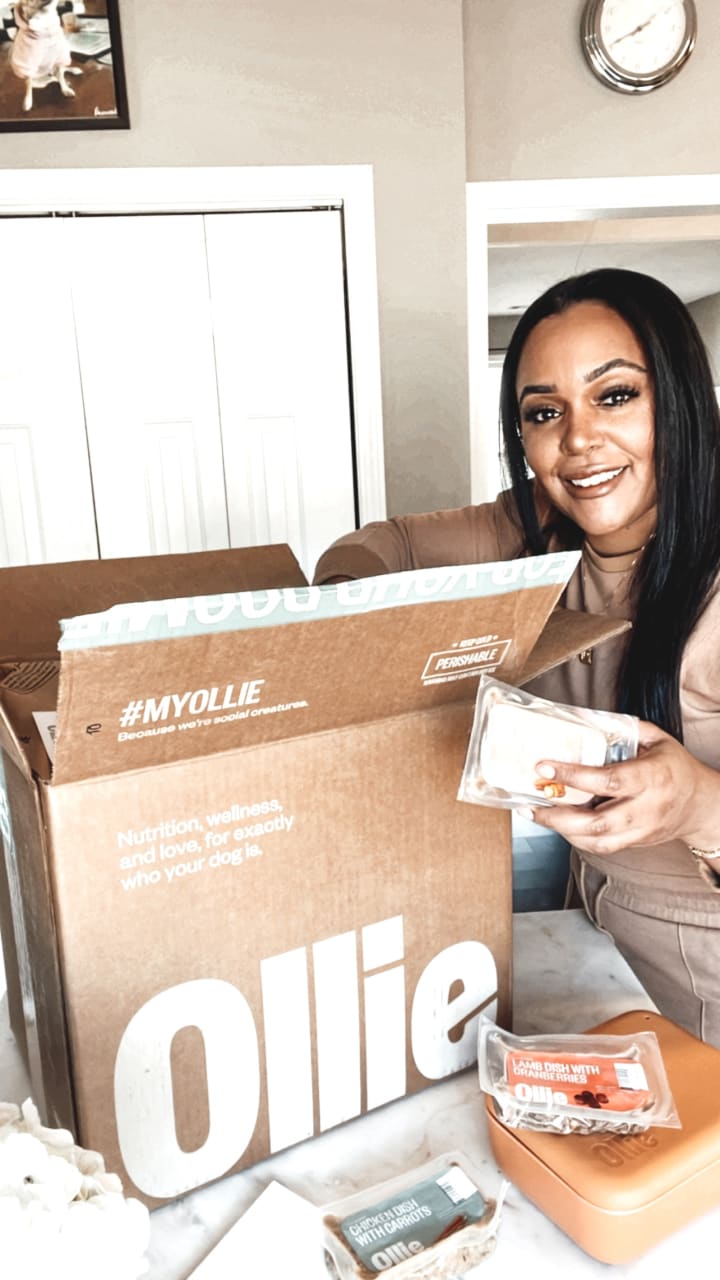 In this guide, I'll walk you through one of the biggest debates of all puppy time: free feeding vs. scheduled feeding.
Spoiler alert: either option can be great — as long as you've got Ollie.
Free Feeding vs. Scheduled Feeding
Here are some of the differences between free and scheduled feeding so you can decide which method is right for your pup!
Free feeding Pros
Free feeding is just as simple as it sounds. You put out a dish of dog food and your dog can eat to his (or her) heart's content. You refill the bowl as needed.
Obviously, this is less time-consuming. If you use an automatic feeder, it can last for days with no need for you to refill the dish. It can prevent low blood sugar (aka hypoglycemia) and it works well in dogs who eat when they're hungry and know when to stop.
It's easier and also doesn't require you to be home at feeding times. This is something that's important to note for those of us who have demanding schedules outside of the home.
Free Feeding Cons
The downside of free feeding? Since you're leaving the food out all day, you'll need to use a type of kibble, as this method doesn't work as well with wet dog food or fresh dog food. Any food that's going to spoil is a big no-no here.
In some dogs, free feeding can lead to obesity; but if you're using the right kind of dog food with quality ingredients you shouldn't have to worry quite as much about that. For me, the biggest downside of free feeding was that I couldn't use quality human-grade dog food with fresh ingredients — and that was an important part of my decision-making process.
I'll tell you more about that piece in a moment, but first, let's talk a little bit about the merits (and disadvantages) of scheduled feeding.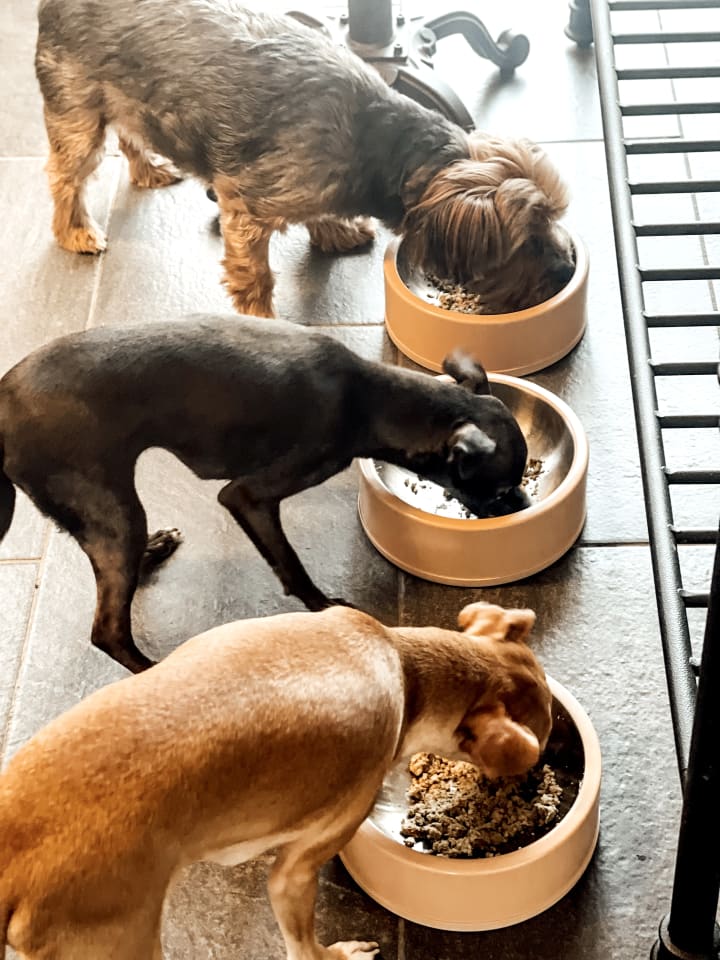 Scheduled Feeding Pros
As it sounds by just the name, scheduled feeding is simply feeding your dog on a schedule. A misconception that a lot of pet owners have is that if you decide to go with scheduled feeding, you're going to be a slave to your clock. Like you have to feed your dog right at 8 AM and 5 PM sharp or they're going to turn into maniacs!
Luckily, that's not the case. It just means feeding your dog at set intervals throughout the day. These need to be relatively consistent but just a friendly reminder — your pup can't tell time (if they can, we need to talk!).
Plus, with scheduled feeding you also have more control over what's going in your dog's body. Not only can you control the quantity of food to help with weight issues, you can feed your dog a wider variety of foods, too. Since the food isn't left out all day, you can use raw, homemade, or canned dog food. As I mentioned before, the obvious choice to me is Ollie.
Scheduled feeding Cons
Scheduled feeding can be tricky in that you have to be home at those times for feedings. If you work long 12-hour shifts outside of the home it's probably not the best option. It's just more time-consuming.
If you plan on doing scheduled feeding, the one thing to keep in mind is that most small breed dogs will do best with more meal times, but smaller portions. The same goes for younger puppies. They'll need more frequent feedings (like three times a day) than older dogs (who need just two).
So Which is Better?
So which method is better? Technically, neither. Either method can work well for you and your dog family, and it's all about finding the one that fits best with your lifestyle.
Contrary to popular belief, most dogs that are free fed do not automatically become obese as long as they are fed the right foods (more on this below!). And dogs that are fed on a schedule don't become aggressive with the food bowl — that's just another common myth.
So stop stressing over whether you're doing the right thing. You'll intuitively know whether free feeding or scheduled feeding is right for you.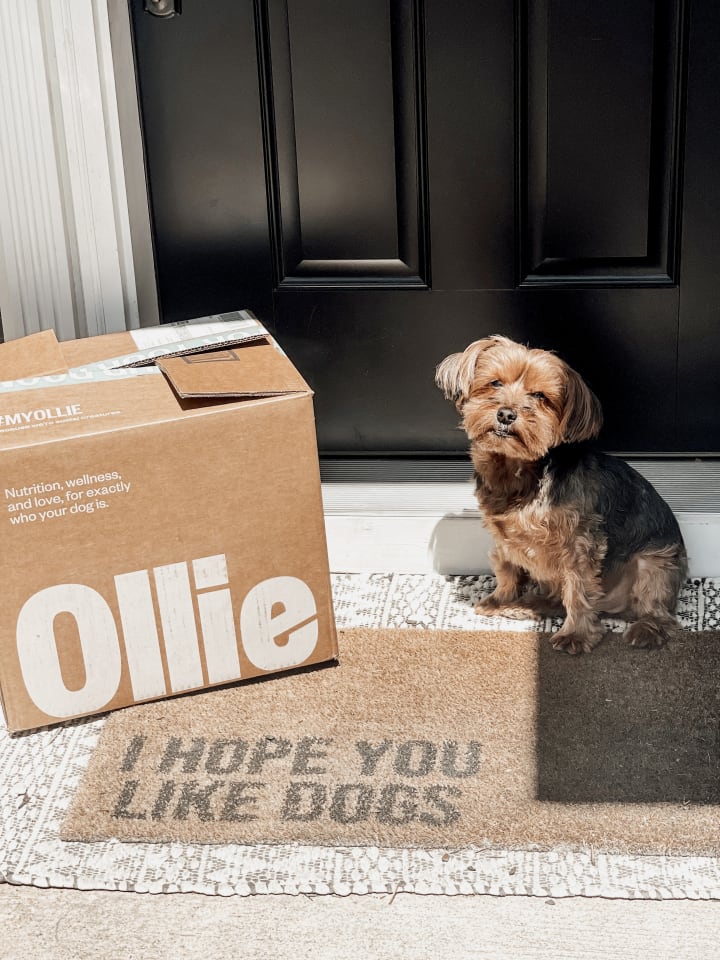 The Final Verdict
Here's the key takeaway: it's not just about when or how your pup is fed — it's about how much nutrition is packed into their food and how safe it is for them to eat it at any given time.
That's why I only trust Ollie to get the job done.
It doesn't matter whether Paris and I are on-the-go or spending a relaxing day at home. Ollie is the perfect choice no matter the time of day. It's made of all-natural ingredients and is perfect for scheduled feeding via two meals a day.
I love feeding Paris fresh food like the ones from Ollie because it's minimally processed and made of super fresh ingredients — ingredients I'd even eat myself! It's meant to be refrigerated and can't be left out for more than two hours without losing its quality. That says a lot about the ingredients, especially when you consider that some dog foods never seem to expire (gross, right?).
So no matter what kind of feeding schedule you prefer, rest assured that it doesn't matter all that much. Just make sure you're choosing the best possible food for your four-legged friend. Believe me, I've done enough research for all of us, and I choose Ollie each and every time!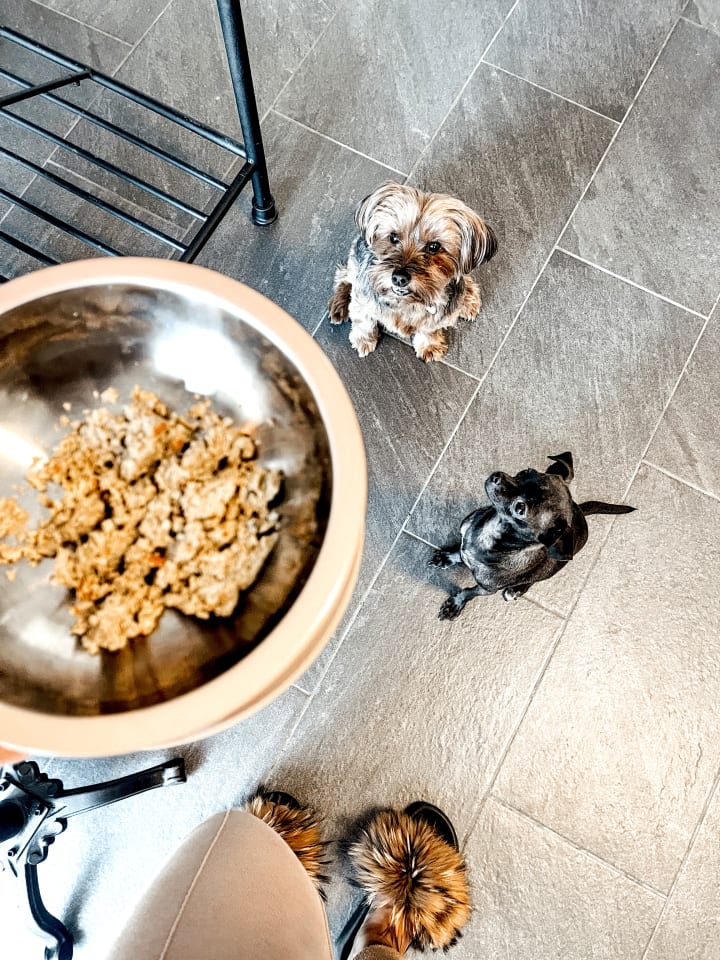 About the Creator
Atlanta-based dog mom of 3 and lifestyle blogger dedicated sharing the brands, pet training tips and lifestyle hacks that dog moms love.
IG: @lindseyandcoco
Reader insights
Outstanding
Excellent work. Looking forward to reading more!
Top insights
Eye opening

Niche topic & fresh perspectives

Easy to read and follow

Well-structured & engaging content

Excellent storytelling

Original narrative & well developed characters
Expert insights and opinions

Arguments were carefully researched and presented

Heartfelt and relatable

The story invoked strong personal emotions

Masterful proofreading

Zero grammar & spelling mistakes

Compelling and original writing

Creative use of language & vocab

On-point and relevant

Writing reflected the title & theme
Add your insights