Finding Home
Home is where we are.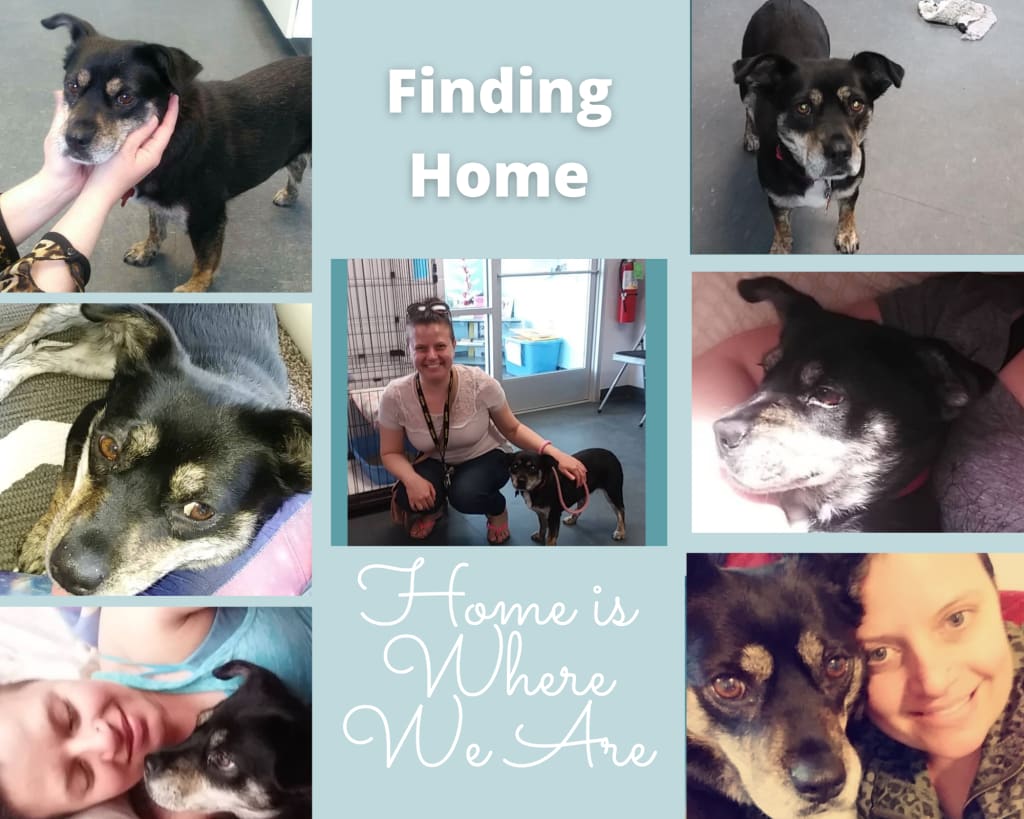 Little Luna Lulu, from shelter to home.
When I got recruited for a new position in Michigan, I knew it was time to get a dog. After all, I'd be moving alone to a different state where I knew no one and didn't want to be too lonely. My senior dog, Doby had recently passed away after 14 years. I was heartbroken but I wanted to fall in love again. I scoured Petfinder.com and other adoption sites for the perfect dog. I was open to any breed or size. I was hoping to find a small or medium-sized dog though since I'd be living in an apartment. I spent several weeks looking at cute portraits of adorable pups. I even emailed a few different shelters inquiring about some. Then, I saw her. I saw her cute little innocent brown face with light brown eyebrows, stubby legs, and floppy ears. She was one and a half years old, housebroken, and loved to roll in the grass. My intuition said this was it. I knew she was the one for me. I just knew.
Only days after making the move to Grand Rapids, I made the hour drive to Allegan County Shelter, in the middle of nowhere, to meet her. I remember they brought her into a small room with me and my sister. They told me they were calling her Shannon after the shelter worker who was fostering her. She had her tail between her legs and her head down the entire time. She was trembling. She had a stern, sad look on her face. She wouldn't take treats from us. She'd let us pet her a little, but seemed very unsure, and never once wagged. It didn't matter though, I'd fallen in love. I knew these were all signs of an abused dog and it completely broke my heart. I wanted to just take her home and love on her unconditionally until she realized I would never hurt her and she was safe. I asked if I could walk her a little, since I knew this was the fastest way to a dog's heart. They warned me that she was a very skilled escapee and runner. She had a special collar that tightened when she pulled. I took her on a little walk and she was thrilled. I think she may have even wagged a little.
Once back inside, the staff told me how wary they were when it came to adopting her. They questioned me relentlessly. Did I have time for a dog? Would I be kenneling her for long hours? Would I have time to care for her, to pet her, to play with her, to walk her? They said she'd already been through a lot and they had turned down others who wanted to adopt her. They explained to me that she had heart worms and that they would only adopt her to me if I did the short-term heart worm treatment, which was a treatment they already had her on. They required me to find her a vet and make an appointment to address the heart worms prior to allowing me to adopt her. They wanted her to have a safe and happy life after all she'd been through and didn't want to adopt her to just anyone. I knew nothing about heart worms, but I agreed. The paperwork was long and intense. I had to wait to let them call references and discuss what they found about me. I was nervous as I waited. I already fell in love with her, what if I couldn't adopt her? I'd be crushed.
I went home and called around until I found a good vet close to where I lived. The vet said they would call the shelter for me. Then, I waited to hear back from the shelter. They let me know I could come see her again and possibly adopt her after more discussion. I was thrilled and hopeful. I went back to visit her. She was in the little front office sleeping under a desk, waiting to meet with me again. When I walked up she walked to the front desk and stood on her hind legs wagging. She remembered me and was happy to see me! I took her for a walk again. I remember how excited she was to be outside. When we went inside, they said to sign the paperwork, make a payment and then she'd be mine. I was beaming.
The next thing I knew we were walking together to my car. She was mine! They gave me her bed, which I placed in the front passenger seat. I used her leash to attach her harness to the seat as a seat belt. We were off. She slept the whole way home. As soon as we arrived home, she got really scared being in a new place and immediately peed on the floor and ran away from me. I gently took her outside and said, "Go potty." When we got back in, I laid down on the floor and patted for her to come to me. She laid down too. I kept patting. I patted until her nose met with mine and we cuddled as I pet her. "You haven't had the name Shannon for long and it's a horrible name for a dog. I'm going to call you Luna."
She didn't eat much at first and had no interest in treats. I showed her all of the toys I had bought for her. At first, she just showed mild interest. I couldn't convince her to jump up on the couch or bed. She would run up to it, then run away scared. I believe she was hit for that before. I noticed some other strange behavior from her. She was terrified of strangers and new places, especially enclosed rooms. I noticed there was a line on her nose where the hair was missing. It indicated she had been kenneled a lot and had pushed her nose against a cage wire repeatedly. I decided not to kennel her. She was very skittish. She would duck and run if I picked up anything near her. I also noticed she would ration her water. She wouldn't drink often either. I believe she was afraid if she drank too much and wouldn't be let out, she'd pee on the floor. I believe if she peed or did anything her previous owner didn't like she was kicked or hit. What kind of coward trapped an innocent little dog and terrorized it, abused it, beat it? It made my blood boil.
She never barked. Never. I was determined to spend the rest of Luna's life making it up to her. I laid on the floor and patted the ground so she would scoot to me every day when I arrived home, so she wouldn't be scared. I discovered Luna already knew how to sit, come here, and lay down. I taught her some new tricks. She was super smart; she quickly learned how to shake, give kisses, stay, jump up, roll over, wait, and heal. I even taught her "chill," which means to walk slower and stop pulling on the leash. She quickly warmed up to her toys. I found that she was the perfect pet. She didn't bark, wine, chew, pee or poop inside, or do anything negative at all. My mission was to pull her out of her shell, to make her feel safe and loved.
I learned that the heart worms were going to be a much bigger issue than the shelter had let on. I took Luna to the vet and they said the slow-kill method was dangerous because it takes too long to cure heart worms; It would only kill the larvae but leave the adult worms to die naturally. Every day the worms were in her body, they were damaging her heart. The vet gave me info to read. I was shocked by the price and wasn't clicking with the first vet so I decided to get a second opinion. After all, everyone at the shelter was adamant that the slow-kill method was best for her. I went to see a second vet in the same office who did an x-ray of her heart. Her heart was very damaged. He agreed and said all vets would agree that the safest thing to do was the fast-kill method. The scary part was that it was risky and it could kill her. The worms would die, and as they die they would circulate through her veins and arteries until the body can dispose of them. This could cause a heart attack. In addition, it would be a long process because she needed to be on the slow-kill method for a certain period of time prior to getting the fast-kill treatment. We had to wait three months. Then, it would consist of two shots a month apart. I was worried, but I made the choice to go through with the fast-kill method.
Over the next few months, she slowly got more comfortable with me. I would hold her and sing to her. Even though we started to bond right away, I had her for about six months before she would turn her back to me. She would back out of a room to "follow me." She loved to go for our daily hikes in the woods of Michigan. She loved to play with me and her toys. She quickly learned that if I came home with groceries there might be a treat or a toy in one of the bags for her. She'd stick her nose in to look. Eventually, she started letting me pick her up and hold her like a baby. She started sleeping in my bed. She was the perfect little sidekick. I brought her everywhere with me. She met my family, distant relatives, and friends. She had a rough past and was a true scaredy-dog. She was terrified the first few times she met new people, but she slowly started to lighten up. I will never forget the first time she met my sister's pugs. They have big personalities. Let's just say they are a lot to handle. She didn't want anything to do with them so they pummeled her with boops, kisses, and sniffs. Then, they barked loudly at her the entire time we were there as she hid behind me on the couch. I noticed a pattern with Luna and other dogs. She didn't mind other dogs, but she was very shy around them and would not play with them.
Three months passed and it was time for her first heart worm shot. The treatment is basically like chemotherapy for dogs. It is very hard on their bodies. I would have to leave Luna at the vet all day for observation afterwards. I dropped her off for her first shot, and not too long after, the vet called me. He said she was running scared all over the room and they couldn't contain her to give her the shot. He told me it would be dangerous to try to give it to her when she's moving because it's such a big needle. So, they asked my permission to sedate her. I got a call a few hours later that she was awake and basically freaking out again. They asked me to come get her since she'd be safer if she was calm at home. Luna was sick for the next week. She got so sick I had to take her back to the vet. She was dehydrated and they gave her a saline solution. Luckily, she started feeling better quickly after. The second shot went just about the same way. Two times running from the vet, two times sedated, two weeks of illness, and $3000 later, Luna was done with her heart worm treatment. I had no way of knowing if her heart would ever heal or how long she would live. To top it off, the vet told me Luna was about 3-4 years older than they told me at the shelter. I cried. I loved her so much and finding out she'd be around a much shorter time was heart wrenching. I had no way of knowing how long.
Luna would continuously surprise me with changes. Around eight months time, she barked for the first time at a neighbor in the hallway. It was at least six months if not a year later before I heard her bark again. By a year to a year and a half A.D. (after adoption) she would run up to any stranger for pets. By three years after adoption, she had settled into barking when someone was at the door, a cute and quiet bark; Not a ton of barks, one maybe followed by another, three at most. We moved together to IL around the one year mark and at this time I started frequenting the dog parks with Luna. At first, she was a wallflower, standing on the sidelines wagging and panting. She would occasionally go up to strangers for pets, but was very shy around the dogs. Then, there was the day she met a huge, white German Shepherd. Much to my surprise, she ran right up to him and wrestled with him. He was at least five times bigger than her. A few months later, she made friends with two Saint Bernard's.
Nowadays, over three years later, Luna is healthy, happy, and strong. She's a whole different dog than she was the day I adopted her. She howls when ambulances go by. The pugs are two of her best friends. She loves to run around and wrestle with them. She always barks at the mailman. She doesn't get afraid of strangers or intimidated by other dogs anymore. She is no longer a runner and can go off of her leash. She is truly loyal. She will stay by my side and listen to my commands. She still loves to cuddle and she adores me singing to her. Rolling in the grass (or leaves, snow, dirt, you name it,) is still one of her favorite things. She puts her head against my forehead to ask for nuzzles and makes little love noises when she gets hugs and cuddles.
The best thing about adopting a dog is that they are absolutely grateful for it. They will never forget it. Luna knows she's in an incredible home and she knows what it was like to have the opposite. She was able to trade in fear for love. What Luna doesn't quite know is how much she has helped me these past three years. The year I adopted her was one of the most difficult years of my life. I was completely isolated in a new town, working a high stress job. I lost myself that year. I can't imagine how I would have survived without her by my side. She was there for me through the ups and downs of 2020, through the uncertainty of a pandemic, and now through having long-term Covid. She is always patient and sweet. She cares for me just as much as I care for her. It's like she puts me first in her thoughts. In fact, maybe she does know. Luna is my family. We found a home together. A place where she will always feel safe and where I can never truly be lonely. I will spend the rest of our days together making up for any pain and suffering she has experienced at the hands of evil humans. For us, love wins!