Beasts of the Wild
Feed Me!
This Australian Wallaby has something to say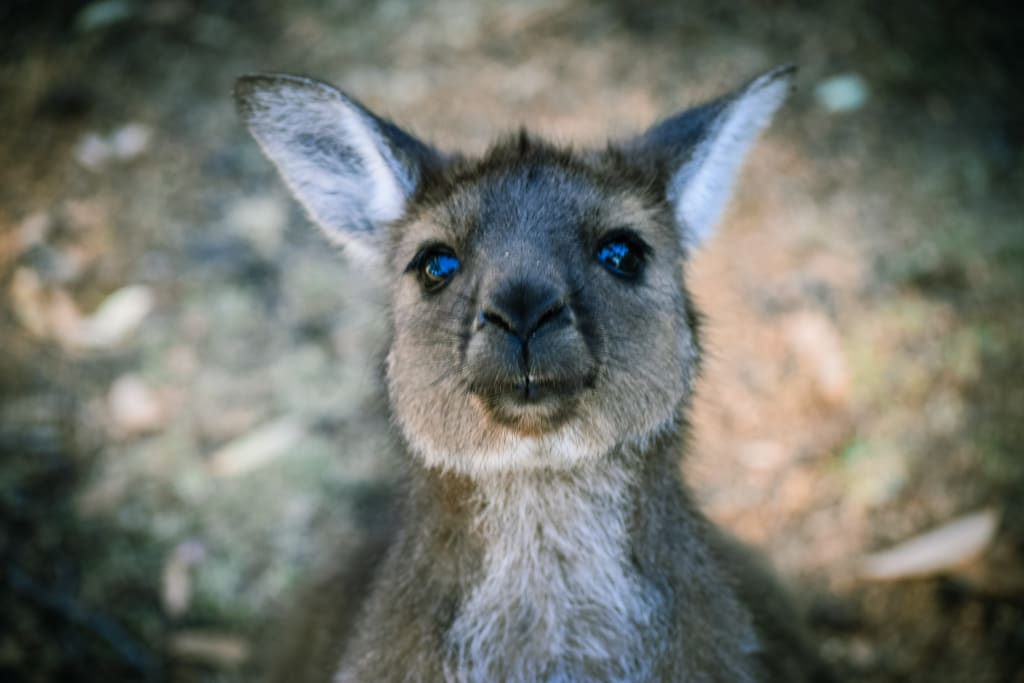 Notice the wallaby's eyes. Yes, the sky really is that blue here.
While living in the Adelaide Hills in South Australia, one of our favorite activities is visiting Cleland Wildlife Park. This conservation park offers an immersive nature experience where we get up close and personal with Australian wildlife. Very few of the animals are in cages, so I liken it to a several-acre petting zoo. As you walk in the doors, you can purchase a small bag of food and get started on your adventure.
Our favorite part of the bushwalk is visiting the wallabies. These can best be described as mini-kangaroos. They actually love interaction with humans and will hop right up to you. While some people are startled and will put food on the ground for them to eat, we prefer to put a handful of pellets in our hands. Their hands are very similar to ours and they will wrap each finger around each side of your hand. Then, they gingerly lower their face into your palm as their soft whiskers brush up against your hand. As they eat, you can easily pat their backs with your other hand.
In this photo, one of our favorite wallabies saw me from across the park and hopped over to me. I felt like we were old friends as I reached into the bag of food pellets. You can see the look in her face as she was asking for more food. Notice her eyes. I love the way that the blue skies reflect in her pupils. We often spend 10 minutes with her before I walk off. Just like a puppy or kitten, she follows me until I leave the paddock.
In June, many of the females have joeys in their pouch and nothing could be cuter than seeing them peek out to see the world. The joey in the photo below is still relying on its mother's milk but will soon take a few hops out of the pouch when it is warmer outside.
After we finish in the wallaby zone, we had through the kangaroo and emu areas. Kangaroos can be as tall as a woman and occasionally, we will see them boxing each other, just like what you probably saw in a Bugs Bunny cartoon. While the kangaroos also like a nibble, they aren't as likely to hold your hand when they eat, maybe because they are taller and have better balance.
Emus are funny looking birds that are as tall as an adult person. They are quite friendly in the park and will walk up to you for some food. I recommend that you put food on a rock, tree stump or the ground rather than having them eat out of your hand, because their beaks are strong and it can hurt a little when they peck at the food. As they approach you, be sure to listen to a low thumping that comes from their chests, similar to dolphin echolocation. It's their way to communicate and the sound can carry a long distance.
Cleland Wildlife Park is one of the few places in Australia where you can actually hold a koala for a fee. If you would prefer to hold onto your money, you can also have a koala encounter where you can pat them and learn more about their behavior on-on-one with a wildlife carer, for no additional fee.
I took this photo using a Nikon D5500 and a 55mm wide angle lens, set on the auto setting. The image didn't need retouching. The best time to go on a photo safari at Cleland Wildlife Park is when they open at 9:30am. The sun isn't too high so you can avoid harsh shadows. The added bonus is that they animals are ready for breakfast, so you can get a feed and a cuddle in before their afternoon nap.