Dear San Diego, Thank You for Saving Pandas
After caring for giant pandas for more than two decades, the San Diego Zoo in California is about to bid farewell to its two remaining bears.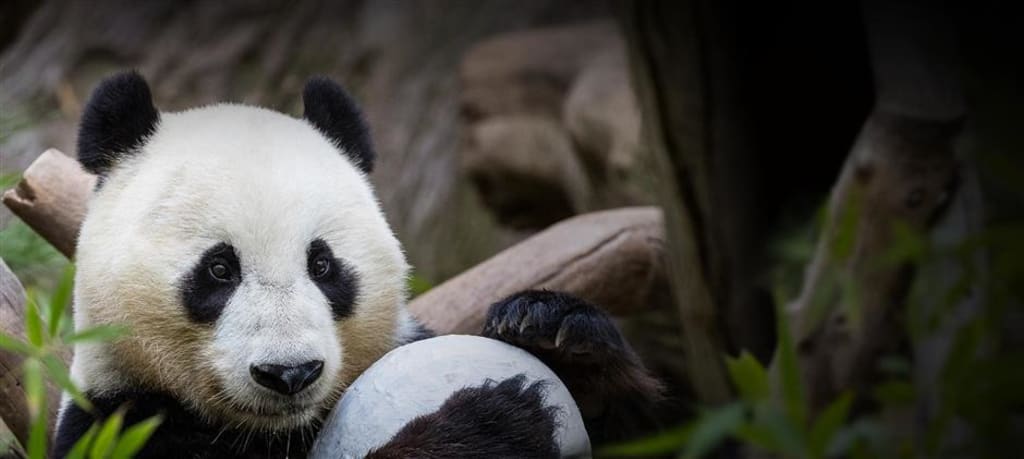 Photo by the San Diego Zoo
Last week, officials at the San Diego Zoo announced that Bai Yun, a 27-year-old giant panda matriarch and her six-year-old Xiao Liwu, will return to their native China by the end of April. For more than twenty years, San Diego's giant panda family has given zookeepers, veterinarians researchers, and guests from across the world the chance to learn about the natural history of these endangered bears in ways that were nearly impossible with wild studies in China. At the time that this article was being written, the San Diego Zoo was one of four zoos in the United States to house giant pandas.
While the news may sound shocking to those who regularly visit the zoo for the sake of the seeing the bears, it should not come as a surprise to those who have been following San Diego's panda saga since Bai Yun first arrived in California with her first companion Shi-Shi, in 1996. This is because the pandas were sent to the state from China as part of what was originally going to be a 12-year breeding and long-term conservation loan that was aimed at not only breeding pandas but also, find better ways on how to better protect these bears and preserve their habitats through collaboration with the Chinese government. However, thanks to the births of six healthy cubs, this loan was extended a couple of times.
When the zoo first began the panda program, it was believed that there were less in 1,000 pandas left in the wild with a handful residing in zoos. However, thanks to a successful breeding program, an effective outreach program that was aimed at improving conservation efforts in China and a whole new understanding of giant panda biology, the wild giant panda population is now up to more than 2,000 animals and are less threatened than they were when the program began. In fact, Bai Yun, and her cubs Hua Mei, Mei Sheng, Su Lin, Zhen Zhen, Yun Zi, and Xiao Liwu helped produce an additional 22 pandas in China alone. As of 2016, the giant panda has been listed as "vulnerable."
While I am on the subject of panda cubs, the San Diego Zoo became the first US zoo to successfully breed giant pandas and produce a cub that survived for more than a few days when Hua Mei was born 1999. A product of artificial insemination using frozen semen from Bai Yun's first male companion Shi-Shi, Hua Mei would go on the win the hearts of millions around the world with stories of her progress, her eventual move to China in 2004, and the birth of her own cubs in the years that would follow. In 2003, Bai Yun welcomed a son named Mei Sheng with her second, and last male companion Gao Gao and became the first panda to be born at a US facility to be the product of natural mating between his parents. His birth would soon be followed by the birth of his siblings Su Lin in 2005, Zhen Zhen in 2007, Yun Zi in 2009, and Xiao Liwu in 2014. One veterinarian once described the panda births as being "exciting as the first". However, none of the cubs were ever destined to remain in San Diego for life for because, under the agreement, any giant panda cub that is born under the zoo's care has to return to China when they are old enough to breed. This rule is applied to all foreign zoos that house giant pandas.
In 2016, the zoo announced that Gao Gao, Bai Yun's longtime friend and the father of five of her cubs, had developed heart disease and was required to undergo treatment for it in order to prevent it from getting worse. Two years later in October 2018, he was sent back to China after spending fifteen years in San Diego. He was originally sent there to replace Shi-Shi as a then-potential mate for Bai Yun.
What can be learned from the incredible legacy of the San Diego Zoo's giant panda family? Zoos can save a species through conservation, research, and education. In fact, thanks to San Diego and other zoos that currently house pandas outside of China, these beautiful bears have become one of over twenty species to have been saved from extinction thanks to the tireless efforts of zoos worldwide. In fact, it is safe to put the giant panda on the same list as the California Condor, the black-footed ferret, the Przewalski's wild horse, the sea otter, the Arabian Oryx, the American Bison, the Florida manatee, and the Bald Eagle as being the among the animals to have been saved from extinction through zoo-based conservation efforts.
While it is sad to see the bears leave California, we now hope for the best for the panda family as they get prepared to leave for their ancestral home while the researchers look for new ways to redefine panda conservation and research in the future. It is also possible that they could also get a new pair in the future.
About the Creator
Zoo and Aquarium Professional, Educator, Cosplayer, Writer and B.A. in Psychology whose got a lot to share when it comes to animals, zoos, aquariums, conservation, and more.
Instagram: @jennacostadeedy
Reader insights
Be the first to share your insights about this piece.
Add your insights