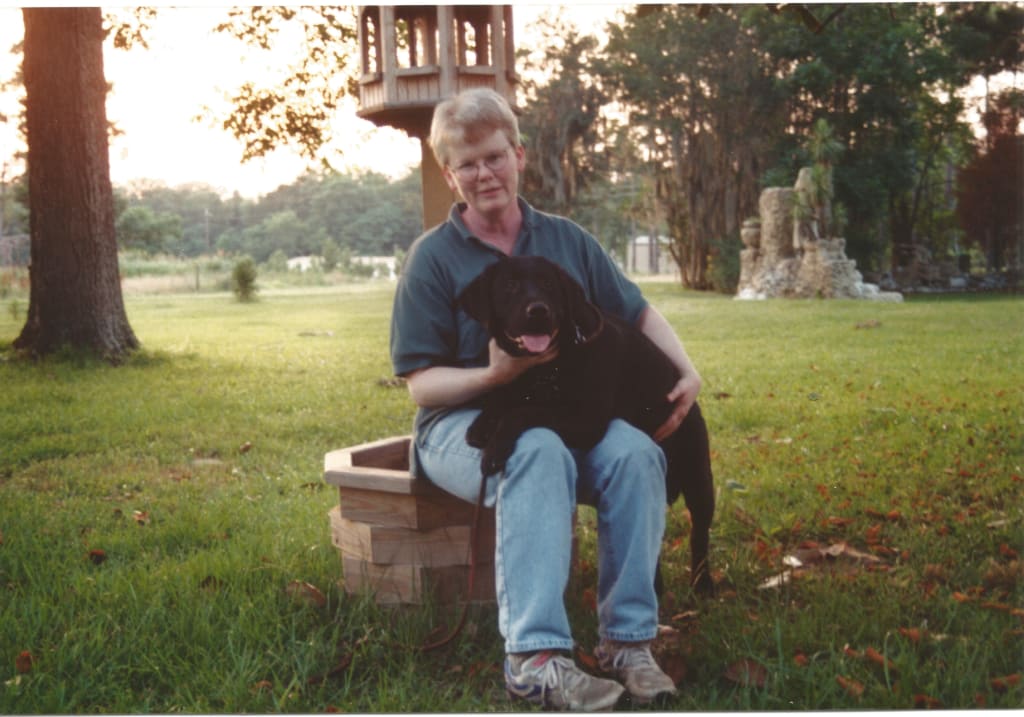 When we first met, Grady was warm and accepting. He was a happy, black lab puppy and well worth protecting. He was dark and handsome, young and quite small. I knew if I loved him, he wouldn't mind at all.
He was robust, wiggly, and alive with great glee. He leaned in with a warm, wet kiss solely intended for me. Though it was unexpected and awkward, I was never gladder. And although we were strangers, it really didn't matter.
He jumped, and bounced and wriggled with excitement. And I stroked him gently after his loving warm enticement. His belly was smooth and round. He was full and satisfied. He wagged his tail and smiled at me. I was happy, so I cried.
Though he'd never before met me, I was mighty well accepted. My face buried in his fur. I sighed, "you'll never be neglected." He seemed to understand, as I tossed him into the air. And when he landed in my arms, more than a puppy landed there.
We'd bonded in a matter of minutes, but time didn't matter. For it lasted ten years, his love, his loyalty, my laughter. I talked to him daily and he talked back to me. But that he was growing older, I didn't want to see.
Then one day I went to greet him and he seemed on a journey. Grady was going down. His candle was dimly burning. His pace had grown slow and his eyes were growing dim. His spirit had already warned me that I'd soon be losing him.
As he greeted me that day, nothing was the same. He wiggled. I stroked him. But my heart tugged in pain. He asked me not to leave him. He couldn't say goodbye. He said, "I'll stay deep in your heart, even when I die."
Soon, the vet knelt beside us inside Grady's domain. He thumped a cold needle and slipped it into his vein. I kissed Grady's face and he gently kissed me back. I stroked him one last time on his shoulders thick and black.
I patted him and spoke to him as if we were alone. He lay his head in my lap. But his body was sleek not toned. I snuggled even closer as he drew his final breath. Ten years of his sweet kisses flashed before his death.
When I look across green fields now, I see him racing home. Every day I think of him and I wish he'd never gone. It's been thirty years but my memories are still sharp. For Grady is still with me dancing deep within my heart.
Reader insights
Be the first to share your insights about this piece.
Add your insights