Close Encounters of the Furry Kind
A unique experience is made even more special by sharing it with friends.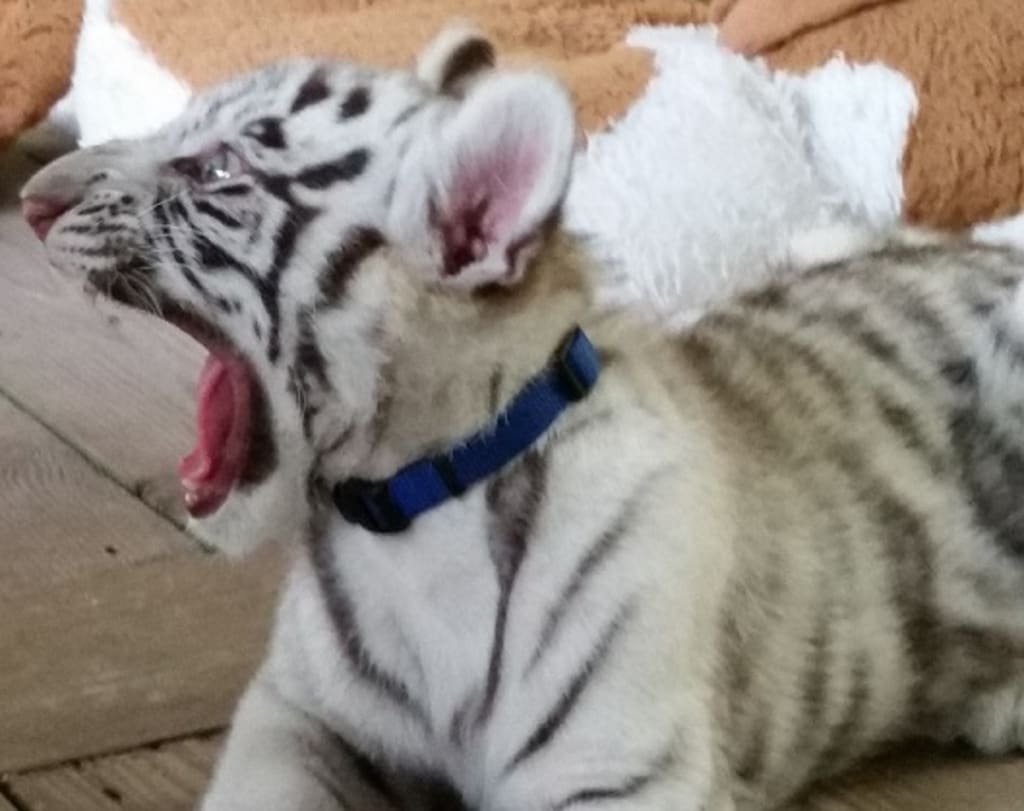 Big yawn!
In 2014, my friend gave me the opportunity to live out a lifelong dream. She'd been telling me stories about the Alabama Gulf Coast Zoo (also known as The Little Zoo That Could thanks to their mobilization and evacuation during Hurricane Katrina) for years. The zoo offered one-on-one wild animal encounters, including encounters with large cat cubs. The encounters offered depended on what new arrivals were coming to the zoo, and they stopped once the cubs got too big to safely interact with people, so spots were limited. On this particular day, she contacted me excitedly to let me know the zoo was offering encounters with their two new tiger cubs, which included a white tiger!
We quickly mobilized. My sister and her friend decided they would join us, and we managed to secure our spots. I took care of the hotel, and we eagerly awaited the big day. It was going to be a special trip, not only because of the wildlife, but also because my friend and I rarely got to see each other as adults. We were one of those rare instances of high school friends who still kept in touch, and though time and distance had come between us, we still made sure we got together in person at least once a year.
The group came together from 3 different cities, determining the best points to meet up and consolidate vehicles. We wouldn't spend the entire trip together, but we'd get as close to that as we could. The miles passed quickly as we caught up with each other; the laughter was frequent and giddy.
On the day of our encounter, we arrived at the zoo full of anticipation. Our tiger encounter wasn't until the afternoon, so we spent time touring the zoo's year-round exhibits. We also took advantage of the other live encounters that the zoo offered, starting with the lemurs.
The lemurs were surprisingly cuddly. They were also very curious, climbing all over everyone and everything they could get to. One of them found my sister's camera interesting, claiming it as his own. We all got a chance to hold a lemur in our lap and relax while scratching their heads.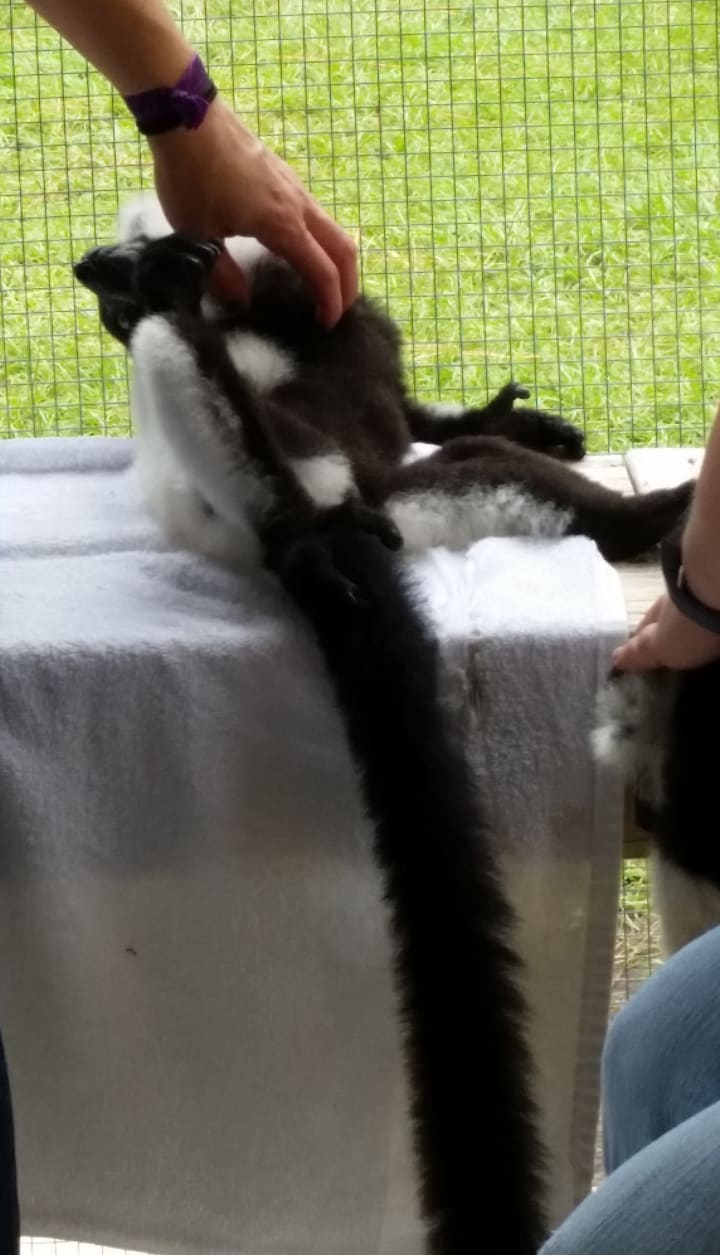 Next, we decided to spend some time with the kangaroos. The zoo won't let patrons spend time with the adult kangaroos (too many potential safety risks), but they have a fenced yard with several young kangaroos, who are more than happy to accept zoo-sanctioned treats and head pats.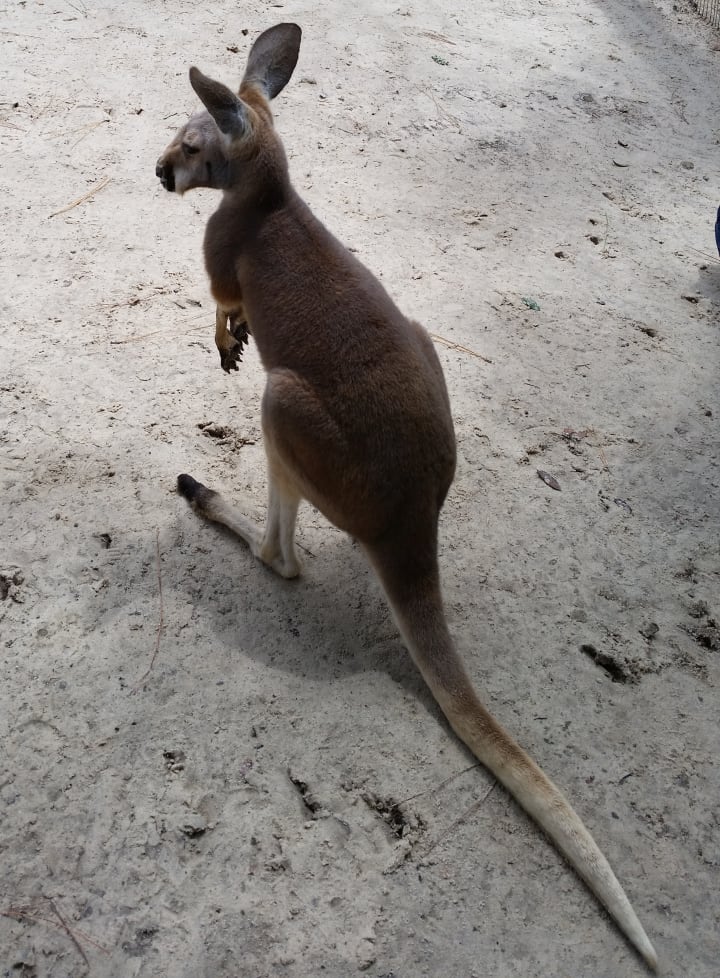 Finally, it was time for the moment we'd all been waiting for: it was our turn to play with the tigers! The encounter area was filled with plenty of toys to keep us and the tigers occupied, and a trained zoo employee was at standby to make sure the tigers (and people) were safe.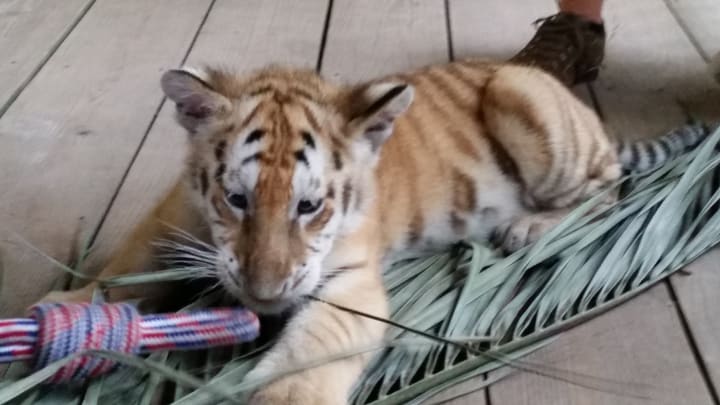 There were two cubs: one with the typical orange coloration, and a white cub with beautiful blue eyes. As expected, they attacked the toys (and each other) with all of the pretend ferocity of kittens at play.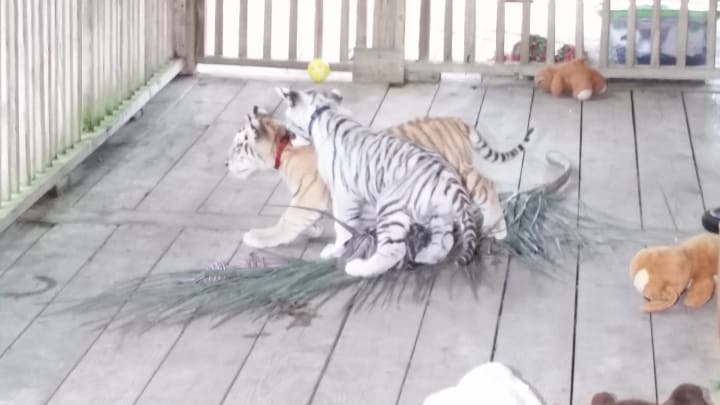 The cuddling, petting, and playing seemed like it would never end. We all had the chance to get up close and personal with the tigers (especially my sister, who got nose-to-nose with one of the cubs). We knew they would soon grow too large and dangerous to treat like kittens, but right now, they were just the right size.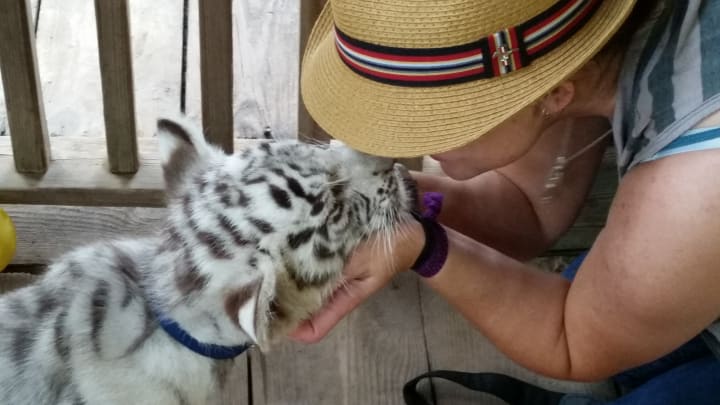 We wore out the little tiger cubs, which garnered us some of the cutest shots of the entire encounter, as each cub cuddled with its teddy bear. Now, we could feel the richness of their fur, wonder at the striped patterns that would hide them in their natural environment. All too soon, though, they were recharged and ready for round two of playing.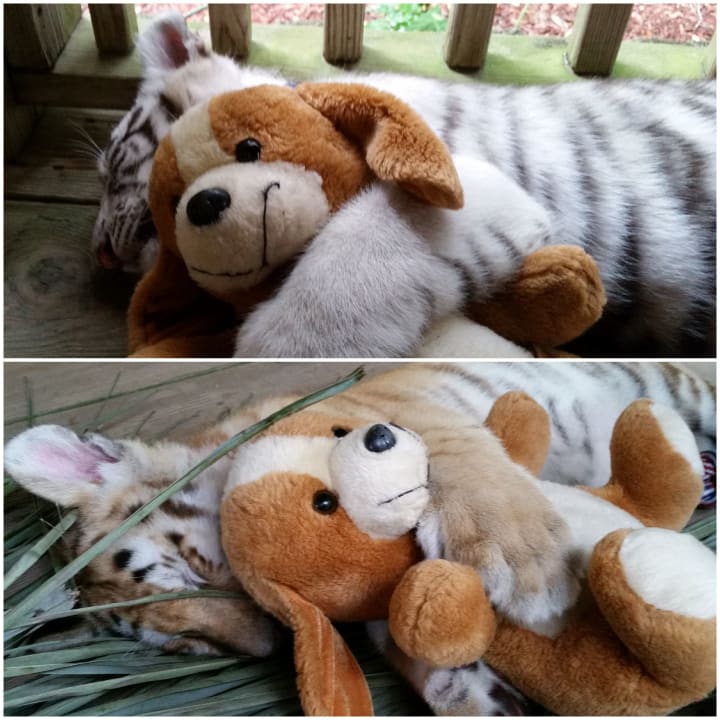 Throughout the encounter, my friends and I encouraged each other, laughed, and took pictures, relishing the shared experience. This was an event that would bond us further, a special memory we could look back on even when the years moved us ever further apart. The mere mention of that special day in 2014 would immediately bridge the gap between us. It was a close encounter with nature and a close encounter among friends.