The Pet Whisperers
Best Food for Your Large Dog
Instead of feeding your furry best friend a generic brand, serve up some of the best food for your dog.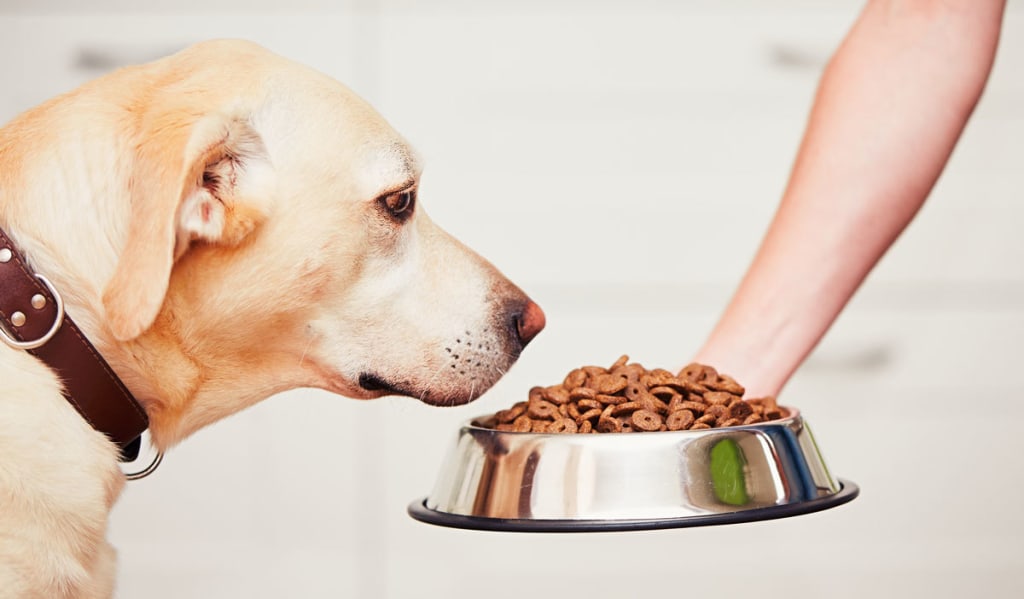 The next time you are shopping for food for your large dog breed you should purchase this nutrient-rich food that contains proteins and vitamins to encourage your dog to stay healthy and in good shape. These brands are considered the best food for your large dog. You can keep your dog healthy and not spend a lot of money. This dog food is cheap considering the high-quality of food. It's much better than feeding your dog foods that are poisonous to them.
The dog food varies based on whether you have a puppy or an adult dog. It is custom tailored with ingredients and nutrients to keep your dog healthy based on the dog's age. Before you purchase this food make sure to check if you're buying the right dog food based on if your dog is a puppy or more mature.
If you're looking for nutritious food for your large dog then you should consider Orijen Large Breed Puppy. This food is made of 80 percent meat, chicken, turkey, eggs, fish and 20 percent healthy fruit and veggies. This food will help support your dog's growth and development. It will reduce stress on developing bones and joints. This food is made of fresh and healthy animal-friendl ingredients.
This healthy dog food has all natural ingredients and a ton of important nutrients. It is intended to help your dog have a great support system. It has several fibers, it's wheat-gluten and has no meat by-products. It is rich in proteins and helps promote strong muscles and healthy hips and joints for your dog. Once your dog eats this food they will look and feel healthy.
This is the best food for your large dog since it has a high amount of protein, calcium and phosphorous. This dog food will have your dog in their prime. This food never uses chicken by-product, corn, soy or wheat making it an extremely healthy option for your large dog. Your furry best friend will love the flavor of this food and you'll feel good knowing it's helping their immune system and keeping their bones strong.
This dog food is the healthiest food for your large dog. Your dog will love its lamb and rice meal. It helps your dog's development and keeps your dog's bones strong. It contains high levels of calcium, vitamins and great ingredients for your dog's digestion. This food is suggested for large dog puppies who are up to one year old.
This dog food is rich in protein, fruits, vegetables, whole grains and oils. This nutritious food will help your dog stay at their best and be in great shape. This food has natural ingredients making you and your furry friend happy. It will help make their immune system stronger and keep their joints healthy.
This tasty and nutritious dog food is the best food for your large dog. It has high levels of calcium for bone growth and tries to encourage a healthy immune system. This food is made with natural, high-quality food that is easy for your dog to swallow. It is rich in vitamins and minerals so you and your dog can be satisfied with this food.
Instead of your dog consuming a raw food diet you should feed them this delicious dog food. Blue Buffalo Wilderness Rocky Mountain Dry Dog Food contains deboned beef, venison, and lamb. This food is rich in proteins and none of the grains have gluten. Also, it has no chicken by-product meals and no corn, wheat or soy. This food is no brainer for your dog since it's healthy and tasty.
This dog food is recommended for dogs who weigh more than 55 lbs. This healthy dog food has natural sources of glucosamine and chondroitin to encourage healthy bone support. The food has vitamins C and E to keep your dog energetic. Also, it has real chicken so it's safer for your dog than chicken by-product meals. This flavorful dog food is nutritious and will keep your dog satisfied.
This is considered the most nutritious food for your large dog since it has a high amount of nutrients and is rich in protein. Your dog will gain muscle strength and a stronger immune system by eating this tasty dog food. You can be confident knowing that you're helping your dog stay in good shape and have a healthy heart. This food encourages healthy digestion and provides a balanced meal for your large dog.
This food is high in protein and contains natural ingredients to help your dog stay strong and healthy. This dry dog food is one the greatest foods for your large dog since it has minerals that help your dog's bones and teeth stay strong. This food also helps keep your dog's brain active and can help your dog have strong vision. The food has real chicken, lamb or salmon in its food. Your dog will love this tasty meal and you will keep your puppy in good shape so they can live a happy and active life.