Argo: In Memorain to a Rescued Pilot Whale
SeaWorld San Diego confirms the passing of one of its beloved rescued pilot whales.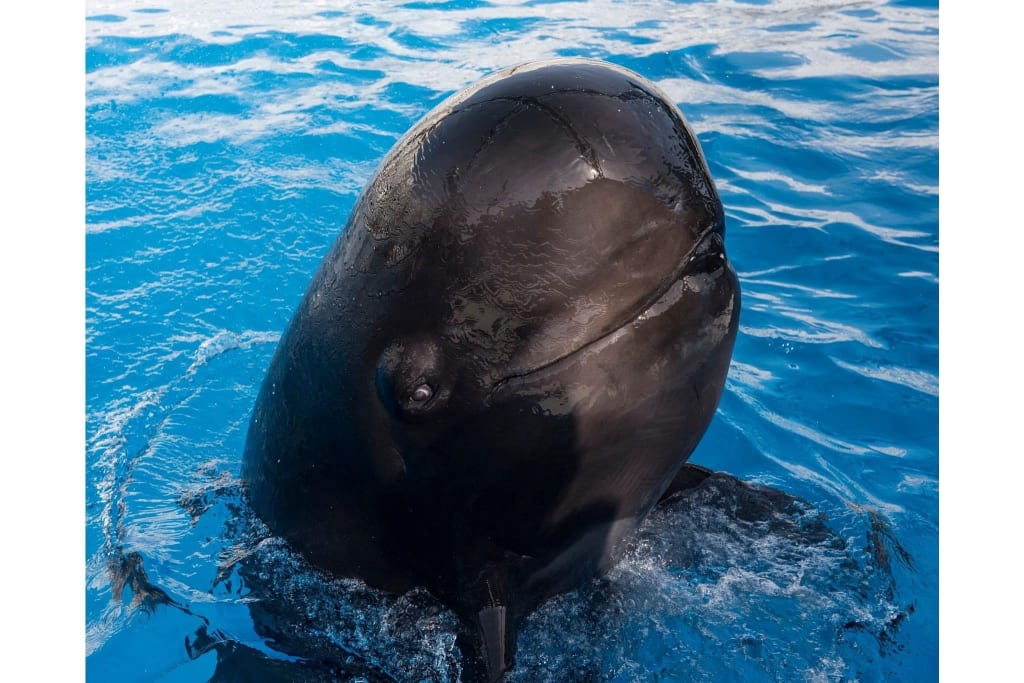 Argo the Pilot Whale at SeaWorld San Diego. Photo by SeaWorld San Diego
Argo, a 22-year-old short-finned pilot whale at SeaWorld San Diego, passed away on July 3rd. According to animal care staff at SeaWorld, Argo experienced health issues a year ago. Despite efforts by the veterinary team and zoological specialists who diagnosed and treated him, Argo could not recover from his condition.
As a young calf, Argo was rescued off the coast of Japan on January 10th, 2004. He was taken to Kamogawa Sea World, where he was rehabilitated, hoping to reintroduce him back into the wild when he recovered. When he did eventually recover, the Japanese Coast Guard attempted to release him back into the wild.
However, he ended up stranding again, and again. Because of his repeat strandings, the Japanese government declared him to be "non-releasable" and from there, he began to reside at the park that first rescued him for the next eight years.
Then, in 2012, after living at the Japanese marine mammal facility as its only pilot whale, the Kamogawa Sea World asked SeaWorld if they could take Argo in to live with other pilot whales in its care. Of course, they agreed, but upon the permit to move him from Japan to the United States being made public; it raised a few eyebrows from animal rights extremists who originally thought the animal was collected from a cove in Taiji, the major subject of the controversial documentary, The Cove. Once it was confirmed that he was indeed a rescue who was never deliberately collected from that area, SeaWorld got the okay to continue adopting Argo and become his forever home.
On March 19th, 2012 at about 5:00 in the morning, Argo arrived at SeaWorld San Diego to live with three other pilot whales who lived at the park at the time-Sully, another pilot whale rescue, and two elderly females named Shadow and Bubbles. Upon his arrival, he weighed 1,200 pounds and was 11.6 feet long. For the next six years, Argo got to enjoy to company of his new pilot whale family until the passing of Shadow in 2018.
Then, he would soon be joined by three other rescued pilot whales from SeaWorld's Orlando park in 2019. Their names were Ace, Piper, and Ava. They were rescued the same year Argo arrived in San Diego and were deemed by the federal government to be "non-releasable", because of their young ages at the time they were stranded. He would enjoy their company for the remaining four years of his life.
It should be noted that because Argo was a rescued animal who was stranded at such a young age, human care was the only option for his survival in the long run.
Out in nature, Argo would've depended on his mother for at least three to six years. It would've taken him a long time to learn how to hunt for his own food, learn to use both echolocation and sonar to navigate through murky waters, and associate with whoever his wild pod introduces him to. Because he was a young calf when he was stranded, he probably wasn't taught such skills, and therefore, would've never survived out on his own.
During his time at both Kamogawa Sea World and SeaWorld San Diego, Argo could live a comfortable life surrounded by his human caregivers who used their knowledge of marine mammals in human care to provide him with a better quality of life and form a close bond with him. Just like they do with all of their other animals.
Aside from his loving animal care teams in San Diego, Argo is survived by his two pilot whale friends Piper and Ava.
If you wish to support marine mammal rescues in Argo's memory, please donate to the California-based Marine Mammal Center, the non-profit that often works with SeaWorld and other marine mammal facilities in rescue and rehabilitation efforts.
About the Creator
Zoo and Aquarium Professional, Educator, Cosplayer, Writer and B.A. in Psychology whose got a lot to share when it comes to animals, zoos, aquariums, conservation, and more.
Instagram: @jennacostadeedy
Reader insights
Be the first to share your insights about this piece.
Add your insights