Animals my cat should take note from
We all have room for improvement.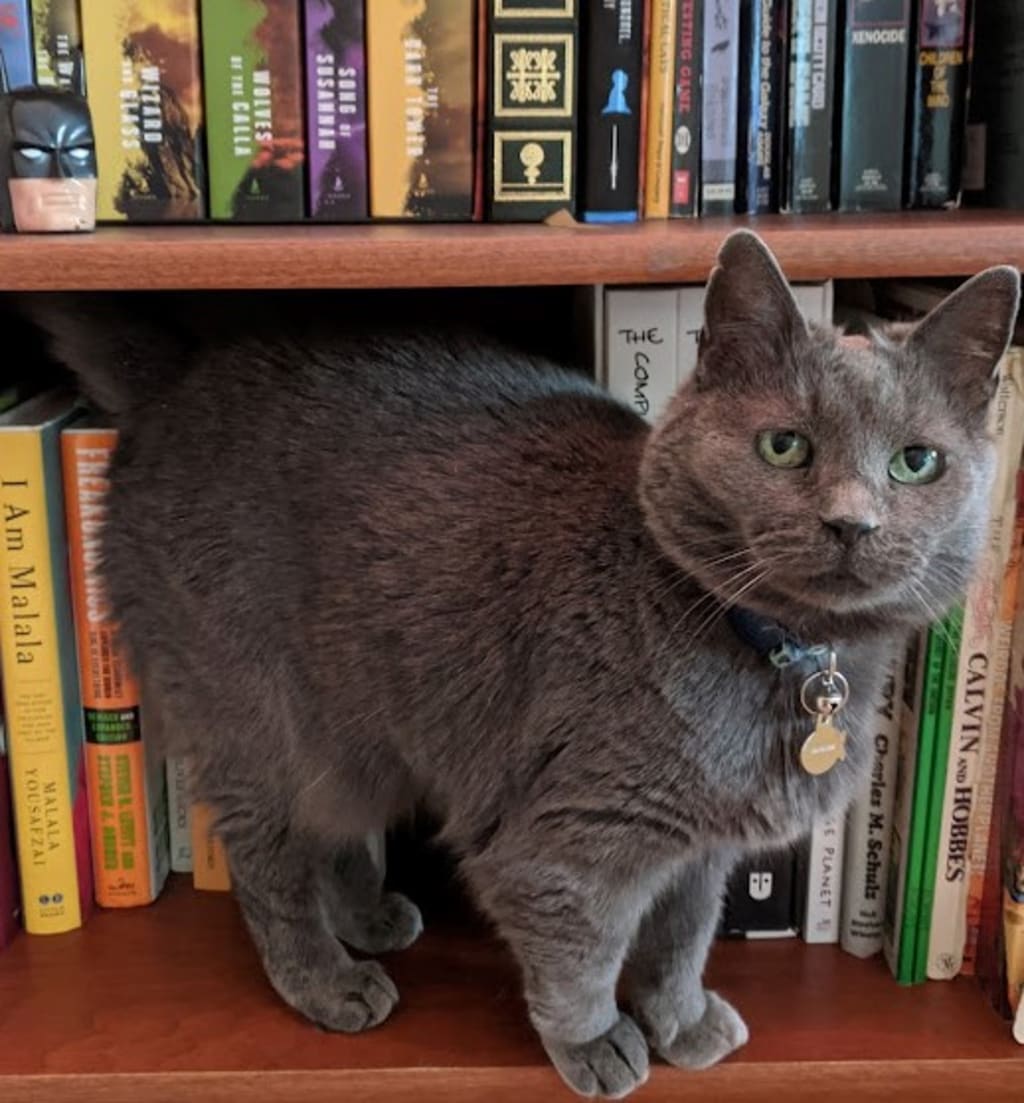 Navi the Cat
I love my cat, I really do – but let's face it, we all have room for improvement.
For me, there are many things I want to improve upon, but for my cat, Navi, there's just one thing.
One tiny little thing….
Her model face.
Don't get me wrong, I think my cat is the single greatest thing on this Earth. But it's not enough that I know this. I want the world to know this. Every person alive needs to understand that when they meet my cat, they are in the presence of greatness. And what is the best way to spread the good word?
An adorable pet costume.
So, on my honorable quest to alert the good people of my cat's wonder, I came across the most perfect costume. It was stunning, gorgeous, sophisticated, and without compare.
It was a $5 frog hat from Target.
But see, Navi did not immediately appreciate the costume I bestowed upon her. One might say she was a bit resistant. We had a slight disagreement about ear placement. I wanted the frog hat on, and she wanted a single ear out as an accent piece. A brilliant stylistic choice, I'll admit.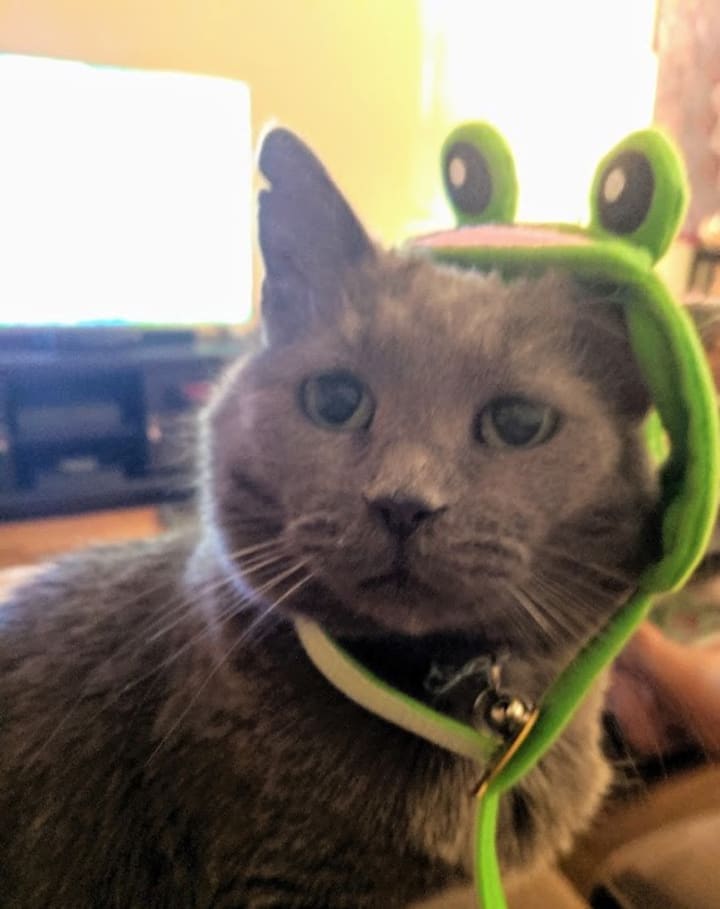 But come the next Halloween, I wanted to shake it up a bit. I wanted the two-ear combo. It was greedy, I'll admit, selfish even. But hey, I told you I had some personal things to improve upon.
Navi was not enthused. I would even venture so far as to say she was disappointed in me.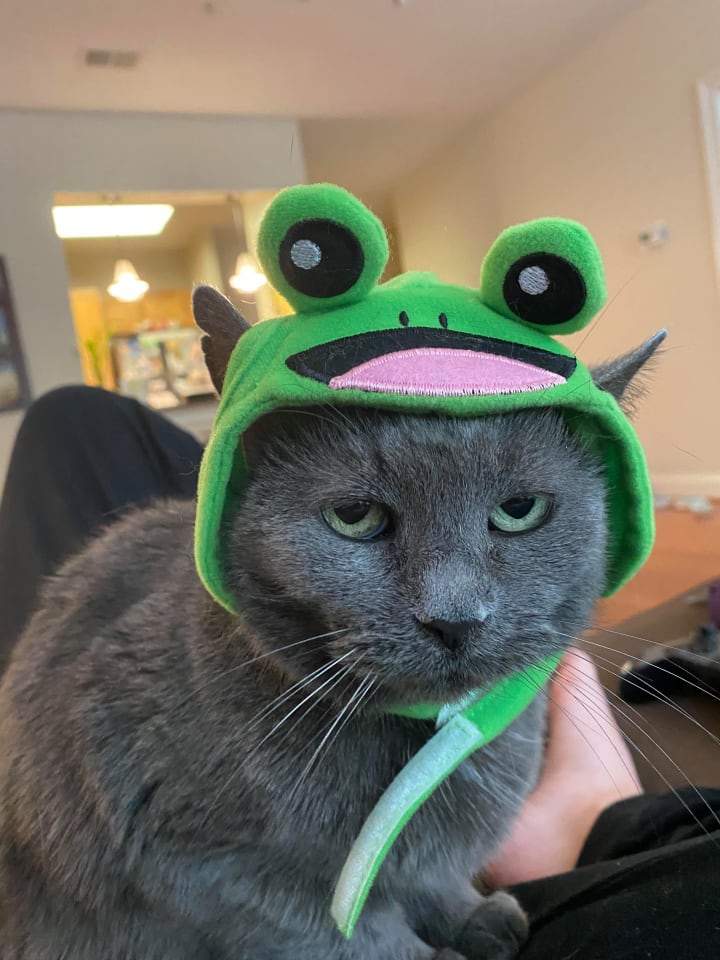 But I believe that I'm onto something here. I believe that we could really achieve a stylistic milestone if only Navi could work on her model face. No one makes it to the cover of Vogue looking disenchanted with the world.
To convince Navi, I sampled the competition. What were the other pet models doing out there? How could Navi learn from those unsung heroes of the internet?
Then I saw this stunning Shih Tzu on the Walmart pet costumes page: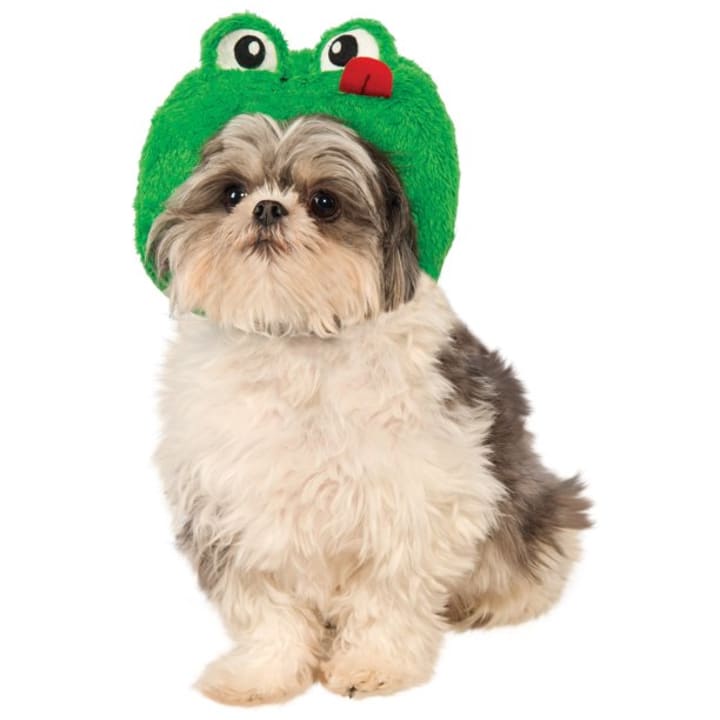 What focus, what grace. This Shih Tzu understands the goal. She sees the treats on the horizon and knows she deserves them. What an inspiration. A true boss babe.
But Navi didn't seem interested in the boss babe hustle, so I found another inspirational model in the capitalist black hole known as Amazon. Here, we could witness true royalty.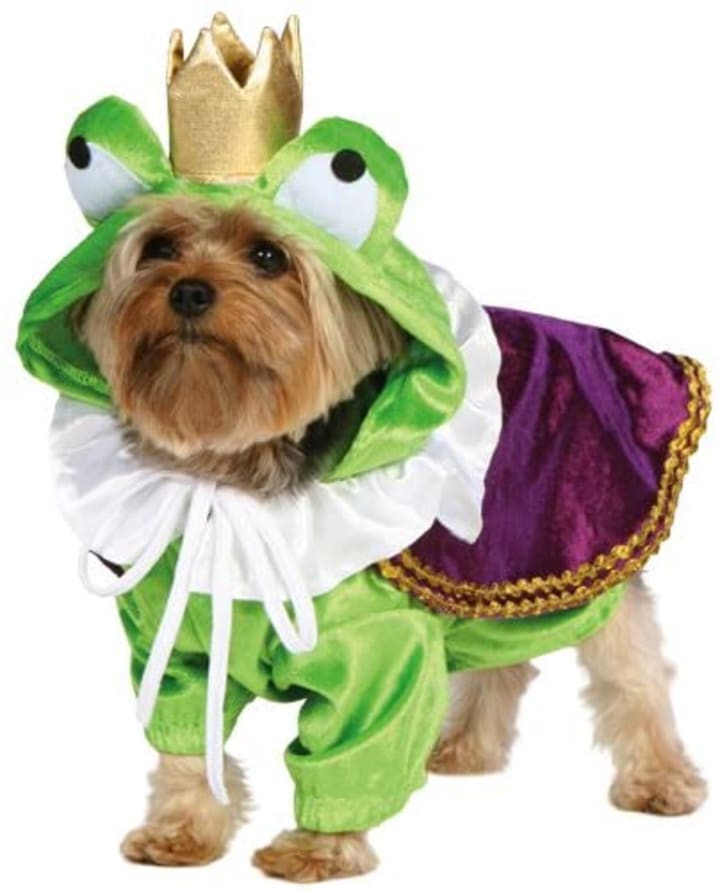 The frog prince himself. A man who does not need to be kissed to be beautiful, this handsome boy already knows his worth. His eyes say self-confidence and his paws scream self-love. His truest talent is dressing like a prince when he knows he is a king.
But Navi is not interested in royalty, she considers herself above such things. I had to keep searching. It was then I found the model hired by Esty shop, Purrs and Stitches.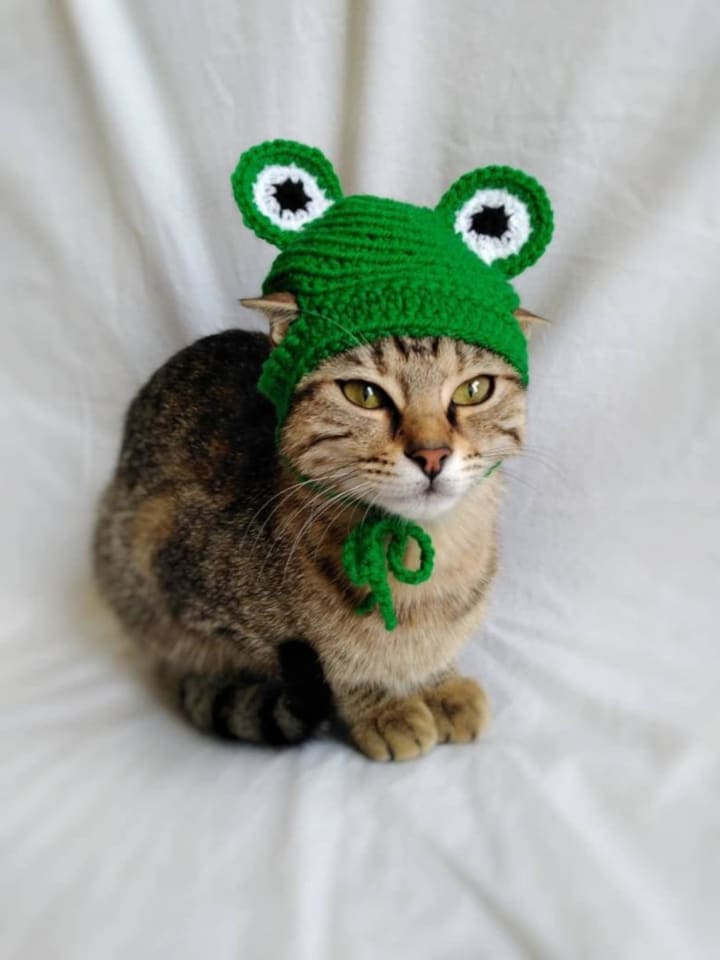 Master of the smize – smiling with the eyes - this lovely lady tore a page from Trya Bank's notebook. She is sassy. She is self-assured. She did not come here to play. She only came here to intimidate the amateur models between shoots.
But Navi let me know she still wants to seem approachable, so I had to consider the fine content of the r/aww Reddit page, particularly this masterful modeling documented by Reddit user GilluBerlin.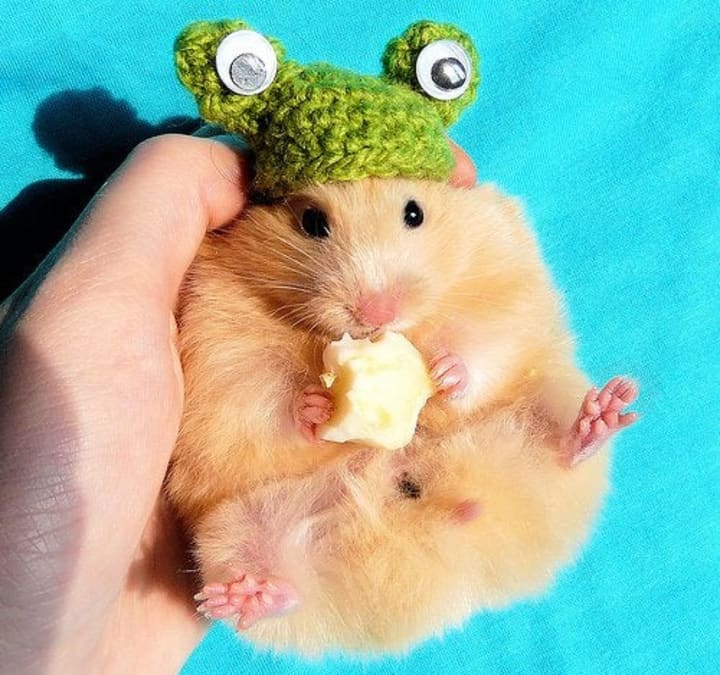 Here is a model who understands the priorities of the people. That's a face that says, "You don't have to choose, you can have it all." Comfort and class. Style and Swiss cheese. This model face lets you know that you don't need to settle in this life, with a good meal and a stellar outfit, you can take on the world.
But Navi had already lost interest. I think she knew this already. I check Tik Tok, where I find yet another animal to inspire my cat into further greatness.
The Tik Tok account of Jamie Cruttenden, the frog dad of a true entertainer. This is collaborative style, this frog-human power team wants you to know that we are never truly alone in this world. There is someone out there who understands you and would stand in your corner whether you know it or not. This is a look that challenges the viewer to think about the incredible power of empathy, love, and companionship.
I asked Navi to consider our companionship when cultivating her model face. She shook her head so violently that her hat swung around and covered her face entirely. It was an Avant-Garde fashion masterpiece taking inspiration from the COVID-19 mask mandates and the Met Gala. This look asked, "Who needs a model face when you are bold?"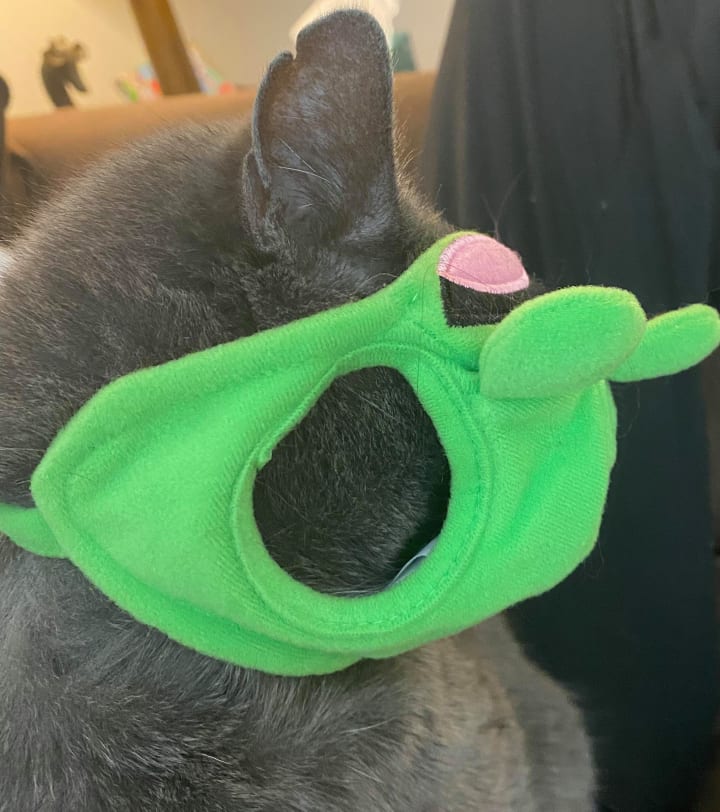 I was stunned. Perhaps there was nothing for Navi to improve upon after all. Perhaps greatness will always be great, and the lesser of us are just lucky to witness it.