An Adventure With Brandy and Minnie
My Canine Angel Dogs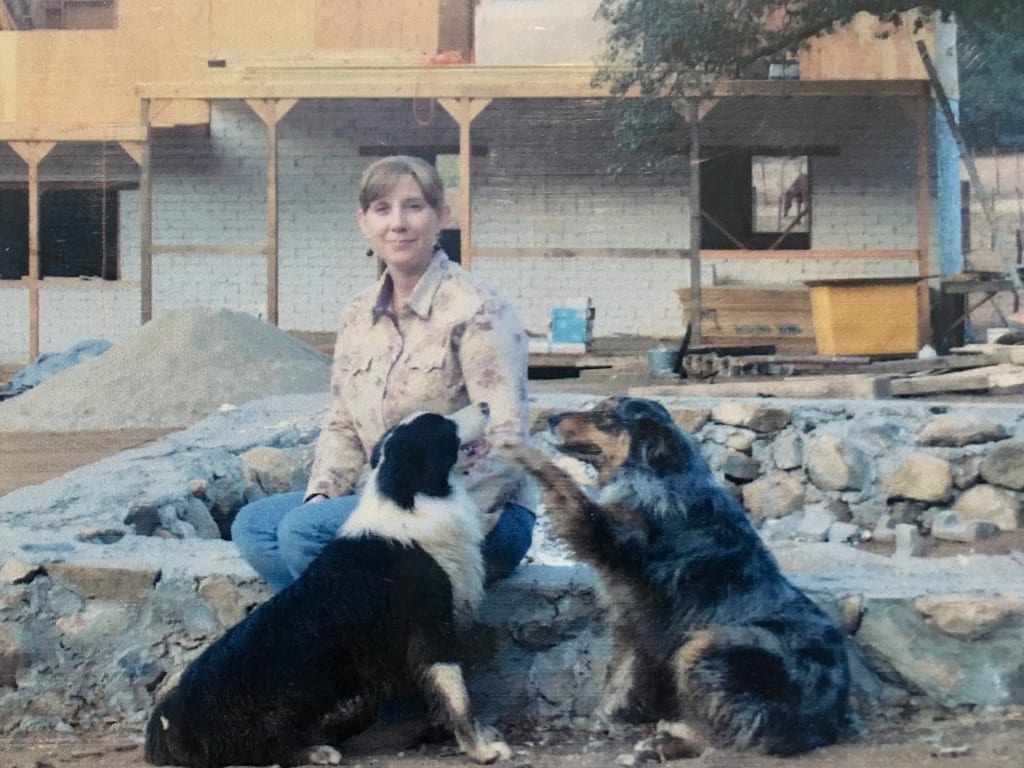 I consider myself extremely fortunate to have known some amazing dogs in my life. They were my companions, my friends, and my family.
Two special canines stand out more than others probably because not only did I interact with them all the time but when the moment of their departure from this world arrived I, like a loyal friend and caregiver remained at their side.
One of the girls, Brandy a Blue Merle Australian Shepard followed me everywhere and I never refused her company. Minnie, a bouncy happy-go- lucky Border Collie ran circles around both Brandy and me but the two of them formed a unique team. They were our vigilant trail guides. With time, they grew older and soon became known as the old gals at our ranch.
My husband and I own a guest ranch in Baja California, Mexico. People from all over the U.S. and Europe enjoy their stay with us. We take people on horseback rides and pack expeditions. We have many European friends who are eager to visit us but because of Covid, they're not able to come back yet.
This story brings us to the Spring of 2009. A couple of young English girls from London were spending their holiday in San Diego and decided to visit us at our ranch which is very close to the San Diego border. One of the girls, Elizabeth, said they were excellent riders and wanted to ride. She emphasized the word ride so my husband and I were curious to see how the English handled our mountainous trails and rocky terrain rather than riding over the soft green grass and the flatlands of England. Personally, I'd ride in England any time of the day but that is not what this story is about.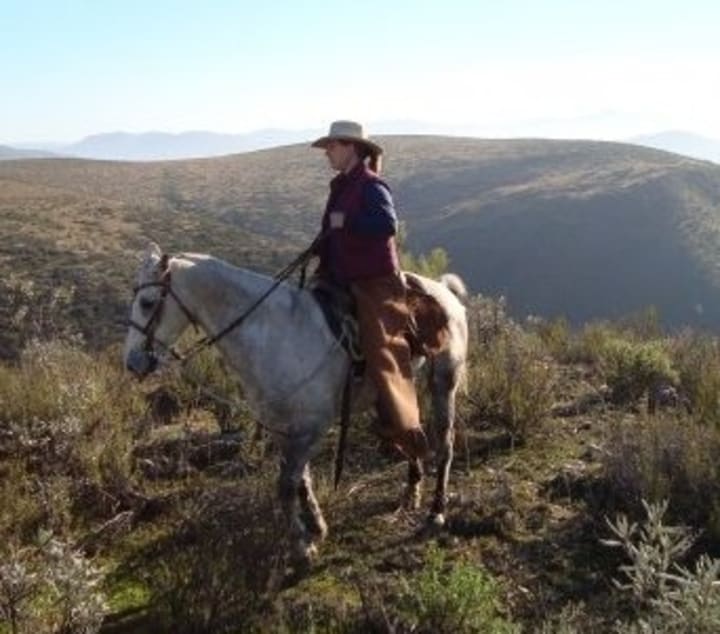 We decided to take the girls up to the highest peak on the ranch. Not as a test but it was a good long ride. Our group consisted of myself, my husband Raul, his cousin Enrique (they were the trail guides), and the English girls.
We had a typical cowboy lunch on the trail. Cowboys who work cows sometimes stay out all day. They always pack coffee and burritos for lunch. When warmed over an open campfire they are delicious.
The winding path upwards to the top of the peak was breathtaking. Manzanita bushes surrounded the trails, sagebrush lit up the air with a minty freshness. Ash trees provided constant greenery along with oak groves that lay hidden in the canyons providing us with shade and shelter.
Brandy and Minnie effortlessly bounced over the bushes and chased rabbits. Minnie did this more than Brandy. Brandy, my beautiful friend trotted alongside me just under my horse's shadow to avoid too much sun. Smart girl. She knew we had a long trip ahead of us.
The ride up the mountain had its challenges but I never doubted my horse or the other horses and their riders. The English girls were excellent riders. Raul and his cousin watched them the first hour or so then soon relaxed. No need to take care of riders today. They knew exactly what they were doing.
Once we reached the top of the peak, we needed to cross a saddle (a slope connecting one peak to the other) to get to the other side. Unfortunately, this particular saddle looked more like a thin trail with dangerous cliffs on each side. One slip of a hoof and down we'd go.
Raul and his cousin Enrique decided it best if we dismounted and walked across. First the horses. They had no problem especially with a good slap on their rumps. Then, one by one we took turns walking across the saddle. Everyone did great until it was my turn.
We were featured on the KPBS TV show Crossing South
To this day, I recap the story by saying I have great balance. And I do. That day I don't know what happened but my boot must have caught a loose rock which is why I slipped and fell in the middle of the saddle. I hung on with both arms, my legs flailing in space. Raul started to approach me when the strangest thing happened.
Both Minnie and Brandy ran to where I hung and sniffed my hair, whimpered, and licked my face as if to say, "Come on. You can do this." Then they ran a short distance to the other side and came back to me in my efforts to pull myself back onto the narrow trail. They stayed with me while I continued to walk across until I reached the other side. Never have I felt so grateful for their encouragement. My furry friends. They were truly worried about me and it showed.
My horse is another story, He fell off the side of the saddle. I remember Raul and Enrique just closed their eyes. There was nothing they could do but, agile as he was, he must have shapeshifted into a mountain goat and climbed up the rocky mountain on the other side and back to us. He gave me a huge fright.
Minnie and Brandy are long since passed but those two are my special Angel dogs. I'll never forget them. That day among many days was a highlight for me. Their antics and our adventures together are buried deep in my fondest memories.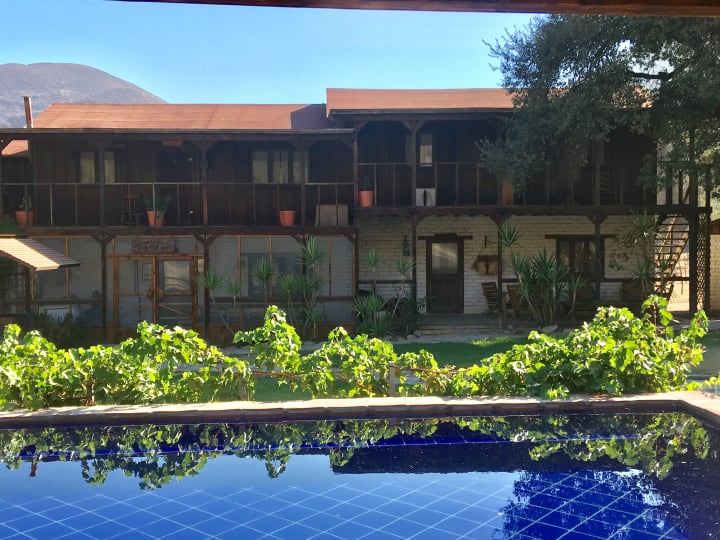 About the Creator
Hi there! I'm a fiction writer. Written all my life. Want to inspire if I can. Living on a guest horse ranch in Baja California, Mexico. Married to a Mexican Cowboy!
Website: carolineaguiarauthor.com
Reader insights
Be the first to share your insights about this piece.
Add your insights