Alaska SeaLife Center On the Brink of Closing Down
COVID-19 Pandemic may force the only aquarium and marine mammal rehabilitation facility in Alaska to permanently shut down.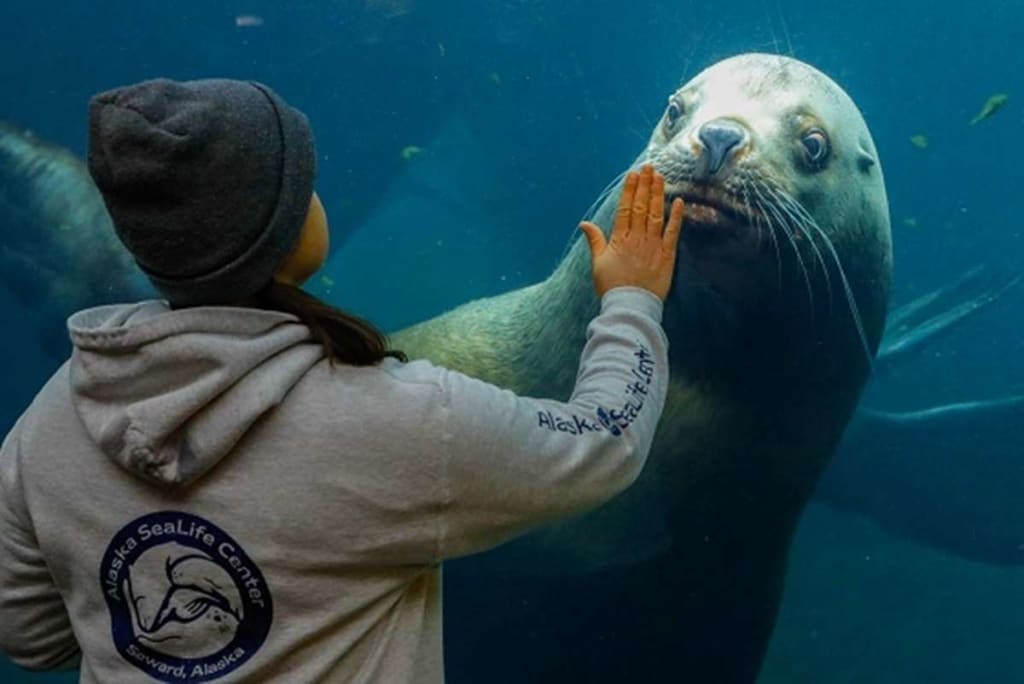 Stellar Sea Lion during a training session at The Alaska Sea Life Center. (Photo from Trip Advisor).
On July 13th, 2020, Tara Riemer, CEO of The Alaska SeaLife Center (ASLC) in Seward, Alaska, announced that the facility was facing the possibility of closing its doors for good, due to the COVID-19 pandemic. This was all based on the facility's projections following a loss of revenue that is needed to provide animal care for both the animal residents and the marine mammals that are currently being rehabilitated.
If this happens, then students who live in the state of Alaska, especially Alaskan native students, would never again visit the resident puffins, seals, and sea lions on school field trips, for these animals would be required to be sent to other facilities across the United States. Also, the research programs that are aimed at understanding and protecting Alaska's marine life would be interrupted, slowing all current progress that is currently being done to protect wild marine mammal populations and their habitats.
If that was not enough to raise concern, then here this-The Alaska SeaLife Center is also the only facility in Alaska that rescues and rehabilitates marine mammals. Most of the animals that come into its care are orphaned seal, sea lion, walrus, and sea otter pups but there had been a few instances where they have rehabilitated juvenile belugas.
However, Tyonek, rescued at Cook Inlet in 2017, is the first beluga whale calf to have ever been successfully rescued and rehabilitated by the facility. After it was determined that he could not be returned to the wild, the federal government had Tyonek sent to SeaWorld San Antonio where he has lived ever since.
Currently, the facility is looking to raise $2 million in funds by September 30th to prevent the facility from closing down before the end of the summer season. This is because like all zoos and aquariums across the world, ASLC has been impacted by the COVID-19 pandemic and as a result, it might be unable to maintain operations through the winter months, due to the lack of revenues from over the summer. As a result, ASLC launched the fundraiser campaign online in hopes of being able to reverse an otherwise inevitable closure. On its social media page, the facility is also asking both tourists and locals alike to pledge their support by visiting the facility, which has since reopened, become members, or to simply donate. All funds will be identified and secured.
Other facilities that have been in ASLC's situation have managed to reopen after their fundraiser campaigns to stay open following the pandemic. These facilities include the Vancouver Aquarium, Australia Zoo, and several UK-based facilities.
Despite the uncertainty, the Center has seen some hope this past year alone. On June 26th, Mara, a 17-year-old resident Stellar sea lion, gave birth to a healthy female pup. The animal care staff reports Mara to be a doting, attentive, and protective mom to her pup. While she will be unable to swim for several weeks, her human family will continue to monitor the pup and her mother to ensure their well-being.
A facility like ASLC not only provides the chance for the people of Alaska to know and understand the very same species that are found in their waters but also, an amazing understanding of these animals and the will to protect both them and their ever-shrinking habitats.
If you want to help the ASLC get back on its feet, please visit their website to donate.
Every dollar counts.
wild animals
About the author
Zoo and Aquarium Professional, Educator, Cosplayer, Writer and B.A. in Psychology whose got a lot to share when it comes to animals, zoos, aquariums, conservation, and more.
Instagram: @jennacostadeedy
Reader insights
Be the first to share your insights about this piece.
Add your insights