A Puppies Choice
Love at first sight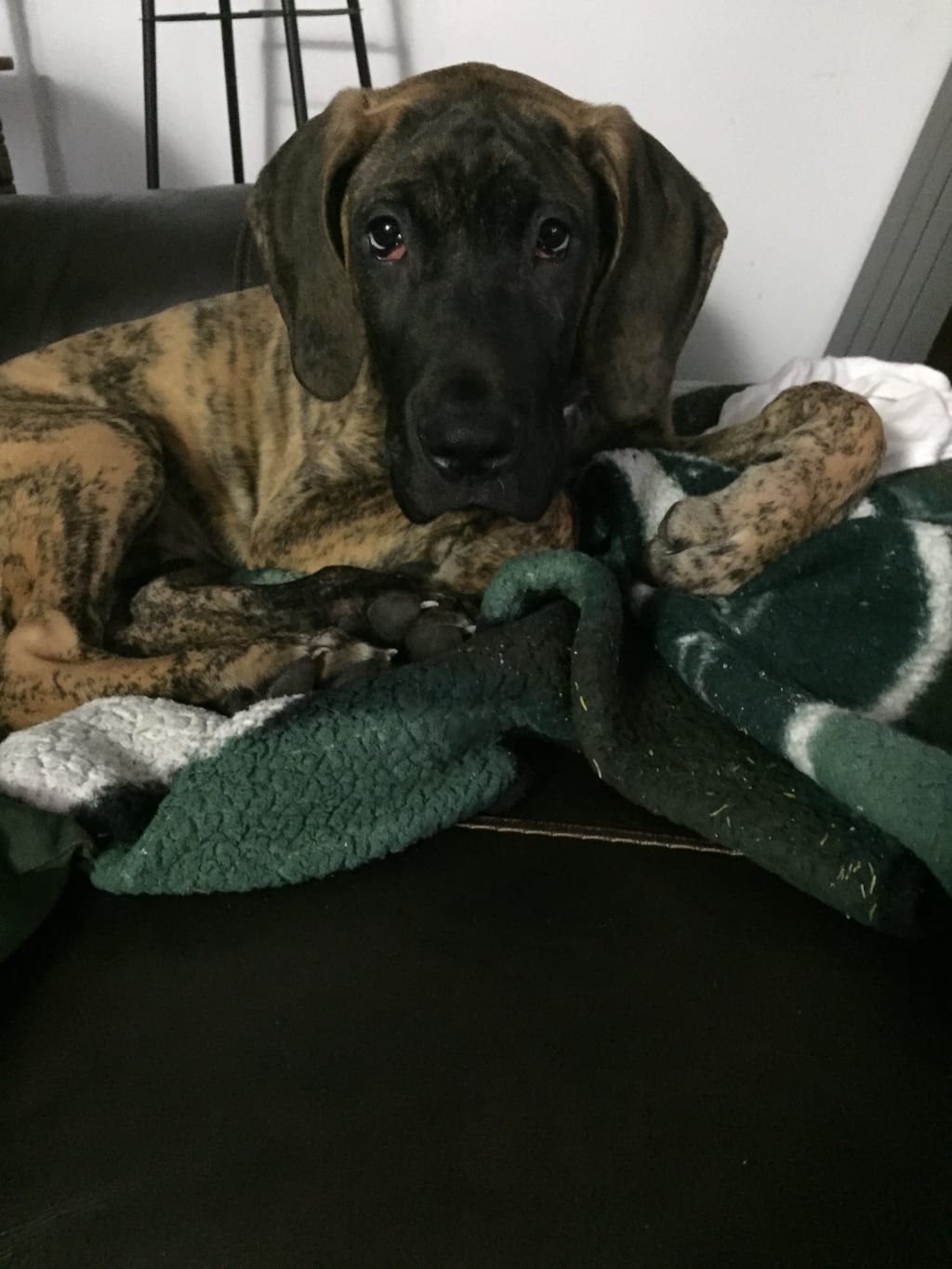 I remember that day like it was yesterday, the day we met our sweep puppy Gkar. I had gotten home from work Saturday January 20th, 2018, and my husband told me that a breeder that we reached out to, had a brindle Great Dane puppy. We had wanted a dog for so long and we couldn't wait to meet him. We drove an hour to the breeder to meet the puppy, when we got to meet the puppy was kept in a pen with his sister. He was the cutest little puppy I had ever seen. The breeder told us he was breed from two grand champion show dogs.
When we met him, he was so frightened he kept running away from us. I put my hand out for him to sniff his sister kept getting between us. We asked why was he so scared? The breeder told us that someone else had adopted him, kept him for two weeks and then dropped him off on the breeder's doorstep and drove away. I couldn't believe what I heard; what kind of monster just leaves a ten-week-old puppy on a stoop in the middle of the night in the dead of winter. Turns out he had one white toenail on one of his back paws and that has a flaw. I thought that was ridicules because he was perfect to me.
I decided to sit on the floor in the play pen to give him some space, he eventually started walking towards me. He sat down next to me and licked my face. I turned to him and said, "You're my dog." We paid the breeder and took him home. We named him Gkar after a character from Babylon 5. On the drive home I stayed in the back seat with him, and he let hold him the whole way. When we got home, he hid in the bathroom, and he was shaking in fear. It didn't help that the two cats we had saw him as an intruder. We put the cats in another room and stayed with Gkar all night.
The next day I went to work hating that I had to leave the puppy. I knew he was home with my husband so at least he wasn't left alone. I returned home that day to find the puppy had found the dog bed and all the toys we bought him. We played with him till bedtime, there was a crate set up for him to sleep in. We put him in for the night and went to bed, he cried all night, and we couldn't take it. I asked my husband if we were being cruel leaving him downstairs to sleep. I want to take him out of that cage and bring him into our bed with us, but he eventually went to sleep.
The next day we took him for a walk to get acquainted with the town and everyone stopped and told us what a beautiful dog he was. People were petting him and giving him treats. That night we decided to have him sleep in our bed with us and he slept cradled between us. The next morning, I woke up to find him snuggling me and I kissed his forehead and told his I loved him. From that day the bed is where he sleeps, and we eventually got a king size bed to fit the three of us.
Over time he has become a confident loving goofball, and we love him more and more every day. I am so glad he chose us as his family.
About the Creator
I've always had a huge imagination and I want to share it. I want to create worlds and inspire people to do the same.
Reader insights
Be the first to share your insights about this piece.
Add your insights