A New Chicken Farmer
Jumping in heart first!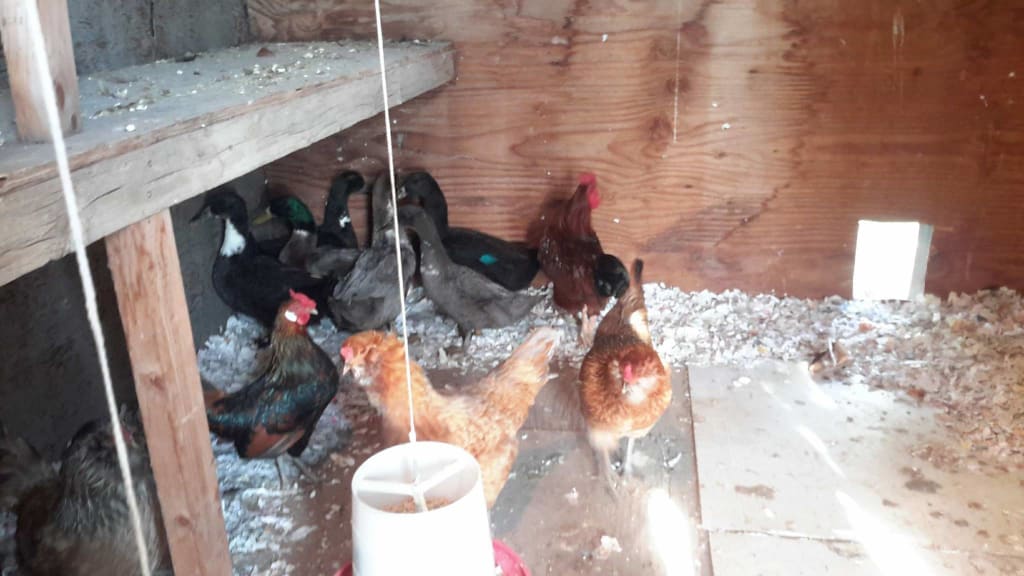 "Chickens? Really? I have bird dogs!" That was the first thing my hubby said to me when I asked about getting chickens when I moved into his 3 acres about 7 years ago.
Fast forward to this year! While doing research on YouTube, we ran across a video that was so eye-opening for us. We have 3 acres and have never done anything here to make money off this land. We have a metal shop where my husband welds and fabricates, but the rest of the land is planted in grass and native plants that grow along the banks of the Snake River. Back To Eden Organic Gardening is a video that provided us the seed of an idea to change the way we look at our property.
Part of changing our property into a Back to Eden garden is bringing in paper and cardboard, great compost, and then wood chips to cover these areas. This no-til way of gardening brings nature back into your garden, creating black, rich soil with fruits and vegetables that thrive with very little added water. One thing that this type of garden needs, though, is chickens! Boy, did I get excited! But, we still have bird dogs!
We had what we referred to as "the fishing shed" in our backyard. Basically, it is an insulated building that held anything and everything that we didn't have another convenient place to store stuff. It already had two great shelves in it and a great yard all around it. We decided to post some ads on Facebook and Craigslist to see if there were people out there that had chickens, both hens and roosters, that didn't want them any longer for whatever reason. We had a great response.
We were able to bring in nearly 55 chickens as well as re-home 18 ducks. They came from homes that just had too many as well as from a vet that had a lot of medical issues and could no longer care for his flock. It feels good to bring in all these birds and know that they are getting a new home! All of the ducks were sent to one of our boy's homes where he already had an emu and a pond where they feel right at home! As a bonus, the chickens have been providing us with eggs almost every day!
Changes in the way we use the property have to be made. Bird dogs and chickens don't live together very well. One of the privileges the dogs have always had is that they can run wherever they want on the property. Even before we got chickens, discussions were in the works about creating run areas for the dogs though because as more and more people travel down our road, we've become concerned for their safety near the road.
Fences are going up to allow the dogs to move freely around about 3/4 of an acre now. During the day, the chickens are allowed to "free-range" throughout our property and they quickly learned to come back to the coop each night for food, water, and heat. The love their coop! It surprised us how quickly they've learned their boundaries. By letting them free-range, they are happier and healthier. The eggs we get have thick shells and are such pretty colors. The scrambled eggs I made for breakfast this morning were so orange; not the pale yellow of store bought eggs. Just beautiful and tasty!
New water systems are going into the coop. Feed systems have been set up for night time. Nesting boxes and roosting bars are being built. I'll keep you posted as things move along and we learn more as the winter season comes. Thanks for following our little "farm". We look forward to spring when we get to actually plant our gardens and set up our honor system vegetable stand where we will sell produce and eggs.
Bringing in compost to cover paper