A Cat Called Psychology
How a stray slowly won my family over by constantly confusing us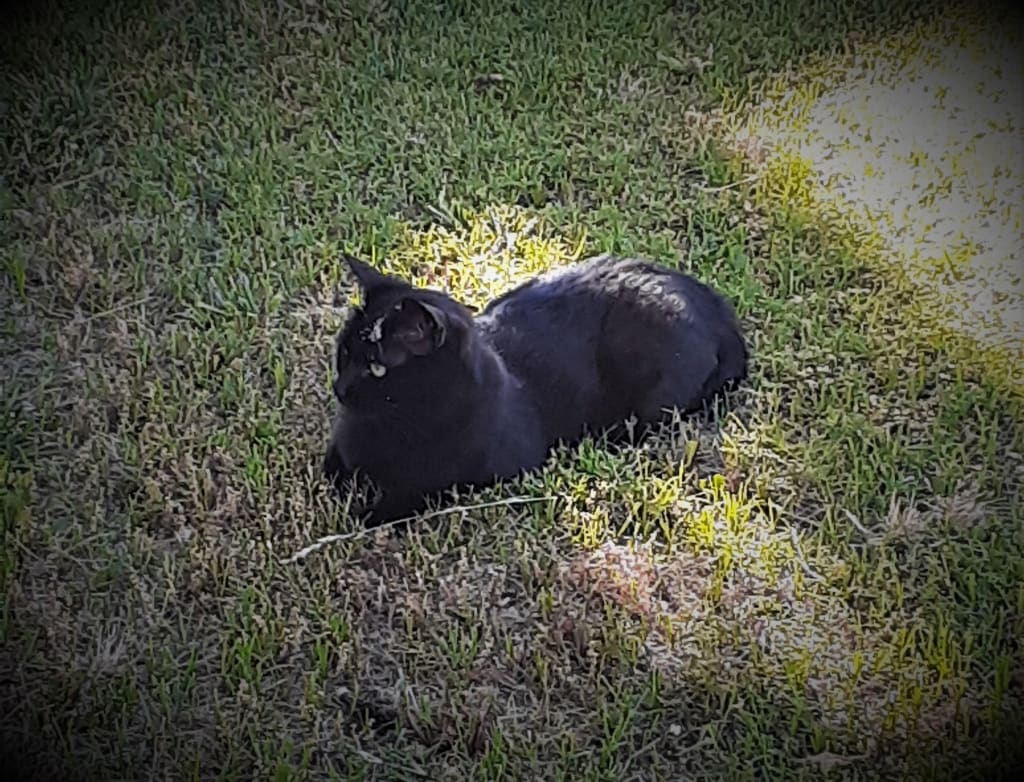 My dad was the first to give in.
I wouldn't call him a softy, but he certainly knew that the whole family wanted a cat.
Thing was, the little black cat who'd been turning up in our yard wasn't - how to put it - strictly legal. By two standards, he wasn't supposed to be there: by our landlord's and by our mother's. We weren't supposed to have pets, and my mother was very, very allergic.
Even still, we knew any attempt to ignore the cat was a lost cause when my father bought the cat food.
He was the first to notice the little black cat on our fence, looking into our slightly dying green yard. She'd likely found it due to the bird feeder or maybe the cool shade under the orange tree, away from the California heat.
I remember seeing her for the first time and falling instantly in love. Her green eyes and her jet-black pelt all served to remind me how much I missed having a cat since moving to California.
"Dad says it's a girl," said my sister, sitting at the kitchen table and looking out the back window. The little black cat was sitting on one of the porch chairs, out of range of the sun.
"Why does he think that?" I ask, looking up from my cereal.
"He says it's the shape of her head. It's all slim and stuff. So he says it's a girl."
I turn to look at her. My eyebrows arch.
"That's going to be a bit of a problem. What if the cat has kittens?"
My sister starts to look just a bit worried too. "Oh. We have to get her fixed then, right? That shouldn't be a problem."
I shake my head. She doesn't get it. "We have to catch her if we want to do that. And then we have to keep her in the house. What about mom?"
In theory, the landlord wouldn't have to know, right?
My sister chews a bit on her eggs, thinking.
"We'd keep her in the garage then. Though, Mom says we can't have a cat."
Yeah. We both knew that very well.
Then came the first surprise.
The little black cat grew on my mother, particularly after the food was placed out on the patio every day for the cat. She quickly learned a trick. If she stood on the edge of one chair, she could lean forward and place her paws on the kitchen window. This action at once endeared her to everyone in the house. Waking up every morning to a small cat peeking through the blinds would melt anyone's heart.
Or, in my case, she scared me half to death early one morning when all I saw was a black blob with wide eyes looking at me through the window.
I banged my elbow on the counter.
There did come, however, an issue.
A tomcat showed up, jet black as well but a lot bigger than our newest family member.
And they would fight.
Worryingly, we thought they might have done a little more than fight too.
"... you don't think she's pregnant, do you?" asked my mom, watching the little black cat roll around in the grass outside. "She's gotten a bit ... bigger."
And that was worrying. There were several nightly conversations about how to go about catching her.
Then came the second surprise.
"She's a he," said my father.
"Wait, what?" I asked, looking over my shoulder at him, setting down my pencil.
"The cat," he said again, "*he* isn't female. He's just been fighting over territory. He's young. So that's why it was hard to tell."
I blinked a couple of times and pushed my homework to the side.
"So ... no kittens?"
We'd still have to catch him - but at least we have a bit more leeway to try and do it.
Then came the name.
My mother had resigned herself to owning a cat by now.
But that meant the little black cat needed a name.
"We're not naming him after a black cat thing," she said. "No Midnight or Tarot or Witch."
I had to agree. We'd already had very cliche pet names when we lived in our last house.
"But we wanted to call him Midnight," pouted my sister. There was about an hour-long back and forth on this with the family split fifty-fifty. Finally, my mother held up her hands.
"If we can't make a decision, we'll open up the dictionary, and the first word we land on is what we name him."
We didn't make a decision.
I got up and fetched a dictionary.
I opened the book and stabbed my finger down at the page. I didn't even properly look at the word before slamming it closed again.
"What word?" my sister asked.
"Psychology," I said. I thought the suggestion would fail too, but my mother slowly started to grin.
"Psych!" she said happily. "That works. That's what the cat kept doing, after all. Psyching us out."
I had to chuckle at that one.
And that was how we adopted a cat called Psychology.
----
Psychology was one of my favorite pets. Waking up each morning to see Psych's nose pressed against the window was my favorite thing. He was a small part of the family, with us for each of our meals. It's been years since I last saw him. We believe he was adopted before we could catch him and work out how we could keep him. I hope every day that it *was* a neighbor who adopted him, as year after year feral cats die or bring more feral cats into the world, never to find homes. Psychology was a special little friend to me growing up, and I'll never forget him.
adoption
Small writer and artist who spends a lot of their time stuck in books, the past, and probably a library.
Currently I'm working on my debut novel What's Normal Here, a historical/fantasy romance.